MannKind (MNKD) investors are likely quite happy this week with the stock price running up to $5.00 per share. The equity even traded over $6 for awhile. Long term investors are now not down as much as they were. Speculative investors got rewarded for a great result on a binary event, and traders love the move because it presents a great opportunity to play runs and dips to their maximum advantage. I will cover more about the price action at the close of the article.
Afrezza sales for the week ending September 29th close out the third quarter. Total scripts for the week were just above 440. This is a record for the MannKind sales force for scripts in a week. The script sales in the quarter, at nearly 4,900 is also a record.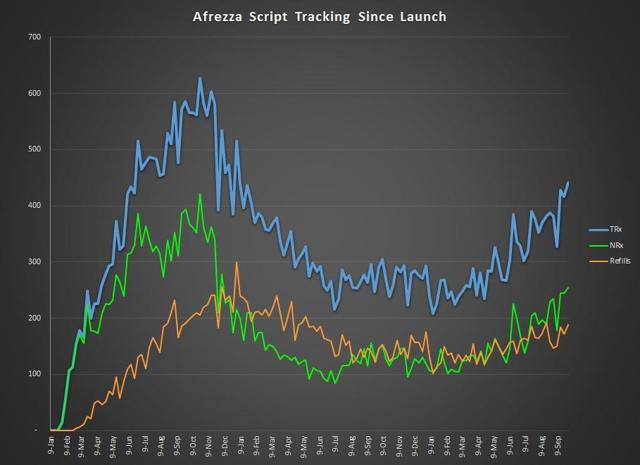 Chart Source - Spencer Osborne
The end of a quarter gives investors an opportunity to look at comparisons a bit more closely. The quarter over quarter growth in script sales as reported by Symphony Health was 27.02%. This is respectable growth in many ways, but it is not as impressive as the percentage number appears. I am not being negative here. Growing 27% on 15,000 is much better than growing 27% in about 4,000. In Q3 of 2017 script sales were 4,875. In the previous quarter sales were 3,838, The improvement was just over 1,000 scripts or an average of 80 additional scripts per week. The third quarter of 2017 was the highest quarter in script numbers since MannKind took back control of Afrezza, and the highest since Q1 of 2016 when Sanofi (NYSE:SNY) delivered over 4,900 scripts.
The comparison to the Sanofi number in Q1 is not an apples to apples comparison. When MannKind took over, the company increased the number of cartridges in a script. This means that each script sold today delivers more revenue than the scripts sold a year ago. The downside to this comparison is that in Q1 of 2016 Sanofi reps were on their way out, putting forth less effort, and essentially mailing it in. These reps were able to sell the same number of scripts as current reps that are giving it the best effort. There is always a good and a bad side to anything. Investors would be wise to understand that.
The optics of having a quarter over quarter growth of 27% in script volume is pretty good and can paint a pretty picture at first blush. MannKind management needs to capitalize on such things to attract investors, lenders, and perhaps even partners.
What I am going to say next is not meant to be negative. It is pragmatic, and is actually a compliment to current management. For the past year and a half MannKind has had to play the "Fake It Til You Make It" game. With shoe string budgets, challenges with doctors, challenges with lenders, and challenges with delivering compelling news, the management team has thus far done just enough to give the company a fighting chance. What is critical for investors to understand is that even with the FDA label change, the company has not yet made it. It is a big step toward making it, but the next steps are very important.
I have taken the liberty of showing the quarter over quarter chart in a way that illustrates each of the quarters that MannKind has controlled selling Afrezza. What this shows nicely is that the company has finally showed a quarter with growth that clearly separates the sales from one quarter to the next. The chart below shows that a clear step has been taken.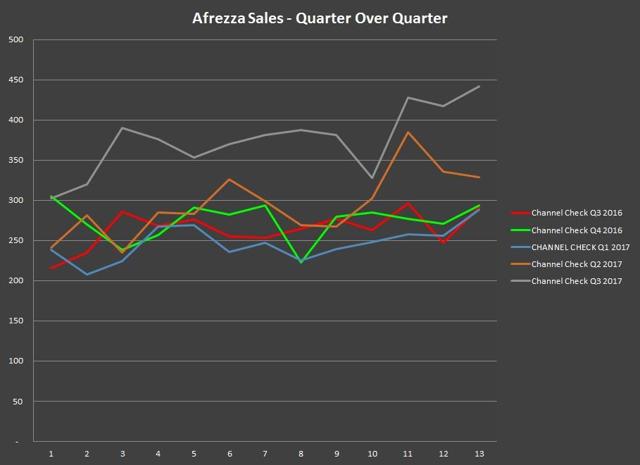 Chart Source - Spencer Osborne
The revenue story of the quarter is a bit more compelling. While script sales had growth of 27%, the estimated net revenue has growth of 43%. This was most likely accomplished through different an increase in the number of cartridges per pack. MannKind management, and specifically Mike Castagna recognized a few problems early on. Patients were not getting enough tie out of each script they received, and many scripts need prior approval. If you have to negotiate with an insurer, better to get approval on a 90 count script rather than a 60 count script. You put more product in a patients hands, which increases the odds of the patient understanding dosing, and you sell more cartridges more quickly. The good news is that the company seems to have found a sweet spot in packages. The bad news is that some of the growth we are seeing in the revenue side of the equation is a factor of the transformation in packaging. In other words, as future quarters pass, the script growth and revenue growth will be similar on a percentage basis. When that happens, the only way to grow revenue faster is a price adjustment, and at this stage, I do not believe that Afrezza possesses pricing elasticity that would allow for such increases.
For Q3 of 2017 I estimate that net revenue was $2.218 million dollars. This is an improvement from the $1.547 million delivered in Q2 of this year, but seems to e pacing behind the guidance that MannKind laid out in the Q2 call. I model revenue in a few different ways. One is by looking at the retail sales numbers. Another is working off of estimated cartridges, and yet another is working off of a model where I look at new scripts as bigger titration packs and refills as the smaller standard packs. In looking the revenue picture from a few different perspectives, the odds of having something out of whack decrease. There are also script sales that are not captured by Symphony or IMS Health. These companies do attempt to estimate actual sales, but never capture everything. In modeling the revenue, I build in a factor for such sales.
The year over year optics are also impressive from a percentage standpoint. Sales in Q3 of 2017 were 42% better than sales in Q3 of 2016. These are the types of numbers that a savvy management can and will call attention to. Let's face it. A big part of the job that management is tasked with is "selling" the concept of the company and doing so in a manner which presents a pretty future. Any time you can point to a big growth number that sounds good you will An example was in a recent presentation where management indicated that one sales rep increased scripts by over 600%. That number would impress the heck out of anyone. That being said, if the growth was on a small number, then the story is not quite as impressive. This is all part of the "Fake It Til You Make It" playbook. Again, this is not an insult. MannKind has been struggling for a very long time. Most every move that the company made has been based on a necessity to look at keeping costs under control or buying time.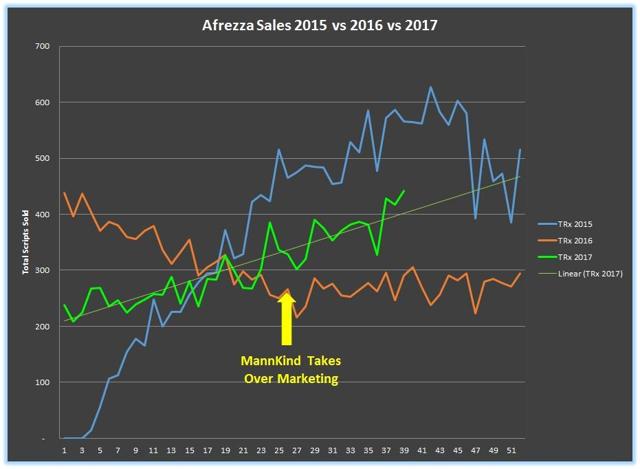 Chart Source - Spencer Osborne
Sales under MannKind control have been an interesting dynamic. We now have about 2.5 quarters of sales with a contracted force, and 2,5 quarters of sales with a direct hire force. There is a clear differentiation in the trajectory. Part of that difference comes from the number of sales reps, part is getting feet wet and part is the dedication of the reps.
The first chart below shows sales since MannKind took control. The second chart shows the difference with the direct hire sales force.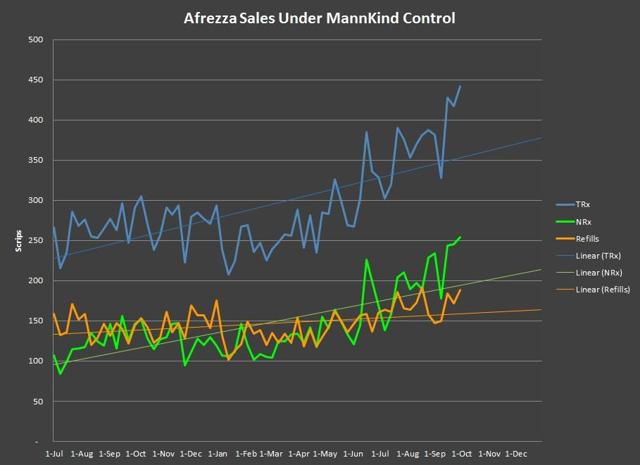 Chart Source - Spencer Osborne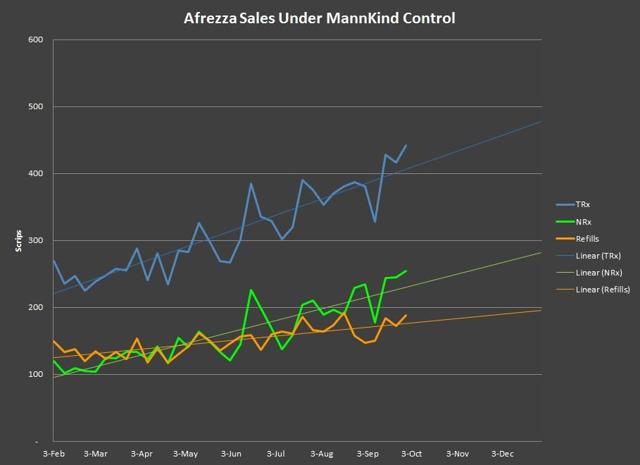 Chart Source - Spencer Osborne
Projecting sales is something that all investors should do. Going through the process of modeling helps keep you grounded in your excitement, or realize that you are not excited enough. Most investors never take the time to model out their own expectations, never-mind scrubbing the numbers until they get to what is realistic. The uber-bulls and uber-bears actually fear building models because it actually becomes a graphic illustration of how far out of perspective some of their thought processes are.
When building my projections for the second half of the year, I assess multiple data points, multiple assumptions, and multiple dynamics. I always look for what is probable while giving consideration to what is possible(good or bad). Modeling data in a realistic manner does not win an analyst many friends. Bulls hate how low the models are, and ears hate how high they are. When I get angst from both bulls and bears that offers no realistic criticism of the numbers, I know that I am in the right neighborhood,
My projections for the second half of the year have seen two adjustments since they were made. After month 1, I adjusted the sales trajectories by increasing them. After month 2 I adjusted the average net revenue per script upward. I have not seen any indication in recent weeks to make further adjustments.
The last couple of weeks have been tracking close to my higher estimate, while the weeks prior had been closer to resting between the lower and middle estimate. I use my middle estimate in all revenue models. On an aggregate basis the total scripts delivered in Q3 was 4,875. My middle model had estimates at 4,918. While people may love to hate my offering of realistic projections, the numbers speak for themselves.
Actual Scripts = 4,875
My low projection = 4,627 (5% low)
My middle projection = 4,918 (0.9% high)
My high projection = 5,076 (4% high)
As you can see, my projections for Q3 were within 5% of the actual sales. Simply stated, my projections are realistic.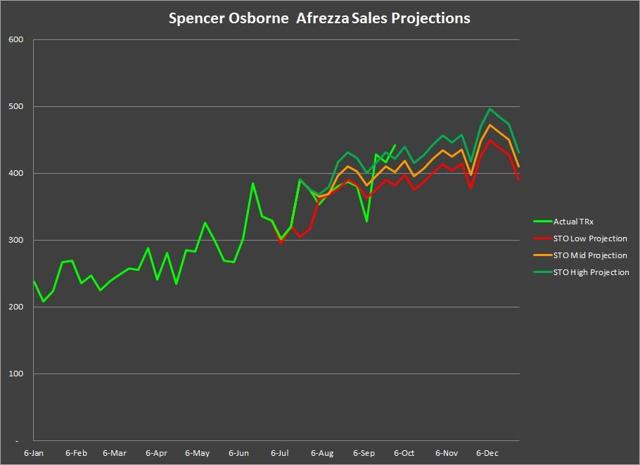 Chart Source - Spencer Osborne
At the Q2 conference call investors received guidance from MannKind for the first time. I took that guidance and backed it into a sales trajectory that would meet the guidance. This guidance provided the first time for investors to begin to compare company expectations with actual performance. MannKind offered guidance that contained a pretty wide range. I call it their low guidance and their high guidance. In my opinion the range given carried such a wide berth for a very particular reason. The high guidance was offered on the chance that the company got everything it wanted in the label change request, including Afrezza being placed in its own category of Ultra-Fast. The FDA did not give Afrezza the Ultra-Fast, but did give MannKind somewhere between 50% and 75% of what it wanted.
Realistically speaking, it should be apparent that the high end of the MannKind guidance is out of the window. In my opinion even the most ardent bull would concede to this point. The only way that the highest end of guidance is met is for sales to rocket in the remaining 13 weeks of 2017. Actual sales seem to be trending at a trajectory just below the lower end of MannKind guidance. With the victories that the company did have with the label, it is still very safe to assume that the company can improve its sales enough to meet its lower guidance. The wrenches in the works are that the sales force has some new training to absorb very quickly, and two major holidays in that 13 week span.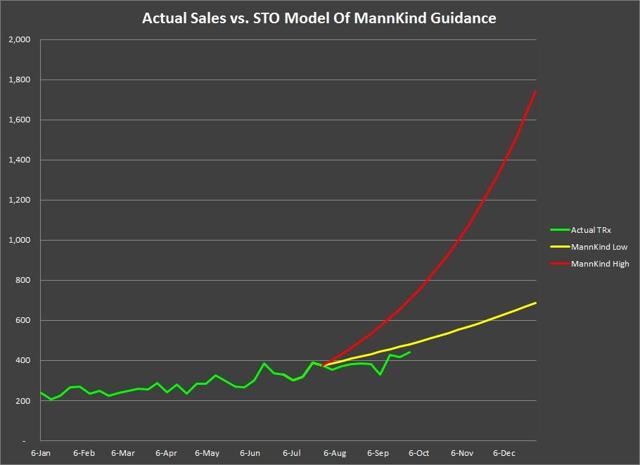 Chart Source - Spencer Osborne
The next chart below shows an overlay of my projections, the MannKind guidance, and actual sales.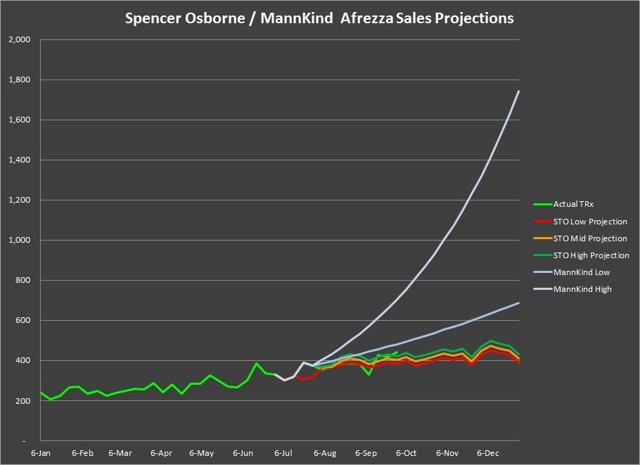 Chart Source - Spencer Osborne
Some readers find it very helpful to look at projections in a different manner. Looking at these same sales projections in terms of net revenue and time can help in assessing the probabilities of meeting the numbers. As previously stated, I build my net revenue estimates from my middle sales projections. As you saw above, my middle script sales projections was less than 1% different than the actual reported numbers from Symphony. In the chart below, you will notice the following:
We are at the half way point for the second half of the year. In concept we want the net revenue to be at the 50% mark as well. In reality, being below the 50% mark is reasonable when you consider growth to be accelerating.
My low projection has 49.1% of the net revenue at the half way point
My middle projection has 46.47% of the net revenue at the half way point
My upper projection has 44.59% of the net revenue at the half way point
The lower end of MannKind guidance has 36.97% of the net revenue at the half way point.
The higher end of MannKind guidance has 22.18% of the net revenue at the half way point.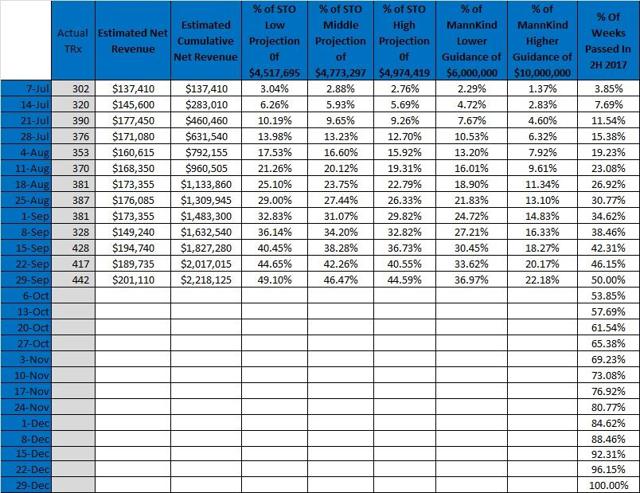 Chart Source - Spencer Osborne
In looking at the chart above, we can put some quick numbers together to put all of this into perspective. I will use some round numbers and outline reasonable assumptions.
Assume that each reported script averages 200 cartridges
Assume that gross revenue is $3 per cartridge.
Assume that net revenue is 65% of gross, but there are unreported sales so that assumption will be 75%. ($450 per reported script)
Assume that $2.2 million of net revenue is in the books
In order to meet my lowest projection of $4.5 million in net sales, the next 13 weeks needs to deliver $2.3 million in net sales. This equates to 1.02 million cartridges or 5,111 scripts. That would be 4.88% improvement in script sales. I would assess this as extremely possible and extremely probable.
In order to meet my middle projection of $4.8 million in net sales, the next 13 weeks would need to deliver $2.6 million in net sales. This equates to 1.16 million cartridges or 5,777 scripts. That would be an 18.5% improvement in script sales. I would assess this as very possible and very probable.
In order to meet my high projection of $5 million in net sales, the next 13 weeks would need to deliver $2.8 million in net sales. This equates to 1.24 million cartridges or 6,222 scripts. That would be a 27.63% improvement in script sales. I would assess that as possible and probable.
In order to meet the low guidance of MannKind of $6 million in net sales, the next 13 weeks would need to deliver $3.8 million in net sales. This equates to 1.7 million cartridges or 8,444 scripts. That would be a 73.21% improvement in script sales. I would assess this as less possible and not very probable.
In order to meet the high guidance of MannKind $10 million in net sales, the next 13 weeks would need to deliver $7.8 million in net sales. This equates to 3.47 million cartridges or 17,333 scripts. That would be a 255% improvement in script sales. I would assess this as being an extremely low possibility and an extremely low probability.
In my opinion my projections are a far safer assumption than those of MannKind. The presence of two major holidays in Q4 makes me more steadfast in what I am protecting.
In the end, all of this boils down to cash, and that fact is very important as you assess what has transpired with MannKind stock over the last week or so. I estimate that MannKind finished Q3 with $22.9 million in cash. This means that the company was in compliance with the Deerfield covenant that demands that the company have at least $10 million in cash at the end of September. That same covenant exists for the end of October, and this is where things get problematic. If MannKind pays cash to Deerfield, it will not be in compliance with the covenant. MannKind could ask that Deerfield accept shares instead of cash. Deerfield has done this in the past, but those shares have always been at a discount to the price at which the equity trades. This action has always been a negative catalyst on the stock. MannKind could find a buyer for some shares that may pay more that the value Deerfield places and then pay Deerfield from that cash to keep in compliance.
The good news is that the recent rise in share price means that such a move can be a lot less dilutive. I estimate that the shortfall on compliance at the end of October is between $3 million and $3.4 million. November has no covenant attached. The covenant comes back into play at the end of December.
This week I am going to post a few charts. The first chart assumes that MannKind does not dilution and uses only its existing cash. In this situation, the company falls out of compliance with the covenant at the end of October.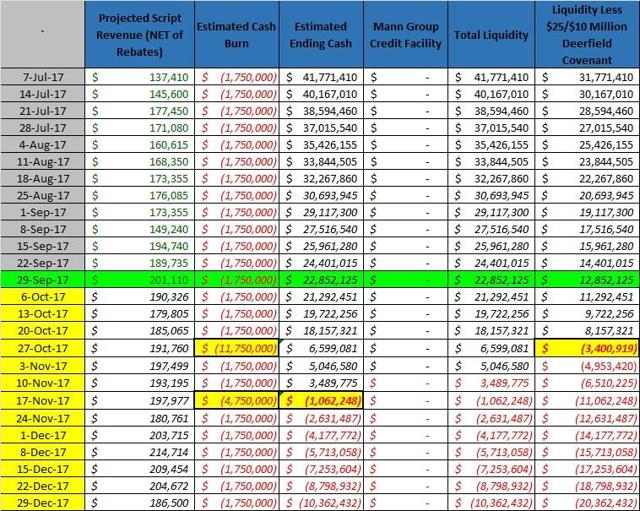 Chart Source - Spencer Osborne
This next chart assumes that MannKind uses shares to pay Deerfield its $10 million. Should that happen (which I feel is most likely), the company would be out of compliance at the end of December. By looking at these charts you can see that MannKind needs to raise about $3.5 million to be in compliance at the end of October, and another $10 million or so to be in compliance by the end of December.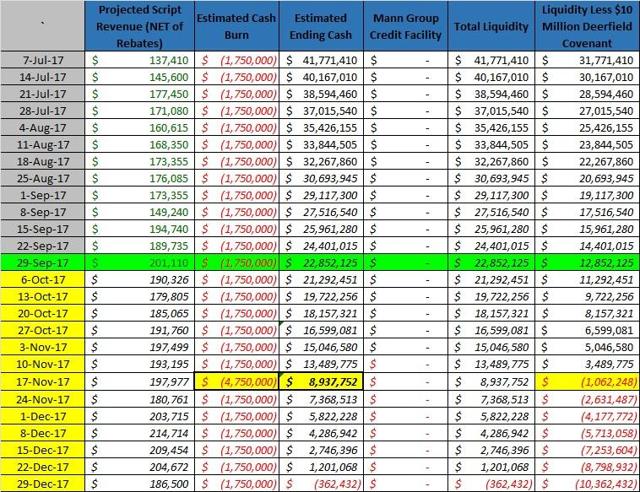 Chart Source - Spencer Osborne
These charts tell savvy investors that there is a $15 million dollar issue in the very near term. It would take 3.3 million shares out of the ATM to cover that issue alone, but that would provide no safety net as 2018 begins. That is far better than being forced to use 6 million shares or more, which was the case just two weeks ago.
The last week has been a breath of fresh air for many MannKind investors, and a massive windfall for speculative traders. The label change will certainly help the optics of "selling" Afrezza to doctors and even patients. The positive binary event is now behind us and the negative binary event is on the table. In my opinion the run up in price of the stock will lessen the blow that comes from the negative binary event of what will most likely be dilution. I have long maintained the opinion that the cash situation overhang would never be totally removed unless the company had 1 years worth of cash in the coffers or a method by which getting to that point has a high probability.
Along with the label change, the company did negotiate all of the warrants in exchange for shares. That deal also removed a covenant restriction from MannKind relating to the ATM facility. The result of that transaction is that MannKind has 22.4 million authorized shares to work with and a cap on the ATM facility of $50 million dollars. In addition, MannKind has 10 million preferred shares that will come back in early November. Typically preferred shares have some form of conversion to common. That presents another overhang. Though the 22.4 million authorized shares gives some wiggle room, the space is still very tight. In my opinion MannKind is going to have to address the limited number of authorized shares at some point soon. Getting more authorized shares requires shareholder approval. The timing of any such announcement could be very critical. The company needs to maximize the benefit of the stock run up, but cant stunt it in such a way that it causes a major correction in the share price.
In my opinion the next binary event will be one that challenges the stock. This means that active traders still carry an advantage, as they tend to keep emotion out of the investing process. The new label gave MannKind some perceived leverage. The company needs to demonstrate that it can get a better return in sales in the weeks ahead in order to show that the perceived leverage can translate into real leverage. MannKind got some real leverage in negotiating the warrants and capturing an additional 84 million shares for the ATM facility. Those 8.4 million shares could prove very critical in lessening the blow of a future share request. This also improves the financials.
The way I see things, this company has 4 weeks to figure out how to raise $35 million and about 10 weeks to figure out how to raise at least another $10 million. Partnership deals raising that kind of capital are possible, but not as probable as some may hope for (at least in terms of the quality of a deal to shareholders).
For those that took my advice of getting into this as a "lottery ticket" play when this stock was well under $1 after the reverse split, it may be a great time to peel off some profits while preserving some shares that allow you to play with house money. Each 1,000 shares bought at $0.75 cost $750. Each 1,000 share lot is now worth $5,000. That type of gain is noteworthy, and with the probability of the next binary event being on the negative side of the equation locking in some profit could be wise. Stay tuned!
Disclosure: I/we have no positions in any stocks mentioned, and no plans to initiate any positions within the next 72 hours.
I wrote this article myself, and it expresses my own opinions. I am not receiving compensation for it (other than from Seeking Alpha). I have no business relationship with any company whose stock is mentioned in this article.