Welcome to another edition of "Elroy's Elliott Wave Weekly". The aim of this series of articles is to review possible scenarios in various markets using Elliott Wave, fractals, and other technical analysis.
Equities
The S&P 500 (SPY) closed the week near all-time highs. This isn't how tops are made and a close at the high creates a 'weak' high, i.e., there is no sign of buyers rejecting prices.
OK, so I copied and pasted the above from last week's article, but it's still applicable and illustrates how repetitively bullish the markets are.
And while we are on the subject of repetition, an update of the S&P 500 fractal (now in its third week) shows the rally is still in line with previous price action.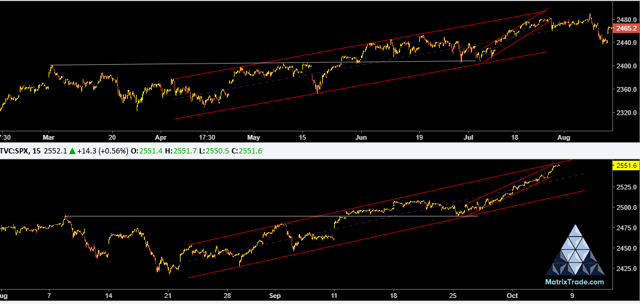 To be honest, I thought equities may roll over last week, but I did update on Tuesday morning with a target of 2,548 and said it was more likely to be delayed until this coming week. This is now supported by the above comparison which is at the top of the channel.
Trying to pick the end of a blow off is a bit of a fool's errand, and it's safer and more profitable to recognize what it is happening and just go with it. So while I had a cautious target of 2,510-20, I did not short there and I continue to trade stocks on the long side. Buying long dated puts should work, but I prefer to see some reversal and breakdown first. A failed high early next week followed by a break of the channels in the chart above would be a decent signal.
Precious Metals
I was very tempted to buy back some gold (GLD) on Friday as bonds (TLT) and the dollar (UUP) reached targets after an NFP move begging to be faded.
However, gold did not quite get to the 200dma or the trend lines I pointed out in last week's article. It's quite often to see markets bounce before good support is hit; it makes all those anxiously waiting to buy question if they missed the low; some will end up chasing price higher right before price heads back down. 'Games' in these areas are always likely.
So it is a question if $1,260 will stick or reverse down for $1,250.
In the bigger picture, it may not make too much difference. The repeating gold range and the interplay between TLT and the dollar make the below path likely over the medium term.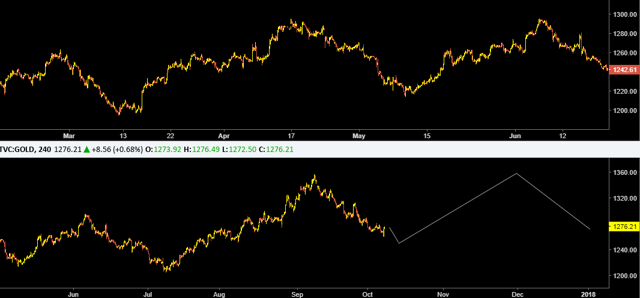 The top chart is of course gold from February to June.
It's something I will monitor in conjunction with TLT and the dollar as they all seem to be lining up well.
I must admit I still don't have a good read on this market due to the choppy price action. The drop from the $52.85 high still looks impulsive and I am leaning on this view from a few weeks back.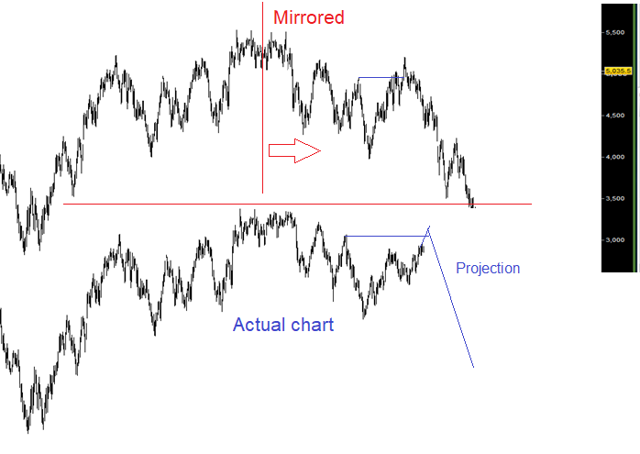 I did spend a good while gazing at the chart and trying to put a count on it, but only because I enjoy the challenging puzzle it presents. Trading it with hard earned money is another matter.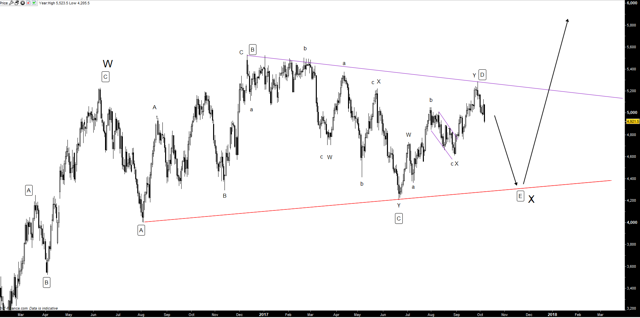 Natural Gas (UNG)
Natural gas continues sideways despite appearing to break out in September.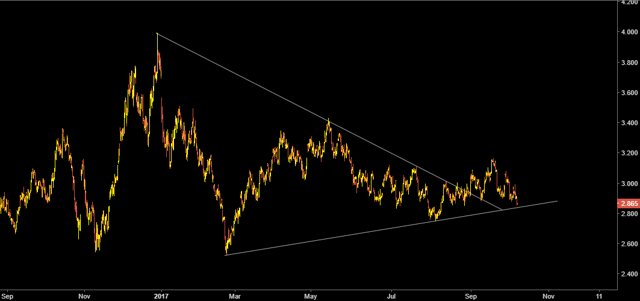 It's the kind of pattern I would avoid trading as the trend and the count are unclear. If anything, I'd say the next move is down, but only because the reversal from the recent highs looks impulsive and resembles the top in May to June.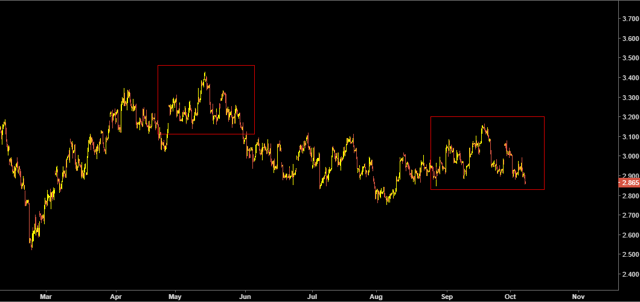 If the downside pattern develops and the trendline in the first chart breaks, there could be a decent short setting up.
Bonds (TLT)
I'll continue to post this guide from August as long as it is relevant.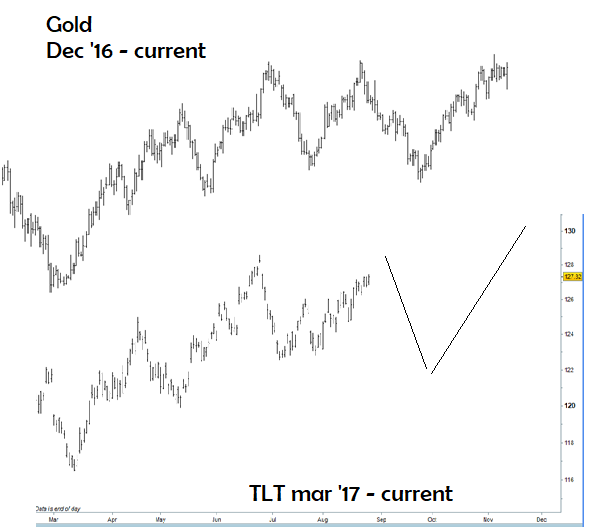 TLT did get to $123 on Friday, which is looks a decent place to buy, but if the above plays out, there should still be a decline for stops below the July low of $122.5 to as low as $121.
Dollar (UUP)
The dollar reached the 94 target and reversed.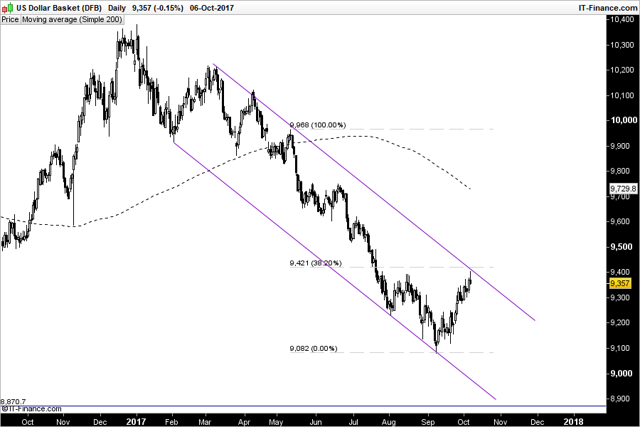 It could now head back to new lows. As a very general guide, I quite like this comparison of EUR/USD (FXE) to the dollar recovery from 1980s bear market.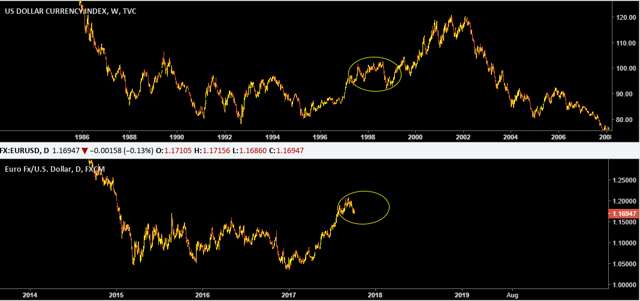 Momentum is clearly slowing in EUR/USD, but some consolidation into 2018 could set up another large leg higher and a further collapse in the dollar.
Conclusions
Equities are in the blow off stage and are likely to make more highs early next week. I still think in the bigger picture they are topping in this area, but it is probably unwise to short into a blow off. A failure at new highs and break of the channels will signal a reversal.
Precious metals are a buy in the medium term and gold should head back towards $1,375.
Oil and natural gas are lacking direction and clarity. I reckon they will both fall, but that call is based on short term patterns and counts with low probabilities. An impulsive drop could provide more certainty and set up decent shorts in the next week or two.
TLT ideally continues lower to take the stops below $122.5, but in the bigger picture it is a buy in this area.
The dollar has hit upside targets and should re-test the lows.
Good luck next week!