Investment Case
Today's business environment is characterized by increasingly high levels of uncertainty and change. Many industries/companies are increasingly characterized by rapid change. Here is what Jeff Bezos said about it: "If you want to build a successful, sustainable business, don't ask yourself what could change in the next ten years that could affect your company. Instead, ask yourself what won't change, and then put all your energy and effort into those things." If you use Jeff Bezos' words and think of investing perspective you can get a quite good advice. With that in mind, I came across Richemont (OTCPK:CFRHF) (OTCPK:CFRUY) which in my opinion stands for durable long-term business. The majority of Richemont's brands date from 19th century. The key proposition is that majority of people will always (past, present, and future) want to differentiate themselves. The best way to differentiate themselves is to buy pricey, quality, exclusive and attractive items. In Richemont's case, it is jewellery, watches, and clothes.
Do I understand the business?
Richemont's primary business is jewellery and watches, as well as a few niche areas. The Group's luxury goods interests encompass some of the most prestigious names in the industry, including Cartier, Van Cleef & Arpels, Piaget, Vacheron Constantin, Jaeger-LeCoultre, IWC, and Montblanc.

Quality, exclusivity and attractive design will remain in high regard today and in the future, but consumers today are getting used to new methods of discovering, buying and picking up products. A very important part of Richemont business model is the distribution of the products. Richemont owns half of Yoox Net-a-Porter Group, the world's leading online luxury fashion retailer. That way, Richemont tries to control online channel.
Is this a good business? (Moat, high returns on capital, etc.)
Jewellery and watches are the key businesses. The most profitable part of the company is jewellery, which is partly attributable to the fact that jewellery is being sold through Richemont's own stores.
The contribution of retail sales, through the Maisons' directly operated boutiques and online stores, has increased from 55% of Group sales, a year ago, to 60%. Today, Richemont has a network of around 1,117 retail stores. The growth of sales through its own stores should be positive for the business, but it can also increase the volatility of earnings (higher cost base in a downturn is not beneficial for profitability).
During the last five years, Richemont employed an average of EUR 8.5bn of capital (equity + debt - cash). On the other side operating profit less taxes amounted on average EUR 1.9bn. Putting that in relation Richemont earned on average 22% return on capital. It should be noted that since 2013 ROIC is in declining mode, finishing 2017 with 14% return. This can be attributed to changes in demand particularly affected the watch businesses. To protect the brands' long-term values Richemont was forced to buy back some of this inventory.
I will finish this question with Johann Rupert words: "Richemont has a strong cash flow and a strong balance sheet that enables us to focus on value creation for shareholders over an extended time horizon. This approach allows our Maisons, which have significant brand equity and heritage, to plan and grow in what we continue to believe is a unique business with excellent long-term prospects."
How is the company managed?
The majority of votes in Richemont are owned by Johann Rupert, and family-ownership is a characteristic of Richemont's operation. Namely, Compagnie Financière Rupert, a Swiss partnership limited by shares, holds 522 000 000 Richemont 'B' registered shares representing 9.1% of the equity of the Company and controlling 50% of the Company's voting rights. Mr. Johann Rupert, Chairman of Richemont, is the sole General Managing Partner of Compagnie Financière Rupert.
The retirement of the CEO, Richard Lepeu, on 31 March 2017, together with the departure on 31 July 2017 of the CFO Gary Saage, led to significant changes in senior management. Under Richemont's new management structure, the heads of individual brands, or Maisons, will report directly to the board. In that way the company would react more quickly to challenges facing the business. Instead of appointing new managers to these posts, Richemont will in the future be led by the managements of the individual maisons, each with its own management function. At the group level, together with Johann Rupert, they will discuss and decide how the company's cash flows are allocated.
What could go wrong?
As an investor, the way I perceive investment risk is not the volatility or beta of the stock, but rather the probability of permanent loss of capital. Although there are many operational and financial risks I will focus on a few that are in my opinion the most pronounced in Richemont's case: (a) the Group has to response to changes in demand; (b) shift in patterns of consumption; (c) loss of control in online channel; (d) severe economic recession; (e) competition.
Is the price attractive?
I think for long-term holders, Richemont is a solid choice with good brands and a conservative yet effective management philosophy. Of course, a business with terrific economics can be a bad investment if it is bought at too high price.
Absent of the recession, or any other external shocks I made simple DCF model. As James Montier put "Whilst the algebra of DCF is simple, neat and compelling, the implementation becomes a minefield of problems. The problems can be grouped into two categories: problems with estimating cash flows and problems with estimating discount rates." Therefore, whenever I use the DCF model I try to simplify it as much as possible. I assume top line growth of 2% in the next five years. CFO margin (net operating cash flow divided by sales) is set at 18% (average of last five years). WACC is 8%, while terminal multiple is 16x.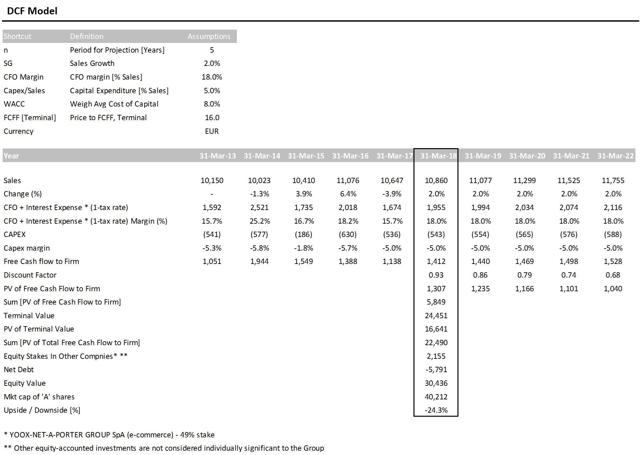 For me, as a value investor, the implied value compared with the market cap is not enough to provide me with an adequate margin of safety, thus I would wait for a better entry point.
Disclosure: I/we have no positions in any stocks mentioned, and no plans to initiate any positions within the next 72 hours.
I wrote this article myself, and it expresses my own opinions. I am not receiving compensation for it (other than from Seeking Alpha). I have no business relationship with any company whose stock is mentioned in this article.
Editor's Note: This article discusses one or more securities that do not trade on a major U.S. exchange. Please be aware of the risks associated with these stocks.