A lot can change in a year. There are 183 companies with a market cap of at least $300 million and a starting share price of at least $5.00 whose share price has at least doubled in the past 52 weeks. My investment club owns shares in 1 of the 183 – Textainer Group Holdings (TGH).
It's time for us to revisit Textainer, the world's second largest lessor of shipping containers.
We invest for the long haul so we tend to be a patient club, a very patient club. In 2016 and 2017, we modified our strategy from a GARP focus to a DGI focus. We invested in Textainer in 2012 as a GARP candidate although it paid a dividend and a healthy one at that. We considered that icing on the cake.
The Fall
Trade volume with Asia began to slip noticeably in 2014. Our investment in Textainer slid to a small paper loss.
"Asia contributed 1.6 percentage points to the 2.3% rise in the volume of world merchandise imports in 2013, or 73% of world import growth but, in 2015, the region contributed just 0.6 percentage points to the global increase of 2.6%, or 23% of world import growth."
Though we had not originally invested in Textainer for the dividend, the income was soothing as we found ourselves waiting on the share price to recover. In November 2015, Textainer elected to cut its dividend almost in half from $0.47 per quarter to $0.24 per quarter.
Hanjin, South Korea's largest ocean carrier, one of the world's top ten shipping lines and Textainer's sixth largest customer, filed for bankruptcy in August 2016. The industry had hit a low point. With the bankruptcy, it was estimated $14 billion worth of cargo became stranded at sea. Textainer had containers worth $237 million in book value on lease with Hanjin. Anticipating the fallout, the company sliced its dividend again – this time by 87.5% and down to $0.03 per quarter.
By November 2016, just one year after the initial cut, the dividend was gone. The company reported third quarter results inclusive of the Hanjin impact and the dividend elimination on November 8th. Textainer had endured an adjusted loss of $0.92 per share with $0.78 attributed to Hanjin. Its share price hit a low of $6.90. Many investors took their loss and walked away. My club opted to wait it out as it hardly seemed worth the expense to divest our position.
In the midst of or perhaps in reaction to the industry's struggles, two of Textainer's primary competitors decided to merge: Triton Container International and TAL International Group. The transaction creating Triton International (TRTN) completed in July 2016. The merger meant Textainer slipped from the number one spot by TEU (twenty foot equivalent unit) to the number two spot.
In hindsight, it would have been an excellent time to average down on the club's costs for Textainer in the fall of 2016 but there were simply too many issues swirling in the waters. As well, the club was intent on transitioning to a DGI strategy (though in 2016, we missed the mark). If we really wanted to point a finger on where we missed out, we should have diversified into CAI International (CAI) (my coverage here, here, here as well as others). Its share price tripled from the fall of 2016 to the present. In fact, CAI's performance is credited for some of Textainer's share price recovery. But, CAI is not a dividend-payer either so it didn't meet the club's new criteria.
So yes, we've missed out on Textainer's share price appreciation of over 100%. And yet, now still seems a better time for us to consider an investment in Textainer.
A Year of Changes
In its 2017 second quarter results in early August, Textainer declared an upcoming end to the Hanjin impact.
"The Hanjin bankruptcy continues to unfold better than we expected and the impact is now largely behind us. To date, we've re-leased close to 60% of the recovered Hanjin containers and we expect to complete the re-leasing of the recently recovered containers over the coming month. We have now received $40 million of insurance proceeds for our owned and managed fleet, have lower-than-expected repositioning expenses and expect the ultimate losses not covered by insurance will be minimal."
As well, the industry itself is recovering.
"Demands for both new and depot containers is strong. And, lease terms and rental rates remain very attractive."
Asia's demand for containers is now stronger than the market's supply. New leases have been negotiated for more than $0.70 CEU (container equivalent unit) per day. By comparison, leases expiring between 2018 and 2021 (likely originated in 2013 through 2016) have rates as low as $0.36 per CEU per day and average $0.56 per CEU per day. Textainer estimates every $0.01 increase in the average per diem rate will equate to $8.5 million in pre-tax income.
Current used container prices have nearly doubled from their lowest rate in 2016. A container is considered to have a useful life of at least 13 years. The initial lease is typically for 5 to 7 years. Until it is sold, the container will be either extended on its original lease or re-leased. The company estimates every $100 increase in the sales price of used containers equates to $10 million in pre-tax income.
The average purchase price per CEU in 2015 for new containers was $1,945 and in 2016 was $1,532. As of June 30th, 2017, the price had blossomed to $2,150. Textainer expended $231 million on new container purchases in 2015 and $248 million in 2016. The company was limited in its purchasing power in the first quarter of 2017 due to restrictions with its financing facilities. Since then, Textainer has purchased or placed on order new containers valued at approximately $275 million. The majority are already leased out.
Just as important as the industry's recovery, Textainer has also been focused on accessing longer-term debt options and expanding its funding sources. At year-end 2016, Textainer owed $3.06 billion.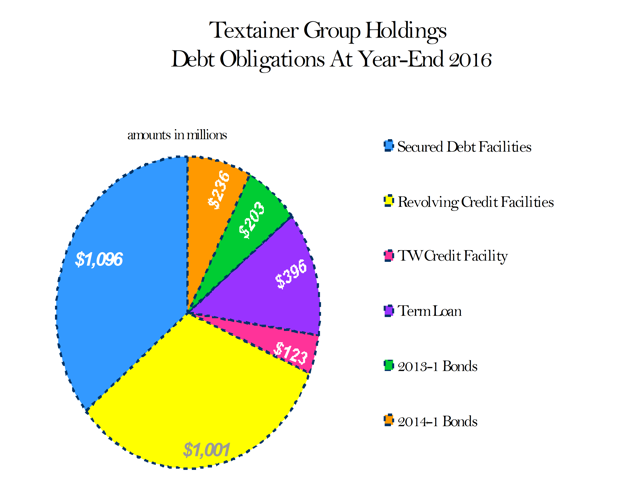 Source: Author-created from company data
In April, the company announced it would prepay its 2013-1 bonds and its 2014-1 bonds. In May, the company issued $420 million of ABS (asset-backed security) notes, the largest issuance in over a decade in the container ABS market. The proceeds were applied to the bond prepayments. The offering was so well received it was oversubscribed by a factor of 6. On the tail of this success, in June, Textainer offered a second and larger issuance at $500 million. Proceeds from the second transaction were used to pay down debt and purchase new containers (mentioned above). As expected, the company's effective interest rate did increase from 3.11% at year-end 2016 to 4.04% at the end of the 2017 second quarter. But, its maturities are now better staggered which helps limits its exposure.
In early September, the company continued its efforts and refinanced its $1.2 billion warehouse facility (TMCL II). The term was extended and the interest late lowered. In less than six months, Textainer has cleaned up its debt structure significantly.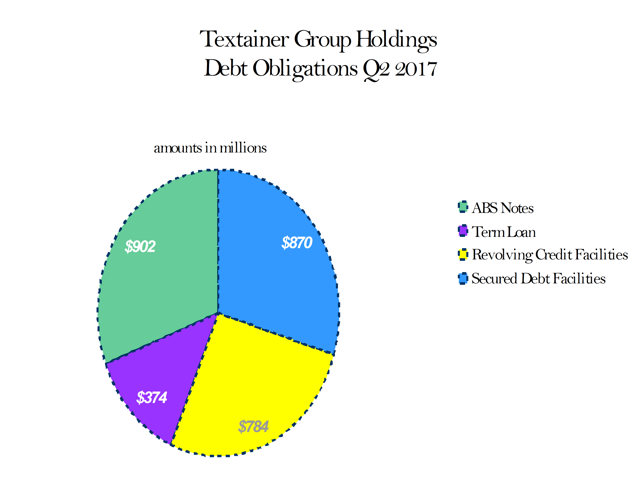 Source: Author-created from company data
Textainer's debt position is much cleaner than its larger competitor, Triton International. Textainer has $2.93 billion in debt and a fleet of containers with a net value of $3.55 billion with capacity of 2,992,040 TEU. Comparatively, Triton International has capacity of 5,359,373 TEU in containers with a net value of $7.8 billion. However, its debt obligations total $6.75 billion.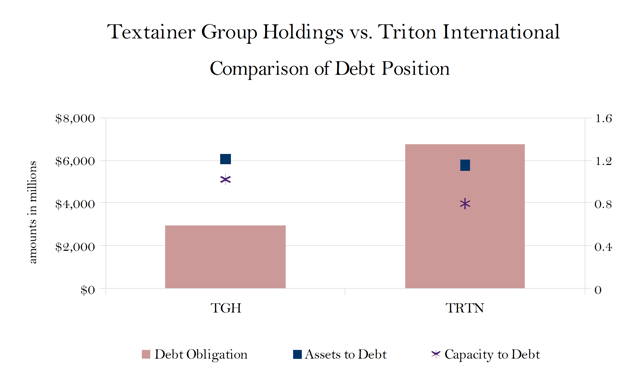 Source: Author-created from companies' data
After Triton's merger with TAL International, many expected the merged company would have to cut its dividend. But, that has yet to happen. Triton shareholders continue to receive a dividend yielding over 5%.
Textainer pledged it would keep dividend distribution in its sight when it was eliminated.
"Our Board recognizes the value shareholders place on dividends and will review this decision as market conditions change."

"Our board of directors takes a fresh view every quarter, taking into consideration our cash needs for opportunities that may be available to us, and sets our dividend, if any, accordingly."
Textainer Group Holdings is a holding company. It operates off funds and dividends received from its subsidiaries. Historically, much of the cash used to distribute dividends to TGH shareholders came from TL (Textainer Limited) in the form of dividends. As is common with many companies, there are restrictions in the financial agreements concerning the distribution of dividends.
"The TL Revolving Credit Facility, TL Revolving Credit Facility II and TL Term Loan also prohibit TL from paying dividends to TGH in excess of 70% of TL's immediately preceding four quarters of net income attributable to TL excluding unrealized losses (gains) on interest rate swaps, collars and caps, net."
Textainer has reported a net loss for the past four quarters. It expects to return to profitability in the second half of 2017. So, although Textainer may want to honor its pledge, it may be late 2018 before a dividend can be reinstated ensuring the subsidiaries remain in compliance with their financial facilities.
Reinvestment Rationale
Regardless that it is not paying a dividend, it seems an opportune time to consider reinvestment. Market conditions have significantly improved and Textainer's performance will likely follow.
Inevitably, deciding to divest a position is far harder for us than deciding to invest. Our migration from a GARP model to a DGI model has facilitated a few of these harder decisions. By not paying a dividend, Textainer no longer fits our portfolio strategy and, in theory, would make a divesting decision easier.
On one hand, a reinstated dividend would likely facilitate reaching breakeven more quickly. But, on the other, a reinstated dividend could actually complicate that future decision. Should it again become a dividend-payer, Textainer would qualify for consideration in our portfolio. But, my club's GRAVY criteria requires more than just paying a dividend. GRAVY - "GR"owth "A"bility, "V"aluation and "Y"ield - is the acronym for our search for healthy, fairly valued dividend-payers with clear potential for dividend growth.
Weighing the two alternatives, it would be better if the dividend were reinstated before the share price reaches our breakeven point. We would at least gain some visibility for our GRAVY criteria. Those dividend details would partially assist in the decision-making process. To get to that decision point and still have only the potential of dividend reinstatement would be a conundrum.
In general, my club seems to lean more toward risk-taking than conservatism in its decisions. And, as already stated, we are patient, very patient. My prediction is the club would opt to wait on Textainer again. And, because that is most likely the case, it reassures that considering a reinvestment in Textainer is more rational for us now rather than taking a loss or continuing to wait without averaging down - even if Textainer doesn't fit our current strategy.
Another haunting possibility for us to weigh would be whether to invest in CAI International in the hope it would initiate a dividend payment. But, before its elimination, Textainer had a nine-year history of dividend distribution. In fact, for 14 quarters from 2010 through 2013, it bumped its dividend rate quarterly. Since the elimination, the company claims to review reinstatement every quarter. The odds seem greater Textainer would reinstate before CAI would initiate. And, beyond dividends, Textainer's share price appears to have more room for appreciation.
A lot has changed in the past year. And, a lot will change in the next year as Textainer returns to profitability. Hopefully, dividend reinstatement will be on that list by November, 2018 even if our breakeven is not.
Disclosure: I am/we are long TGH.
I wrote this article myself, and it expresses my own opinions. I am not receiving compensation for it (other than from Seeking Alpha). I have no business relationship with any company whose stock is mentioned in this article.
Additional disclosure: I belong to an investment club that owns shares in TGH.