The current oil price of ~$49.00 is in no way pricing in what could be an inventory draw from October to December that is over 160x the average seasonal draw for this period over the past 14 years, or by a total amount of 50 million barrels. While this may sound extreme, it is important to note that 2017 so far has seen similarly impressive results. From 2003 to present, the average seasonal build year-to-date has been about 14 million barrels.
This year, not only has there been a cumulative draw, but the draw has been 14 million barrels. This is the largest draw since 2003 by a large margin, with 2014 being the only comparable year (a 5.2 million barrel draw):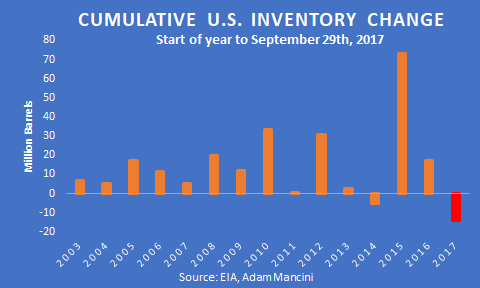 From the start of October to the end of the year, inventories have drawn by an average of 300,000 barrels, but 6 of those years have seen builds: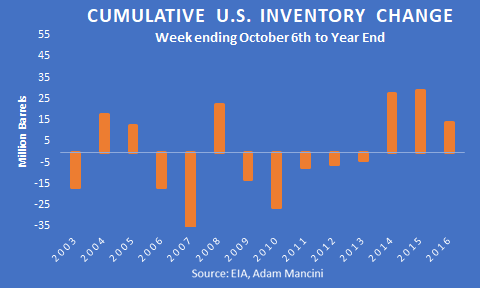 The EIA's September STEO estimated U.S. inventories ending the year at 475 million barrels, which is now an irrelevant figure since actual September inventories ended at 464 million barrels, 13 million barrels below the EIA's estimate for September (of 477 million barrels). Nonetheless, the EIA was still only anticipating a tiny 2 million barrel draw in inventories from September to the end of December.
While it is likely that the October STEO will be released around the time this article is published (and will include revised inventories for September to reflect the actuals, and likely downward revisions to the December figure), I will be making adjustments to figures in the September STEO to demonstrate how crude inventory draws to year-end could be as much as 50 million barrels. These adjustments will incorporate new realities surrounding U.S. refinery runs as well as net imports in the wake of Harvey. They will also include the potential for U.S. production coming in lower than expected.
Outlook For Refinery Runs
Starting with the refinery runs figure, here is what the September STEO showed versus my forecast (all figures in million barrels per day):
| | | | |
| --- | --- | --- | --- |
| Refinery Runs | September STEO | Forecast (including Sept. actual) | Difference |
| Sep | 14.86359 | 15.18 | 0.31641 |
| Oct | 15.62372 | 16 | 0.37628 |
| Nov | 16.18327 | 16.18327 | |
| Dec | 16.49754 | 16.49754 | |
The actuals for September were off by 310,000 bpd. I anticipate October will be even more significantly off, and I will assume November and December are the same to be conservative (the risk here is to the upside though in my opinion). A strong rebound in crack spreads as well as depleted product inventories have already incentivized refiners to shift maintenance to March.
Distillate stocks, for example, are now 8 million barrels below the 10-year average: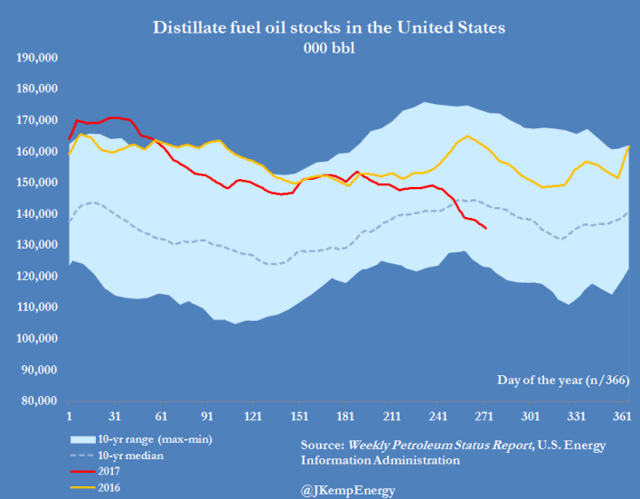 Source: John Kemp
As a result, the refining margin for heating oil is now $24, up from $15 during the summer. This has resulted in 13 refineries committing to postpone regular October maintenance, and these refineries represent 3.3 million barrels per day of production. As a result, I anticipate October to see 376,000 barrels per day higher refinery runs than forecast by the EIA, and combined with the updated September figures, this would result in ~20 million barrels of additional draws from what the EIA anticipated in their September STEO.
Outlook For Net Imports
Actual September net imports were actually more bearish than anticipated by the September STEO, but going forward, much stronger than expected exports should keep this number contained (all figures in million barrels per day):
| | | | |
| --- | --- | --- | --- |
| Net Imports | September STEO | Forecast (including September actuals) | Difference |
| Sep | 5.74 | 6.048 | 0.31 |
| Oct | 6.24 | 5.7 | -0.544925 |
| Nov | 6.40 | 6 | -0.40 |
| Dec | 6.22 | 6 | -0.217369 |
U.S. exports of crude just surged to a record 1.94 million barrels per day as a result of the wide Brent-WTI differential, which is currently over $6 per barrel. It is unlikely exports of nearly 2 million barrels per day are sustainable, but exports of over 1 million barrels should be sustainable into year-end providing the spread remains above $3 per barrel.
Many U.S. producers have already committed supplies to Asian customers, and these commitments should ensure relatively high imports going at least through to year-end. Energy Aspects sees exports averaging 1.3 million bpd through to year-end. October should be particularly bullish, since Saudi Arabia is expecting U.S. exports to be less than 600,000 bpd.
These factors result in my above estimates, which should add another 26 million barrels in inventory draws from what the EIA anticipated in their September STEO.
Outlook For Production
The EIA sees production in 2017 ending at 9.69 million barrels per day. They were at 9.82 million barrels per day in the prior month's STEO, and further revisions are likely as the EIA continues to revise down production to match the dismal actual production figures emerging from their delayed (but more accurate) Petroleum Status Monthly Report.
The EIA's 9.69 million barrels per day year-end figure differs sharply from Continental Resources' (CLR) CEO Harold Hamm's year-end forecast of 9.35 million barrels per day. Hamm stated in a recent interview with Argus Media that DEPA (the Domestic Energy Producer's Alliance Group) surveyed their 25 publicly reporting producers and found that Q2 saw capex and production figures were cut.
Hamm's look at current projections revealed 9.35 million bpd as a more reasonable year-end figure. This is consistent with estimates from Scotiabank, which sees 2017 production from its universe of large cap U.S. producers actually declining (much of the U.S. growth is coming from the Junior & Intermediate Group which produces less than 900,000 bpd combined).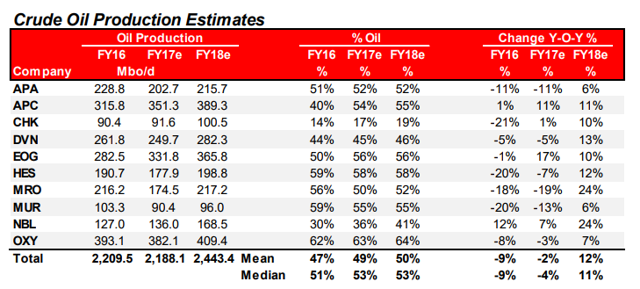 Source: Scotiabank
I will be more conservative than Hamm, and the muted September figures factor in the impact of Harvey.
| | | |
| --- | --- | --- |
| Production | August STEO | Forecast |
| Sep | 9.290394 | 9.2 |
| Oct | 9.525055 | 9.35055 |
| Nov | 9.630758 | 9.45 |
| Dec | 9.691716 | 9.55 |
These revisions would add 17 million of additional draws.
Conclusion
Adding 20 million barrels in additional draws from refinery runs and 26 from net imports plus an additional 17 million in additional draws from production would result in 63 million barrels of draws from the 477 million barrel inventory levels the EIA projected for September. Since the September actual inventories were 464 million barrels, this would work out to 50 million barrels from October to year-end, to end the year at 414 million barrels.
This would take crude inventories to 36 million barrels above the 5-year average by December. There is of course room for error here (particularly on the production side), but the key point is to illustrate the massive potential for significant draws through to year-end that will almost certainly surprise consensus estimates, and in turn, prices.
Disclosure: I/we have no positions in any stocks mentioned, and no plans to initiate any positions within the next 72 hours.
I wrote this article myself, and it expresses my own opinions. I am not receiving compensation for it (other than from Seeking Alpha). I have no business relationship with any company whose stock is mentioned in this article.