Contributing Writers
Elmore Wallace, Dallin Jones, Chad Craig.
Business Overview
Operating with over 50 years of industry experience, Raytheon has emerged as one of the United States' foremost defense contractors. The firm is the fifth largest defense contractor in the world and the third largest in the U.S. While most of its revenue comes from U.S. based defense contracts, Raytheon also generates revenue by selling to foreign allies.
In recent years, Raytheon has begun to differentiate its business segments by investing in new and emerging defense technologies beyond its guided missile specialty. Forcepoint, created in 2015, is one such business segment. Its aim is to meet the growing market demand for cybersecurity products, and has already seen much success in its short lifespan.
Raytheon also enjoys well-protected revenue streams. Porter's Five Forces, analyzed below, show that perhaps the only real threat comes from the bargaining power of buyers.
It seems as though, no matter what happens to the industry, escalating conflicts around the world leave Raytheon well positioned to remain at the forefront of defense technology as demand for it continues to grow. As a result, the stock remains attractive to investors seeking a strong asset as part of a portfolio.
Porter's Five Forces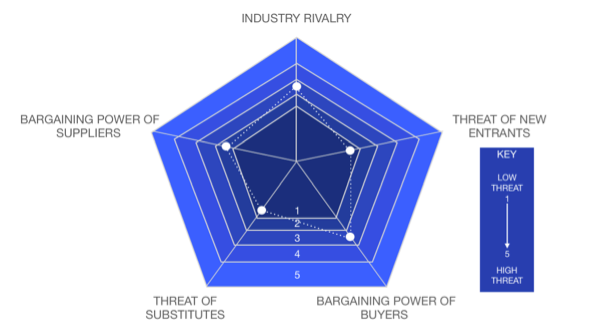 The largest threat to Raytheon's business is the potential bargaining power of the U.S. government. The U.S. government contributes a large portion of the total revenue for Raytheon(see pie chart below). These expenditures come out of the U.S. spending on defense, which is expected to rise over the course of President Trump's term in office.
However, U.S. negotiating power is limited. Raytheon's missile defense systems are unmatched in the industry. Most NATO countries have contracted with Raytheon to supply their missile defense systems. As a result, Raytheon, as the industry expert, won't be pushed around.
Due to the extreme regulatory policies and high start-up costs, Raytheon faces almost no direct competition. Its competition comes from Lockheed Martin and Northrop Grumman. However, neither of these specialize in Raytheon's niche market.
These factors place Raytheon in a strong position for sustained economic growth. With little threat of being replaced, Raytheon becomes more valuable as a long-term investment.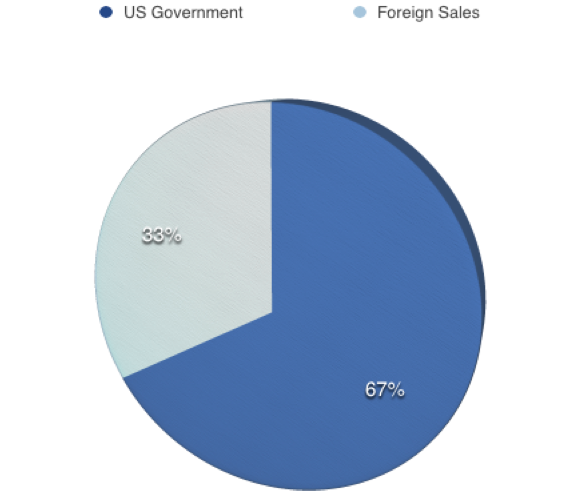 Management
Raytheon is led by an executive team with many years of experience, such as Chief Executive Officer, Tom Kennedy, who has been a part of the firm for over 30 years. As CEO, Kennedy has focused company efforts on operating efficiently and effectively with invested capital. Raytheon's work environment is goal-oriented, with incentives to reach targets and use assets conservatively coming by way of salary bonuses for its employees. Despite the emphasis placed on efficiency and the conservative use of assets, the company is not afraid of opportunity and aims to expand into the cybersecurity realm as well as to invest in future business agreements.
Industry Overview
Raytheon operates in the defense and aerospace sector of the economy. A large portion of the company's revenue originates from government spending on military, defense, and intelligence-related projects. The industry is dominated by Raytheon, Lockheed Martin, and Northrop Grumman and together operate in a form of duopolistic competition. The firms compete in missile production and airborne radar systems. Within the niche of airborne radars and other sensory instruments, Raytheon is the market leader. Raytheon possesses advance navel missile systems, but despite this, shares the majority of this market with Lockheed Martin as it does not provide enough of a competitive advantage.
Beyond these products, Raytheon also produces space and airborne systems as well as integrated defense systems. Raytheon leads the market in space and airborne systems, completely outclassing European and Russian rivals. Most of Raytheon's products command a relatively high margin, typically in the double digits. Forcepoint, however, hovers around a seven percent margin.
Economic Moat
Raytheon has 50 years of industry innovation and experience. This provides the firm with substantial product differentiation creating a high switching cost for consumers. Raytheon has primarily provided NATO countries with missile defense equipment. However, in recent years, the firm has dealt with increasing competition from U.S. firm Lockheed Martin. The competition from Lockheed has created a duopoly in the industry. Lockheed's competition is not seen as a major threat to its economic moat but rather as an incentive to drive growth and innovation.
The United States government is the largest single buyer from Raytheon, making up over 67 percent of total revenue in 2016. Due to Raytheon's dependence on the federal defense budget, it has a major impact on the company's stock performance. This gives the United States substantial bargaining power, posing the only serious threat to its economic moat.
However, Raytheon's business is protected by high barriers of entry and little threat of substitutes, which keep emerging competitors out of the market. Considering this, it is estimated that Raytheon has above average moat protection.
Valuation
Examining Raytheon from a value investing standpoint, it appears there is a seven percent upside for the firm currently. Using multiple discounted cash flow and dividend growth models, Raytheon is estimated to have a per share intrinsic value of $195.91.
There are a few scenarios that if played out would allow the stock price to run higher. First, there is potential for the United States to increase defense spending beyond what was calculated in the models. It is difficult to determine just how much of the increased budget Raytheon would be able to secure, but we estimate that free cash flows could increase enough to warrant another 2 dollars of intrinsic value per share. Second, Raytheon has an effective tax rate of 29 percent, if that tax was effectively cut to 20 percent, the intrinsic value per share would increase to $197.78.
Investing Thesis
The industrial sector historically remains unmoved for the late summer months and then picks up momentum around mid-October. Considering this, investors should be patient in getting into the stock.
I suggest that an investor watch this stock for 3 weeks to a month. If the price drops to the key support level at $159 per share, we would suggest a strong buy. If the stock remains stable through the following months, an investor should buy the stock toward the end of October.