It is end of quarter and September was the second best month in terms of dividend income. I personally was injured pretty much throughout September suffering from infections and over-stressing in my hands which mostly prevented me from writing but still allowed me to closely track the markets.
I invested almost $5,000 in fresh capital but also exited one position worth $396 and trimmed 5 others amounting to $2,864 which left me with a net investment of around $2,136.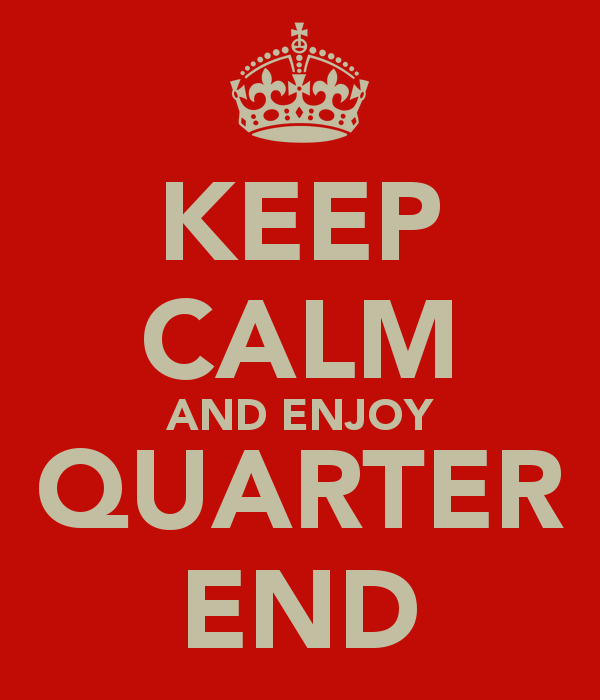 Source: keepcalm-o-matic
Portfolio Changes: 2 new stocks, 1 exit, and 23 repurchases
Adding another two stocks to the portfolio while exiting one now leaves me with 82 positions. Many believe this is too many but I believe that there are so many great companies out there that it is impossible for me to bring it down significantly. Only future will tell if it is diversification, "diworsification" or actually wealth generation.
Let me show you what and why I purchased, sold and trimmed.
New stocks
Lanxess (OTCPK:LNXSF): A small German specialty chemicals company that was spun off from Bayer in 2004. Warren Buffet is an investor and so am I as I opened a position on September 11 following an unprecedented short-term sell off due to the company's outlook. You would think it was bad but in fact the company announced that it will get more profitable and is targeting EBIT margin of 14-18% from 2021 onwards. Apparently the market was expecting more but given that the losses have already been recouped I think it was just overoptimism from the market.
Medigene (OTCPK:MDGEF): I opened a position in this small biotechnology company following Gilead's (GILD) acquisition of Kite Pharma, however a bit too late as the stock has already risen by more than 40%. Speculation about a possible take-over of this small biotech engaged at the forefront of T-cell screening is fueling the stock and could catapult it much higher. That is a purely speculative and small position for me.
Exits
Fortress Investment Group (FIG): Fortress was already acquired by Softbank several months ago but I somehow missed to sell that stock. As it is going nowhere I have exited my position.
Trimming
Altria (MO): No, I did not really sell MO but while purchasing more Altria stock my broker somehow lagged and instead of buying 6 shares I accidentally bought 12 and thus sold the other 6 immediately.
DuPont Fabros Technology (DFT) and Coresite Realty (COR): I decided to take some profits in both stocks as they have had an exceptional run and have encountered some selling pressure as of lately. I have already bought part of these back and I am definitely intending to buy more later.
Target (TGT) and Southern Company (SO): This was probably a bit too cautious but I trimmed both positions in anticipation of Hurricane Irma which I expected to hit Florida face-on. disrupt power and force discounters out of business for some days. As it fortunately weakened over Cuba, Irma did not bring as catastrophic damage as expected although the damage was and is still significant. Well, that way I "raised" some capital which I invested as the month progressed so really nothing to be too angry about.
Adding to existing positions
Continue ongoing monthly stock savings plans: These are routine investments between $50-115 each into Wells Fargo (WFC), Visa (V), McDonald's (MCD), Johnson & Johnson (JNJ), Apple (AAPL) and the lesser known Commonwealth Bank of Australia (OTCPK:CBAUF).
Buying punished stocks: My two biggest holdings in AT&T (T) and Altria got bigger yet again as they continued to trade in very attractive territory. I was able to snatch 18 shares of T in the $36 area although I largely missed the $35 prices despite even writing about it: "Shall you feat AT&T and its 5.5% Yield?". That 5.5% yield is history already but T remains a great buy even if it is "only" yielding 5% now. For similar reasons I also added to Southern Company (SO), B&G Foods (BGS), Teekay Tankers (TNK), Baozun (BZUN) and Omega Healthcare Investors (OHI).
Invest in growth stocks: Growth stocks have lately come in the spotlight of my portfolio construction and that's why I added to Microsoft (MSFT), Gilead (GILD), Honeywell (HON), Apple (AAPL) and Momo (MOMO). Honeywell is one of my best performing stocks but unfortunately I only have very few shares. This needs to change as the company is doing great and the dividend growth is staggering. Late September they announced another double-digit dividend increase (12%) which is just too good to ignore. I am also thinking about adding Honeywell to my regular monthly savings plan. The valuation is good at 23 times earnings, the dividend growth is great and overall the company just delivers every time. Hopefully, Q3 earnings will provide some sort of setback soon.
All purchases in September can be found below: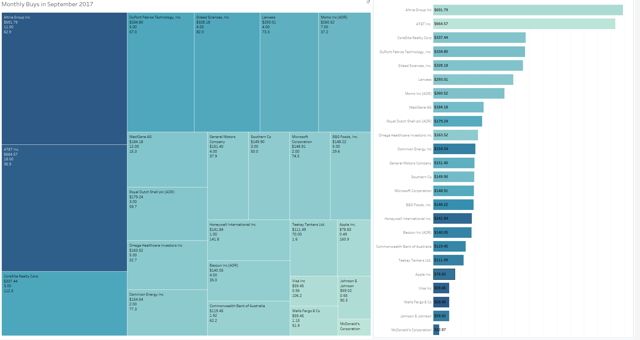 Dividend Income: What happened on the dividend side?
My income from 26 corporations amounted to $181.86 in dividends, up +92% YoY.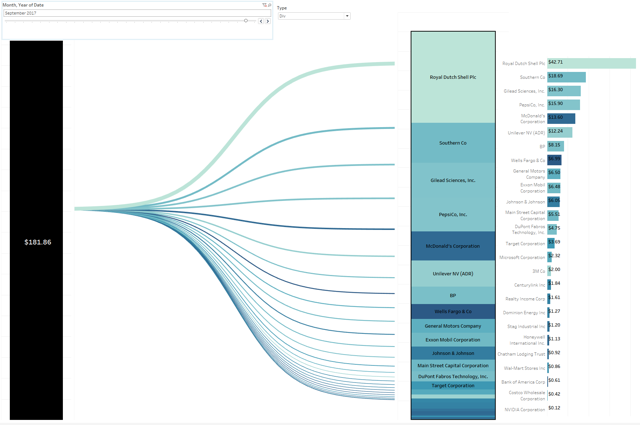 This dashboard shows how the monthly dividend income of $182 breaks down into the individual stocks.
The top 5 companies are bringing in 59% of total income in September mainly driven by Royal Dutch Shell (RDS.B). However, contrary to previous quarter ends that share has come down as ongoing investments into Southern Company, Gilead and McDonald's (MCD) clearly manifest themselves. Here we can truly see how the regular purchases have fueled income.
Here is a look at my favorite chart, the net dividend income development by month over time between 2015 and 2017, where you can easily see the development of my dividend income as well as the average annual dividend in a given year: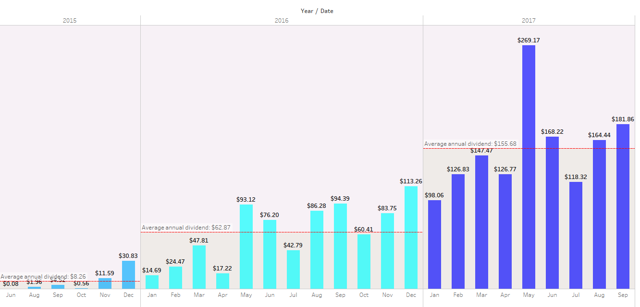 This chart only knows one direction and naturally this is up driven by ongoing investments and dividend increases alike. Thus, while this does not really demonstrate the power of dividend growth with a starting portfolio that is left untouched but it still clearly shows my progress towards financial independence which I currently see somewhere at around $3,500 per month. This target is decades away but I am confident I will eventually reach it.
Next, I have scattered all the individual dividend payments I have ever received and colored them by year: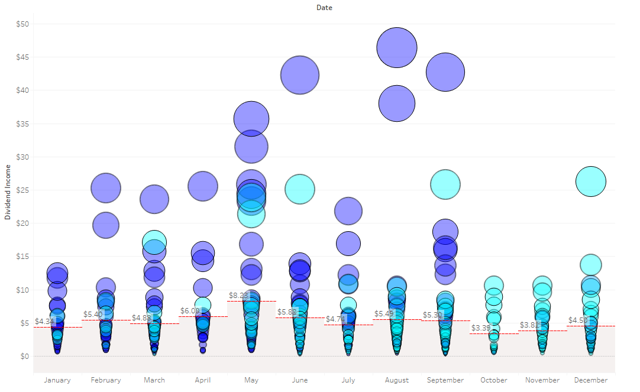 This chart I like even more as the bubbles get bigger and bigger each month. Each bubble represents one dividend payment. The average payment per holding remains in the low $5 area as I have many very small positions which are either not paying dividends at all or simply are just too small to be meaningful.
It will be fascinating to watch how all these metrics develop over time. Right now, as I am still in the early stages, these metrics are not that impressive but the growth is truly striking and all these instruments help me measure it and provide meaning to it.
Speaking in terms of meaning, another way to express the monthly dividend income is in terms of Gifted Working Time (GWT). I am assuming an average hourly rate of $20 here.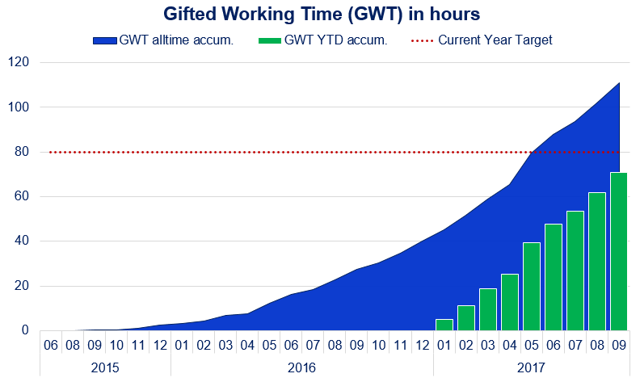 What this shows is the following:
All-time (blue area): Around 111 hours or almost 14 days of active work (i.e. around 3 full working weeks!) have been replaced with passive income since the start of my dividend journey.
YTD (green bars): Around 71 hours or 9 full days of active work have been replaced with passive income.
Monthly (delta between final two green bars): Around 9 hours of active work have been replaced with passive income.
12-Month Forward Dividend Income
Due to ongoing investment activities in September and in particular by the soaring euro, my projected forward income has now increased to $2,540, which is $40 above the last projection at end of August.
Upcoming October Dividends
Above snapshot is taken from the newly released Dividend Calendar and Dashboard Tool and shows expected gross dividend payments of around $140 in October. This is going to be a quieter month but compared to its most recent predecessor, July, still expected to show some decent growth, though nowhere near the September income reported above.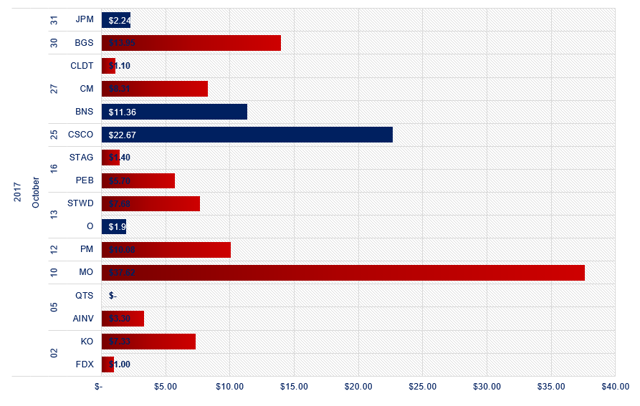 I use that tool basically every day and I would be happy if you give it a try as well, for free of course. I am also very interested in your ongoing feedback regarding this as it continues to be popular across the community. In case of any problems I am more than happy to assist you in setting up everything. I am also working on simplifying and automating it further as well as adding new features. This however, takes a lot of time actually so please be patient.
My portfolio composition
As of end of September, based on cost basis and previously mentioned clustering, my portfolio is composed as follows: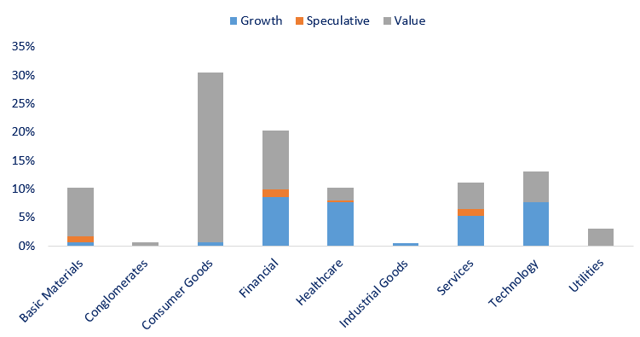 As of end of September, based on cost basis, my portfolio is composed as follows:
| | | |
| --- | --- | --- |
| AT&T Inc. | (T) | 6.77% |
| Altria Group Inc | (MO) | 6.45% |
| Gilead Sciences, Inc. | (GILD) | 5.30% |
| Omega Healthcare Investors Inc | (OHI) | 4.69% |
| Royal Dutch Shell Plc | (RDS.B) | 4.31% |
| Cisco Systems, Inc. | (CSCO) | 3.57% |
| McDonald's Corporation | (MCD) | 3.33% |
| Apple Inc. | (AAPL) | 2.89% |
| Southern Co | (SO) | 2.62% |
| Unilever NV (ADR) | (UN) | 2.33% |
| B&G Foods, Inc. | (BGS) | 2.14% |
| Main Street Capital Corporation | (MAIN) | 1.97% |
| Wells Fargo & Co | (WFC) | 1.97% |
| Visa Inc | (V) | 1.97% |
| PepsiCo, Inc. | (PEP) | 1.92% |
| Verizon Communications Inc. | (VZ) | 1.70% |
| Johnson & Johnson | (JNJ) | 1.63% |
| Bank of Nova Scotia | (BNS) | 1.61% |
| Commonwealth Bank of Australia | (OTCPK:OTCPK:CBAUF) | 1.61% |
| Philip Morris International Inc. | (PM) | 1.59% |
| Daimler | (OTCPK:OTCPK:DDAIF) | 1.58% |
| Procter & Gamble Co | (PG) | 1.49% |
| Bayerische Motoren Werke AG | (OTCPK:OTCPK:BMWYY) | 1.49% |
| The Coca-Cola Co | (KO) | 1.43% |
| AbbVie Inc | (ABBV) | 1.43% |
| BASF | (OTCQX:OTCQX:BASFY) | 1.40% |
| Exxon Mobil Corporation | (XOM) | 1.30% |
| Toronto-Dominion Bank | (TD) | 1.30% |
| Walt Disney Co | (DIS) | 1.18% |
| General Motors Company | (GM) | 1.13% |
| Microsoft Corporation | (MSFT) | 1.11% |
| General Mills, Inc. | (GIS) | 0.95% |
| Allianz SE | (OTCQX:OTCPK:AZSEY) | 0.88% |
| Senior Housing Properties Trust | (SNH) | 0.87% |
| Spectra Energy Partners, LP | (SEP) | 0.87% |
| Drillisch | (OTC:OTC:DRHKF) | 0.87% |
| Total SA (ADR) | (TOT) | 0.86% |
| Realty Income Corp | (O) | 0.82% |
| Morgan Stanley | (MS) | 0.78% |
| Royal Bank of Canada | (RY) | 0.74% |
| BP | (BP.L) | 0.74% |
| Nike Inc | (NKE) | 0.73% |
| Momo Inc (ADR) | (MOMO) | 0.67% |
| Fresenius SE | (OTCQX:OTCQX:FSNUF) | 0.66% |
| Pebblebrook Hotel Trust | (PEB) | 0.66% |
| Bayer AG | (OTCPK:OTCPK:BAYZF) | 0.63% |
| 3M Co | (MMM) | 0.61% |
| Honeywell International Inc. | (HON) | 0.59% |
| Canadian Imperial Bank of Commerce (USA) | (CM) | 0.54% |
| Starwood Property Trust, Inc. | (STWD) | 0.54% |
| Citizens & Northern Corporation | (CZNC) | 0.52% |
| Teekay Tankers Ltd. | (TNK) | 0.52% |
| Baozun Inc (ADR) | (BZUN) | 0.51% |
| FedEx Corporation | (FDX) | 0.51% |
| Colgate-Palmolive Company | (CL) | 0.51% |
| CoreSite Realty Corp | (COR) | 0.50% |
| Dominion Energy Inc | (D) | 0.48% |
| JPMorgan Chase & Co. | (JPM) | 0.46% |
| Lanxess AG | (LXS) | 0.44% |
| Stag Industrial Inc | (STAG) | 0.44% |
| Advanced Micro Devices, Inc. | (AMD) | 0.43% |
| Enterprise Products Partners L.P. | (EPD) | 0.42% |
| Chatham Lodging Trust | (CLDT) | 0.33% |
| MediGene AG | (MDG1) | 0.28% |
| Texas Instruments Incorporated | (TXN) | 0.27% |
| Fresenius Medial Care | (FMS) | 0.27% |
| Frontline Ltd. | (FRO) | 0.26% |
| Hospitality Properties Trust | (HPT) | 0.25% |
| Costco Wholesale Corporation | (COST) | 0.25% |
| Facebook Inc | (FB) | 0.24% |
| Wal-Mart Stores Inc | (WMT) | 0.24% |
| NVIDIA Corporation | (NVDA) | 0.23% |
| Bank of America Corp | (BAC) | 0.22% |
| CF Industries Holdings, Inc. | (CF) | 0.22% |
| Delta Air Lines, Inc. | (DAL) | 0.21% |
| Apollo Commercial Real Est. Finance Inc | (ARI) | 0.20% |
| Kroger Co | (KR) | 0.20% |
| Activision Blizzard, Inc. | (ATVI) | 0.19% |
| Apollo Investment Corp. | (AINV) | 0.19% |
| DHT Holdings Inc | (DHT) | 0.18% |
| Albemarle Corporation | (ALB) | 0.18% |
| Centurylink Inc | (CTL) | 0.18% |
| Target Corporation | (TGT) | 0.17% |
| Take Two Interactive Software Inc | (TTWO) | 0.14% |
| Tableau Software Inc | (DATA) | 0.11% |
As always, I hope that you find this update interesting and relevant. The biggest inspiration for me are reading these updates from other authors and following their progress over the years. Compared to them, I am still really at the beginning of my journey, and I would appreciate if you want to follow/continue to follow my journey as well. I hope to inspire many more readers to also start and share their journey.
Author's note: If you enjoyed this article, the only favor I ask for is to click the "follow" button next my name at the top of this article. This allows me to develop my readership so I can offer my opinion and experiences to interested readers who may not have received them otherwise. Happy investing.
Disclosure: I am/we are long AAPL, BP, CSCO, KO, CL, XOM, GILD, JNJ, MCD, PM, PG, RDS.B, UN, DIS, PEP, VZ, V, WFC, GIS, BGS, SEP, MSFT, MAIN, CTL, TNK, HCP, ABBV, FIG, CLDT, RY, EPD, QTS, DFT, GM, CZNC, OHI, CM, T, JPM, STAG, HPT, FDX, AINV, SNH, DHT, FRO, HON, STWD, PEB, MS, CF, SO, RAI, FLO, CCP, BNS, MO, PFE, CVS, TWX, O, COR, HCN, TOT, TD, ARI, D, FB, ALB, TGT, WMT, AMD, 3M, BZUN, MOMO, DATA, ATVI, TTWO. I wrote this article myself, and it expresses my own opinions. I am not receiving compensation for it (other than from Seeking Alpha). I have no business relationship with any company whose stock is mentioned in this article.
Editor's Note: This article discusses one or more securities that do not trade on a major U.S. exchange. Please be aware of the risks associated with these stocks.