LNG Shipping - An Improving Outlook
Summary
Key markets are increasing imports and more areas are making plans to adopt LNG.
An oversupply of LNG vessels is being rapidly absorbed thanks to this robust global demand.
The low charter rates for LNG vessels which have plagued the market over the past couple years are looking to become a thing of the past much sooner than expected.
Note: This article was originally published September 23rd on Value Investor's Edge, a Seeking Alpha subscription service.
LNG Shipping
Maritime trade LNG (liquid natural gas) is a crucial link in the natural gas supply chain for many nations where domestic demand outstrips available supply. These vessels transport natural gas, which has been reduced to a liquid state by cooling it to minus 162°C, achieving a volume reduction of approximately 600 to one. Upon delivery, this LNG can be stored in a liquid state until the market demands, whereupon it enters a re-gasification process.
Companies that engage in LNG transport include, but are not limited to, Dynagas LNG Partners LP (NYSE:DLNG), Golar LNG Limited USA (NASDAQ:GLNG), Golar LNG Partners LP (NASDAQ:GMLP), GasLog Ltd (NYSE:GLOG), GasLog Partners LP (NYSE:GLOP), Tsakos Energy Navigation Ltd. (NYSE:TNP), and Teekay LNG Partners L.P. (NYSE:TGP).
Overview
In my recent LNG Shipping Supply-Side Update (August 2017) I detailed how a massive influx of vessels distorted the market. Below is a snapshot of the current fleet. Notice a vast majority of the supply hit the water very recently.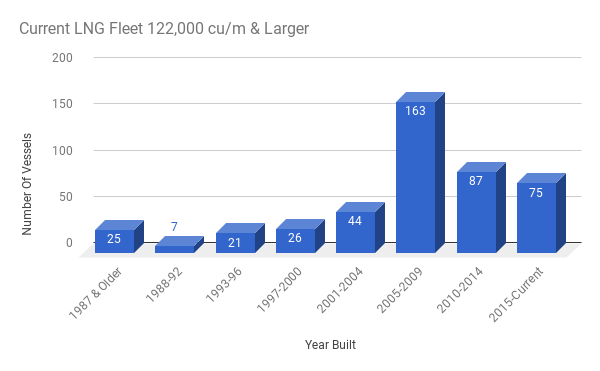 Source: Data from Clarkson Research Chart by James Catlin from LNG August Report
Only 123 vessels on the water were built prior to 2005. Since that time 325 additional vessels have hit the water.
What this chart doesn't show is that between 2007-2010 mega LNG ships hit the water which transported well over 200,000 cu/m. That increasing capacity per ship further altered the market. Consider that in 2006 the largest LNG vessel to hit the water had a capacity of just 154,472 cu/m, which at the time was considered a very large LNG carrier. 2007 saw ships in the 210,000 range and that trend peaked when 14 vessels of 260,000 or greater were delivered between 2008 and 2010. Meaning one delivery of a mega LNG carrier represented two average deliveries from just a few years prior. In total, 45 vessels over 200,000 cu/m were delivered between 2007 and 2010. It was at this point where a new record was set in terms of annual capacity growth for the fleet coming in at approximately 26%. So while the ship numbers tell one story, capacity growth was another major story at this time.
But 2011 was the beginning of a prolonged stagnation in the global volume of LNG traded.

Source: IGU
This stagnation coupled with the recent influx of vessels caused an increase in vessel availability resulting in greater competition leading to lower rates.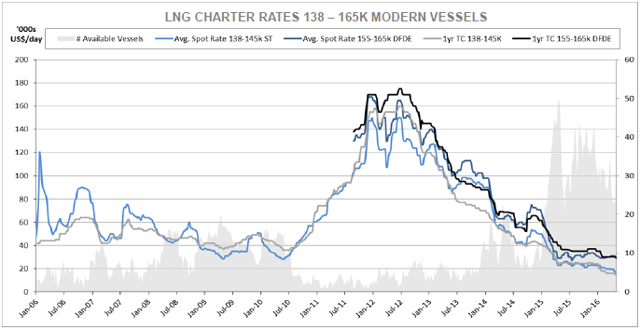 Source: Awilco
In the end rates collapsed over 75% from their peak ending in sub 30K territory in 2016.
While 2017 started off soft rates have been steadily rebounding even though we are currently right in the thick of a massive influx of deliveries that will continue to hit the market through 2019.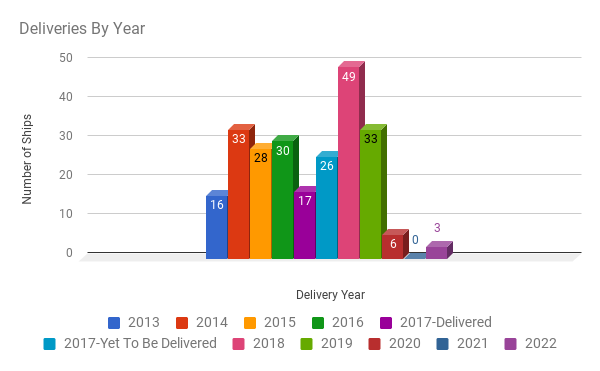 Source: Data from Clarkson Research Chart by James Catlin from LNG August Report
Rates in Q1 levelled off and showed a firming trend in Q2. The quarter started with day rates reported at $30,000 and $28,500 West and East of Suez, respectively, and ended at $40,000 and $30,000. In Q3 both activity and rates have continued the firming trend, leading to rates of $43,000 and $40,000 West and East of Suez, respectively.
So how can rates be rising and the outlook said to be improving even as the bulk of the orderbook is now hitting the water?

Demand
The answer to that question can be found in recent upticks in global demand which have surpassed most, if not all, expectations.
In a May 2016 article I used the historical average of 6.6% CAGR from 2000-2014, using 2015 as a base, to determine the market could be at equilibrium in late 2020 to early 2021 using 46% demand side growth for the current 30% orderbook.
However, the 7.5% growth in 2016 was slightly above what I anticipated and in my August 2017 article I revised my demand side growth projections to 9%, using a variety of sources, which would see the market re-balance by mid 2019.
On September 13th Bloomberg reported that "global demand will rise 8.8 percent this year to 280 million tons," according to Bloomberg New Energy Finance.

But now it looks like another revision is warranted. Over the first half of 2017 LNG imports were up 13% and the global LNG trade is picking up momentum.
Awilco reported that in the first half "the strongest demand growth came from China and South Korea which were up by 38% and 18%, while Japan had a modest increase of 5%, ending an established trend of reduced imports.
China recently announced that the country's medium and long-term plan is to increase its LNG receiving capacity to 100 mtpa by 2025, which is more than a doubling of the existing capacity."
In South Korea, LNG demand is expected to rise on the back of Moon's push to raise power output by LNG in order to reduce heavy reliance on coal and nuclear in electricity generation.
Japan, South Korea and China come in at the first, second, and third largest LNG importers, respectively. So these percentages represent a significant overall volume increases for the global trade.
But the good news doesn't stop there. Several regions have increased imports or are developing plans to import significant amounts of LNG in the near future.
Let's start with a region known for copious amounts of LNG exports but has recently turned into a significant importer, the Middle East and North Africa.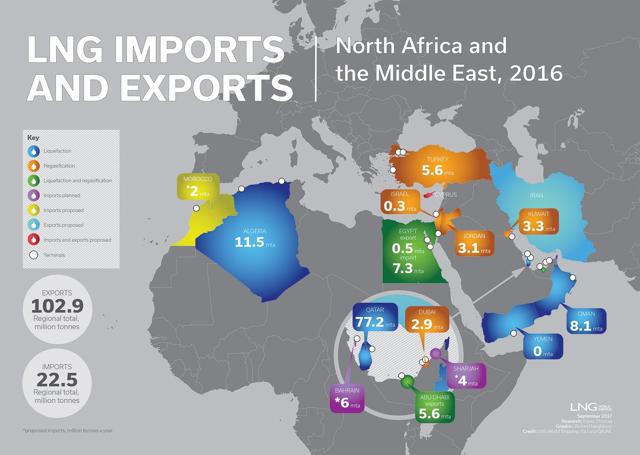 Source: LNG World Shipping
LNG Shipping World reports:
"Egypt and Abu Dhabi, previously exporters of LNG, are now also regasifying cargoes. Jordan has joined the LNG importers' club and established importers Turkey and Dubai are ramping up their volumes to meet growing energy demand. New importers Bahrain and Sharjah will between them take in an additional 10 million tonnes a year (mtpa) of LNG, within a matter of years. The region imported 22.5 mtpa making the MENA region one of the most exciting LNG markets to watch."

The Middle East's six LNG importers – Kuwait, Egypt, Dubai, Jordan, Israel and Abu Dhabi – purchased 17.43 mt of LNG last year, a 78% jump on 2015 volumes.
An interesting fact is that all the Middle East importers make use of FSRUs (Floating Storage and Regasification Units) to receive inbound LNG.
Egypt has two FSRUs, both with a 170,000m³ capacity. Dubai, has the 150,00m³ Explorer. Jordan regasification duties are handled by the 160,000m³ Golar Eskimo. The 170,000m³ Golar Igloo is servicing Kuwait. Finally, the 138,000m³ Excellence is in Israel.
Between them, the seven Middle East FSRUs provide an aggregate 1.1 million m3 of storage space and the ability to regasify up to 33 mt of LNG each year. The fleet achieved a combined 52% utilization rate in 2016 leaving room for increasing imports into the region.
Asia continues to remain a leading importer.
Seven leading importers have already seen a 15% jump in 2017.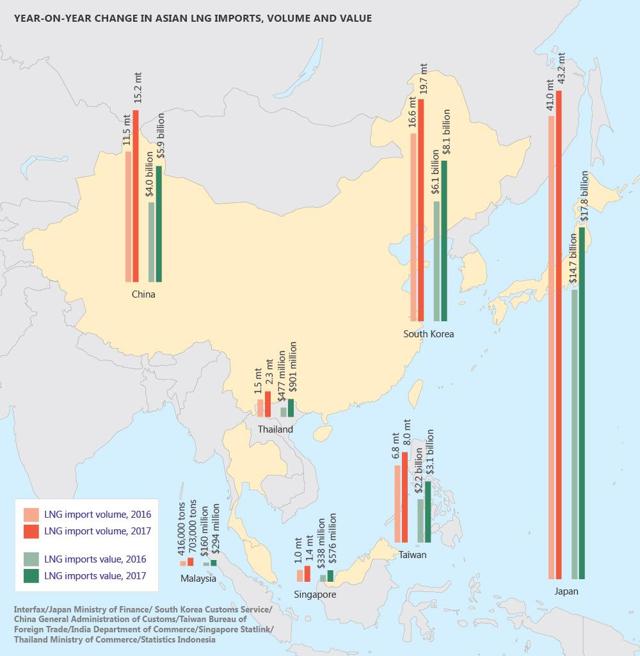 Source: Interfax Global Energy
These volumes were aided by some of the lowest LNG import prices in years, a trend which should be maintained as a supply glut is projected to continue through 2022 or 2024 depending on the analysis. Even as Asian liquefied natural gas prices have jumped to the highest level in seven months, as the fallout from Hurricane Harvey cuts the amount of cargoes coming into the region and buyers position themselves for the winter season, prices still remain attractive.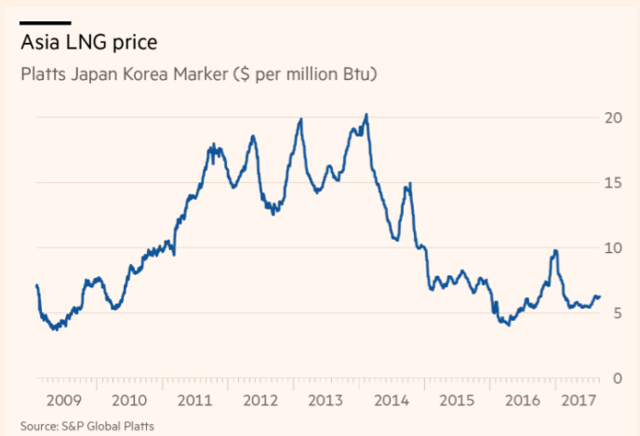 Source: Financial Times
LNG Shipping World notes that five new countries in Southeast and south Asia – Indonesia, Malaysia, Pakistan, Singapore and Thailand – have become LNG importers since 2011. Other Asian countries, including the Philippines, Bangladesh, Myanmar, Thailand, and Vietnam, are seeking to join them in the import market.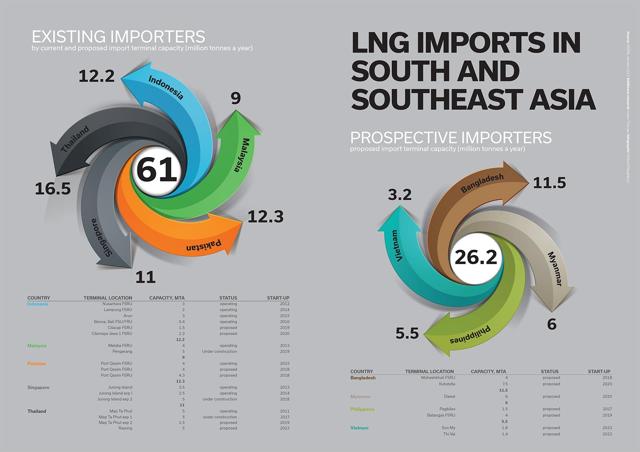 Source: LNG Shipping World
There is already a significant amount of regasification capacity under development, but they conclude that by 2025, the region could develop an additional 60 mtpa of new LNG regasification infrastructure.

But the biggest growth in Asia should come from India and China.
China is the biggest source of new demand and LNG imports surged 45 percent in the first seven months of 2017. Conservative estimates show that China should surpass South Korea to become the world's second-biggest importer in 2019 and will likely overtake Japan to become the largest in 2025.
Though pipeline connections to Central Asia and Russia are supplying greater amounts of natural gas and domestic production is increasing these developments will be insufficient to fulfill all of China's needs.
BMI research acknowledged these hurdles and maintains that despite growing production, China will continue to require imports to meet about 45% of domestic demand, with a preference for LNG imports. This led them to conclude that "we forecast such robust growth in LNG demand to lead China to become the second largest buyer of LNG in Asia by 2018, overtaking South Korea." Given South Korea's latest growth this would mean an approximate 30% volume increase into China over that period representing almost 3% of 2017's total global volume.

Short term volumes into China may depend on how low winter temperatures go. In the medium to long term adjustments may hinge on policy adjustments for the gas industry, which may be announced during the 19th National Congress of the Communist Party of China meeting in October. Given so many recent moves by Chinese authorities to curb carbon intensive activities, natural gas consumption could get a very strong blessing.
According to a recent report, India is set to become an LNG juggernaut and swing demand in global LNG trade. India has been registering a steady growth in LNG imports for more than a decade. Total LNG imports in India have more than doubled in the last 8 years from 8.3 mtpa in 2008 to 19 mtpa in 2016, making it the fourth largest importer, according to GIIGNL. India now has plans for up to 55 million metric tons of regasification capacity, with much of that coming online by 2020.
Oilprice.com reports that "like other countries worldwide, India's natural gas ambitions are one part economic, one part political. India has committed itself to bringing down its greenhouse gas emissions. Coal accounts for 61 percent of its total energy use, and like China, India has shown an interest in moving away from coal as an energy source."
India recently announced that it plans to raise its total contribution of natural gas from 6.5% in 2015 to 15% over the medium term. However, this still lags the global average of 24% leaving much more room for demand increases in a developing economy housing the world's second largest population.
Right next door to India, in Pakistan, they could see as much as 30 mtpa being imported by 2025. But Interfax Global Energy reports that may be far too little to satisfy demand. The head of Pakistan LNG, Adnan Gilani, told Interfax that they could be facing a supply shortage between 20-30 mtpa. Of course, with the advent of FSRUs, which can be up and running in a relatively short time, this shortage doesn't need to take place. But Pakistan already knows this and even though it currently has only one active LNG import terminal there are eight potential LNG import projects in the country right now (a second floating import terminal is scheduled to arrive in October), which is why Pakistan is being eyed by traders and suppliers as a major growth market.
On the other side of India, Bangladesh is looking to add two floating LNG import terminals in 2018. Reuters reported Bangladesh's first LNG import agreement ever will be signed on September 25th, which will see RasGas supply 1.8 million tonnes a year of LNG for the first five years and to 2.5 million tonnes over the next 10 years.
Finally, even Europe, is generally seen as the global LNG trade's 'market of last resort' and has witnessed limited LNG demand of late, also increased imports by 15% to 23.4. mtpa over the first half. This comes as the IEA is projecting a reversal of declining import volumes into the region.
I always like charts that sum things up so here's a great one looking for a visual aid.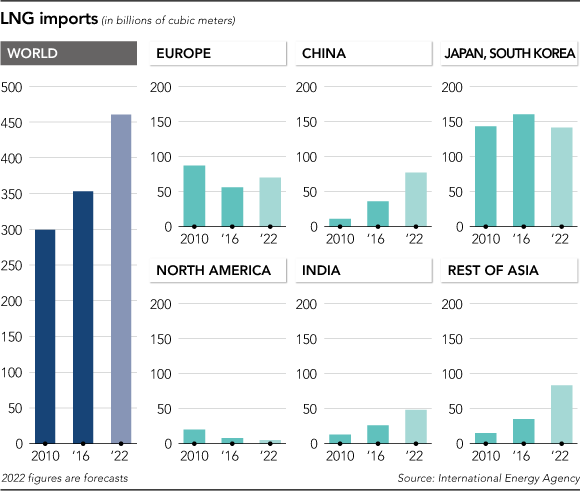 Source: Nikkei Asian Review
There you have it. But let's not forget one final and very important point. Emerging importers recorded strong gains in 2016. For their second year as LNG importers, Egypt, Pakistan and Jordan imported a combined 13.5 mtpa in 2016 vs 5.5 mtpa in 2015. In fact, Egypt accounted for the second largest gain in imports in 2016, behind China. This from a country that wasn't even an importer just a few years ago. With the advent of FSRUs, which Egypt adopted for its regas facilities, demand increases of significant magnitudes can materialize in just a few years time.
Now take a quick look at a slide from Höegh LNG Partners LP showing the many possibilities for market expansion in the FSRU market, which now composes well over two-thirds of the recent regas build out.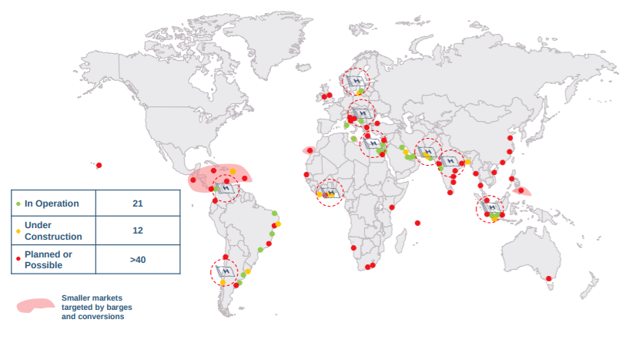 Source: Höegh LNG Partners LP

Headwinds
The biggest headwind that I can see from a demand side perspective is that Japan, the world's top importer, has contracted far more LNG than it needs. This has forced the country's utilities to turn themselves into traders in order to resell some long-term supplies. But a bulk of the Japanese utilities' long-term contracts are expiring in 2019 to 2020, and are likely to be renegotiated to lower volumes with more diverse maturities and flexibility on destination.

Slightly further off into the future analysts are warning of a reversal from a glut to a shortage of natural gas if further liquification facilities are not constructed.
Bloomberg recently reported that "the global glut plaguing liquefied natural gas markets may start to dwindle in five years, threatening to spur a deficit equivalent to twice the output of leading producer Qatar."
Bloomberg notes that "while plants currently in operation or being built will add to global oversupply, aging facilities and shrinking resources in some areas mean capacity will start declining after 2021."
"I foresee that the LNG market needs at least a hundred million tons of new liquefaction capacity above what's under construction today in order to meet demand needs of the market by 2025," Meg Gentle, chief executive officer at Tellurian, said by phone Thursday. "Demand is growing more than people expected."
The same way that low LNG prices inspire increasing demand, high LNG prices brought on by a shortage could cause some to shy away, resulting in demand destruction.
Conclusion
Vessel supply is set to increase approximately 8% in 2018, from 2017's expected fully delivered fleet. The projected, and now what I would consider conservative, 9% estimated volume increase for the LNG trade more than offsets this incoming supply. But we also must factor in the increasing ton mile demand brought on by long hauls out of the USA to various parts of the world. This means that 2018, may no longer be the dismal year that many had predicted back in 2015 and 2016. In fact, it could be a year where rates continue to climb as the market absorbs this new vessel capacity more rapidly than previously estimated.
Furthermore, we must also consider that 9% growth may be too low. In 2016 we saw 7.5% growth and this has now accelerated to 13% in the first half of 2017. More projects are coming online, new announcements have been made, and utilization rates for regas capacity in some areas remain heavily underutilized.
Some rough math of mine has 2017 now coming in at just under 11% growth. But even this feels conservative given seasonal demand fluctuations. Use of natural gas has two seasonal peaks, with consumption patterns predominantly driven by weather. The largest peak occurs during the winter, when cold weather increases the demand for natural gas space heating in the residential and commercial sectors. A second, smaller peak occurs in the summer when air conditioning use increases demand for electric power, an increasing portion of which is provided by natural gas-fired generators. With the majority of natural gas being consumed by the Northern Hemisphere I wouldn't be surprised if I was once again a bit too conservative with this projection.
If the demand side continues to gain momentum we may see the market strike a balance in late 2018. If this is the case 2019 could see charter rates move quite a bit to the upside.
Let's also not forget that 2019 is the year when the first of two major IMO mandates are implemented which could inspire the retirement of several vessels. The number of vessels built before 1987 which represent potential demolition candidates. LNG vessels typically have a life of between 35 to 40 years. In fact, over the past three years there have only been five demolitions of 122k+ cu/m vessels with the average age being 37.4 years. Four out of five were actually 38 to 40 years old with one coming in at 31 years.
Knowing the average age leads us to conclude that only vessels built before 1980 are really near term candidates for scrapping before two IMO mandates requiring significant investment hit the books in 2019 and 2020, the BWMC and 2020 Sulfur Cap, respectively.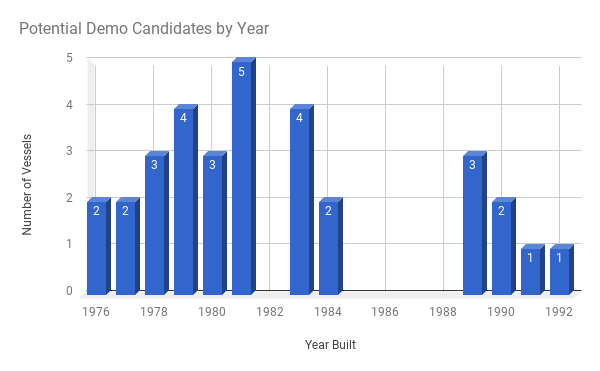 Source: Data from Clarkson Research Chart by James Catlin
There are currently 11 vessels built before 1980 still on the water. But once those mandates hit we may expect some accelerated scrapping and it wouldn't be a surprise to see much of that pre-1987 tonnage sent in for demolition with perhaps even a couple from the 1988-1992 age group.
Given these conditions, if demand can stay robust and owners can keep the orderbook under control we could have the beginning of a very bullish cycle for rates in the near future.
Thank you for reading, and I welcome all questions/comments. If you would like to stay up to date on my latest analysis, I invite you to follow me on Seeking Alpha (click the "Follow" button next to my profile picture at the top) as I continue to cover all aspects of maritime trade.
Value Investor's Edge
Value Investor's Edge is a top-rated Seeking Alpha research service, which focuses primarily on the volatile, and therefore potentially very profitable, shipping industry. Members receive a two-week lead time on all reports by James Catlin, alongside exclusive content by J. Mintzmyer, a top-tier deep value analyst. This platform offers actionable trades and strategic income opportunities through Mr. Catlin's data-driven macro analysis, which often complements Mr. Mintzmyer's company-specific analysis. This winning team has developed a dedicated following of highly knowledgeable investors and industry professionals who also share their own thoughts and ideas on Value Investor's Edge.
Disclosure: I/we have no positions in any stocks mentioned, and no plans to initiate any positions within the next 72 hours. I wrote this article myself, and it expresses my own opinions. I am not receiving compensation for it (other than from Seeking Alpha). I have no business relationship with any company whose stock is mentioned in this article.