Pier 1 Imports (PIR) has generated some chatter in the past few months, with the new CEO Alisdair James starting on May 1st, and the unexpected departure of the CFO, Jeff Boyer. With new leadership, the company is looking to turn the corner. I wrote about Pier 1 once before (link here), but I'd like to elaborate on a number of challenges the business is facing, and why they will likely not overcome them.
The business is experiencing same-store sales declines in the brick & mortar segment ranging of -3% -7% yoy.
Each dollar of incremental online sales loses the company money on a cash basis.
The 'treasure hunt' experience of the brand has little place in an online channel.
The company's opportunities for growth to stimulate a turnaround are both cash intensive from a working capital

/capital expenditure standpoint.
For the sake of simplicity - this article will mostly spend time on what incremental margins look like for Pier 1 in each segment of their business, to give an indication on how profitable future growth/ex-growth will be.

(Source: Author Estimates/Company Filings)
At $4.10 per share, Pier 1 is trading at 9.1x 2018 EBITDA of $48.6m. Given an expected decline in EBITDA from to $25.6m in 2019e, and assuming no de-rating from 9.1x EBITDA that would imply a market cap of $120m ($1.50 per share) given the $113m of net debt on the balance sheet. This would imply a 30%+ IRR for short-sellers over 2 years.
Brick & Mortar Sales: Pier 1 has a portfolio of ~1000 stores, which make up approximately 80% of sales. B&M sales have been declining consistently due to a combination of store closures, and declining same-store sales. The table below displays the impact that a 1% decline in Brick & Mortar sales has on EBITDA. Assuming flat Merchandise Cost as a % of sales at 43.9%, and flat store occupancy costs (i.e. assuming no closures), the impact of negative operating leverage on EBITDA is material.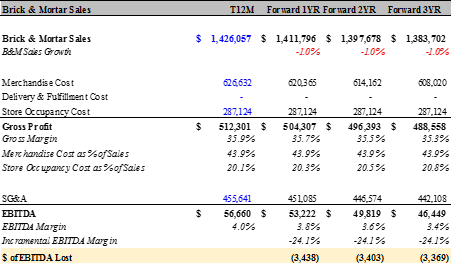 (Source: Author Estimates/Company Filings)
In short, for each 1% decline in sales, Pier 1 loses ~$3,400 in EBITDA. Put another way, for each dollar lost of sales, Pier 1 loses 40 cents of EBITDA. Same-store sales are more realistically running at the -3% to -7% range, meaning that Pier 1 is losing between -$10.3m and -$24.1 in EBITDA unless they close stores.
The argument goes that Pier 1 will be able to close stores to be able to better manage the fixed cost issue they are faced with, leading to a moderated decline in EBITDA. Store closures isn't a perfect solution to the problem. By closing stores, you are accelerating the decline in sales, which contributes to a decline in EBITDA even though you're doing something to fix the cost structure. Assuming again that merchandise margin remains constant, if you further assume that 1% of the store base closes each year, incremental EBITDA margins moderate from -40% to -14%, but the dollar decline in EBITDA accelerates from -$3.4m to -$4.0m.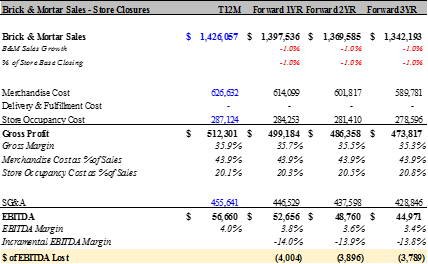 (Source: Author Estimates/Company Filings)
At the end of the day, Pier 1 can choose whether or not to close stores. But they're going to lose money either way.
Online Sales: Online is heralded as the future of the business. But, breaking things down, e-commerce isn't the savior it is made out to be. First - taking the numbers Pier 1 provides, as reported. Here it is assumed that Merchandise Margin stays flat, and delivery and fulfillment expenses stay flat at 17.5%.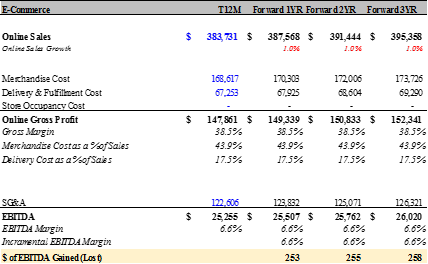 (Source: Author Estimates/Company Filings)
E-com looks moderately profitable… for each 1% increase in sales, Pier 1 gains over $250k in EBITDA. But, the issue is that the delivery & fulfillment expenses line item doesn't reflect reality. Currently, 60% of online sales are either ordered in-store and shipped to a store, or ordered from home and shipped to a store. Only 40% of e-commerce sales are shipped to home. This creates some confusion, as any sales shipped to a store incur no shipping costs. The company simply waits for the next truck to refresh inventory, and throws whatever the item is on the back, at $0 incremental cost. But, by closing stores, you lose the ability for stores to act as mini distribution centers. This means that incremental delivery & fulfillment expenses are not 17.5%, but more like 30% of sales. This means that online sales shipped to home actually have incremental EBITDA margins of -6%, and that Pier 1 loses $226k for each 1% growth in online shipped to home sales.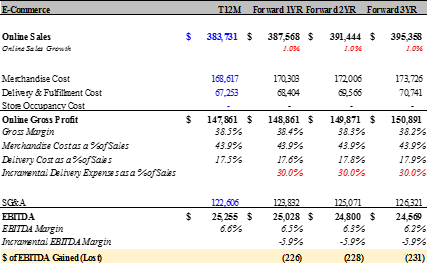 (Source: Author Estimates/Company Filings)
For some reason analysts and management keep referencing the anniversary of their Free Shipping promotion, which began September 2016. This doesn't make much sense, as the constant reference is that "things will be better" or some variation of that, once the anniversary is passed. Yes, the YOY comparisons will look better. But at the same time, those costs will still exist. Those margins will still be depressed. So really, you look better on a relative basis, but on an absolute basis the company is still doing pretty terrible.
The Other Issue with Online: Pier 1's management team likes, from time to time, reference their "rich heritage of the original treasure hunt destination". That is where the business found its niche. You could walk into a store looking for a candle, and come out with $300 worth of stuff you never even thought existed. The difference between shopping in-store and on-line, is by visiting a store, you found out those neat little items that you'd love to have but would never use actually do exist. There is no such process for discovery online. You open up pier1.com looking for a candle, you type 'candle' into the search bar, you buy the candle, and then you do something else. The marginal purchase never occurs. The way brands like Bed Bath & Beyond (NASDAQ:BBBY) and Pier 1 became successful was by stimulating the impulse, higher-profitability marginal purchase of chachkies (my favorite word).
Cash Requirements: The new CEO, Alisdair James, really wants the business to grow. He even stated that the "next chapter will need to be about how to double the size of this business". I applaud Alisdair for attempting to look towards a positive future, but if I were a shareholder I'd rather he focus on how the business is not going to go bankrupt. But assuming the business can indeed grow, it requires two things: working capital, and capital expenditures. Starting with working capital - like all retailers, Pier 1 needs inventory. The difference is that their inventory is seasonal, but not in the sense that it is primarily sold in Q3/Q4. Pier 1's inventory is seasonal in nature - it is comprised of wreaths, pumpkin candles, and a whole bunch of other stuff which doesn't sell very well nine months out of the year. So if Pier 1 has a bad holiday showing, they're stuck with a high degree of highly seasonal inventory that needs to be liquidated at a steep discount, depressing gross margins. The management team has expressed a desire to improve inventory management, and have decided to invest a substantial amount of capital into optimizing DC space, enhancing warehouse management systems, and more. These initiatives may lead to a reduction in inventory, tying up less cash on the balance sheet, but warehouse management systems or not, a decorative wreath isn't going to sell at full price in February.
The other piece of the inventory management is that overhauling all those systems takes time, and capital. Pier 1 has already demonstrated that they aren't exactly top industry operators when it comes to the supply chain, evidenced by their mishaps in 2015, which then led to 300bps of margin compression due to merchandise issues. So not only is it going to take a solid chunk of capital to overhaul these systems, but it will take time, and the risk that something goes wrong (again), leading to compressed margins.
Disclosure: I am/we are short PIR.
I wrote this article myself, and it expresses my own opinions. I am not receiving compensation for it (other than from Seeking Alpha). I have no business relationship with any company whose stock is mentioned in this article.