The conventional wisdom in U.S. politics has long held that no first-term American president has disliked the job enough to upset the Corn Belt states on the subject of the revised Renewable Fuel Standard [RFS2] biofuel blending mandate. As ideologically moderate states with out-sized representation in the U.S. Senate relative to their small populations, places such as Iowa, Minnesota, and Wisconsin have long held the ability to play kingmaker in national politics. The economies of these states also revolve heavily around the production of agricultural commodities such as corn and soybeans, demand for which has soared over the last decade in response to the blending mandate. That conventional wisdom has been breaking down in recent months, however, prompting disagreement between President Donald Trump's Environmental Protection Agency [EPA] and the U.S. Senate to spill into the open last week.
President Trump's election campaign sent a number of mixed signals to investors in firms that have been impacted, both positively and negatively, by the blending mandate. Most of his comments regarding the RFS2 were broadly favorable as Mr. Trump advocated for corn ethanol's continued role in the U.S. energy mix and, after the election, named Iowa governor Terry Branstad the next ambassador to China. Behind the scenes, however, a very different story was playing out. Refinery owner and activist Carl Icahn became an adviser to Mr. Trump after the election, in which position he quickly began to publicly advocate for major modifications to the RFS2 that would have benefited merchant refiners (including the one that he owned, CVR Refining (CVRR)). Exxon Mobil (XOM) CEO Rex Tillerson became America's top diplomat under the Trump administration while veteran RFS2 opponent Scott Pruitt was named head of the EPA, the very organization that oversees the implementation of the blending mandate.
The market has finally been provided with some clarity in recent weeks regarding the Trump administration's approach to the biofuels mandate. While Mr. Icahn resigned from his White House position after it became clear that his proposal was not going to be adopted, Mr. Pruitt has formally moved to reduce biomass-based diesel's contribution to the RFS2 and is reported to be close to doing something similar to the volumes of other biofuel categories as well. This new regulatory uncertainty has roiled Renewable Identification Number [RIN] markets (see figure) to the joy of the merchant refiners such as CVR Energy (CVI), CVR Refining, PBF Energy (PBF), Valero (VLO) that have incurred some of the largest RIN expenditures in recent years. On the other hand, biomass-based diesel producer Renewable Energy Group (REGI) has seen its share price decline by 14% over the last two weeks in response; the share prices of corn ethanol producers Green Plains, Inc. (GPRE) and Pacific Ethanol (PEIX) have also fallen from their September highs.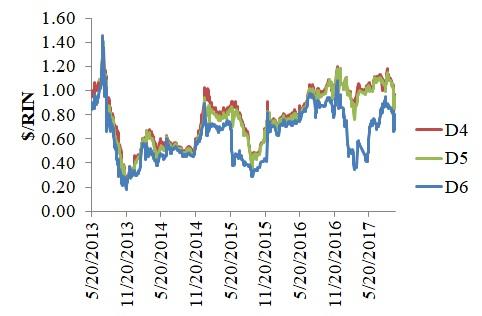 Source: EcoEngineers (2017).
A backlash against Mr. Pruitt's proposals appeared last week, however, as a bipartisan group of 38 U.S. senators sent a public letter to the EPA administrator criticizing the planned blending reductions. This is a warning shot for the Trump administration for two big reasons. First, even a fraction of that number of senators could slow or even stop Mr. Trump's tax reform legislation in Congress, much as happened to the healthcare reform legislation on multiple occasions in recent months. Second, among the signatories is Senator Chuck Grassley of Iowa. Mr. Grassley was quick to criticize the proposals on Twitter:
Trump promised 2b pro biofuels & pro rural America/Pruitt RFS proposal =anti biofuels &anti rural America / EPA not doing what President Trump (@POTUS) said

— ChuckGrassley (@ChuckGrassley)
An affirmed supporter of the biofuels mandate, Mr. Grassley is also the Chairman of the Senate Judiciary Committee - the same committee that is currently probing links between Mr. Trump's election campaign and the Russian government. While nominally unconnected, the reality of Washington D.C. politics means that Mr. Trump has a couple of strong incentives to keep the Senate's Corn Belt contingent happy (or at least not angry), and the simplest means of doing this is by ensuring that the EPA upholds the RFS2's statutory blending volumes. Mr. Trump must now walk a fine line between maintaining enough Corn Belt support to move his legislative priorities forward while fulfilling his pledge to his base of rolling back onerous regulations. The Trump administration's actions have been comparatively difficult to predict to date, moreover, meaning that historical precedent is not necessarily the trustworthy guide that it was under previous administrations. Last week's development will only further increase investors' uncertainty about the status of the mandate.
Merchant refiners' share prices tumbled after the letter's release was publicized on October 5 (see figure), led by declines to PBF Energy and HollyFrontier (HFC), although Midwestern refiners share prices subsequently rallied as Hurricane Nate was forecast to make its U.S. landfall in the Gulf of Mexico. RIN prices also rebounded, with that of the largest D6 category ending last week 17% higher than its previous week's low.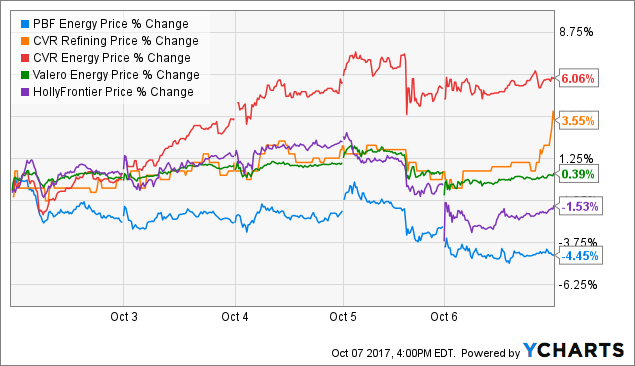 PBF Price data by YCharts
Recent market movements aside, it is important to note that the firms involved are entering relatively uncharted territory here. On the side resides the firmly entrenched Corn Belt lobby and, as UIUC professor Scott Irwin has argued recently, established legal precedent. On the other side is the invigorated and increasingly-desperate refining lobby (it has been less than a year since Mr. Icahn argued in a Wall Street Journal op-ed that the biofuels mandate was "ruining" merchant refiners). About the only realistic short-term prediction at this point is that headline volatility will continue to affect the share prices of merchant refiners and biofuel producers as 2017 draws to a close. The good news for biofuels producers (and bad news for merchant refiners) is that a substantial number of U.S. senators have stepped into the fray in support of the biofuels mandate.
Disclosure: I am/we are long PBF.
I wrote this article myself, and it expresses my own opinions. I am not receiving compensation for it (other than from Seeking Alpha). I have no business relationship with any company whose stock is mentioned in this article.