Prospect Capital (PSEC) has bought itself some more time with the recent dividend cut, but I think this will only slow the decline in the business. It's time to walk away.
What did I think PSEC last time?
I originally wrote about PSEC back on May 23rd. I questioned whether or not PSE was worth the risk. At the time I thought the price was low enough that despite the high likelihood of a dividend cut, that for some investors PSEC was worth the risk. At the time the yield was nearly 12%, quite attractive to many. With the dividend now only $0.72, and the share price lower, the yield is now 11%. So is PSEC still worth the risk?
What new information or data has come out that might change the calculation on PSEC?
PSEC did in fact cut the dividend. On August 2nd it was announced that the monthly dividend would be 6 cents. The cut was a little more than I expected but also came a bit later than I expected as well. All in all the news was not a big surprise. Nor was the resultant drop in price. Folks always talk about how expected news is priced in, but dividend cuts, no matter how expected and how necessary, always result in a price drop. Since I had many other uses for my capital, including buying more shares of Main Street Capital (MAIN), I didn't revisit PSEC.
Then I came upon this article by Achilles Research. The author tries to make the case that despite the cut in the dividend that the current 28% discount to NAV makes the stock worth the risk. That begs the question of whether a discount to NAV, especially a big one like 28%, is a good thing to have in a BDC.
In my mind, whether or not it's a good thing (for the purposes of being a good buy) for the share price to be higher or lower than the per share value of the assets depends on why you are buying shares. I think everyone can agree that if you are buying shares to get the assets, then buying them at a discount is a good thing. And I think, if you are buying shares because you expect the assets to increase in value and the share price to follow at some point, then you are buying the shares for the assets.
However, if like me, you are buying the shares to get the dividends, it's less clear that you want a discount. On the one hand with a discount to NAV you are also getting a better price for the dividends. But if the company regularly sells shares to buy assets, like most BDCs do, then a lower share price means a higher cost when buying assets and the income they produce. And I think we can all agree that wouldn't be a good thing.
I don't see that a discount is automatically detrimental when one is buying for income. Provided the discount wasn't too big. And I don't see that a premium to book value would automatically be bad either. Again provided it wasn't too big. The question, for both the discount and the premium, is how big is too big?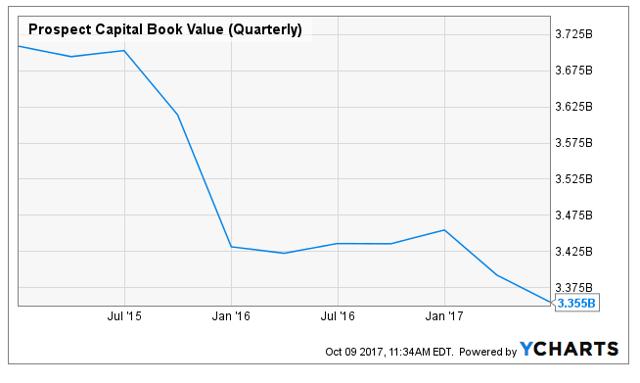 So first, let's look at total book value. The YChart above plots the book value (essentially NAV) over the last 3 year for PSEC. The scaling makes this look like a huge drop, but it's really only about 10%. I wouldn't say that's a good thing, but it isn't necessarily bad. I really like MAIN and fairly or unfairly I compare other BDCs to what MAIN has done, so how has MAIN done on book value?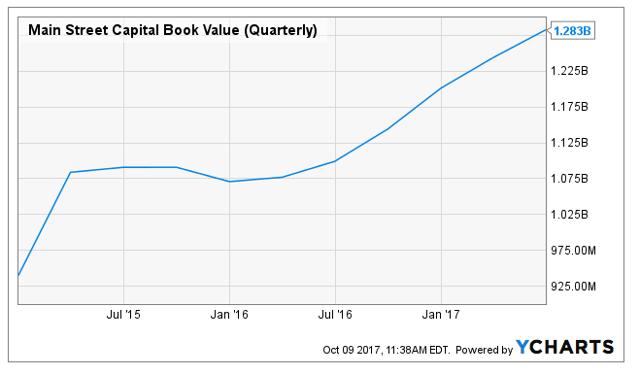 So MAIN did better in that its book value increased over the last 3 years. In dollar terms it was around the same change (but in a different direction) as the change in book value for PSEC, but percentage wise it was over 30%.
So how has the price changed relative to the assets it buys done over the last 3 years?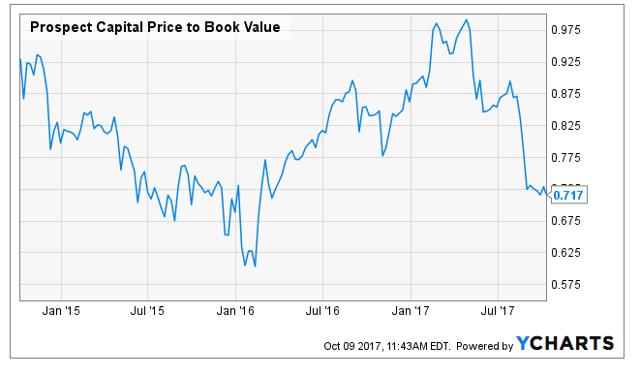 The first thing I notice is that the dividend cut had a big impact on the discount. I expect that. I also notice that the discount has varied a lot over the last 3 years, from nearly no discount to as much as 35%. I also note that back in 2013 was trading for a premium of as much as 15%. I think that the fact that PSEC management was able to reduce the discount to nearly zero before it because apparent that a dividend cut was likely is evidence that the current discount isn't too much.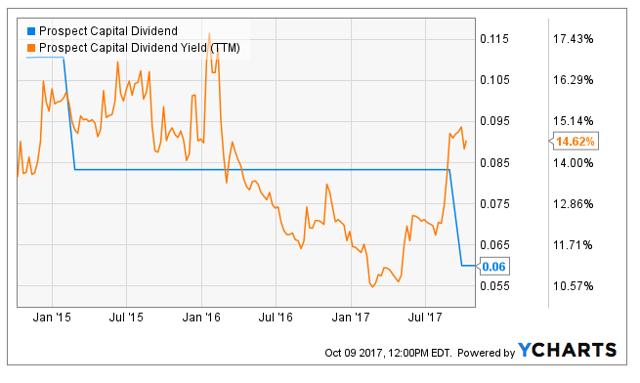 Above is a YChart showing both the dividend history and the yield history or PSEC. In part the yield is driven by how much reward investors think is reasonable for the risk taken. So, in part, when the risk is seen to rise and the dividend is stable, I would expect the yield to rise (and the price to fall). I would also expect that if the market perceived the dividend cut as strengthening PSEC, that the yield would stay relatively stable as well. Looking at the period where the dividend was cut, it's a little hard to separate the big drop in price sparked by expectations of a cut in the dividend from the actual price change due to the cut dividend. But very shortly afterwards, it looks to me like the yield and thus the price stabilized.
At this point, while it doesn't match MAIN, I don't see any big risk in buying PSEC. Is there any other data I should look at?
So first I look at the latest earnings report. So Total Investment Income is down almost 14% and NII is down as well from a year ago. At $0.18 a quarter the new dividend is covered by this latest quarter NII, but can PSEC maintain that?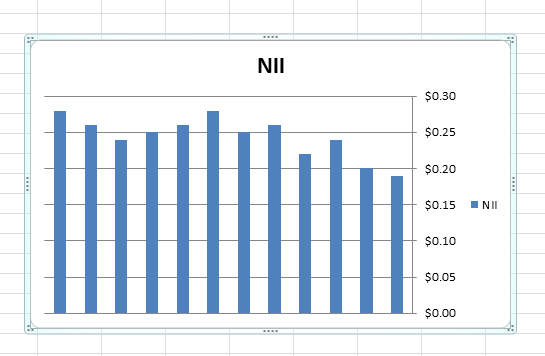 Next I looked at the NII numbers for the last 12 quarters from this page. I plotted the per share numbers using Excel™ such that the oldest data is left most and the data from the most recent quarter is at the right. What I would expect to see is a flat or upward trending set of numbers. But starting about starting about 6 quarters ago I see a downward trend. And keep in mind that the dividend at the time was $0.25 a quarter, so NII wasn't covering the dividend. That is why it had to be cut. But at just $0.19 in the most recent quarter, the NII did not cover the dividend paid that quarter and it barely covers the dividend needed for the next quarter.
So what could we expect for NII in the next quarter? First, I want to see if PSEC is still selling shares.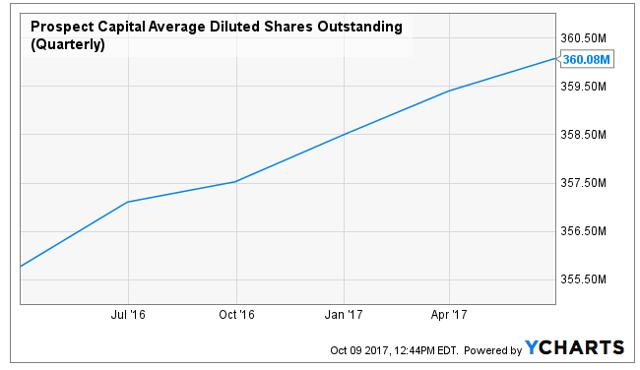 From the plot above, I can't tell if PSEC is still selling shares, but they were last quarter. I can't see how selling shares at such low prices will help PSEC grow or for that matter stop shrinking.
However, I want to see what Scott Kennedy has to say. He did an analysis of the new dividend sustainability in this article. I think this is a must read article for anyone planning to invest in PSEC (or for that matter already invested). Scott concludes that the new dividend is sustainable given his expectations of PSEC performance. My main concern is that PSEC does tend to hit the bottom of Scott's projections and I don't see much allowance for increases in the share count. I see some million to 1.5 million new shares since January, so I would expect something similar. I also note that PSEC management is paid in part based on total equity, so I would think if they could make even a weak case for it, they will sell more shares. That's not to knock management, but when people are given an incentive to do something, they just tend to do it.
Given the tightness of the dividend coverage (even with the reduced dividend), the history of declining NII and the increasing share count, I don't like where things are headed with PSEC. At this point, if you aren't in PSEC already, I wouldn't open a position. If you already have shares, I would look to getting out and would certainly not look to add more. It maybe that the dividend isn't under immediate pressure, but I also don't see anything that would lead me to believe that in 2 or 3 years PSEC wouldn't be in exactly the same place it was earlier this year.
What's a good price?
Since I have concluded the best plan for those who own PSEC shares is to sell them, I want to figure out what is a good price to sell them at. To figure out a good price, I do a DDM calculation using my Excel based DDM calculator (pictured below, you can see the web-based calculator I based it on here and read a discussion on how the formulas were developed here). I also found this discussion of DDM, and note that in the article the author uses a discount rate of 5%.
Normally I would look at the David Fish's CCC List(which contains a data on companies that have raised their dividend each year for 5 or more years). However, since PSEC has cut the dividend more than once in the last few years, it will not be on that list. I will take the current dividend of $0.72 a year, with no expected dividend growth and use that in my DDM calculation.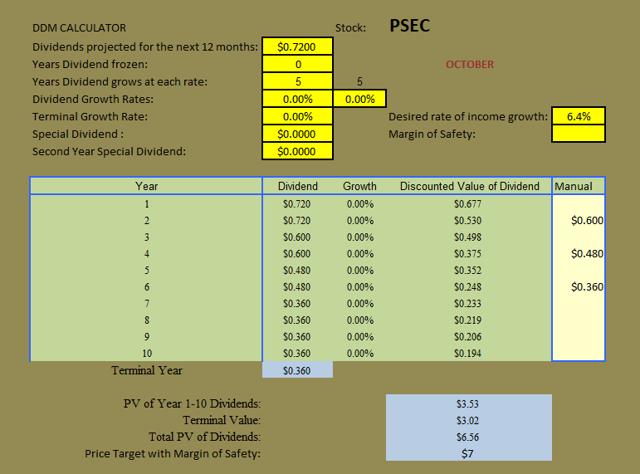 So to figure out a price, I needed to decide what I thought would happen with the dividend over the next 5 or so years. It seems to me that PSEC ends up cutting the dividend every 2 years or so, so I built a penny a month decline in the dividend every 2 years. That gives me a buy price of $7. So that is my target to sell at, if the price goes above $7, sell.
Can options help?
I don't expect the share price to climb much, so things like the repair strategy will likely not work. I think writing calls with a strike price of about $7 will probably be the best you can do.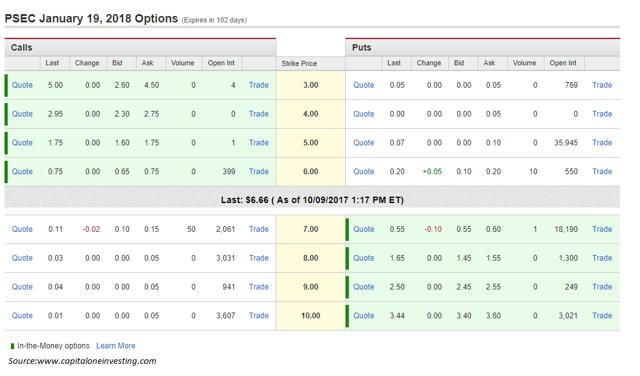 Sadly, I don't see any call contracts with a strike price of $7 that offer a premium worth the risk (some will likely not even cover the commission). If I was any potential for a catalyst that would move shares up, I might take a chance on the $6 strike price call contracts. But as it is, the commission will eat most of the profit if the shares are called and if the price drops below $6, I don't see it hitting $7 for a long time.
At this time, if I owned shares of PSEC, I would set a limit order to sell at about $7.05. And I would keep an eye on options to see if any contracts come up with a premium worth writing a contract.
What to watch for going forward?
Going forward I would watch for big price drop or more bad news. I would certainly want to be out of my position before the next earnings report.
Conclusion
It looks to me like PSEC has gotten to a point where its share price is low enough and its portfolio is performing poorly enough that it will not be able to grow and is unlikely to stop shrinking. As such I think it's a value trap. Don't succumb to the lure of the double digit yield. As the song says, "Know when to walk away and when to run." It's not quite time to run away, but you should walk away.
Note: I hope you all got something out of this article. I do appreciate the time you took reading it. If you are one of those who follow me here, I appreciate it; if you'd like to include yourself amongst those individuals, please hit the "Follow" button next to my name as well as following other contributors whose work you enjoy. As always, please leave any feedback and questions you may have in the comments below.
Disclaimer: This article is intended to provide information to interested parties. As I have no knowledge of individual investor circumstances, goals, and/or portfolio concentration or diversification, readers are expected to complete their own due diligence before purchasing any stocks mentioned or recommended. The price I call fair valued is not a prediction of future price but only the price at which I consider the stock to be of value for its dividends.
Disclosure: I am/we are long MAIN.
I wrote this article myself, and it expresses my own opinions. I am not receiving compensation for it (other than from Seeking Alpha). I have no business relationship with any company whose stock is mentioned in this article.