The newest winner of the Nobel in Economics has a history of outperforming the market. Why not use his lessons?
Richard Thaler has just won the 2017 Nobel Prize in Economics. While a lot of the reporting surrounding the award is going to deal with his connections with psychology, Thaler did a considerable amount of work in finance. One area of his investigation that has made a lasting impression on me is his word on closed-end funds (CEFs), a readable introduction to which can be found here. More detail on the full breadth of his work is provided by the Nobel Committee here.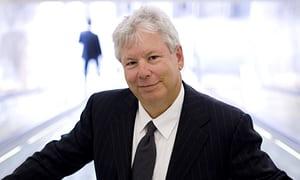 Thaler and co-authors based their investigation of CEFs on the idea that they didn't seem to conform to the efficient markets hypothesis. We've all heard some version of the efficient markets hypothesis, but the basic premise is that in perfect, ideal financial markets, the price of any security should reflect the future expected and discounted value of returns. We similarly all have likely heard that it doesn't always work that way. It's become common knowledge to the point where Vanguard Canada has launched funds explicitly designed to take advantage of persistent deviations from the efficient market baseline, for example that securities displaying value characteristics typically outperform the market somewhat conditioning on the same level of risk.
Thaler and co-authors argue that CEFs are particularly weird in a few ways. While CEFs typically trade at a discount to net asset value (NAV), they trade at a premium to NAV at the beginning of their life and return to par as they're wound down and capital is returned to investors. Further, standard explanations like management fees can't account for this behavior. For example, if fees were driving the valuation why do they ever trade at a premium?
If what the authors highlight is real, one should be able to take advantage of it through some sort of arbitrage trade. While it's hard to do this perfectly - short-selling can be difficult and expensive, funds trading at deep discounts to NAV put up expensive legal battles against liquidation, etc - there's evidence in the finance literature that buying up CEFs with deep discounts to NAV pays off excess returns over the market, or what we normally call alpha. Thaler suggests that this is due to traders following sentiment, momentum, and noise instead of fundamentals when it comes to CEFs, which are often traded by private investors, not institutional players.
While theories are nice, it's always positive to see someone put their money where their mouth is. Thaler became a founding partner in Fuller & Thaler Asset Management. Their flagship fund, the Behavioral Small Cap Equity Fund (FTHSX), has beat the Russell 2000 by 3.09% since inception - and that's after the managers skim off a very nice 2.67% for expenses (3.12% for individual investors!). Note that the company is currently subsidizing the fund to attract new capital by eating the majority of the expenses themselves, but there's no guarantee that's a permanent state of affairs.
I could never personally recommend individual investors pay over 3% in management and expense fees, but the option's out there. If the fund does attract more capital, it seems reasonable that the fees might come down in the future as the fund enjoys economies of scale. However, what we can do is take their lessons and apply them to our own trading. Older CEFs are likely to occasionally exhibit profitable diversions to their baseline discount to NAV for reasons that aren't related to the value or prospects of their asset holdings. Conversely, avoid newly-minted CEFs.
Writing from Canada, some of the CEFs currently exhibiting deep discounts include: Canadian World Fund (OTC:CWFNF), United Corporations (OTC:UCPLF), and Urbana (OTC:UBAAF), (OTC:URNAF). In particular, Urbana has been on my research list for awhile, having just bought back 7% of the float and recently launching another buyback bid for 10% more.
An alternative approach would be to investigate FTHSX itself and see what it's currently holding. Filings are available on Morningstar. Holdings were last reported for the end of March, and the biggest positions include NMI Holdings, (NMIH), Landstar System (LSTR), State National (SNC), Central Garden & Pet (CENT), Ruth's Hospitality (RUTH), Comfort Systems (FIX), Capella Education (CPLA), and TTM Technologies (NASDAQ:TTMI).
That's certainly a real grab-bag of holdings, but there's some evidence the research pays off. It can't hurt to incorporate some lessons and positions from someone who understands that markets present opportunities to people who are watching.
Disclosure: I/we have no positions in any stocks mentioned, and no plans to initiate any positions within the next 72 hours.
I wrote this article myself, and it expresses my own opinions. I am not receiving compensation for it (other than from Seeking Alpha). I have no business relationship with any company whose stock is mentioned in this article.
Editor's Note: This article discusses one or more securities that do not trade on a major U.S. exchange. Please be aware of the risks associated with these stocks.