One striking thing about capital markets is the manner in which investors get used to any given situation and then take inertia for granted. They try to justify how and why a given situation will last for ever. It's true that, most of the time, the immediate facts do support their position, and such abnormal, awkward situations do last much longer then anticipated. Hence the lack of developing progressive views, because it is much easier to explain the lasting past than the future and the changes it will bring.
This is typically what is happening on oil market. Because prices remain stubbornly low despite the global economic recovery, one might think this will stay the same over the next coming months, years, decades. Ample supply provided by shale revolution, low demand on the back of electric car revolution tell you that the situation is not about to change.
However, reality points me in a different direction.
The reality is that worldwide oil demand has been growing at a fast pace since 2014 and will reach 100Mb/d by the end of 2018. Below is a table from International Energy Agency (I.E.A) website. The striking point is the recent 17Q2 +1.5% increase in demand, from 96.5Mbpd to 97.9Mbpd. Year over year, the increase is +2.4%, from 95.6Mbpd on 16Q2 to 97.9Mbpd on 17Q2. This is a significant demand shock. Asian demand (+4.2% yoy), American demand (+2.4%) as well as European demand (+2.3%) are all very strong.

The reality is that during 2014, 2015, until 17Q1, supply has been greater than demand. But very recently, during 17Q2, this equation has sharply reversed, meaning demand became higher than supply. The shortfall reached 0.9Mb on 17Q2, a complete change of situation.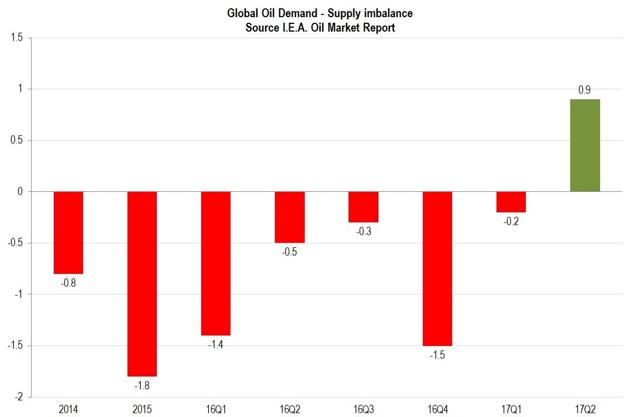 The reality is that, as a result, inventories have started to move down in 2017, which did not happen since 2013. DOE inventories increased 5% in 2014, 29% in 2015, 6% in 2016. They are down -3% so far in 2017, a dramatic change in market dynamic. Same for IEA inventories.
So what is the point ? The point is that sooner than later, oil prices will recover, and the recovery might be quite strong, because demand is getting much higher than supply, and inventories are getting low. This happens despite drilling activity recovering in the US. The 5Mbpd production recorded for October 2017 (source : US Energy Information Administration) shall be taken into account in the equation, but it is already the case in global supply data.
Where does the opportunity lie ? Investors do not want to take into account that oil prices will move up. As a result, share prices of oil companies remain very low by many measures. The sector is regarded as one to avoid, one considered too risky, too random. When oil prices were $150/barrel, investors had no problem paying a very expensive price for firms they do not want to buy now at a very cheap price. The reward for investing in the oil sector now might be very beneficial.
Disclosure: I/we have no positions in any stocks mentioned, and no plans to initiate any positions within the next 72 hours.
I wrote this article myself, and it expresses my own opinions. I am not receiving compensation for it (other than from Seeking Alpha). I have no business relationship with any company whose stock is mentioned in this article.