JetBlue (JBLU) has been on a 2-year corrective pull-back from an 8-year bull trend that started in March 2009. This corrective pull-back may be a good opportunity for long-term investors. Currently, the company trades at one of the cheapest valuations compared to peers mainly because of Florida and Caribbean exposure. The market is concern that hurricanes have had a negative impact on earnings. Today it has been named a bear of the day by Zack's research due to a downward revision of analysts' earnings projection. Contrary to their view, I think the current valuations offer a good value for long-term investors. I also think that the downside should be limited, and if the shares suffer from a further negative pressure, I will continue to accumulate. Also, there is a possibility that bad earnings are already priced in, but we will know more details only after the management reports third-quarter results. Let me share my backup analysis why I think JetBlue is a good long-term investment at current valuations.
Share performance
The shares have been in a long-term upward trend that started from a low of $2.81 in March 2009 and paused with a peak of $27.36 in September 2015. I wrote paused as I think we are currently in a corrective pull-back and the shares will resume an upward trend. After the peak, the shares were in a corrective downward move reaching a low of $14.76 in June 2016.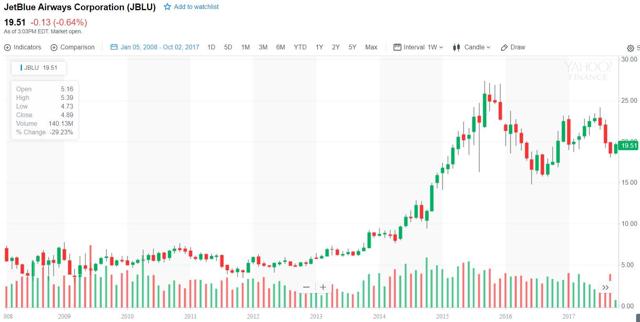 Source: www.finance.yahoo.com
The reason why I believe the shares are in a corrective pullback is that the shares appreciated so fast within a very short period of time. Particularly during the three-year period between September 2013 and September 2015. The shares traded as low as $6.04 in September 2013 and as high as $27.36 three years later. This is more than a fourfold increase over the three-year period and such appreciation was unsustainable and so the shares declined to a low of $14.76 and current $19.64. The corrective pull-back was the steepest between September 2015 and September 2016. Then, the shares have been trading between $18.5 and $22.5 most of the time and recent bounce off the $18.5 price gives me a suggestion we will see an attack of $22.5 in the short-term.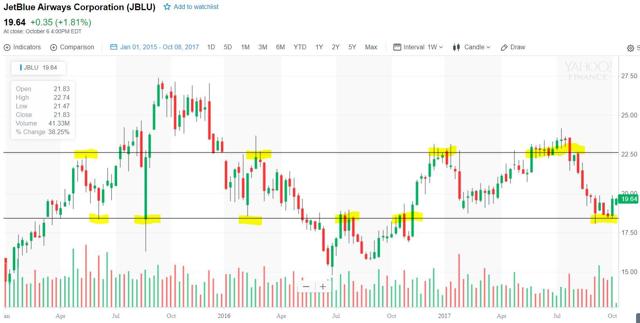 Source: www.finance.yahooo.com
Also, in the long-term, I think there is higher probability the shares will break higher of the range and restore the bull trend. The reason why I think so is that during the last two years, JetBlue significantly underperformed the peers and trades at very cheap valuations compared to the overall market.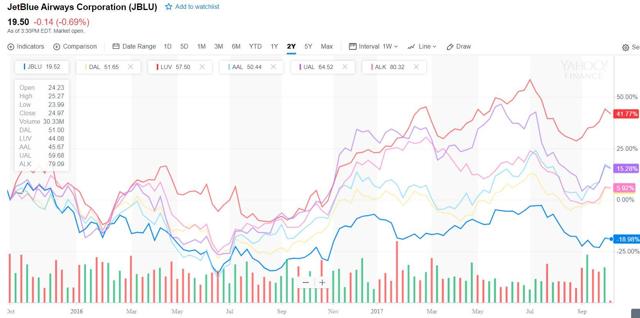 Source: www.finance.yahoo.com
If I compare the fundamentals of the company, it is one of the strongest compared to peers and so the underperformance should reverse.
Peer comparisons
If we look at comparisons to peers, we could spot several observations. First, JetBlue is trading at one of the cheapest multiples with price multiple of 10.6 to 2017 forecasted earnings and 10.0 to 2018 forecasted earnings. Only United (UAL) and Delta (DAL) trade cheaper. American Airlines (AAL) and Alaska Air (ALK) do not fall behind very much, however, their cash-flow is not that stellar. Particularly, American Airlines numbers could be distorted due to higher capital expenditures' due to its fleet expansion.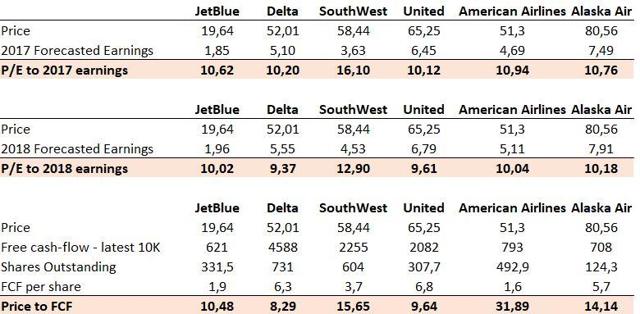 Source: Companies 10K's, Zack's Investment Research
If we turn to balance sheet, we will come across that American Airlines have the highest debt of all but the numbers are a bit distorted due to already mentioned higher capital expenditures which decrease the free-cash-flow and makes net debt to free cash flow looks unsustainably high.

Source: Companies 10K's, Zack's Investment Research
Nevertheless, JetBlue and Southwest (LUV) balance sheet is the strongest. And so, the combination of cheap multiples and low debt favor JetBlue over its peers. In addition, JetBlue does have one of the youngest fleets in the industry with average fleet being 9 years.

Source: Companies 10K's
This is particularly good because the newer fleet may be more fuel-efficient and requires lower maintenance costs. Therefore, the combination of a healthy balance sheet, young fleet, and cheap multiples favor JetBlue over its peers. Nevertheless, the market may discount the company because of its high exposure to Florida and Caribbean.

Source: JetBlue's 2016 10k
Hurricane impact
These areas were hit the hardest by recent hurricanes and indeed, there may be a negative impact on the numbers in current and upcoming quarters. Today, the company was named as a bear of the day by Zack's research due to a downward revision in analysts' earnings projection.

Source: www.zacks.com
Yet, I think the downside should be limited. First, the market already priced in some negative impact. Second, $18.5 was a couple of times a good support level suggesting the downside is limited. And even if the level is breached and the shares continue to weaken, there is second technical level, a low from 2016 of $14.7. Coincidentally, this is 1.2 multiple of the company's book value which was an indication used to measure whether the company is undervalued by Warren Buffett's Berkshire Hathaway in latest share buybacks.

Source: www.usatoday.com
Therefore, the hurricanes could have a short-term negative impact on the numbers but I would consider this as non-recurring. Generally, the business is very solid and the negative impact will lapse. Even if the numbers are bad and the shares decline, I would consider that as a good buying opportunity as there are two layers of support on the way down as I highlighted above.
Takeaway
JetBlue has been underperforming its peers over the last two years which is a disconnect with the strong fundamentals. The company trades at one of the cheapest valuations, has one of the strongest balance-sheet and very young fleet. Going forward, these attributes favor JetBlue over its competitors. Nevertheless, the market may discount the shares due to its exposure to Caribbean and Florida which were hit by recent hurricanes. The market already discounted some impact but the full impact will be known only after the earnings results. Nevertheless, I will consider a buying opportunity any further weakness as there are two technical levels of supports nearby. Also, the second level of technical support is at 1.2 multiple of book value which may be considered as below JetBlue intrinsic value particularly given a low amount of debt and young fleet.
Disclosure: I am/we are long JBLU.
I wrote this article myself, and it expresses my own opinions. I am not receiving compensation for it (other than from Seeking Alpha). I have no business relationship with any company whose stock is mentioned in this article.