One refrain I've come to accept as common from oil bears is that current forecasts regarding oil prices suggest that we won't see much, if any, real upside through at least next year. While this statement is true (in that it has been said by reputable sources), I believe that relying on projections from anybody regarding where prices will be so far out is silly at best and dangerous at worst. In what follows, I will explain my thoughts on the matter and detail why I believe that market participants who rely on current forecasts regarding price are doing themselves a grave disservice.
What does the data say right now?
At times when we have been trading in a pretty narrow range (mostly $45 to $50 per barrel until very recently when we finally broke above that), it can be tempting to think oil will remain in that range for the foreseeable future. This is actually something that's really common in psychology and game theory, namely that you 'project' a current condition into the future. While it is very possible that some things that are projected will, indeed, remain as expected forever, a lot of things won't.

*Taken from the EIA
It is my opinion that this very projection bias is what has caused the EIA (Energy Information Administration) to forecast that oil prices will be essentially flat through next year. If you look at the above below, for instance, you'll see that, while the organization thinks WTI oil will average around $48.83 per barrel for this year, it's expected to rise to just $49.58 per barrel next year. The same kind of thing can be seen with Brent crude. If their forecasts are accurate, Brent next year will average $51.58 per barrel, up only modestly from this year's projection of $51.07 per barrel. Never mind the fact that prices are currently quite a bit higher than what has been forecasted for Brent.
The past hasn't been so kind
It is true that the EIA's numbers could, at the end of the day, be accurate. However, I believe they are likely significantly understating the upside potential in oil. As I have written about in articles here and here, for instance, the oil industry looks quite a bit better than many think, but the market has only just recently started to realize that. On the other hand, this rise higher might be a temporary spike and I, instead, could be wrong.
To explore just how much credence we should lend to the EIA's numbers, I decided to look back to 2014 and 2015 to see just what they had in mind regarding the oil industry. I would argue that it was mid-2014 when it started to become clear that there would be some trouble in the space (though I, like many others, underestimated just how much trouble). For the EIA, though, they didn't really realize until November that trouble was brewing and that we would be in for some pain.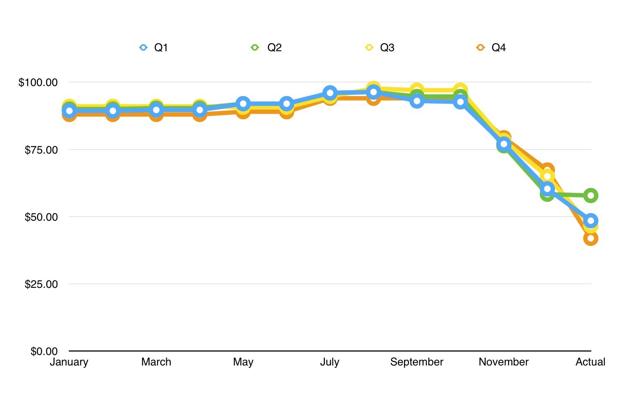 *Created by Author
** $ per Barrel of Oil
In the graph above, each line represents one of the four subsequent quarters for average oil prices during said quarters. Each month represents the month in which that prediction for said prices was made. For instance, in January of 2014, the EIA forecasted that first quarter oil prices for the next year, 2015, would average $89.33 per barrel. As late as October of 2014, the organization predicted that prices would be over $90 per barrel through all of 2015. In November, though, things started to change. That month, first quarter 2017 prices were revised down more than $15 per barrel down to $77 per barrel. December's was even worse, with prices pushed down for the first quarter to $60.33 per barrel but, even then, it was believed that prices would recover through 2015.
This couldn't have been further from what reality demonstrated. The last point on each line of the graph shows what the actual oil price for each quarter was. In the first quarter of 2015, oil averaged $48.48 per barrel. A general downtrend took hold and prices tanked to average $41.94 per barrel in the fourth quarter of the year. What this data shows is that, not only was the EIA wrong about the duration of the drop, they were also wrong on prices literally just a couple of months into the future (December's prediction versus first quarter 2014's actual price).
Now, to be fair, it should be mentioned that part of this mistake from the EIA was due to irrational behavior by OPEC when the group planned to increase its own production to try and kill shale. In fact, in early 2014, the EIA forecasted that OPEC production would fall modestly from 29.51 million barrels per day to 29.49 million barrels per day in one year. In the end, the group's output ended up coming in at 31.75 million barrels per day in 2015. In the US, production was forecasted to grow from 8.54 million barrels per day in 2014 to 9.29 million barrels per day in 2015. Actual 2015 production, however, was 9.42 million barrels per day.
Due to these changes, oil supply in 2015 ended up being quite a bit higher than the EIA thought. Even in December of 2014, they had projected it to average 92.09 million barrels per day for the first quarter of 2015. It ended up being 2.63 million barrels per day higher than that and continued to grow through the year. Similarly, demand was also higher during this time frame, but the December-to-first-quarter growth was a more modest 1.92 million barrels per day. As you can see in the graph below, this led to a scenario where the excess oil production was far worse in 2015 than the EIA had expected.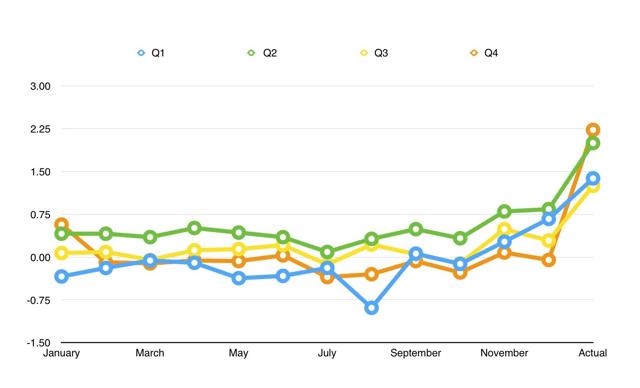 *Created by Author
**Barrels of Excess Oil per Day
Takeaway
It's tempting to pick data that only fits your specific view when it comes to oil, but this is never a good idea. In late 2014 and early 2015, I made this mistake and got into oil too early. That said, the data now undeniably supports the bullish stance, so the shoe is now on the other foot. While I believe that there are risks involved in the energy space right now, market participants who think that the bearish case should win should not rely on price forecasts. At the end of the day, they are likely nothing more than projection bias and it's very probable that prices will move quite a bit from those targets.
Disclosure: I/we have no positions in any stocks mentioned, and no plans to initiate any positions within the next 72 hours.
I wrote this article myself, and it expresses my own opinions. I am not receiving compensation for it (other than from Seeking Alpha). I have no business relationship with any company whose stock is mentioned in this article.