Summary
Big changes are afoot for 2018 in the Social Security and Medicare programs.
Most of the major changes are good news for retirees and near retirees.
We'll take a look at how some of these changes affect retirement planning using a dividend growth approach like the Fill-The-Gap Portfolio.
Subscribers to "Retirement: One Dividend At A Time" got an early look at this material via free instant text message trade alert and email alert.
There are several major changes to the Social Security and Medicare programs that are slated to take effect a few months from now, beginning in 2018. Some consist of good news, relatively speaking. One change is not so good and will be decried by seniors who enjoy traveling to national parks.
Biggest Social Security Raise in Five Years
Coming off of a zero cost-of-living adjustment in 2016 and a miserly .3 percent COLA in 2017, the predicted raise of 2.2% for 2018 is a big deal, yet still relatively small. After all with inflation running around 2.0% a 2.2% raise doesn't leave much room for error.
It also serves us well to remember that the inflation rate faced by the group affected by this Social Security change is in most cases higher than the quoted 2% inflation rate. This is because the senior population is faced with medical, medical insurance, deductible, co-pay and drug cost inflation that easily can top 10% or more.
Depending upon what portion that these medical expenses represent in the retiree's budget, that 10% inflation rate applied toward those expenses could easily wipe out the benefit of a 2.2% COLA adjustment.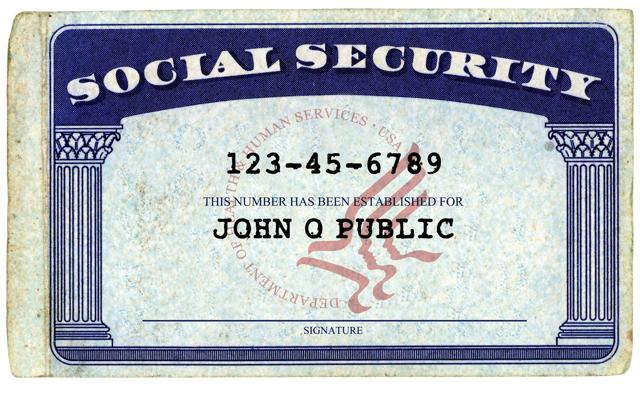 So, all in all, this was a modest, yet qualified piece of good news that came out of Washington, D.C. when the Social Security and Medicare trustees projected that Social Security recipients would receive a 2.2 percent cost-of-living adjustment in 2018.
It would be the largest increase since 2012, when the COLA rose 3.6 percent. Social Security recipients received no cost-of-living adjustment in 2016 and just 0.3 percent in 2017.
Average Social Security Benefit Impact
According to the Social Security Administration, the average retired worker brought home $1,368.67 a month in June 2017. Therefore, a 2.2% COLA would translate into an extra $361.33 a year in 2018, or $30.11 a month.
Rock Solid (For Now) Safety Net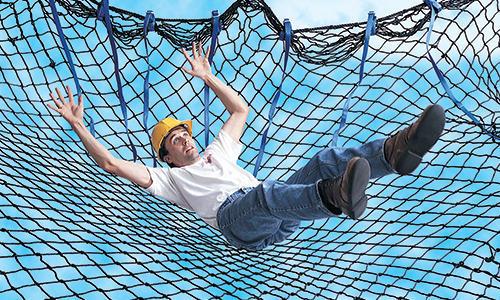 Social Security provides vital income protection to workers and their families. Benefits are indexed annually for inflation When the SSA determines, as they did in 2016 that inflation is 0%, then no COLA will be applied to the following year's benefit.
Unlike savings accounts, which can be run down, Social Security benefits last a lifetime. Because of this aspect, many investors have come to view their S.S. benefit akin to an annuity, or guaranteed bond component, even better than a fixed income investment because it is inflation-adjusted.
Social Security incorporates a progressive benefit formula that ensures that those with low lifetime earnings receive proportionately larger benefits. Social Security plays a crucial role in reducing poverty among older people. Without Social Security, 41 percent of all older Americans would be in poverty. Because of this large role that Social Security plays in our economy, only 8.8 percent were below the poverty line in 2015.
Relative Importance Of The Social Security Backstop
Social Security is the main source of retirement income for most Americans. Approximately half of people age 65 and older depend on Social Security for more than half of their retirement income. About one-quarter rely on Social Security for all or nearly all of their income. As a reflection of how important this program is, among poor households headed by someone of retirement age, Social Security is virtually the only source of retirement income.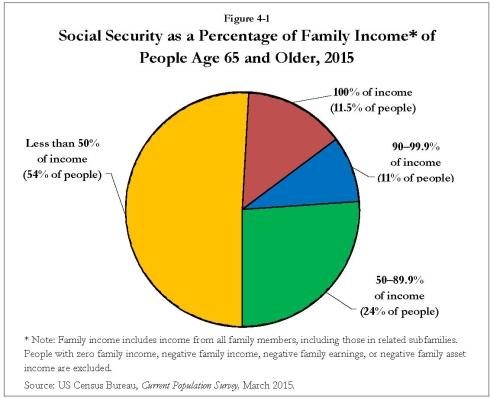 If the trustees' projections are correct, on average, beneficiaries would receive an additional $30 a month. The Medicare Part B standard monthly premium is expected to remain unchanged. The final COLA and Medicare Part B premiums are expected to be announced this month or next.
In their 2017 annual report, the trustees echoed last year's projection that the Social Security trust fund would be depleted in 2034 if no changes are made. They extended by five years, until 2028, the time at which the Disability Insurance (DI) program would run out of funds.
The trustees noted a recent decline in the number of Disability Insurance beneficiaries and projected that future increases would be at a rate slower than that of the past 20 years. This is most probably due to a healthier economy where fewer, older workers seek to qualify for that benefit when job opportunities are more plentiful.
For Medicare, the trustees moved the date at which the trust fund would be depleted, in the absence of changes, from 2028 to 2029.
Both depletion dates could be extended if various, contemplated changes to the FICA tax rules, age at which benefits begin, means testing and supplemental tax rates on excess income above certain income ceilings are implemented in the future.
New Medicare Cards Debut in 2018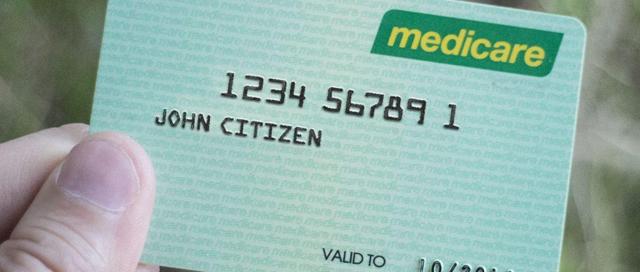 New Medicare cards will automatically be mailed to all 58 million current beneficiaries. In a move designed to protect against theft, those new Medicare cards arriving next year will no longer display Social Security numbers.
Identity theft has been increasing among those aged 65 and older according to the latest figures from the Department of Justice. The number of cases reached 2.6 million in 2014, up a half million incidents in just two years.
This is what you need to be aware of:
The Centers for Medicare and Medicaid Services (CMS) will begin mailing these new cards to beneficiaries in April.
The cards will automatically be mailed to all 58 million current beneficiaries. You don't need to do anything to receive yours.
The new cards will feature a randomly assigned Medicare Beneficiary Identifier (MBI) made up of 11 letters and numbers. It will no longer show your Social Security number.
Your benefits won't change.
The 2015 law, the Medicare Access and CHIP Reauthorization Act, requires CMS to remove Social Security numbers from Medicare cards by April 2019.
Medicare Drug Premiums Expected to Dip in 2018
Projected average monthly cost for Part D plans may drop by about $1.20. This is not much of a reduction but better a reduction than an increase, right? About 43 million Medicare beneficiaries are enrolled in Part D plans.
This is the first time in five years that the average monthly premium for Medicare Part D prescription drug coverage is expected to decrease next year.
The average basic premium is projected to decline in 2018 about $1.20 to an estimated $33.50 per month — a 3 percent savings over this year, according to the Centers for Medicare and Medicaid Services.
The projected decline in the average premium is the result of bids that drug plans have submitted for 2018. CMS attributes these lower bids to increased pharmaceutical manufacturer rebates and other price concessions the plans are receiving.
With Hurricane Maria wiping out the electrical grid in Puerto Rico, this situation might be fluid. Puerto Rico houses 80 drug manufacturers that are having difficulty getting enough generators, and the diesel fuel to run them, in order to keep their pharmaceutical operations running. These companies are now scrambling to bring on additional inventory of necessary drugs to replace inventory lost in the storm and unable to manufacture at those plants.
The actual amount Part D beneficiaries will pay varies widely. Medicare recipients usually have a choice of about two dozen drug plans in their areas, and the premiums charged depend on the level of deductibles and copays - as well as the prescriptions the plans cover.
Income also affects how much Medicare beneficiaries will pay for prescriptions. Adults 65 and older whose income is below 150 percent of the federal poverty guidelines — $18,090 in 2017 — who also have only modest assets may be eligible for the Part D Low-Income Subsidy plan.
CMS expects to release actual premiums and costs for 2018 in mid-October. Medicare's open enrollment period begins Oct. 15 and closes Dec. 7.
Medicare Advantage Premiums Expected To Be Lower in 2018
The new costs for original Medicare Parts A and B are expected soon.
Changes for Medicare for 2018 and important deadlines are quickly approaching.
The average monthly premium for a Medicare Advantage (MA) plan is expected to be about $30 next year, a slight decrease of $1.91 a month, according to the Centers for Medicare and Medicaid Services (CMS). MA plans are a private insurance alternative to Original Medicare.
Anecdotally, this author received his premium announcement from his Medicare Advantage provider this week. Rather than a decrease, it showed an increase, from $41 per month to $46 per month. For those keeping score, this amounts to an annual increase of $60 for both me and my wife, or $120.00 per year. It also represents a 12.2% increase. Remember the discussion above about how senior inflation (especially medical) can easily surpass general inflation in the economy? Enough said.
Medicare's open enrollment period for 2018 begins on Oct. 15, 2017, and ends on Dec. 7, 2017. Beneficiaries who want to keep their current coverage do not need to do anything.
CMS projects that enrollment in Medicare Advantage plans will reach an all-time high of 20.4 million in 2018, a 9 percent increase from 2017. About one-third of all Medicare enrollees — 34 percent — are expected to be in a Medicare Advantage plan next year.
CMS estimates that 77 percent of MA enrollees who stay in their current plan will have the same or lower premium in 2018. I guess that leaves me in the 23 percent who will see an increase next year.
CMS officials expect the rates to be released this month for premium and deductible costs for Original Medicare's Part A, which covers hospital services, and Part B, which covers doctor visits and other outpatient care.
This Great Travel Deal Just Vanished

The clock has run out on one of the best travel deals around for seniors. On Aug. 28, the cost of a lifetime pass to our national parks for those 62 and older jumped from $10 to $80.
Though this wonderful deal has become not so wonderful, this lifetime pass gives you access to more than 2,000 sites and parks across the country that are managed by the National Park Service. Those who purchased the passes before Aug. 27 will never have to pay an additional fee to visit any of the national parks, according to the NPS.
Passes can be purchased online for an additional service fee of $10 or at any of the parks without the extra charge. Passes also can be purchased through the mail.
The park service had offered the lifetime senior pass for $10 since 1994. Even at the new, higher price, it covers all entrance, day-use and vehicle fees, and provides discounts for things such as tours and campsites. At a site that charges per-person fees, pass holders can bring along three other adults for free. The price increase is part of a larger move to pay for major projects and enhanced services.
Even with the 700% price increase, the park service says the lifetime pass is still quite a bargain for those who purchase one. I'd have to agree, since single park admission fees to the most popular sites, which include the Grand Canyon, Great Smoky Mountains and Yosemite national parks can run as much as $30. Visit these just three times and you're ahead of the game for life.
The price increase is intended to generate additional revenue, improve the visitor experience and provide more volunteer opportunities in parks across the country.
Retirement Solutions Exist
Consider this: The Social Security Administration has informed us that the average monthly benefit is now $1,368.67 per month, or $16,424.04 annually. For the average couple, both of whom have worked and qualify for the benefit, this would bring in $32,848.08 per year to the household.
In many parts of the country, a $50,000.00 household annual income is sufficient to fund a fairly comfortable retirement. In order to fill the gap between what Social Security pays and that $50K necessary for retirement funding, near retirees and retirees must rely upon their own wiles to generate this difference of $17,152.
This was the catalyst for the beginning of the series I started, writing on the Fill-The-Gap Portfolio, to demonstrate how it is possible to do this using dividend growth stocks to accomplish this task in a safe and reliable way.
The Fill-The-Gap Portfolio
The FTG Portfolio contains a good helping of dividend growth stocks. It was built with the express purpose of benefiting from this and other strategies.
Two and a half years ago, I began writing a series of articles on December 24, 2014, to demonstrate the real-life construction and management of a portfolio dedicated to growing income to close a yawning gap that so many millions of seniors and near-retirees face today between their Social Security benefit and retirement expenses.
The beginning article was entitled "This Is Not Your Father's Retirement Plan." This project began with $411,600 in capital that was deployed in such a way that each of the portfolio constituents yielded approximately equal amounts of yearly income.
The FTG Portfolio Constituents
Constructed beginning on 12/24/14, this portfolio now consists of 21 companies, including AT&T Inc. (NYSE:T), Altria Group, Inc., Consolidated Edison, Inc. (NYSE:ED), Verizon Communications (NYSE:VZ), CenturyLink, Inc. (NYSE:CTL), Main Street Capital (NYSE:MAIN), Ares Capital (NASDAQ:ARCC), British American Tobacco (NYSE:BTI), Vector Group Ltd. (NYSE:VGR), EPR Properties (NYSE:EPR), Realty Income Corporation (NYSE:O), Sun Communities, Inc. (NYSE:SUI), Omega Healthcare Investors, W.P. Carey, Inc. (NYSE:WPC), Government Properties Income Trust (NYSE:GOV-OLD), The GEO Group (NYSE:GEO), The RMR Group (NASDAQ:RMR), Southern Company, Chatham Lodging Trust (NYSE:CLDT), DineEquity (NYSE:DIN), and Iron Mountain, Inc. (NYSE:IRM).
Because we bought all of these equities at cheaper prices since the inception of the portfolio, the yield on cost that we have achieved is 7.48% since launch on December 24, 2014. Current portfolio income now totals $30,768.58, which is $588.00 more annual income than just last month. This represents a 1.95% annual income increase for the portfolio.
When added to the average couple's Social Security benefit of $$32,848.08, this $30,768.58 of additional supplemental income brings this couple annual income of $63,616.66. This far surpasses the original goal set to achieve a total of $50,000.00 which is accepted as a fairly comfortable retirement income in many parts of the country. That being said, this average couple now has the means to splurge now and then on vacation travel, dinners out, travel to see the kids and grandkids and whatever else they deem interesting.
Taken all together, this is how the FTG Portfolio generates its annual income.
FTG Annual Dividend Income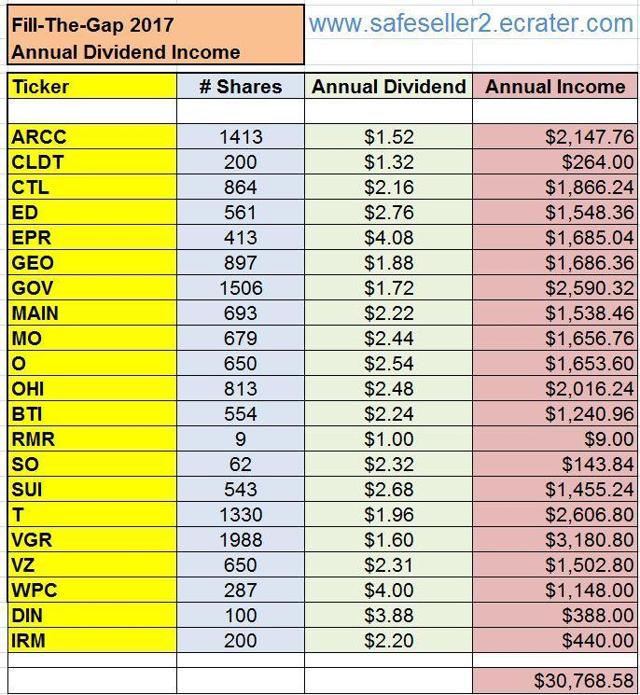 Your Takeaway
Social Security and Medicare have both instituted some major changes for 2018. Many seniors will appreciate the 2.2% benefit increase after receiving only .3% last year and zero the year before that.
This, along with projected decreases in Medicare Advantage premiums and Part D drug premiums for those who have original Medicare, will make things a bit easier for the senior cohort in 2018.
While some investors spend countless hours fretting over this development and that, over worries over interest rate increases, we stand ready to buy at cheaper share prices in order to raise our income.
As income investors, we appreciate these opportunities and possibilities for income enhancement that it represents to us.
For those investors advantaged by excess income above their spending needs, even that extra $361 ($722 per working couple) of annual income, thanks to that 2.2% Social Security benefit increase, can be deployed to buy more stock to increase dividend income even further.
Maintaining buying power in an economy in which the Fed is determined to see inflation rise to its desired 2% level continues to be our main focus, especially for those near or in retirement.
Our subscriber portfolio uses these and many other strategies as we actively manage it on an ongoing basis to generate steadily growing, reliable income for retirement. In addition, subscribers get the benefit of instant free texts and receiving material days before the public in addition to many exclusive articles, updates, commentary and analysis throughout the week. If you'd like a taste of even better performance and faster dividend growth, before the free two-week trial offer expires, I encourage you to try it before you buy.
Author's note: Should you be interested in reading any of my other articles detailing various strategies to enhance your returns on a dividend growth portfolio, you will find them here.
For a few more days, feel free to join hundreds of your fellow readers who have taken advantage of a free two-week trial to our premium newsletter subscription. Try before you buy, with no obligation.
To learn more about this highly rated premium service, click "Retirement: One Dividend At A Time."
See what subscribers have to say in reviews they've written.
As part of our premium subscription program, all subscribers receive a free Portfolio Income Tracker to track income production in the subscriber portfolio and stay focused on income production in their own portfolio.
My promise to you: With every exclusive article, email, instant text and chat, I'll help guide you to:
Increased income for retirement, one dividend at a time.
Under-valued stocks for a greater margin of error and higher capital appreciation.
Methods to safely diversify your portfolio.
Strategies to build, grow and protect your income for retirement.
As always, I look forward to your comments, discussion, and questions. Are you currently receiving a Social Security benefit? Have you found it to be a large part of your income? Have you incorporated a dividend growth approach in your own investments to fill the gap? If not, what have you done to generate additional income that you'll need in retirement? Please let me know how you approach these situations in your own portfolio and how you arrive at your decisions.
If you'd like to receive immediate notification whenever I write new content, simply click the "follow" button at the top of this article next to my picture or at the bottom of the article, then click "Follow in real time."
Disclaimer: This article is intended to provide information to interested parties. As I have no knowledge of individual investor circumstances, goals, and/or portfolio concentration or diversification, readers are expected to complete their own due diligence before purchasing any stocks mentioned or recommended.
Disclosure: I am/we are long ALL FTG PORTFOLIO STOCKS. I wrote this article myself, and it expresses my own opinions. I am not receiving compensation for it (other than from Seeking Alpha). I have no business relationship with any company whose stock is mentioned in this article.