Why Smart Beta Isn't As Complex As It Sounds
By Yvette Murphy, Senior Product Manager
Smart beta indexes have acquired a somewhat daunting reputation for complexity. After all, they deliberately do not follow the familiar "traditional" indexing approach of capitalization weighting. The proliferation of Greek letters, huge formulas, and complicated concepts can make them seem unapproachable. But the truth is often quite different. In this first of two posts, I want to show how, far from always being mind-bendingly complex, many smart beta indexes are based on simple intuitive ideas, focusing on a specific objective.
Smart beta indexes are typically designed to address a specific objective like excess return generation, mitigation of volatility or increasing diversification. As we can see in the table below, some key things to consider when choosing between a more traditional cap-weighted approach and a smart beta methodology are the differences in simplicity and transparency, cost, liquidity and capacity, and governance.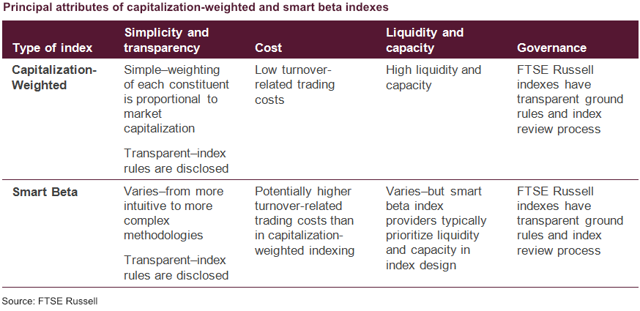 Two of the simplest smart beta index construction methodologies are equal weighting and fundamental weighting. Both use characteristics other than market value in their construction. An equally weighted index aims to address the inherent concentration bias within a cap-weighted index by applying an equal weight to both sectors and constituent companies. The fundamental approach seeks to address the potential valuation concerns of a cap-weighted index by using a company's fundamental measures - such as sales, operating cash flow, dividends, and book value - to determine its weight in the index.
Both the equal weighting and fundamental weighting methodologies are highly intuitive. The equally weighted index uses the universe of stocks from its cap-weighted counterpart and then applies an equal weight to each sector and then to each stock within its sector. This results in an index that is more evenly distributed among both sectors and companies than a cap-weighted index.
The fundamental weighting approach uses the universe of stocks from its cap-weighted counterpart and reweights the constituent companies according to the average of three fundamental factors. Some market participants believe that fundamental measures are a better gauge for the true value of a company. Instead of using market price, the companies in a fundamentally weighted index are ranked and weighted using the five-year average of adjusted sales, retained operating cash flow, and dividends and buybacks. The result is an index that avoids adding overvalued stocks while potentially including undervalued stocks - an inherent contrarian trading approach.
Just because these alternative weighting methodologies are denoted using a Greek letter does not mean they are overly complex. As we have seen, some smart beta indexes are more simply and intuitively constructed than their cap-weighted counterparts. Market participants who might have shied away from them in the past might be interested to take a second look.
The second part of this blog series will take a closer look at how these two simple smart beta methodologies have fared relative to their cap-weighted counterpart. Please also see our report, "The intuitive foundations of smart beta," for a more detailed discussion of the intuitive nature of smart beta indexes.
---------------
© 2017 London Stock Exchange Group plc and its applicable group undertakings (the "LSE Group"). The LSE Group includes (1) FTSE International Limited ("FTSE"), (2) Frank Russell Company ("Russell"), (3) FTSE TMX Global Debt Capital Markets Inc. and FTSE TMX Global Debt Capital Markets Limited (together, "FTSE TMX") and (4) MTSNext Limited ("MTSNext"). All rights reserved.
FTSE Russell® is a trading name of FTSE, Russell, FTSE TMX and MTS Next Limited. "FTSE®", "Russell®", "FTSE Russell®" "MTS®", "FTSE TMX®", "FTSE4Good®" and "ICB®" and all other trademarks and service marks used herein (whether registered or unregistered) are trademarks and/or service marks owned or licensed by the applicable member of the LSE Group or their respective licensors and are owned, or used under licence, by FTSE, Russell, MTSNext, or FTSE TMX.
All information is provided for information purposes only. Every effort is made to ensure that all information given in this publication is accurate, but no responsibility or liability can be accepted by any member of the LSE Group nor their respective directors, officers, employees, partners or licensors for any errors or for any loss from use of this publication or any of the information or data contained herein.
No member of the LSE Group nor their respective directors, officers, employees, partners or licensors make any claim, prediction, warranty or representation whatsoever, expressly or impliedly, either as to the results to be obtained from the use of the FTSE Russell indexes or the fitness or suitability of the indexes for any particular purpose to which they might be put.
No member of the LSE Group nor their respective directors, officers, employees, partners or licensors provide investment advice and nothing in this communication should be taken as constituting financial or investment advice. No member of the LSE Group nor their respective directors, officers, employees, partners or licensors make any representation regarding the advisability of investing in any asset. A decision to invest in any such asset should not be made in reliance on any information herein. Indexes cannot be invested in directly. Inclusion of an asset in an index is not a recommendation to buy, sell or hold that asset. The general information contained in this publication should not be acted upon without obtaining specific legal, tax, and investment advice from a licensed professional.
No part of this information may be reproduced, stored in a retrieval system or transmitted in any form or by any means, electronic, mechanical, photocopying, recording or otherwise, without prior written permission of the applicable member of the LSE Group. Use and distribution of the LSE Group index data and the use of their data to create financial products require a licence from FTSE, Russell, FTSE TMX, MTSNext and/or their respective licensors.
Past performance is no guarantee of future results. Charts and graphs are provided for illustrative purposes only. Index returns shown may not represent the results of the actual trading of investable assets. Certain returns shown may reflect back-tested performance. All performance presented prior to the index inception date is back-tested performance. Back-tested performance is not actual performance, but is hypothetical. The back-test calculations are based on the same methodology that was in effect when the index was officially launched. However, back-tested data may reflect the application of the index methodology with the benefit of hindsight, and the historic calculations of an index may change from month to month based on revisions to the underlying economic data used in the calculation of the index.