Francesca's Holdings (NASDAQ:FRAN) stock has been declining since September 2012, when it topped at $37.09. Yesterday, it closed at $7.13, which means the company had lost over 80% of its market cap. It is interesting to note that in the fiscal 2013, the company reported $1.05 in earnings per diluted share. In fiscal 2017, the reported EPS was $1.09. The company has been debt-free all these years and has been aggressively growing its revenue. Then why the crash? In my opinion, the only reason FRAN has been plunging was that investors were simply too optimistic about it in 2012 in the first place. Just like they are too pessimistic now. Truth is Francesca's Holdings was and still is a great company. Now, it is also undervalued.
I bought FRAN stock at $7.30 last week and plan to increase my position if the market continues to decline, because I could hardly find anything I did not like about this company. For starters, Francesca's revenue growth during the past decade is nothing short of stunning.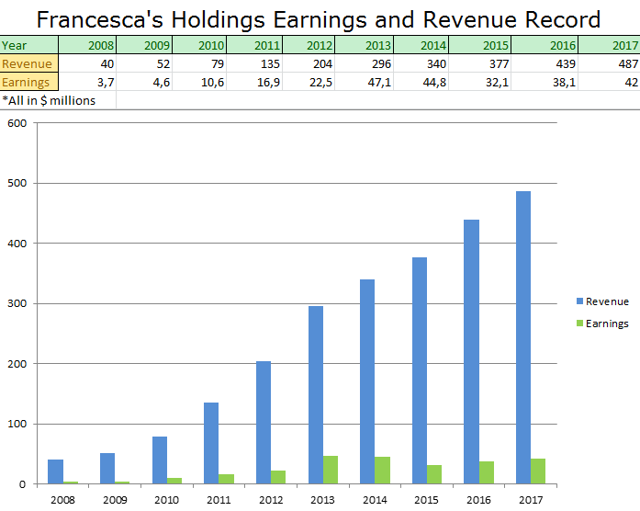 Source: Francesca's Holdings Annual Reports
In just nine years, the company managed to multiply its 2008 sales of $40 million by more than 12 to over $480 million last year, by opening a lot of new and efficient stores. In addition, while doing this, FRAN maintained its net income margin around and above the 10% mark the whole time.
But sales growth is not the only impressive thing about Francesca's. The company's three-year average gross profit margin is above 47%, suggesting that unlike other apparel retailers, FRAN could afford to choose its own pricing policy. Besides, after deducting SG&A expenses, over 30% of the gross profit remains at the company's disposal and since there are no loans on which to pay interest, most of that ends up in FRAN's bottom line, which, in turn, leads to very high returns on equity and assets of 31.8% and 20.4% on average for the last three years, respectively.
Capital expenditures is the only expense that exceeds my preferable upper limit of 50% of the net income, amounting to almost 63%. However, in this particular situation, I see this as a positive, because the best way for a traditional retailer to expand is by opening new stores. That is what Francesca's spends its CAPEX on and it does it very effectively - the company's TTM fixed asset turnover is 6.01, according to Morningstar, which means that for every $1 in fixed assets, the company generates $6.01 in revenue. Total asset turnover is close to 2.7, which is just as impressive.
Besides, even after spending all that money to grow, FRAN still has plenty of free cash flow left, $50.32 million as of fiscal 2017. What does the company do with all this excess cash? Paying out dividends would certainly be good, but given Francesca's high ROE, share buybacks is definitely better and that is exactly what the management has been spending the money on. Furthermore, shares have been repurchased while the stock has been crashing, not rising, indicating the people on the wheel know how to apply this form of financial engineering properly, in order to increase shareholders' fortunes in the long-term.
These are, in my opinion, the most important factors, which make Francesca's a great business. Some of the others are given in the chart below.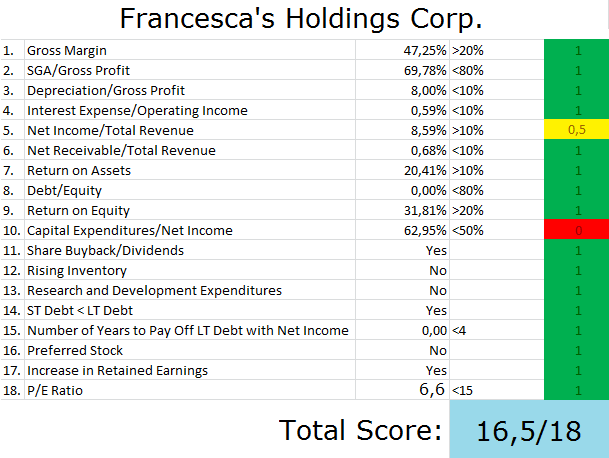 Calculations Based on Information by MarketWatch
Francesca's collects 16.5 out of 18 possible points in my book. Given the fact that the retail crisis is the main reason for the declining profit margins and that there is a very promising reason for the high capital expenditures, I consider both to be temporary in nature. Meanwhile, the stock is trading at only 6.6 P/E ratio, which is extremely cheap for a company with no debt and return on equity above 30%. The company is determined to expand its store count to at least 900. If its business continues to be this efficient and the company maintains its share repurchasing program, I believe something good will happen to investors, who use the moment to grab FRAN shares.
Conclusion
Francesca's Holdings is a consistently strong and very profitable business. It is using its competitors' troubles to fill the void and grow aggressively. Share buybacks at low stock prices speaks for a competent and shareholder-friendly management. Even at a projected EPS for the current year of $0.71 - $0.81, the stock is still selling for less than 10 times earnings. Even if the stock continues to decline, I would only use Mr. Market's pessimism to increase my position. In fact, I hope FRAN falls some more...
For more articles like this, please do not forget to hit the "follow" button!
Disclosure: I am/we are long FRAN.
I wrote this article myself, and it expresses my own opinions. I am not receiving compensation for it (other than from Seeking Alpha). I have no business relationship with any company whose stock is mentioned in this article.