Investment Thesis
After the budget sequester put a great deal of fear around military and defense contractors, we went into a surprising bullish market for all of them. In fact, I doubt there was a better sector to put your money in over the past five5 years. Out of the top 10 "war lords," only one didn't double its value. All the others did even more than that…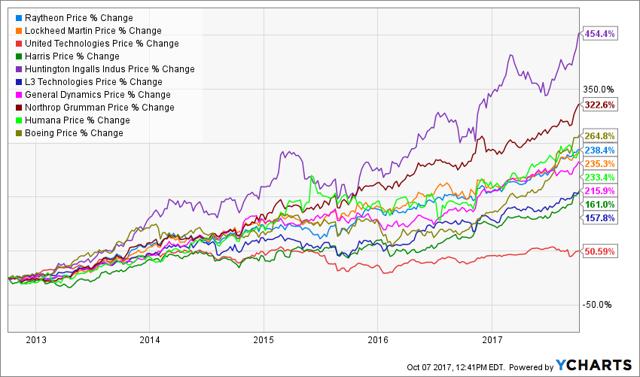 Source: Ycharts
I'm a happy shareholder of Lockheed Martin (LMT) for several years and I'm looking to add another military defense company in my portfolio. Today, I'm looking at the possibility of buying shares of Raytheon (RTN).
Understanding the Business
Raytheon is one of the 10 major U.S. defense contractors along with Lockheed Martin, Boeing (BA), General Dynamics (GD), Northrop Grumman (NOC), United Technologies (UTX), L-3 Communications (LLL), Huntington Ingalls (HII) and Harris Corporation (HRS). RTN has five business segments, but four of them represent 98% of its business and are equally important.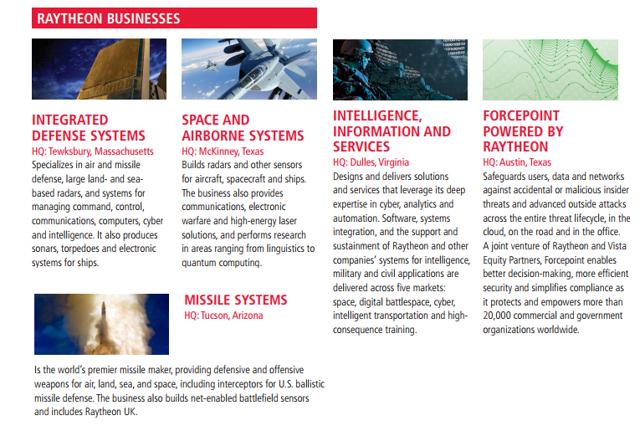 Source: Raytheon Investor Fact Sheet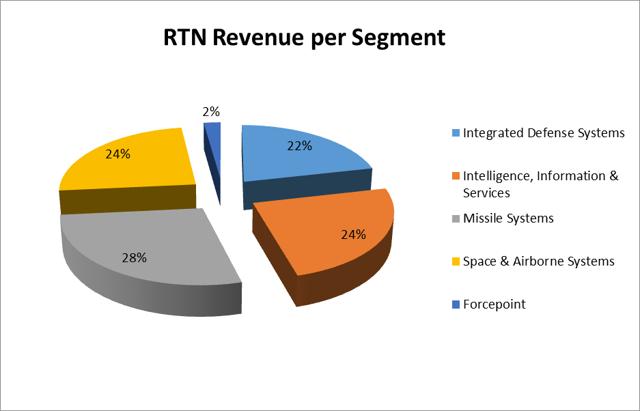 Author's chart, data from RTN 2016 annual report
The company is mainly present in the U.S. but about a third of its business comes from other countries.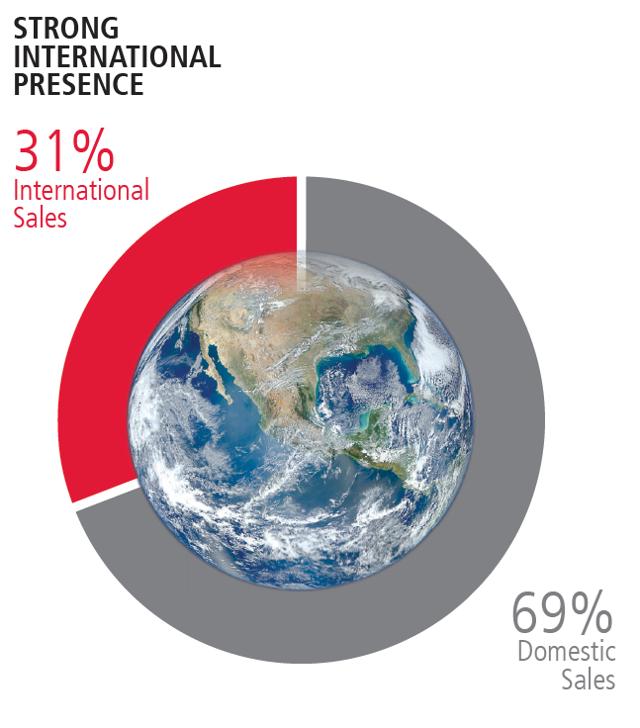 Source: Raytheon Investor Fact Sheet
You could think RTN is well diversified with an international segment representing almost a third of its business. However, according to RTN's 2016 annual report, 12% of its foreign sales are coming from the U.S. government as well. Therefore, a total of 79% of RTN sales (67% + 12%) depends on the U.S. government.
Revenues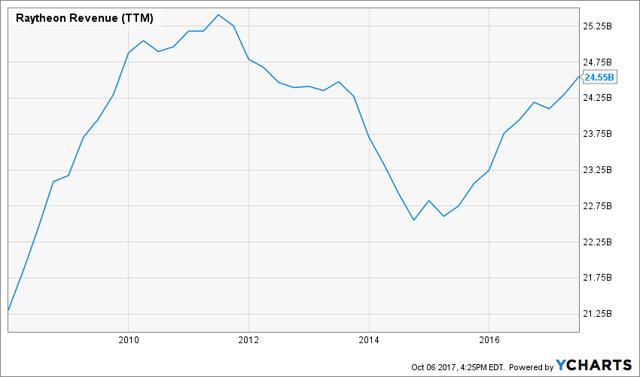 Source: Ycharts
In order to support growth after the budget sequestration in 2013, Raytheon quickly purchased Websense, a cybersecurity firm. The company paid nearly $2 billion in order to boost its revenue. After a difficult period between 2012 and 2016, the company seems on the right track to boost its revenue. Geopolitical instability is on the rise and RTN will be able to benefit from this situation due to its strong international presence.
Earnings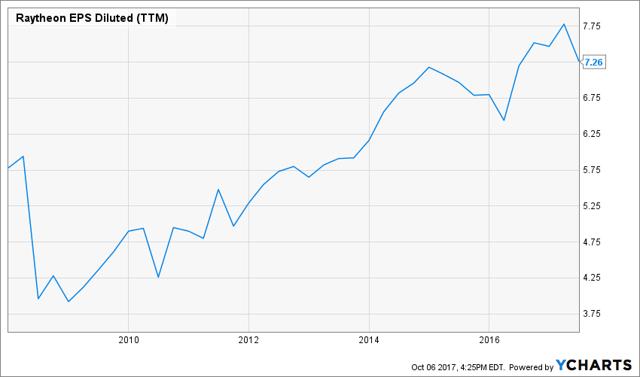 Source: Ycharts
RTN earnings haven't been a complete straight uptrend, but management recently raised its guidance for the end of the year. Management also continues to buy back shares massively.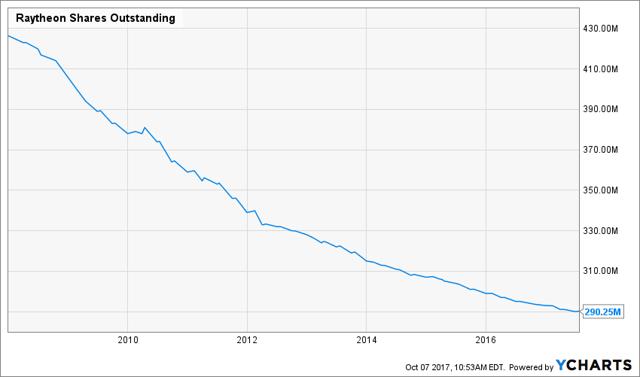 Source: Ycharts
With both revenues and earnings going up and the number of outstanding shares going down, there is a lot of good news for investors. RTN also is a shareholder-friendly company in terms of the dividend.
Dividend Growth Perspective
RTN successfully increased its dividend payment for 13 consecutive years. This makes it part of the elite Dividend Achievers list. The Dividend Achievers Index refers to all public companies that have successfully increased their dividend payments for at least 10 consecutive years. At the time of writing this article, there were 265 companies that achieved this milestone. You can get the complete list of Dividend Achievers with comprehensive metrics here.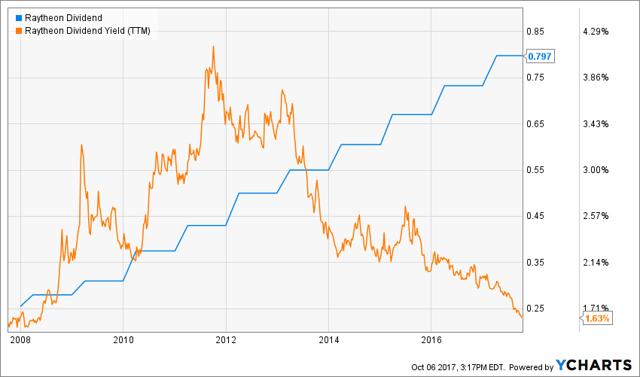 Source: Ycharts
I agree with you that a dividend yield of 1.63% is far from being appealing if you seek to increase your portfolio income. However, keep in mind that the company increased its dividend by a 12.08% annualized return for the past decade. The stock price nearly tripled during this period. This explains why the yield is so low.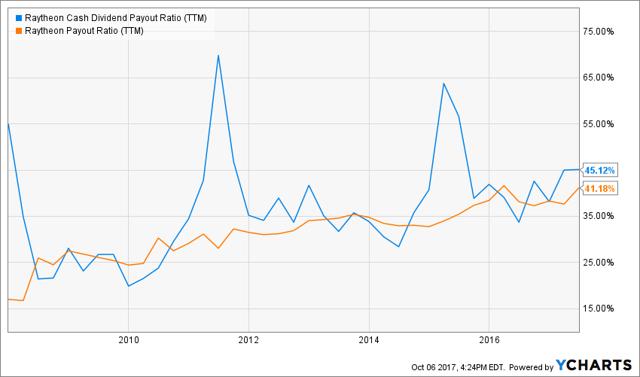 Source: Ycharts
Investors can expect additional increases in the future with both payout and cash payout ratios under 50%. In fact, the company is in a strong position of growth and will definitely continue raising its dividend in the high single to double-digit growth rate.
Potential Downsides
The biggest problem I see with RTN is common in this sector. All defense contractors are highly depending on the U.S. government budget to growth their business. We see how budget restraints affected RTN sales in the past and this could happen in the future.
While the U.S. economy is doing better, the consequences of the 2008 financial crisis is still looming over our head. The U.S. government raised its debt to an unprecedented level and a cut in the military budget will be among the solutions on the table.
The fact all military contractors shares skyrocketed over the past five years makes it very difficult for any investors to enter in a new position at the moment. If we fear the market is overvalued after a 77% bull market over the past five years (as at October 6 th 2017), imagine where RTN stands with a 238% (excluding dividend) stock surge. The return to reality may be brutal.
Valuation
Raytheon stock has been riding the latest bull market like a king. The stock price soared by 261% since January 1, 2009. Can we enter now and hope the stock will continue to rise? Let's take a look at how the market valued RTN for the past 10 years: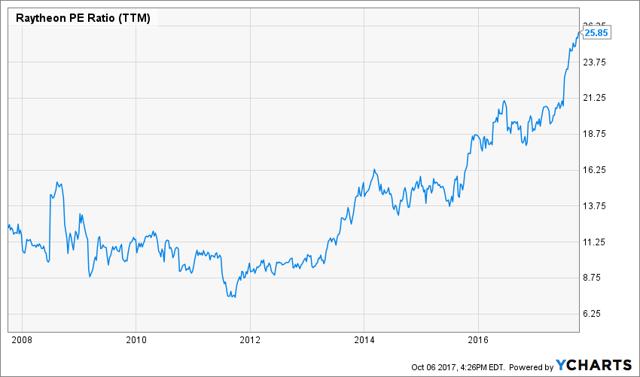 Source: Ycharts
From this graph, you can see that RTN has never been valued at a higher price. In general, a 25 (nearly 26) PE ratio is a high price to pay. Considering the stock has never been trading at a higher multiple, this is not good news.
Since I'm a dividend investor, I also will use the Dividend Discount Model to determine RTN value. I used an 8% dividend growth rate for the first 10 years and 7% afterward. Those are the exact growth metrics I used to value Lockheed Martin a few months ago.
Input Descriptions for 15-Cell Matrix

INPUTS

Enter Recent Annual Dividend Payment:

$3.19

Enter Expected Dividend Growth Rate Years 1-10:

8.00%

Enter Expected Terminal Dividend Growth Rate:

7.00%

Enter Discount Rate:

10.00%

Discount Rate (Horizontal)

Margin of Safety

9.00%

10.00%

11.00%

20% Premium

$223.17

$148.30

$110.89

10% Premium

$204.57

$135.94

$101.64

Intrinsic Value

$185.97

$123.58

$92.40

10% Discount

$167.38

$111.22

$83.16

20% Discount

$148.78

$98.86

$73.92
Please read the Dividend Discount Model limitations to fully understand my calculations.
I don't think RTN could drop down to $123 tomorrow morning. In fact, the key in this valuation is probably the discount model where RTN shows to be trading at fair value if you use a 9% discount rate. On the other side, if you use the same metrics with LMT, you will discover that it is a much better deal than RTN.
Final Thought
In the light of this analysis, I get to three conclusions. #1 Raytheon is a strong company with lots of dividend growth potential. #2 I would be a happy shareholder if I had the chance to pick up RTN a few years ago. #3 I don't there is much upside right now to RTN. I will stick to my LMT shares and keep a close look to Raytheon in the future.
Disclaimer: I do not hold RTN in my DividendStocksRock portfolios.
I'm long LMT.
If you like my analysis, click on FOLLOW at the top of the article near my name. That will allow my articles to display on your homepage as they are published.
Additional disclosure: The opinions and the strategies of the author are not intended to ever be a recommendation to buy or sell a security. The strategy the author uses has worked for him and it is for you to decide if it could benefit your financial future. Please remember to do your own research and know your risk tolerance.