Equities (SPY, DIA, QQQ) started the day up slightly Tuesday, with Energy (XLE) and Utilities (XLU) leading the way.

Source: CNBC - 11:16 EST
Oil (USO) is bouncing back from last week's lows following Saudi Arabia's compliance with OPEC's agreed upon supply cuts.

Treasury yields, on the other hand, are dropping as the market anticipates today's fed speeches.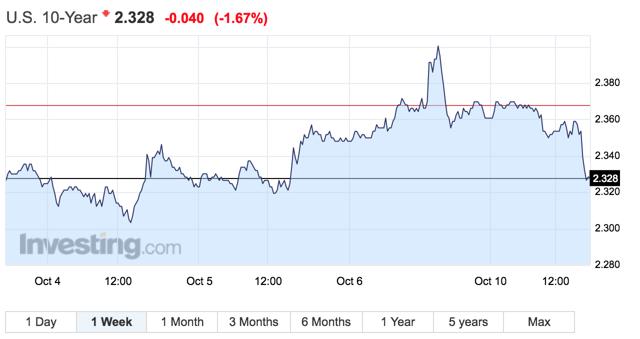 14:54:08 GMT
Treasury yields are also being influenced by expectations for future Fed policy, as the appointment of the next Fed Chair draws closer. The following chart from the betting website Predictit.com illustrates the expected probability of future Fed Chairs over the last seven days: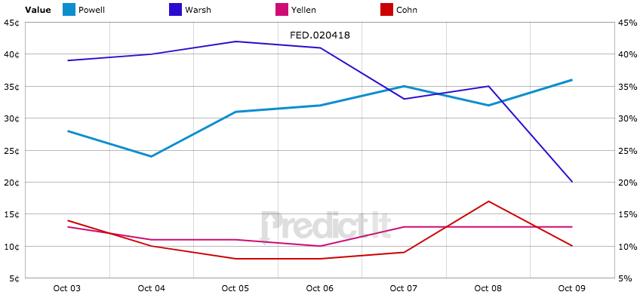 As you can see, the perceived likelihood of Kevin Warsh being the next Chairman has dropped significantly over the last few days, whereas Jerome Powell's chances are thought to be increasing.
Bloomberg's economic calendar lists two upcoming speeches from Powell. On Thursday he will deliver the "keynote address on Emerging Markets at 2017 IIF Annual Membership Meeting in Washington", and then on Friday he will deliver the "Keynote Address at the Boston Fed's 61st Economic Conference: ' Are Rules Made to be Broken? Discretion and Monetary Policy' in Boston."
The second speech is particularly interesting as it is likely to provide further insight into what a Powell led Fed would look like.
Shout Out
Our shout out today goes to SA contributor Cullen Roche for his recent compilation and discussion of recession indicators. Here are the four indicators he highlights: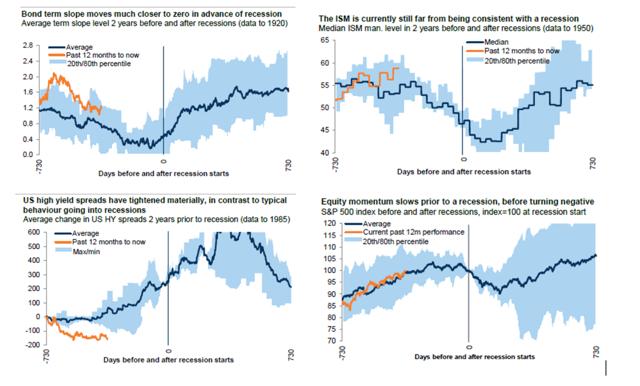 (Source: Goldman Sachs Global Investment Research)
As you can see, none of the four indicators point toward a looming recession. Of course, these (or any other) indicators are incapable of painting the whole picture, but we do think they inform the conversation of what the future holds for our economy.
As always, we'd love to hear your thoughts. How much do value do you think these particular indicators have for predicting the next recession?
Thoughts on Volatility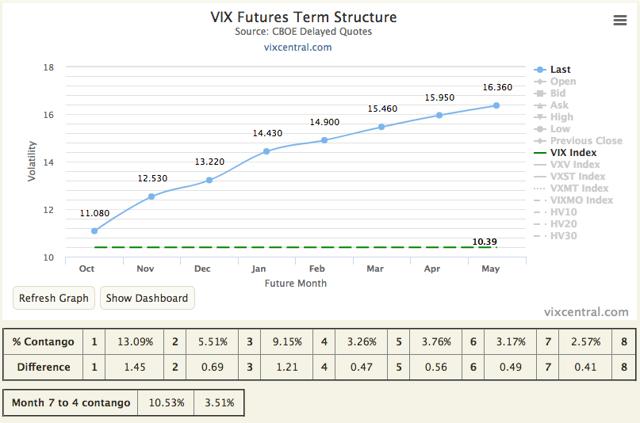 The gap between spot and the November VX contract -F2- has narrowed considerably since the wide gap we witnessed last week. To our minds this gives shorts of the (F1-F2) spread a little more time to figure out how to pull off a winner. The October contract expires next Wednesday morning, but trade will effectively wrap up by next Tuesday's close, as few wish to brave the lottery of the Wednesday morning settlement procedure.

Source: Interactive Brokers
As such, F1 will come under increasing pressure to behave more, both in terms of price action and levels, to spot. Consider that the Sep/Oct closed at around 2.2 or so last month. Currently the spot-F2 gap is rather forgiving to F1 longs: certainly more so than last week. Still, as the chart below demonstrates, the absolute contango levels on the F1-F2 are quite high. A failure of the spot VIX to push higher over the next couple sessions likely dooms the contango to increase considerably.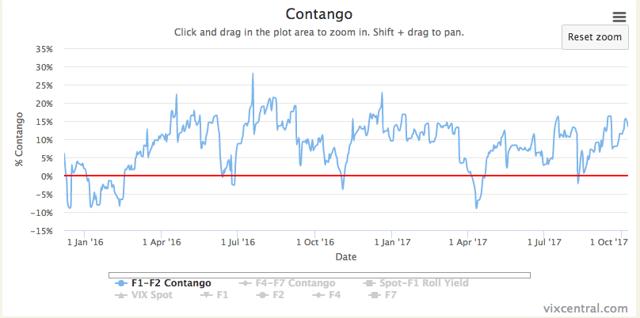 Last week we asserted that there exists a set of combos for realized volatility and implied volatility, expressed as the ordered pair (RealVol, ImplVol) where activity in the ES options, as well as VX futures and futures options volume dries up.
We hypothesized that such a reduction in volume would likely take time before the drop off was accentuated. Our reasoning was that realized vol likely only stays at these very low levels if it is sustained, in which case buyers of volatility get burned and walk away. On the other side, sellers of vol could fear a sharp and sudden rebound, and choose to not take what may in fact amount to reasonably large volatility risk premia.
Silent Trader ("ST") offered his thoughts on the matter, and injected consideration for market frictions to impede trade (second half of the statement):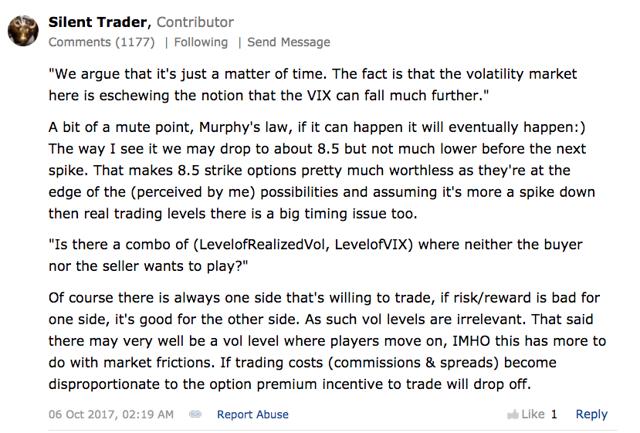 ST states that vol levels are irrelevant; we infer that his statement relates value more to the volatility risk premium (ImpliedVol-ExpectedRealizedVol) dictate the value associated with taking a long or short position. As such, he indicates that the greatest risk to the market has little to do with levels, but rather bid-asks and commissions in proportion to the value perceived by traders.
To his point, SPX options volume has reached an all-time high according to CBOE: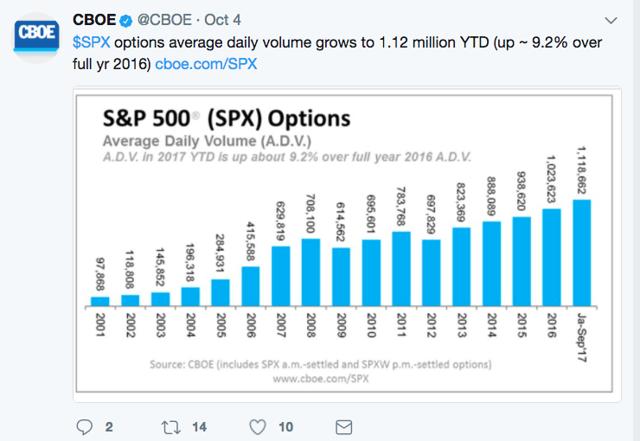 While this may be a rather esoteric discussion for many, it does strike to two important points:
We posited that if such a set of combinations of (RealizedVol, ImpliedVol) did exist to dry up volume, it would take time to effectuate. What we see above suggests that we ain't there yet.
From a more practical standpoint: the notion that investors and/or traders have "fallen asleep at the wheel" or that "nobody is nervous" does not jive well with the volume levels we are seeing in SPX options. SPX options volume suggests an alternative interpretation to the popular "Nobody is scared" meme that circulates daily.
ST appears to be correct that, should such a set of ordered pairs exist, it does not seem that we have reached such a pair at this time.
***********************************************************

11:34AM EST
The jolt to the VIX has most certainly been confirmed by ATM futures on S&P 500 options. We're seeing an upward push across all three of our maturities: weekly, monthly, and quarterly.
Is vol ready to turn a corner? That remains to be seen. But what does bear remembering is the fact that while 2017 has issued some of the lowest recorded levels of volatility, there have been "buyable dips" to options on the ES and local minima on VIX futures. Holding volatility has not worked, to be sure.
We think the time spread we've been discussing looks pretty good: short the weekly and the quarterly ATM, buy two of the monthly:

We like this trade, as we think the monthly has a chance to gain some traction against its peers. That said, we saw the monthly (Nov3) get absolutely crushed last Friday after the jobs number, so there is recent precedent for this trade to get wrong-sided. All the same, we see the monthly holding its ground on a downswing more so than the weekly or quarterly.
Conclusion
If this is your first time reading Market Volatility Bulletin, thanks for giving it a try. If you're a regular, we thank you for your ongoing contributions in the comments section. As always, trade ideas, questions, and general sharing are appreciated.
The first two parts of our mini-article series that discusses the IB policy of late to tighten margin requirements is out on SA; we encourage you to read Part I and Part II. We're hoping to have the last part out soon. We used a lot of your input in generating them: give them a look.
We also have a piece coming out on the infamous "Acceleration Clause" in the XIV prospectus; the first part is in the SA pending queue as we write this.
We're always on the lookout for good ideas to write about in terms of larger topics that impact volatility, equities, or markets in general. Please pass on your ideas for what you'd like to see more on, and we'll try to address and/or incorporate your thoughts into future pieces.
Please consider following us.
Disclosure: I am/we are short SPY.
I wrote this article myself, and it expresses my own opinions. I am not receiving compensation for it (other than from Seeking Alpha). I have no business relationship with any company whose stock is mentioned in this article.
Additional disclosure: We actively trade the futures markets, potentially taking multiple positions on any given day, both long and short. It is our belief that the S&P 500 is meaningfully overvalued. As such, we typically carry a net short position using ES options and futures.