Survivor Tip: What Brick And Mortar Retailers Need To Do Differently To Stay Relevant
Summary
It is a known fact brick and mortar retail is having its issues - amid numerous job cuts and store closures are abysmal quarters and poor profit producing strategies.
In a report by Credit Suisse - they predicted that 25% of US Malls will close their doors by 2022 and 8600 stores will close their doors this year alone.
In a NY Times article, it was estimated that 89,000 Americans have lost their jobs since October 2016 due to the poor performance of retail stores.
The repercussions from this key anchor to American malls, the clothing industry and retail industries will have a system wide effect.
Bear with me as this is my first post on Seeking Alpha. I do run my own personal finance blog What's In Stock but this is my 1st article where I delve this deep into a topic of this magnitude.
I have been mulling over this topic for quite some time now but it was only until my recent trip to Hong Kong & Singapore that this idea really came to life. If any of you have travelled to these places - the phrase "retail is king" is basically synonymous with both these cities. The streets of Causeway Bay and the Orchard district in Singapore are lined with an abundance of department stores, boutiques and luxury shops that probably have enough inventory to last many lifetimes. To compound this perfect problem, you can find many stores of the same brand and banner clustered in the same area all with the same inventory catering to a limited client base. At some point, I've pretty much exhausted the number of palm tree shirts and black dress pants I need.
I will be touching on investing/stock opinions throughout the article and have done my best to match investing options with examples and scenarios that I have mentioned.
In my personal opinion I think there are four key issues that are causing the demise of brick and mortar retail:
1. Inventory Mismanagement
One of the biggest problems I see with many retailers (not just brick and mortar) is the overabundance, oversupply and over selection of products. I remember passing by a department store in Singapore and seeing 25 different varieties of alarm clocks - surely they cannot be going through these by the caseload. A lot of times what happens with these brick and mortar stores is that they are under the perception that because of the sheer size of their retail space they have an obligation to fill their shelves with inventory. I completely understand the dilemma here - retail metrics are all driven by sales per square foot. At the same time, it's important to recognize there is only a limited number of quality products. Storing more inventory is also costlier - the costs associated with returns, defects and handling only rise with more goods. The oversupply of inventory results in something I like to call the "drag effect" - basically retailers stuck with so much inventory that they are trying to sell inventory from different seasons at the same time and similar price points. Walk into any department store and you can see piles and piles of items and no shoppers. As the old saying goes "the mall is packed but no one has shopping bags". Ordering too much inventory also means that retailers need to liquidate more often. It kills me that after so many years, forecasting departments are still ordering the same amount when profits are declining. Although liquidation is inevitable as it is impossible to order exactly the right quantity, a good sign the analysts are managing inventory properly is if products in liquidation decline from year to year.
What retailers should do instead is cut down on the range of merchandise and utilize the space to offer unique shopping experiences that can't be found online. Once upon a time people looked forward to shopping at a department store because of the exceptional service they would receive. For example, Sephora is always packed with customers and the lines to cash out are always long. They allow customers to try all their products and provide samples of virtually all products so a customer is fully satisfied as they leave the store. Larger retailers could use the space to cut down on the inventory offering but give customers an unforgettable shopping experience.
2. Over Staffing Problems
Another problem, I see with these traditional retail outlets is the huge workforce. In a report by the NYTimes it was reported that 89,000 employees had lost their jobs due to store closures. To put this into perspective this number represents the total combined workforce of BMO (NYSE:BMO) and CIBC (NYSE:CM) members of the Big Five in Canada. Some retail outlets I visited had 15 employees working in one section and serving zero customers. Making the customer happy is at the heart of any service business but it cannot be to the detriment of the company's bottom line. At a time like this, it may be a prudent decision to adopt the Amazon (NASDAQ:AMZN) method whereby they hire more workers during the Black Friday - New Year's period. Although temporary work is not ideal it's better than losing the industry altogether.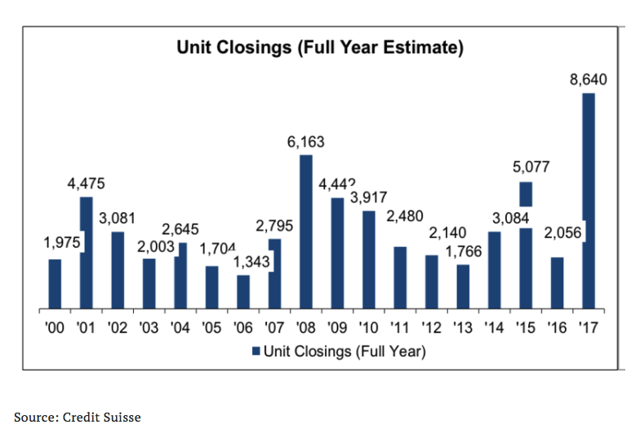 Based on the two above points its obvious that brick and mortar retailers need to change. For investors that have skewed their portfolio's to brick and mortar - I think this would be a good time to rebalance those positions with others. Due to lower valuations of certain retail stocks it may be a good idea to increase positions of those companies, as well as increasing positions in companies with a large e-commerce reliance. A name that comes to mind is JC Penney (JCP) that is in the midst of a successful turnaround campaign. In their turnaround strategy they plan to introduce Sephora stores in 60 of their retail outlets as well revamp some of their departments and build on their online sales. They even hired a veteran e-commerce expert to lead the charge. On the other end of the Spectrum we have some other retailers such as Sears (SHLD) who are struggling mightily. Sears was never able to shed their "general merchandise" mantra and have now found themselves near bankruptcy. Although many investors would be taking large losses - this is a position worth exiting.
3. Shift in Consumer Tastes
Another thing that has really taken the market by storm is the gradual shift in consumer focus. Some may argue that recent generations have become a lot more materialistic - but its the materials that have changed. While technology has changed the way we do business - it's also changed the way we spend our money. In a recent report by the Pew Research Center in 2015 - they reported that 68% of all US Adult had a smartphone with 92% having a cellphone.4 An increase of 35% in smartphone ownership was seen between 2011-2015.
Tablet ownership is also on the rise with 45% of all U.S. Adults owning a tablet in 2015. Part of this is people increasingly need a cellphone (smartphone) for their daily use but considering the going price for some of these products - people on limited budgets are forced to make choices.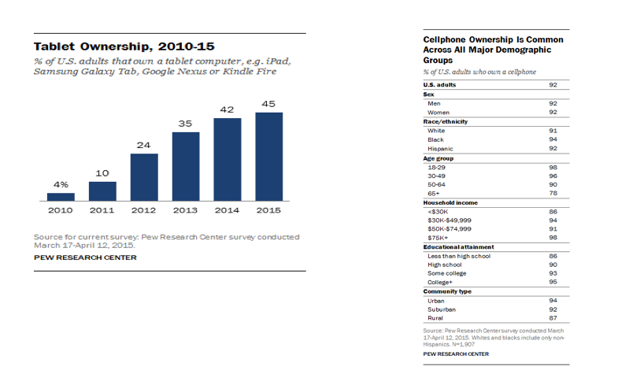 Customers are now valuing digital goods more and more. For example, Nike recently launched a concept idea called Makers, where consumers get to create a personalized Nike (NYSE:NKE) shoe and get to leave the store with their shoes in hand after an hour. More brick and mortar retailers need to prioritize providing digital experiences for the customer.
4. AMZN effect
The last thing I love with retail is how fast brick and mortar are getting let off because of Amazon. The biggest argument for brick and mortar is "it's not their fault, Amazon is there and it's affecting everyone". Yes, AMZN has been a game-changer but we need to realize brick and mortar retail has not changed in the last twenty years. Merchandising, product selection and other components have largely stayed the same and ecommerce rollout has been lacking. I honestly do believe brick and mortar still has a place in society. People will always need clothes and other merchandise and buying online is such a pain (especially considering I'm tall and do not have the most slender frame). If any of you are Buffett enthusiasts this would be a good time for brick and mortar to come up with a new moat and solidify themselves.
As mentioned previously, I do believe traditional brick and mortar retailers still have a strong place in the industry. In Canada for example companies such as Loblaws (LBLCF) are doing very well. They just launched a campaign to renovate stores all across the country and introduce specific goods to different stores across the country and integrate Shoppers Drug Mart into the fold. Sobeys (EMP.A) is also doing well after a huge meltdown after they were forced to write-down a 2-billion dollar acquisition due to poor management. They hired a new CEO and their stock has returned close to 36% since its low during November
Looking at your portfolio - I would not dismiss brick and mortar stocks altogether. Canada Goose (GOOS) has had a strong showing since their IPO in March returning about 21%. Part of their success is due to a unique product and Made in Canada slogan that makes the company unique. Their success has also motivated the IPO of Roots which plans to go public later this year. As an investor I would keep my eyes peeled for any IPO's in the retail sector - the Aritzia IPO (ATZAF) late last year was 10 times over-subscribed - even launching with a dual class share structure.
Disclaimer: All of the above is my own personal opinion. Figures are for learning purposes and have been drawn from credible sources. I do not hold any positions in the companies mentioned above and do not plan to initiate a new position within the next 72 hours. I do not hold any brick and mortar retail stock except for Couche Tard (ANCTF) and Metro Inc (MTRAF)
Disclosure: I/we have no positions in any stocks mentioned, and no plans to initiate any positions within the next 72 hours. I wrote this article myself, and it expresses my own opinions. I am not receiving compensation for it (other than from Seeking Alpha). I have no business relationship with any company whose stock is mentioned in this article.