History
At the end of 2017, Macquarie Group (OTCPK:MCQEF) is a success story, probably one of the best value creation stories across the developed world over the past 30 years.
The international investment bank with circa 13,500 employees and AU$18bn market cap was created as the Australian subsidiary of Hill Samuel, a British merchant bank, with only three employees: Stan Owens, Blair Hesketh and Geoff Hobson.
Over the next three decades Macquarie grew at a high compounded rate, riding skillfully the extraordinary build-up of the Australian economy.
Macquarie focused its value proposition on a narrow niche in which the Australian investment bank had a comparative advantage: commodities and energy. With hindsight this has turned out to be the right decision; at the end of Q3 2017, the Australian bank is probably the top specialist in its field worldwide.
During the '80s, the Australian banking system was deregulated and the Australian Dollar was floated, initiating a long-term era of financial freedom that would suit perfectly a small, aggressive and creative investment bank.
The lender crossed an important milestone in 1985, when it obtained a banking license in Australia.
In parallel, Macquarie started stockbroking, asset management and asset financing activities in Australia, mainly focused on the commodities and energy markets. During the '80s, the Australian investment bank became the first bullion trader in the country.
Finally, Macquarie initiated an accelerated international expansion, opening representative offices in London and Munich.
In 1996, Macquarie was publicly listed, entering the ASX All Ordinaries; at the listing price, market capitalization of the young investment bank was AU$1.3bn; this made some of its employees immediate millionaires.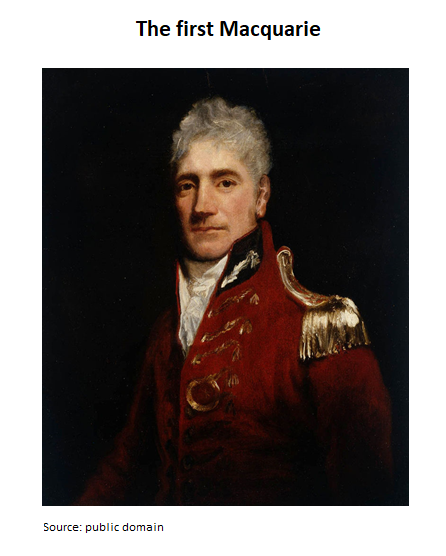 During the '90s, Macquarie continued its expansion across Asia - with the opening of offices in Singapore, Hong Kong and Beijing - US and Australia itself with the serial acquisitions of Boston Australia Limited, Security Pacific Australia and Bankers Trust Australia, the subsidiary of the US investment bank.
During this time, Macquarie started its famous infrastructure funds business, broadly speaking the promotion of third-party infrastructure and real estate investment funds designed, set up, managed and traded by Macquarie. This activity has been historically, and is still, extremely profitable.
During the first part of the 21st century, and riding the extraordinary expansion of the Australian economy, Macquarie continued its expansion in the investment banking business and infrastructure funds in Asia and around the world through organic growth and an aggressive policy of acquisitions.
Key milestones for this policy were the acquisition of ING's Asia cash business, City investment bank Fox-Pitt Kelton, US-based fixed-income investment manager Allegiance, the equity derivatives and structured products division of Sal. Oppenheim and several energy and trading companies in the UK and the United States.
These movements had a clear direction: consolidate a world-leading offer in commodities, energy and infrastructure M&A, research, trading and investment management.
Macquarie went through the financial crisis relatively unscratched, even if fears floated in the market about its liquidity position during the demise of Bear Stearns, a bank that was considered by some similar in terms of funding profile and balance sheet complexity to the Australian lender.
In 2008, CEO Alan Moss was replaced with Nicholas Moore, a long-serving investment banker and architect of a significant part of Macquarie's international expansion.
From then onwards, the strategy of Macquarie has been centred on consolidating its energy franchise, with a particular focus on green energy and infrastructures - the acquisition of UK's Green investment Bank and its renewable projects asset manager for £2.3bn - and expanding its current asset finance and investment banking businesses.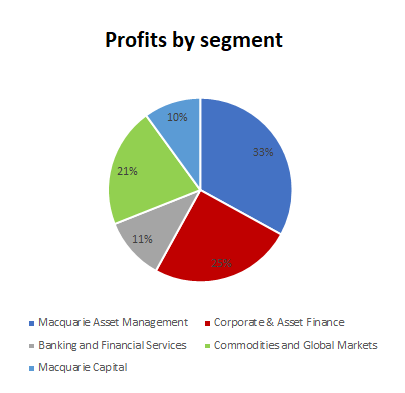 Macquarie at a glance
Macquarie has been riding the extraordinary Australian economic expansion based in commodities exports over the past 30 years. This fact, and that the Australian investment bank has never faced a life – or – death crisis, has shaped its structure, business model and we would say organizational optimism.
According to its F2017 results, Macquarie was organized in six major divisions: Macquarie Asset Management (33% of net profits), Corporate and Asset Finance (25%), Banking and Financial Services (11%), Commodities and Global Markets (21% of net results) and Macquarie Capital (10%).
By geographic areas, 40% of revenues came from Australia, 25% from EMEA, 25% from America and 9.2% from Asia-Pacific.
In terms of returns for investors, the stock price of Macquarie has had, over the past 20 years, one of the most spectacular performances in the world. Compounded increase of stock price has been 12% CAGR, dividends excluded (data from Bloomberg). With a historic dividend yield of around 5%, the performance of Macquarie stock for a long-term investor has been certainly very good.
Following this historic trend, earnings per share have increased progressively, from AU$2.51 in 2013 to AU$6.58 in 2017. During this period, dividends per share have more than doubled, from AU$2 to AU$4.7 in 2017.
But nothing - or very few things - comes for free in finance. There are two worrying notes on the stellar performance described above: leverage and its funding position.
Optically leverage seems to be at reasonable levels - around 10.5 times - compared with 10.4 times for Goldman Sachs and 12.5 times for Morgan Stanley. Nevertheless, it is difficult to assess the level of leverage using wider measures, given the complexity of the balance sheets and the practice of establishing external infrastructure trusts legally disconnected from Macquarie but whose impact on the lender in the case of collapse is difficult to assess.
Second, funding looks fragile. The portion of the balance sheet funded by deposits is around 40% and the proportion of funding with a maturity horizon of four years or less is more than 65%. More significantly, the proportion of short-term debt with maturity 1 year or less is around 60% of the whole funding structure.
There is no data on the currency denomination of the debt, but the part of the funding denominated in FOREX could be significant.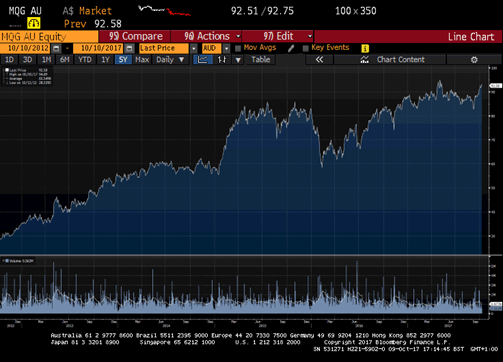 Stock price and the future
Over the past three years, Macquarie has followed a different path when compared with Australian commercial banks.
A clear break of the secular growth trend in Australian commercial bank stock prices can be seen at Commonwealth Bank of Australia (OTCPK:CBAUF), Westpac Banking Corporation (NYSE:WBK) and National Australia Bank (OTCPK:NABZY) in 2014. Nevertheless, even if a clear break is also visible in the Macquarie chart in 2014, the stock price recovers neatly and continues up till the end of 2017.
Currently, at prices of AU$92.5, Macquarie is quoted at 14 times P/E and 1.91 times book value. Current dividend yield is around 5%, and Return on Equity is at 15.2%.
Overall, it seems Macquarie is a dangerous stock to own at this point. To the inherent fragility of the Australian economy, already analysed in other articles, we should add the complex funding structure of the investment bank, the difficulty in assessing its level of leverage and the limited upside beyond current returns.
Macquarie has never faced a life or death financial crisis like Goldman, Morgan Stanley and other investment banks have. This does not mean that the Australian lender is unprepared for this, but the risk of overextension in the framework of a general Australian crisis is significant.
At this point, it is better to stay away from this stock.
Disclosure: I/we have no positions in any stocks mentioned, and no plans to initiate any positions within the next 72 hours.
I wrote this article myself, and it expresses my own opinions. I am not receiving compensation for it (other than from Seeking Alpha). I have no business relationship with any company whose stock is mentioned in this article.
Editor's Note: This article discusses one or more securities that do not trade on a major U.S. exchange. Please be aware of the risks associated with these stocks.