By Kim Catechis, Head of Global Emerging Markets and Portfolio Manager at Martin Currie
Emerging markets are still widely viewed as dependent on the materials and energy sectors. This is out of sync with reality.
By way of example, the materials and energy sectors accounted for 33% of the MSCI Emerging Markets Index in January 2008. Fast forward to July 2017 and their share has dwindled to 14%[1]. Meanwhile, technology has expanded briskly to 27% – making it the most tech-heavy index in the MSCI stable.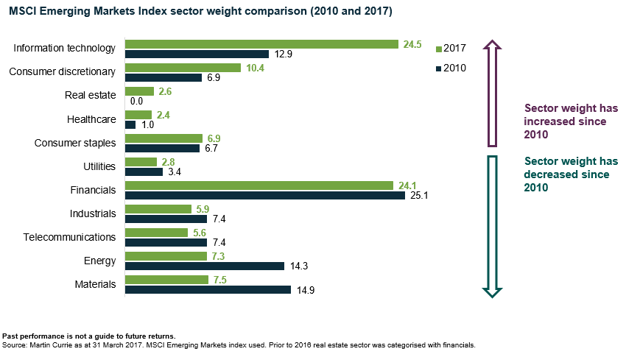 Conventional wisdom has it that a dominant player in the technology industry that manages to open up a big lead over the competition ends up perpetuating that dominance – look at Facebook (NASDAQ:FB), Amazon (NASDAQ:AMZN) and Google (NASDAQ:GOOG) (NASDAQ:GOOGL). But, in a major economy like China, things are not shaping up that way, with the US-based tech giants very marginal players in this massive and fast-growing market.
China already has the largest online population in emerging markets (EM) – over 730 million, but still only 50% of the total population. And, whereas the US led the way in the development of PC-based internet services, China is stealing a march in the development of mobile internet services – around 90% of users currently access the web by smartphone.
Importantly, these Chinese companies are now extending their coverage across Asia. Armed with Asia-centric games, social networking and e-commerce platforms, we believe they will give the hitherto dominant US names very tough competition.
Kim Catechis is a Portfolio Manager at Martin Currie, a Legg Mason (LM) affiliate. His opinions are not meant to be viewed as investment advice or a solicitation for investment.
© 2017 Legg Mason Investor Services, LLC. Member FINRA, SIPC
---
[1] Source: Factset and MSCI
Disclosure: I/we have no positions in any stocks mentioned, and no plans to initiate any positions within the next 72 hours. I wrote this article myself, and it expresses my own opinions. I am not receiving compensation for it. I have no business relationship with any company whose stock is mentioned in this article.
Additional disclosure: IMPORTANT INFORMATION: All investments involve risk, including loss of principal. Past performance is no guarantee of future results. An investor cannot invest directly in an index. Unmanaged index returns do not reflect any fees, expenses or sales charges.

Equity securities are subject to price fluctuation and possible loss of principal. Fixed-income securities involve interest rate, credit, inflation and reinvestment risks; and possible loss of principal. As interest rates rise, the value of fixed income securities falls. International investments are subject to special risks including currency fluctuations, social, economic and political uncertainties, which could increase volatility. These risks are magnified in emerging markets.

The opinions and views expressed herein are not intended to be relied upon as a prediction or forecast of actual future events or performance, guarantee of future results, recommendations or advice. Statements made in this material are not intended as buy or sell recommendations of any securities. Forward-looking statements are subject to uncertainties that could cause actual developments and results to differ materially from the expectations expressed. This information has been prepared from sources believed reliable but the accuracy and completeness of the information cannot be guaranteed. Information and opinions expressed by either Legg Mason or its affiliates are current as at the date indicated, are subject to change without notice, and do not take into account the particular investment objectives, financial situation or needs of individual investors.