Nam Tai Property (NYSE:NTP) had always been a deep value / huge discount to NAV real estate play. (You can read up on the background information of the company from previous well written articles. Shenzhen is like San Jose in the 70s)
However, with Kaisa Group, a US$4bn+ market cap Shenzhen based real estate developer acquiring a 18% stake at $17/shr from Mr. Koo, the chairman of NTP, this dormant deep value play has quickly turned into a dynamic situation that could get taken out within the next 6 months for 55% upside!
As a quick background info, Nam tai has 2 main properties:
1) Guangming, Shenzhen (Inno Park): This development project will provide a total gross floor area of 335,808 square meter, comprising of offices, apartments, and other commercial space. This project is expected to be completed by October 2019. According to a valuation report by Savills, the valuation of the land is worth RMB 1.6bn.
2) Gushu, Shenzhen (Inno City): This development project will provide a total gross floor area of 348,380 square meter construction area, comprising of offices, apartments and other commercial space. According to a valuation report by Savills, the valuation of the land in its existing form is worth RMB 3.2bn.
As a result, the total value of the 2 main properties alone is worth $728mn, comparing to current market cap of $408mn.
Background information of the Kaisa deal:
Back in July, Kaisa Group announced the acquisition of 6.5mn shares from Mr. Koo at $17/shr, representing a 15% discount to $20/shr fair value NAV based on 3 independent valuation reports. Disclosure on the acquisition.
Since then, Kaisa has acquired an additional 1.1mn shares (3%) of NTP in the open market at an average price of ~$10.4/shr thus increasing its ownership from 17.7% to 20.7%. According to Kaisa's filing with the SEC, they have bought shares in the open market almost on a daily basis, accounting for about 30% of each day's volume. This is quite aggressive!
Kaisa's increase in ownership has managed to clean out many short-term sellers, while allowing the remaining shareholders to wait for a higher share price.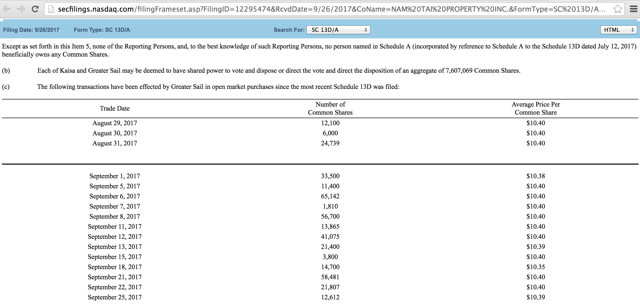 Kaisa has always been an aggressive real estate developer:
Kaisa has been an aggressive real estate developer. It was founded in 1999 and within just 10 years time it became the largest developer in Shenzhen. That said, the last 3 years had been particularly challenging as the China authorities had blocked and then unblocked sales of several residential projects, which led to the company defaulted on its debt.
Now that Kaisa is Back From the Dead, I believe they will be active in deal making but in a discrete way. More importantly, they also have resolved their debt situation. In fact, Kaisa has recently successfully raised $800mn in a recent high yield bond sale. This should eliminate any concerns of them potentially being affected by any downturns in China. On the contrary, they are flushed with cash and fully funded to make more acquisitions.
So the obvious question is why Kaisa didn't acquire 100% of NTP back in July?
For sure, it was a bit odd that Chairman Koo only sold his stakes to Kaisa and left shareholders stranded.
There could be 3 reasons for that:
Kaisa is worried about making a large overseas acquisition (even though the asset is actually within China) and risked alarming the central government, so instead they decided to acquire NTP in stages. (See recent issues with Wanda Group and HNA Group)
Kaisa didn't have the full funding in placed back in July.
And perhaps Peter Kellogg, the largest shareholder, believed the acquisition price was too low and decided not to sell (That said, I think this is an unlikely scenario)
Background of Peter Kellogg:
Mr. Kellogg has sat on the Board of NTP since 2000 and he is the largest shareholder. According to Forbes, Peter has a net worth of $3.5bn. He was previously the Senior Managing Director of Spear, Leeds and Kellogg until it was sold to Goldman Sachs for $6.5bn.
According to previous write-ups, Mr. Koo as Founder and Chairman, is considered shareholder friendly with the company's dividend policy and previous shares buyback programs. As a result, we don't expect him to be selfish and only cash out for himself, leaving everybody behind especially Mr Kellogg, who has been a major investor for a very long time.
How this could play out?
The probability of Kaisa remaining a passive investor is extremely low, given its track record as an aggressive developer, especially the project is in Shenzhen, its backyard.
Kaisa will want to take control of NTP as soon as they are able to. At this moment, Kaisa has no board representation or operation control. Given current management team of NTP does not have any real estate development expertise and Chairman Koo cashing out, Kaisa will want to gain management control of NTP and its underlying project. We believe Kaisa will have to come to some kind of agreement with the Board / Mr. Peter Kellogg. So if they want to gain control, they will need to pay a control premium ie $17/shr.
We expect Kaisa to continue acquiring shares in the open market.
If Kaisa and board can come to an agreement, we could expect a general offer within 6 months. Timing wise, most likely after the 19th National Congress of the Communist Party of China which will being on October 18th or once Kaisa feels comfortable with the political environment.
Risk reward of this trade is extremely favorable with absolute upside of 55%. Even if we assign a 66% probability of a general offer, the risk adjusted return is still a 33%!
| | | | | |
| --- | --- | --- | --- | --- |
| | Share Px | Returns | Probability | Expected Value |
| Upside | $17.0 | 55% | 67% | 36.3% |
| Downside | $10.0 | -9% | 33% | -3.0% |
| Current price | $11.0 | | | 33.3% |
Potential concerns:
1) Kaisa and Chairman Koo are related party. But I don't view this as a reason for concern. Chairman Koo is 71 years old. He is looking to exit. In addition, he also doesn't have any real estate development experience. His background is in electronics, and in fact the land was his old factory before he closed it down.
2) Economic downturn in China. I'm afraid I cannot predict this. However, Kaisa has a healthy balance sheet with a large cash balance.
3) Why don't Kaisa just continue to buy in the open market? Why they need to acquire at $17/shr? First, as stated above, I believe they will continue to buy in the open market. However, the trading volume is thin, and they may only be able to buy an additional 3-5% of shares, unless they conduct an tender offer. In any case, this provides support to current share price and could move the share price 10-20% higher. Second, currently Kaisa does not have management control or board presentation. As a result, if they want control, they will need to pay a premium, thus $17/shr.
Disclosure: I am/we are long NTP.
I wrote this article myself, and it expresses my own opinions. I am not receiving compensation for it (other than from Seeking Alpha). I have no business relationship with any company whose stock is mentioned in this article.