Summary
India and China are revered as emerging economies.
With the MSCI Emerging Market Index playing a pioneering role in setting indexation standards for these economies, it has also created a rift between the two.
The range for India's growth is 7.5%, whereas Shanghai Composite falls short at 5%.
Emerging market trends have long been speculative and investors have started to look for opportune emerging economies following remarkable returns. The member economies of the BRICS consortium have regained momentum with India providing lucrative investment options for Foreign Institutional Investors (FIIs). Growth forecasts of IMF for emerging markets have been optimistic standing at 4.5% for FY2017 leading to 4.8% in FY2018. While the current markets may not be seeking favorable returns with a correction around the corner, a possible upswing may be on its way. FII stock holdings are often driven by the macroeconomic indicators of a country but a major change in sentiment towards the 'sell' factor is foreseen in coming quarters. The reasons for this are assumed to be the awaited corporate earnings which are expected to improve with the Goods and Service Tax (GST) finally settling in the economy and the anomalies in its structure being rooted out. It will probably have a positive impact on corporate cash flows, tax rebates, positive exports thus pushing growth.The economy is further recovering from the impact of demonetization and draining of liquidity from the market. Cash levels in the economy are believed to have stabilized and returned to a nominal level which has been pushing the market sentiment forward.
To substantiate on how India has been performing, the MSCI Emerging Market Index is a credible source. The following graph showcases the explicit growth levels for Indian market indices and the Shanghai Composite.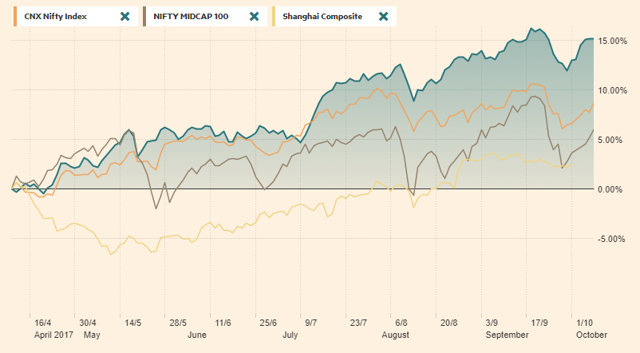 Source: Financial Times and MSCI Emerging Market index
On one hand, where levels hover in the range of 7-9.5% for Nifty Midcap and CNX Nifty Index (NIFTY: IND), the Shanghai Composite (SHCOMP:IND) witness an evident dip. According to Morgan Stanley's report in August 2017, India's weight in the MSCI EM Index was anticipated to grow thus attracting overseas investments. The GDP growth numbers were credited with this optimistic forecast due to the fact that their rise has outperformed India's rivals. With infrastructure development combined with structured cash flow approach, medium and small enterprise will receive a major boost in net profits.
Streets Expectation and Disparaging Trends
Substantial close selling from FII's might deter investors in short-term but the counter-liquidity measure by DIIs have kept the "Favoured Destination" tag alive. This instigates the prospective savings of households in equity markets during the current bull phase. Investors are closely monitoring markets and mutual fund outlays, which have surpassed estimates. In contrast to FII's, domestic institutions have been bridging liquidity gap, providing substantial stability to markets and overcoming foreign dependence. Stock markets on YTD basis appreciated by a whopping 20%, accommodating mid-cap mutual funds astonishing returns standing at 25.5% (Bloomberg, 2016).
We expect consumer lending to grow at a CAGR of ~17 percent over this period and to increase to around 25 percent of GDP. This would imply retail loans will increase by around 5x to $1.5 trillion.
Morgan Stanley Research Report (India's Digital Leap- The Multi-Trillion Dollar Opportunity)
As highlighted in the report, Indian companies may not require delving into costlier loans and will be borrowing at a more reasonable cost based on their cash inflows. A positive economic environment is likely to reap impressive benefits for domestic and international investors. After the unveiling of the GST norms, robust tax measures have been implemented for small and medium-sized industries helping them achieve record cash flow figures. This strengthens the claims of market experts who stress that even under pessimistic assumption market indices possess the capability to touch one-lakh points. Under similar circumstances where infrastructure is up for a boost and company structures witness a dramatic consolidation, markets in the foreseeable future are bound to outweigh expectations. Companies like Dr. Reddy's Laboratories (NYSE: RDY) in the pharmaceutical space and ICICI Bank (NYSE: IBN), HDFC Bank Ltd. (NYSE: HDB) in the financial services sector are likely to recoup earnings in the coming quarters.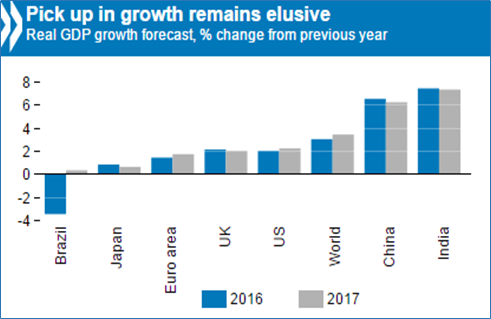 Source: OECD, Interim Economic Outlook (2016)
At present, the Indian foreign reserve stands at $400 billion which equates to 80% of the outstanding foreign debt. Out of this close to $130 million is idle cash in U.S. banks awaiting re-allocation in productive projects. A robust Forex teamed with significant fiscal stimulus will support possible recovery. The recent monetary policy statement by the Reserve Bank of India (RBI) presents strong views on Emerging markets and the potential held by India. In line with growth, the EM's dominated by China has reported an upward trend due to increased retail sales and rapid import levels. A similar pattern is showcased by Brazil, catering its expansionary motives in the second quarter this year. Moreover, economic activity in South Africa and Russia signals recovery. The World Bank's Global Economic Prospects projected India to expand by 7.1% and China by 6.5% this fiscal. Macroeconomic indicators of strengthening oil prices have left India and other oil-reliant countries to re-structure fiscal policies.
Fiscal Stimulus & Government Outlay: What's in Store for U.S. investors?
The rigorous policy initiatives, such as the one successfully completed by the Indian Government in 2016, might not always turn out well for the economy. Stringent measures are difficult to initiate but prospective growth that gets unleashed after such measures assure the financial institutions of the country's hidden potential. Volatility is expected to be present in the Indian Equity markets for medium to long-term investments. However, with robust growth, India is yet to culminate into a considerably sound investment destination for U.S. investors.
Conclusion
With roaring growth presumptions and stock markets working towards impregnable levels, India as an emerging economy is to watch out for. Current trends may be a mixed bag of ups and downs but the future is bright for the country which supports bold policy initiatives. GDP growth is bound to touch double digits in the next 5 years, surpassing inflation figures which are under control. The recent stock market plunge extends conducive space for long-term investors and any volatility should not discourage them.
Disclosure: I/we have no positions in any stocks mentioned, and no plans to initiate any positions within the next 72 hours. I wrote this article myself, and it expresses my own opinions. I am not receiving compensation for it. I have no business relationship with any company whose stock is mentioned in this article.
Additional disclosure: As an Equity Research Analyst and an Optimistic Independent Investor, I am long about India's growth potential. This article represents the opinion of the author as on the published date. The information set forth does not constitute a recommendation to buy or sell any security. Investors are encouraged to carry out their own due diligence before investing.