The Small Cap Mice Have Started To Roar: Check Risks, Rewards And Profit Potential
Summary
Bullish expectations last February for small-cap stocks did not materialize until early August. A recent 11% increase is attributed to expectations for further growth.
Technical and fundamental factors support positive expectations but are subject to major risks.
The prospect of tax cuts looms as a major market powering factor and the overall market's behavior is positive, but wary.
Two small-cap exchange traded funds that track the entire Russell 2000 small-cap index are comparatively evaluated for investors seeking exposure.
Take-away is provided.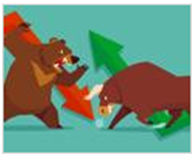 Small-Cap Stocks
The bottom 2000 smallest companies that make up the Russell 2000 Index are on the rise. The charts advised investors to go long last February as small-caps were expected to gain 25%. There was a delay, but in August, the mouse began to roar.
The Vanguard 2000 (VTWO) which closely tracks the Russell 2000 provides a picture of price action and what did happen since February.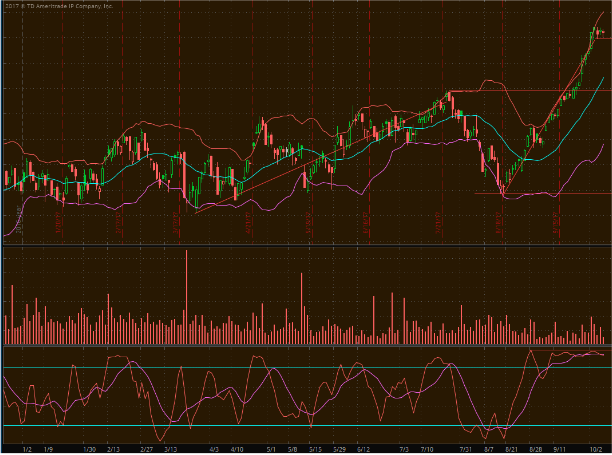 An uptrend including four major peaks is in evidence through July with three peaks followed by a significant troughs. The high reached on July 25 was 115.80. Subsequently, the uptrend of higher highs and higher lows was broken on August 18 and the index fell sharply to a low of 107.77. Little price increase occurred up to this period..
Clearly, small-caps disappointed until August and some of the price lag in appreciation was attributed to "dissipating hopes" for more robust economic growth which opened the door for both defensive and growth equities to maintain market leadership.
Then, the mouse began a roaring uphill climb that peaked at a high of 120.78 on October 5 before finally closing at 120.49 the next day. The last move up was an 11% increase from the previous low in August. Investors take note, though the early February call was premature, the roaring bull market, with recent daily new highs in other stock indices, is now driving up the small-cap Russell 2000 as well.
Technical Focus
The chart above and commentary is based on technical analysis with a focus on price movement, volume and supporting indicators like an extended over-bought slow stochastic which I interpret as an indicator of recent ongoing accumulation.
On the other hand, Stochastic data show over-bought market indices and the Russell 2000 currently sports a relative strength indicator (RSI) of 90 along with industrials, financials and energy sectors. An RSI above 70 is an overbought indicator. Some may interpret this rosy picture as worrisome.
In my opinion, investor expectations ebb and flow with daily global, political and financial news driving price action.
Expectations
The markets are steeped in expectations, some good, some poor. Investors and traders ask questions that remain unanswered at this time, but bear on unknown future outcomes.
Will stock market indices continue to rise higher and extend to value and small-cap stocks?
What is needed to drive the markets higher and maintain the aging bull market?
What are the current risks for investment in stocks?
Where is a good place to be in this market to best profit at this time.
Answers are illusive, but there are some very important markers to watch.
Fundamental Focus
The expectation that there will be tax reform that lowers corporate and individual taxes is the holy grail lifting all stock market indices. There has been a recent rise in smaller cap stocks, up 11.2% since August 21, while the S&P has only risen 4.3% since then.
The chart below provides comparative information on the rise of major stock indices. In reviewing these data it is noteworthy to remember that small-caps pay higher tax rates. Comparatively, small-caps average 33 percent while large multinationals pay about 27%. Clearly, lower corporate taxes are a boon to smaller companies seeking to grow, and the stock markets are anticipating personal and business tax cuts.
Indices Comparisons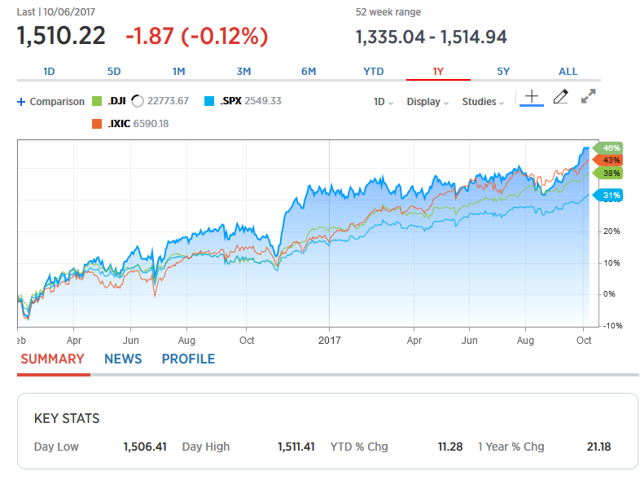 Powering the Witch's Brew
Tax cuts: Tax reform prospects were the main driver of the market today, giving stocks extra room to run. Markets moved up late in the morning, when the House passed a budget resolution, which is the first step toward tax reform. Data confirm the power of corporate tax reductions. The expectation for equity growth is there and markets will act in advance of it. Most investors must act on the expectation that legislation will cut taxes while unable to quantify its impact on equity prices.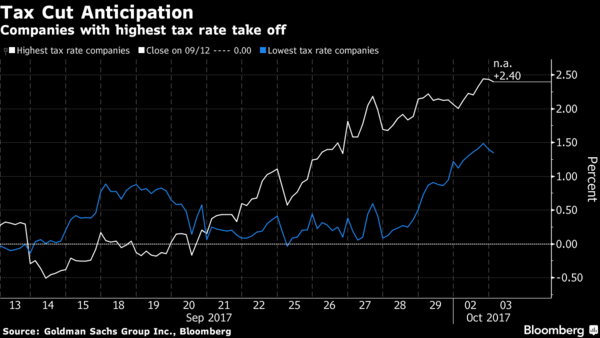 Other factors are powering the brew include:
Reflation Trade: The reflation trade, characterized by global economic expansion and higher yields, rising global equities and emerging markets.

Sector Rotation: In the past several weeks, small caps have outperformed, and value (banks, energy) has ticked up. Both were under-performing for a good part of the year.

Stronger Economic Numbers: The September ISM Manufacturing Index is the highest in 13 years and Services are the highest since 2005.
The brew has combined to stir up a broad-based powerful rally including value and growth, high beta and low volatility. Five trillion dollars has been added to the market and economic sentiment is at an all-time high. All this positive economic news is happening in the shadow of significant market threats that can topple equity markets.
Three Main Market Risks
Although much of the data reflect positive expectations, there are events that pose risks to the raging bull. Currently the main possibilities that dominate the financial news coverage include:
North Korea.
Appointment of a more hawkish Federal Reserve Chair, (Kevin Warsh).
The proposed tax cut legislation failing to pass in Congress.
Take Away
Though worrisome risks abound, price action is a dominating trend as greed and optimism exceed the fear trade. Keeping the risks in mind, I like the small-cap value sector and prefer to be diversified in an exchange traded small-cap fund while keeping my eyes on next quarter's earnings and any weakness in the broader stock indices.
In addition to the Vanguard 2000 used in this article, I like the iShares Russell 2000 (IWM). Please note the comparative table below.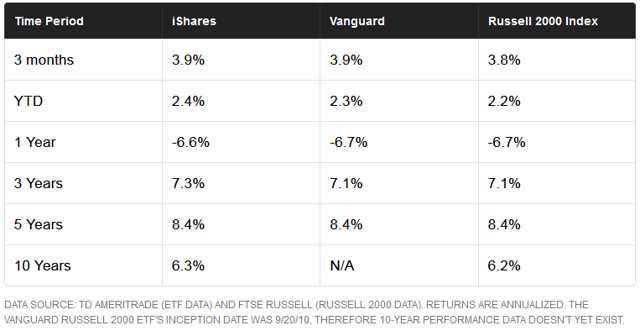 I prefer the Vanguard Russell 2000 ETF because of a smaller expense ratio and a better job of matching the Russell index over time. However, I could also make a case for the larger asset base of IWM. The key point in favor of both is a way to get exposure to the entire 2000 small-cap stock universe without worrying about the performance of any one of them.
Risks being what they are, they bear careful watching. I would be remiss if I didn't overstate that conditions call for a planned trade with an exit strategy in place before jumping in.
NOTE: Thank you for reading and commenting. You can follow my articles on SA by clicking follow directly after my name.
Disclosure: I/we have no positions in any stocks mentioned, but may initiate a long position in VTWO over the next 72 hours. I wrote this article myself, and it expresses my own opinions. I am not receiving compensation for it (other than from Seeking Alpha). I have no business relationship with any company whose stock is mentioned in this article.
Additional disclosure: The information and data that comprise this article came from external sources that I consider reliable, but they were not independently verified for accuracy. Points of view are my considered opinions, not investment advice. I bear no responsibility for Investment decisions you choose to make