A month ago, I pointed out that bank stocks were looking good and cited a number of macro and valuation indicators to support the case. How are things playing out?
The stocks have snapped back pretty nicely from the $50 level on the KBW Regional Banking ETF (KRE), where the fund traded when the article was written. But the KRE ETF hasn't as yet achieved a new YTD high and without a solid fundamental underpinning, this could just be a bounce within a range.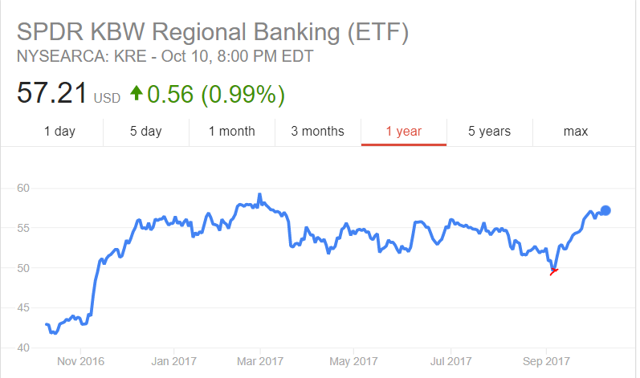 One reason for some optimism is that wage growth is solid and the gap between switchers and stayers as incrementally opened up again (below, Atlanta Fed Wage Growth Tracker).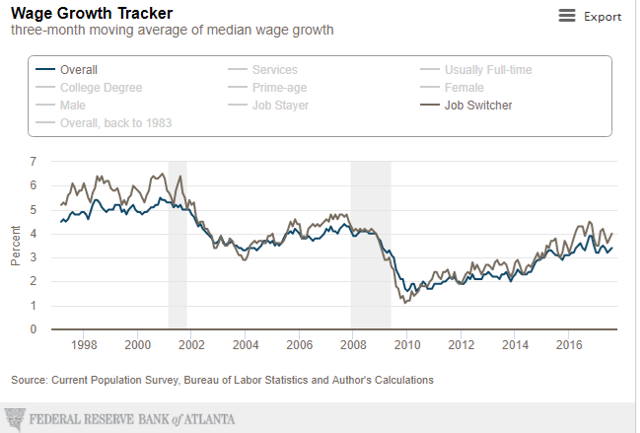 When growth in job switchers' wages beats that of overall wage growth, the labour market is tightening. And, as long as it doesn't suddenly lift to a durable new level of acceleration, this is good for the Fed's stated path of intention with rate hikes (excessively hot wage growth could induce a tightening scare).
Aggregate bank system credit has also continued to grow from our September 11 discussion, reinforcing the idea that third quarter results will be presented in a context of buoyant lending in general.

The probable exceptions to this are higher yield consumer credit including cards and some private business working capital loans. For example, Signature Bank (NASDAQ:SBNY) has reported early repayments of some loan facilities in 3Q'17. These areas of weaker short term activity are well known. CRE lending has continued to be strong and will drive overall solid balance sheet movements in 3Q for the bulk of banks, which will be supportive for net interest margins.
Below we have non manufacturing ISM, which shot the lights out in September with a strong beat of expectations.

If economic activity has reflected this then transaction velocity in the economy is likely to have been good for fee income in 3Q and, again, underline a positive tone to dialogue around current conditions as management teams communicate with the market on 3Q results calls later this month.
So if the backdrop is positive, what about the stocks?
Decent value plays still exist even if they no longer have the flavour of serious discounts that we saw before Trump's unlikely victory triggered the powerful rally in the sector at year end.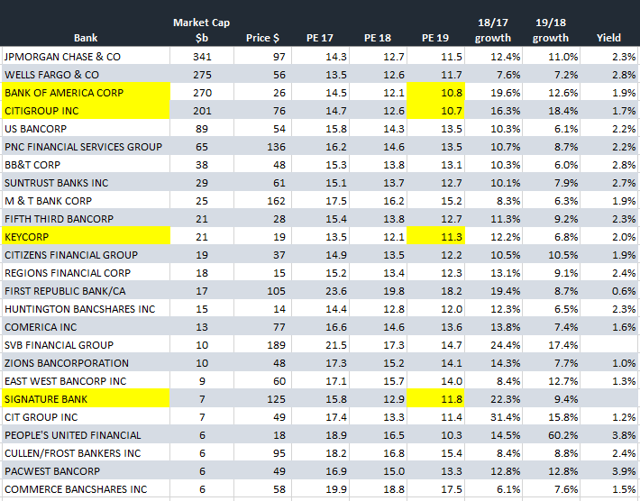 In the table above I've highlighted Bank of America (BAC) and Citi (C )as large banks with attractive PEs out in 2019, which should rerate over that time frame to 14-15x if the macro holds.
I've also picked out KeyCorp (KEY). Consider the PE multiple in light of the earnings growth we look for in 2018-19. It's cheap in comparison with banks that have similar EPS growth but trading at 13-14x 2019 (KEY 11.3x). This discount is entirely unjustified and KEY offers great value as it catches up with peers.
I've also picked out Signature Bank. Despite recent credit quality wobbles and a lacklustre 3Q, this is a growthy bank with what I think an underdeveloped product mix and revenue structure in a long term framework and it makes sense to start building a position now.
I recently discussed the case for Signature Bank in my first focus report on the bank for subscribers to Financial Sector Opportunities, my market place offering.
Conclusion
Strengthened economic indicators and solid wage growth underpin a good environment for banks, while pockets of relative value remain in a sector that is well positioned for Fed tightening. Add to favoured banks going into 3Q. This analyst likes the lower PE stocks.
Disclosure: I am/we are long SBNY.
I wrote this article myself, and it expresses my own opinions. I am not receiving compensation for it (other than from Seeking Alpha). I have no business relationship with any company whose stock is mentioned in this article.