Four years ago, I wrote an article titled "Portfolio Strategy, Forget About Low Turnover." Yes, research shows low turnover portfolios outperform. This is a dangerous notion because low turnover is a side effect of certain strategies, but it's not a strategy itself. After discussing these issues, I'll go over the low turnover portfolio I set up in 2013 and discuss its return.
Side Effects
Certain strategies result in low turnover, and there are undeniable advantages to it - such as lowering trading costs, both by lowering commissions and because you avoid paying the spread. If you pick companies with owner/operators at the helm who are terrific capital allocators and you're good at it, you'll show low turnover and might enjoy solid results.
If you pick companies with strong competitive advantages that are hard to attack through competition, you might see low turnover and enjoy solid results as well. When you go after companies with future cash flow potential that's too heavily discounted by the market, you could enjoy solid results with low turnover.
However, if you pick net-nets (a category that outperforms when rebalanced on an annual basis) I doubt you'll even keep up with the market if you buy and hold - forever. Special situations are not a great match, for example. It's not going to help your track record to hold on to a spin-off years and years after the event. Same thing with a post-bankruptcy play - the anomalous returns enjoyed by post-bankruptcies show up fairly quickly; you don't get to enjoy them for decades.
Sample Portfolio 2013
In 2013, I selected eight stocks with strong competitive advantages that paid solid dividends to serve as a buy-and-hold portfolio. The exercise shows how hard it is to beat the market (via buy-and-hold, anyway). The average return per selection is ~65.87%, and I got steamrolled by a relentless S&P 500 that returned 96.73%. One of the original selections, Kinder Morgan Energy Partners LP, got taken out by Kinder Morgan (KMI). I chose to consider the position closed and treated the positions as the S&P 500 from that point onward. If you consider the position as rolled into Kinder Morgan, the overall results would even be about 10% lower.
Here's the original table showing each selection:
| | | |
| --- | --- | --- |
| Company | Competitive Advantage | Dividend |
| Kinder Morgan Energy Partners LP (former ticker: KMP) | Regulatory approval required for pipelines and they are like railroads, no one wants to build the second one. | 6.16% |
| Exelon Corp. (NYSE:EXC) | Unique assets: low cost production | 5.84% |
| AstraZeneca Plc ADR (NYSE:AZN) | Patents protecting drugs | 5.46% |
| Westpac Banking Corp. ADR (NYSE:WBK) | Big efficient bank in a market with few competitors of size | 5.28% |
| Altria Group, Inc.(NYSE:MO) | Addictive product and customer preference | 5.0% |
| Intel Corp. (NASDAQ:INTC) | Economy of scale | 3.73% |
| Potash Corporation of Saskatchewan, Inc. (NYSE:POT) | Unique assets: low cost production | 3.71% |
| Sysco Corp. (NYSE:SYY) | Economy of scale | 3.48% |
The table below shows the results except for Kinder Morgan Energy Partners, which got taken out by Kinder Morgan in 2014. Instead, I've displayed both Kinder Morgan, Inc. and the S&P 500.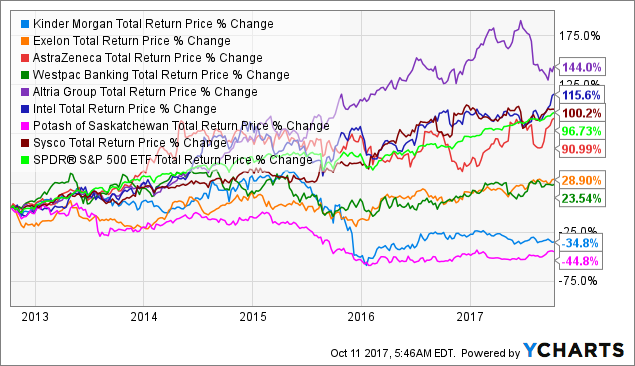 KMI Total Return Price data by YCharts
This exercise uses a small sample size of companies, but few people would disagree that AstraZeneca or Intel have strong competitive advantages. Very little turnover in about four years did very little for me (the turnover in the S&P 500 is generally higher, at about 4% of the index per year). With just eight companies, perhaps it was just an unlucky selection. Or I was a much worse stock picker. Or perhaps lately I've just been on a hot streak with The Black Swan Portfolio. This example is hardly a decisive blow against the buy-and-hold strategy, but the example portfolio is a nice addition to the theoretical argument. Don't give up on active management or trading (around) just yet.
Disclosure: I/we have no positions in any stocks mentioned, and no plans to initiate any positions within the next 72 hours. I wrote this article myself, and it expresses my own opinions. I am not receiving compensation for it (other than from Seeking Alpha). I have no business relationship with any company whose stock is mentioned in this article.