It's been quite an interesting month- despite some time off due to health concerns (over now) and a getaway to the beach, we appear to be adding roughly 50 readers daily and just passed the 5,000 reader mark. This has been accompanied by a steady increase in the number of private messages I've been receiving (apologies to those I missed or didn't get around to yet).
By far the most common request from new readers is asking for a breakdown of current ROTY (Runner of the Year) stocks in the model account. After answering via private message, I decided it would be best to address this via an open article- feel free to ask any questions in the comments.
Full Positions
In ROTY we tend to build full stakes in stocks that are significantly derisked and/or offer multiple ways to win, especially situations with limited downside and outsized potential rewards.
Sarepta Therapeutics (SRPT)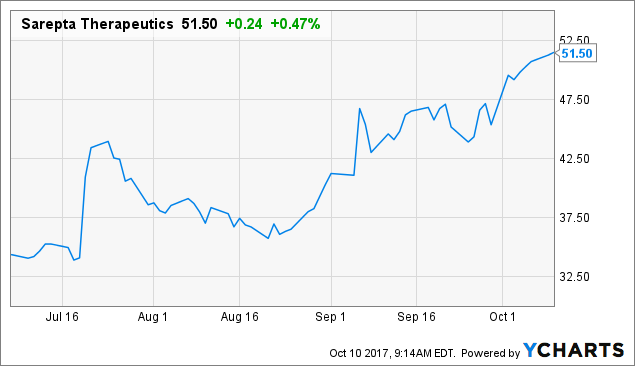 SRPT data by YCharts
Most Recent Article: Catalysts With Partnered Programs Loom, Golodirsen Data is a Gamechanger
Catalysts: Accelerated approval for golodirsen (or other options for speeding up development) could be granted by the FDA, and a regulatory meeting in the first quarter of 2018 could be of particular importance. Continued success with growing Exondys 51 sales, data from partnered programs, revaluation of their DMD pipeline and a strong possibility of being acquired are other potential value drivers.
Plan: The ROTY model account will likely continue to sit on the full position as long as the thesis continues to play out and the trend continues.
GlycoMimetics (GLYC)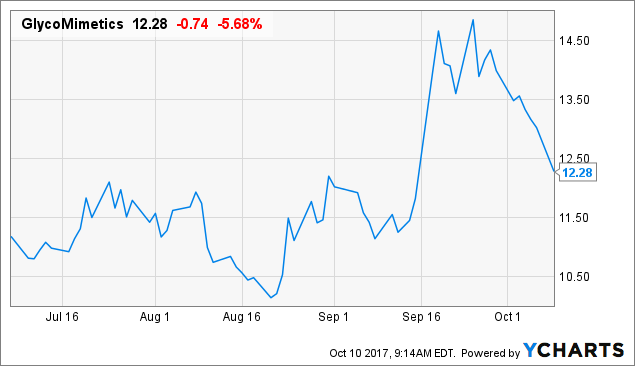 GLYC data by YCharts
Most Recent Article: Year to Date Runup Is Just the Beginning
Catalysts: Continued updates for GMI-1271 later this year and in early 2018 (some patients in the phase two portion may be treated with multiple cycles of the drug candidate), the outcome of discussions with the FDA and top-line data in multiple myeloma in mid-to-late 2018 (much larger commercial opportunity than AML) could drive shares higher. As with Sarepta, I believe the company is a compelling takeover target considering that Celator was acquired for $1.5 billion and GMI-1271 has superior CR rates and safety profile.
Plan: The ROTY model account will likely continue to sit on the full position, although I would like to see near term strength soon.
Global Blood Therapeutics (GBT)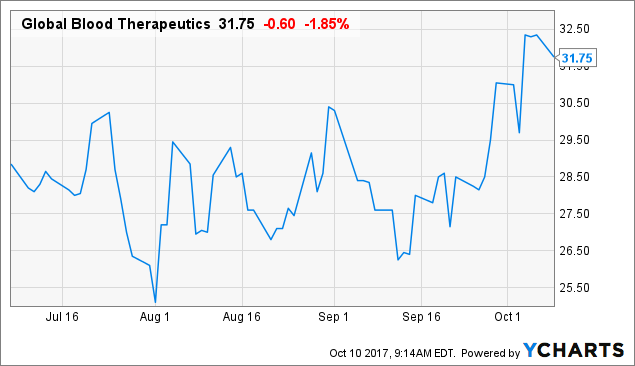 GBT data by YCharts
Most Recent Article: Continues to Be an Attractive Run-Up Play
Catalysts: The company announced new data will be presented in October at the Academy for Sickle Cell and Thalassemia (ASCAT) 11th Annual Conference in London and the Sickle Cell Disease Association of America (SCDAA) 45th Annual National Convention. Each will highlight an important SCD case study of patients who received compassionate use access.
IPF data likely to be reported before the end of the year and provides optionality for traders- if data is positive as preclinical results predict, upside potential is significant. If negative, SCD is the main value driver and should provide a cushion to downside.
Plan: If the stock runs hard in October or after data, we may take risk off the table.
3/4 Positions
Spring Bank Pharmaceuticals (SBPH)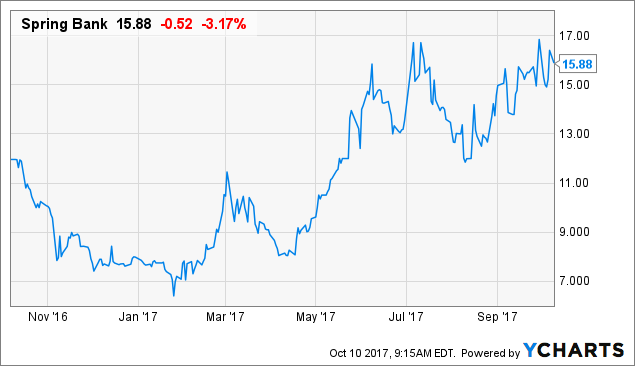 SBPH data by YCharts
Most Recent Article: Could SB 9200 ACHIEVE Greatness?
Catalysts: The HBV space is seeing a lot of interest and I have pointed out to readers on several occasions that a bubble could potentially form. In addition to these tailwinds, top-line results from the second dosing cohort (50 mg) evaluating SB 9200 should be announced in the fourth quarter. Additionally, data supports combining SB 9200 with an oral nucleotide, with the SB 9200 50mg + TAF 25mg cohort set to occur by year-end and the SB 9200 100mg + TDF 300mg to occur around the middle of 2018 (led and funded by Gilead).
Plan: We are already sitting on a 25% profit or so- continued strength would likely provide an opportunity to take some risk off the table while retaining shares for future upside exposure.
Summit Therapeutics (SMMT)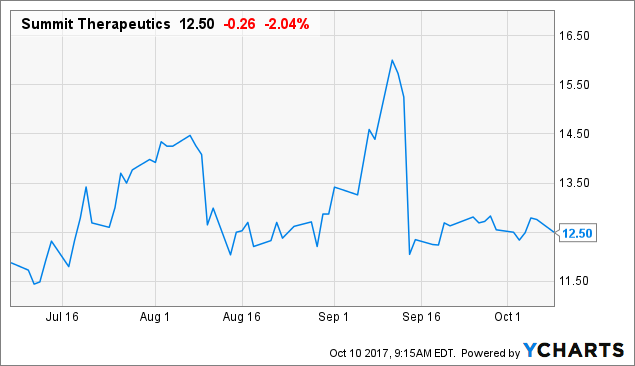 SMMT data by YCharts
Most Recent Article: Buy the Dip
Catalysts: The DMD space continues to be red hot with several associated small cap stocks already having doubled or more. The company expects to report 24-week data in the first quarter of 2018 from all patients who provide a 24-week biopsy sample (n=20). Results will also include 24-week MRI and functional data from all 40 patients. Keep in mind that top-line results for the full 48 weeks are due in the third quarter of 2018.
Plan: Lack of strength in the name is gnawing at my patience- novel antibiotic candidate ridinilazole is a high value asset in the antibiotic space that should provide some downside cushion, while tailwinds in the DMD space could cause a revaluation in shares while we wait for key catalysts to come into focus. As long as shares don`t show significant weakness, I'm incline to hold the position into 2018 in expectations of outperformance.
1/2 Position
Tracon Pharmaceuticals (TCON)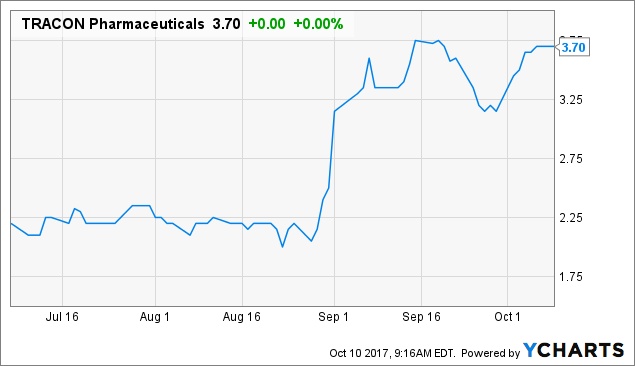 TCON data by YCharts
Most Recent Article: Optimism Returns as HCC Data Impresses
Catalysts: Results from a separate early stage study to confirm activity reported by the NCI in the original HCC trial should be forthcoming in early 2018. Interim data from the pivotal TAPPAS study is due in mid-2018 and presentation of data from the phase 1/2 PAVE study of DE-122 in patients with wet AMD led by Santen should be coming pretty soon.
Plan: The ROTY model account will continue to hold a half position for now and until HCC data. If, however, data from the phase 1/2 PAVE study is negative (or a secondary offering occurs), that could be an opportunity to add shares prior to HCC data.
Cellular Biomedicine Group (CBMG)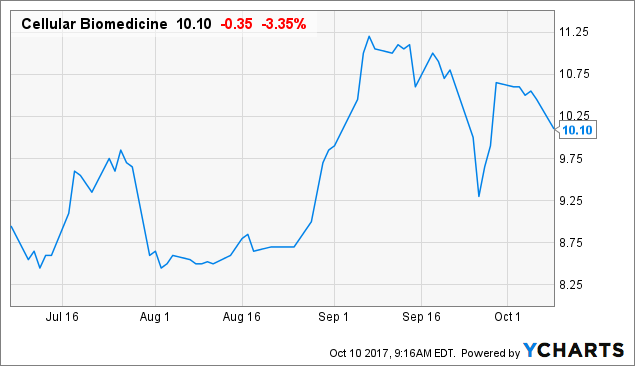 CBMG data by YCharts
Most Recent Article: This Chinese CAR-T Play is Worth Checking Out
Catalysts: The grand opening ceremony for their new Shanghai facility (allows them to serve scaled-up demand for current and future CAR-T clinical studies) could draw more attention to the stock. Top-line data for two phase 1 clinical studies examining anti-CD19 CAR-T candidate C-CAR011 is expected at the end of the year.
Plan: The model account will likely maintain a half position, expecting a significant run up into data. In the event of dilution prior, depending on strength in shares we may add to the position. However, profits will be taken on the majority of shares or entire position prior to data to manage risk.
AVEO Pharma (AVEO)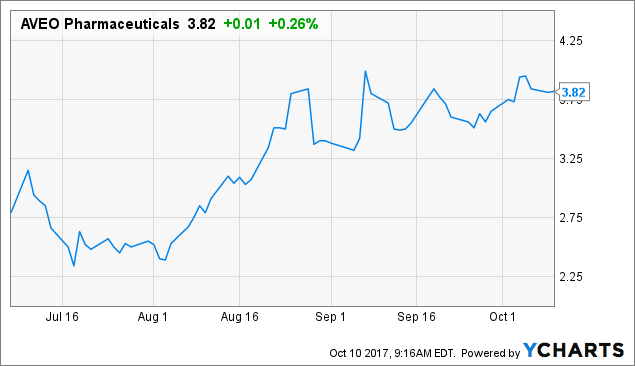 AVEO data by YCharts
Most Recent Article: EU Approval Pop is Just the Beginning
Catalysts: Results from the TiNivo study utilizing tivozanib in combination with Opdivo in RCC should be presented in the near term. The readout for the TIVO-3 pivotal US study is expected in the first quarter of 2018.
Plan: As long as shares continue to cooperate, I expect to maintain the half position. In the event of encouraging data from the TiNivo study, we might add to the position for the run up into TIVO-3 results. I continue to believe the company has significant appeal to potential acquirers in the space as well.
Pilot Positions (1/4 Stake)
Therapix Biosciences (TRPX)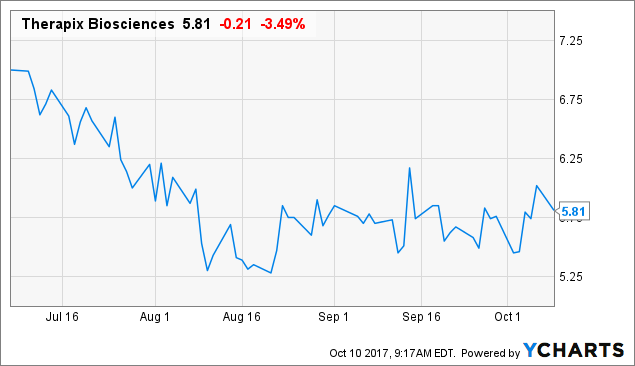 TRPX data by YCharts
Most Recent Article: Another Favorite Marijuana Play
Catalysts: The main catalyst for shares is top-line data from the phase 2a Yale study in Tourette's, expected at the end of the fourth quarter. Additionally, tailwinds in the medical marijuana space could also result in a revaluation in light of the large market opportunity being targeted versus the tiny market capitalization.
Plan: Readers know that our pilot positions are the ones we are most flexible with. If we see strength in shares, the ROTY model account will likely add to the position and hold a portion of shares into data. However, if shares are not performing as expected we might be patient or swap the stock for a Contender that is setting up for a big move.
Prima Biomed (PBMD)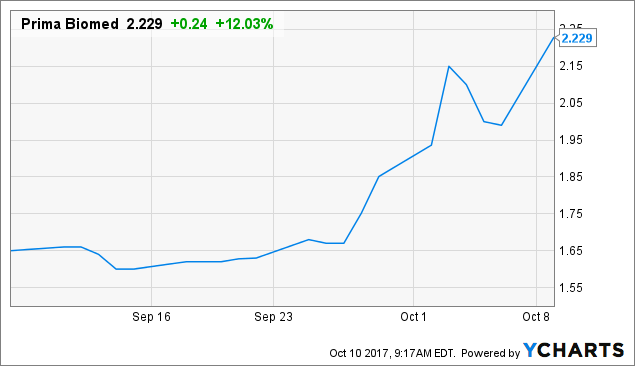 PBMD data by YCharts
Most Recent Article: Gearing Up For An Exciting Q4
Catalysts: We can expect final safety run in data from the metastatic breast cancer study in the fourth quarter this year. Also, data from the first and second cohorts of the TACTI-mel phase 1 Australian study in metastatic melanoma evaluating IMP321 in combination with Keytruda will be presented prior to year end at major medical conferences. Data from all three cohorts will be presented in the first half of next year.
Plan: The stock has already risen significantly since my first article and rose again after we made our pilot purchase. As per our transparency rules positions are established at the day's closing price, so cost average is not as favorable as that attained by many readers. Still, for the ROTY model account the plan is to buy any significant dips (if they come) and to hold at least the quarter position for a solid October run up.
On a final note, congratulations to readers who have been messaging me on their wins in Ignyta (RXDX), Shotspotter (SSTI), Proteon Therapeutics (PRTO), CymaBay Therapeutics (CBAY) and others. Keep in mind that as the ROTY model account holds only 10 stocks, we will miss out on quite a few other ideas. ROTY is about implementing the strategy according to your own plan, risk tolerance and preferences- readers are encouraged to switch out holdings they don`t agree with for other previously mentioned ideas or stocks from their own research for which they hold conviction. Remember I will have my share of losers as well- whether unforeseen events (such as the Refusal to File decision from the FDA for SteadyMed) or simply a swift selloff (as with Zosano Pharma), it is part of investing (or trading) in risky sectors such as biotech and recent IPOs.
Author's note: My goal is to bring to readers' attention to undervalued stocks with catalysts that could propel shares higher, as well as provide a fresh perspective on stocks you may already be aware of. I also touch on planning trades and risk management, as those are two areas I feel are often neglected. If you found value in the above article, consider clicking the orange "Follow" button and getting email alerts to receive my latest content. My sincere appreciation for readers who add value and join the discussion in the comments section, as well as those who share my work with others who could benefit from it.
Disclaimer: Commentary presented is not individualized investment advice. Opinions offered here are not personalized recommendations. Readers are expected to do their own due diligence or consult an investment professional if needed prior to making trades. Strategies discussed should not be mistaken for recommendations, and past performance may not be indicative of future results. Although I do my best to present factual research, I do not in any way guarantee the accuracy of the information I post. Investing in common stock can result in partial or total loss of capital. In other words, readers are expected to (and encouraged) form their own trading plan, do their own research and take responsibility for their own actions. If they are not able or willing to do so, better to buy index funds or find a thoroughly vetted fee-only financial advisor to handle your account.
Disclosure: I am/we are long SMMT, PBMD.
I wrote this article myself, and it expresses my own opinions. I am not receiving compensation for it (other than from Seeking Alpha). I have no business relationship with any company whose stock is mentioned in this article.