Equity markets were flat earlier today as markets anticipate the release of minutes from the latest Fed meeting. Recall that the April release of the March minutes did in fact create consternation for equities.

Source: CNBC - 11:52 AM ET
Yields are also little changed ahead of the minutes release.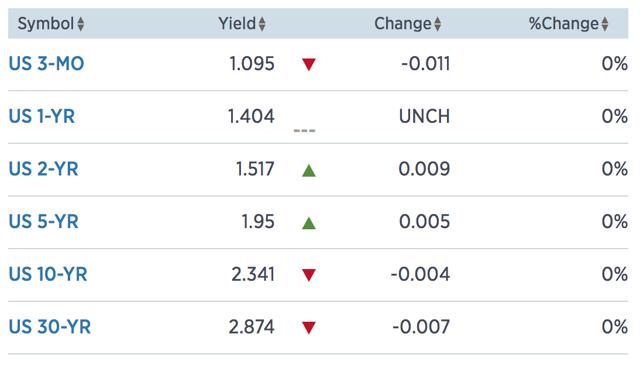 $20 billion worth of 10-Year Treasuries will be auctioned this afternoon following this morning's 3-Year Treasury auction, which carried the highest yield since 2010.
In currency markets, the dollar has dipped to its lowest level in two weeks amid growing concern over tax reform. Its most notable weakening has been against the euro, as data releases have pointed to a strengthening economy in Germany and the Catalonia crisis seems to be subsiding.

Despite the weakening dollar, gold has seen a slight decline in the early trading session, further distancing itself from 1300.

In oil markets, WTI is up slightly and Brent crude is down slightly, despite OPEC's recently released forecast for increased demand.

Shout Out
Today's shout out goes to Seeking Alpha contributor Dr. John Hussman for the article " Blissful Delusion." We know that Dr. Hussman has a reputation for being a perma bear. That said, we ask you to read this summary with an open mind. Many interesting points are made in the article, but the section we were most intrigued by was his discussion of U.S. corporate taxes.
The author argues that the burden of corporate taxes on U.S. companies is often exaggerated. To illustrate this, he provides a chart showing that, "actual taxes paid by U.S. companies, as a share of pre-tax profits, have never been lower, outside of the depths of the global financial crisis."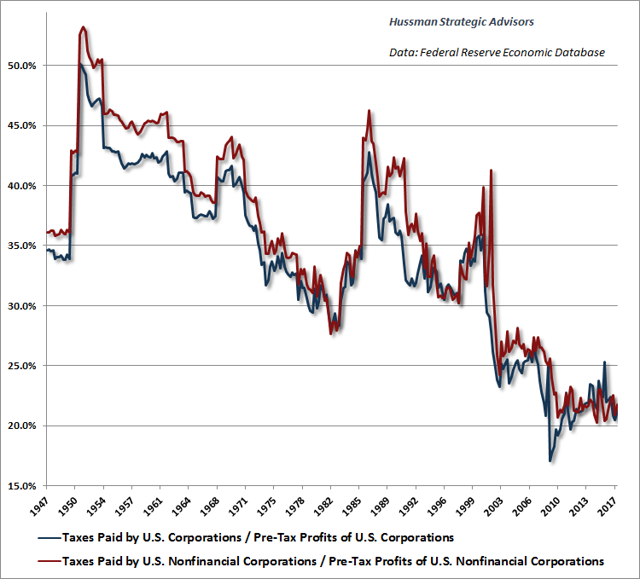 It is also noted that the lack of value-added taxes in the U.S. contribute to misconceptions about corporate tax burdens.
As the article points out, "among all OECD countries, the U.S. is also the only country that does not levy any tax at all on corporate value-added in the production of goods and services."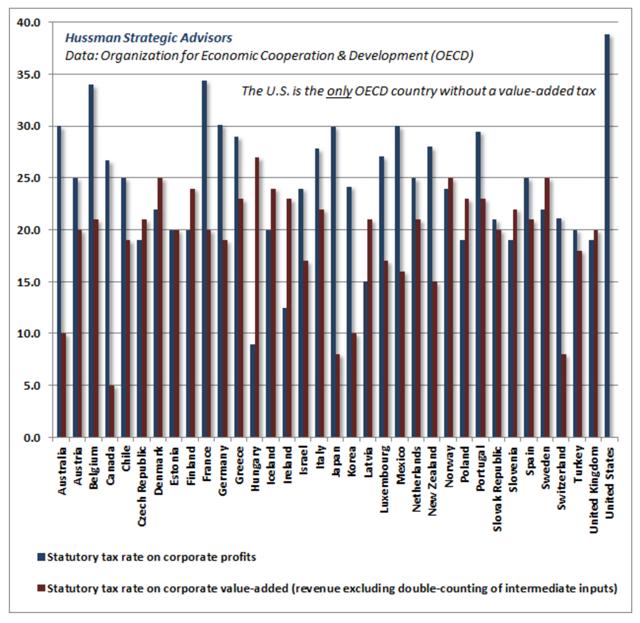 Here is Dr. Hussman in his own words:
The potential effect of even a substantial percentage reduction in statutory rates for several years is quite small when the present value of the tax reduction is compared with existing equity market capitalization. The likely cumulative impact comes to just a few percent of stock market value.

Put simply, it seems misguided to imagine that 'tax reform' will somehow make the most obscene speculative bubble in U.S. history something other than the most obscene speculative bubble in U.S. history. Corporations are already enjoying strikingly light tax burdens from a historical perspective, and investors are already paying extreme valuation multiples on elevated earnings.
Much has been said regarding tax reform lately, and we think Mr. Hussman's analysis provides a valuable contribution to the discussion in terms of providing both serial and cross-sectional comparisons. Whether or not you agree that the current state of the market is "the most obscene speculative bubble in U.S. history," it does appear that perhaps many investors are overly optimistic about the impact of tax reform. Additionally, there is still a great deal of uncertainty surrounding the terms, timing, and size of potential tax cuts.
With that in mind, we invite readers to consider how markets might respond to various outcomes with respect to tax reform. To what degree do you think that successful tax reform has already been priced into U.S. equities? We would love to hear your thoughts in the comments section.
Thoughts on Volatility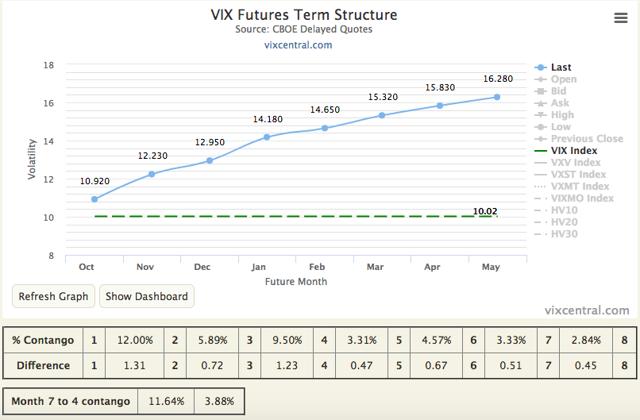 Look at that F2-F3 widen out! We were seeing the spread with a gap of 1.4% in early September, so indeed the "flat" December contract is showing signs of holding up quite well.

We've spoken about this spread several times in the last couple weeks, and it certainly looks promising. So long as a vol spike does not transpire over the next week or so, we see a good likelihood of the current F2-F3 heading up to about $1.50. Note how deep the "contango" is in the options vols we quote below. We suspect that an analog will manifest in the November-December VX pair.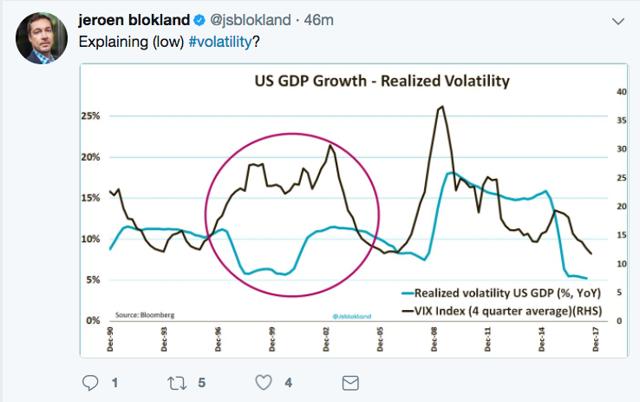 This is an interesting visual on how the rolling annual VIX relates to realized GDP vol. There does appear to be a relationship, though not necessarily a rock solid one. An amusing phrase we once heard comes to mind:
"The stock market and the economy are like second cousins." - CNBC Half Time Report's DownTown Josh Brown
By this he meant that the two data series are related, but not in some lockstep fashion. The graph above compares volatilities rather than growth rates. We like the visual here, and some important points that jump out at us:
The two series do appear linked, though not overwhelmingly so (in keeping with Josh Brown's comment).
There is not a perfectly clear sense in which one series "leads" the other. It would be great to build a story where GDP vol drives VIX, but it doesn't jump out in some unmistakable sense. Indeed, quite frequently the VIX appears to take the lead (both higher and lower).
Over the past couple years, GDP vol has dropped off a cliff and remained low; not only is the visual appeal of leading the VIX lower, but it also creates a nice narrative.
Despite all the headlines, fake news, geopolitics, what have you, the needle on GDP vol has not really moved; take it for what it is. VIX sustainably increases during bear markets, regardless of underlying economic volatility.

1:36PM ET
Easy come, easy go! We saw vol get a nice little bump yesterday, only to give it all back in today's session. This is of course in keeping with the give-back in VIX over the last session.
Still, the larger story here is that while spot VIX trades around 10-flat, ATM options on the S&P 500 are trading at or near the lowest vols on record. Of course, VIX is calculated based on a basket of options with various strikes. Given the nature of the volatility smile on the S&P 500, this should not come out of left field.
What is surprising, however, is the gap between the monthly ATM contract of 6.9, vs. the spot quote of 10.03. That actually is quite a wide spread. The CBOE Skew measure is currently elevated, but not to a huge degree: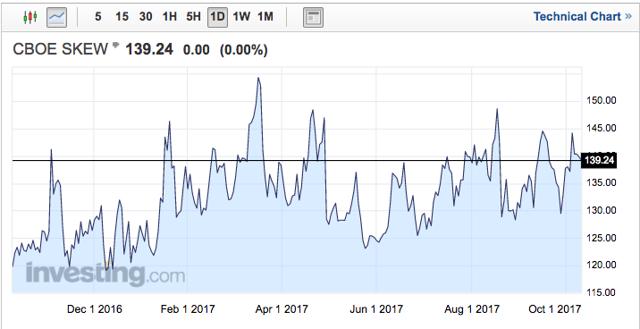 If markets are nervous about the September Fed minutes, the options market is certainly not reflecting the fact.
For those who trade both VIX and ES options, we'd say the options currently represent a better way to go long volatility.
Conclusion
If this is your first time reading Market Volatility Bulletin, thanks for giving it a try. If you're a regular, we thank you for your ongoing contributions in the comments section. As always, trade ideas, questions, and general sharing are appreciated.
The first two parts of our mini-article series that discusses the IB policy of late to tighten margin requirements is out on Seeking Alpha; we encourage you to read Part I and Part II. We're hoping to have the last part out in the next day or so. We used a lot of your input in generating them: give them a look. We also released the first of two parts on the famous "Acceleration Clause" in the XIV prospectus.
We're always on the look out for good ideas to write about in terms of larger topics that impact volatility, equities, or markets in general. Please pass on your ideas for what you'd like to see more on, and we'll try to address and/or incorporate your thoughts into future pieces. We actually got a great lead for a good set of articles just yesterday from our of our now-regular readers, Bob.
Please consider following us.
Disclosure: I am/we are short SPY.
I wrote this article myself, and it expresses my own opinions. I am not receiving compensation for it (other than from Seeking Alpha). I have no business relationship with any company whose stock is mentioned in this article.
Additional disclosure: We actively trade the futures markets, potentially taking multiple positions on any given day, both long and short. It is our belief that the S&P 500 is meaningfully overvalued. As such, we typically carry a net short position using ES options and futures.