Rethink Technology business briefs for October 11, 2017.
Piper Jaffray survey says 82% of US teens intend to buy an iPhone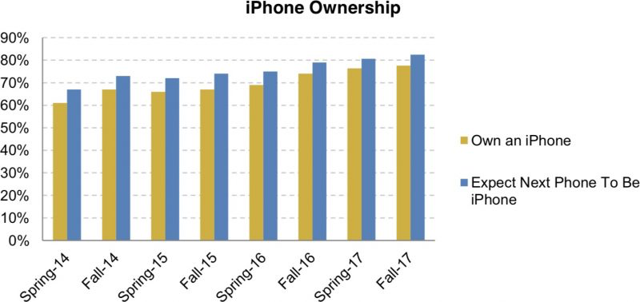 Source: MacRumors
Apple (AAPL) has at various times been portrayed by its competitors as hopelessly passe. For instance, Samsung (OTC:SSNLF) lampooned Apple fans waiting in line in a famous 2011 commercial. And I will admit to some concern that so many of Apple's senior management are fiftyish. If for no other reason, I was sorry to see Scott Forstall leave.
But there is objective evidence that Apple has not yet succumbed to corporate atherosclerosis. A survey released by Piper Jaffray found that 82% of US teens intend to buy an iPhone as their next smartphone.
Teen iPhone ownership and buying intent have been steadily on the rise since 2014, as shown above. Interestingly, Fall 2017 buying intent only ticked up slightly, despite the introduction of iPhone 8 and X. iPhone X especially may be beyond the financial reach of most teens.
Also encouraging are results that show smartwatch ownership up substantially, along with buying intent for Apple Watch. Despite claims that smartwatches would never catch on with young people accustomed to smartphones, Apple Watch is making inroads. Here, there was a substantial increase in buying intent for Fall 2017, indicating perhaps that Apple Watch Series 3 with LTE has captured the interest of teens.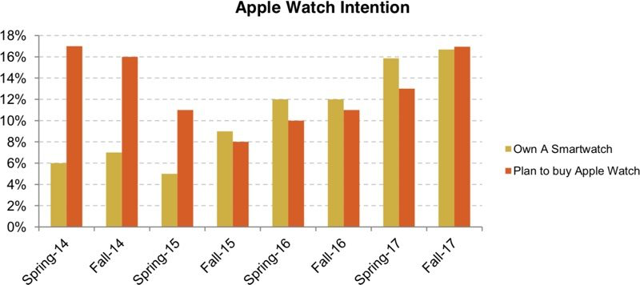 Source: MacRumors
Apple resists corporate atherosclerosis
Technology companies do have a tendency to grow old. We've seen it time and again with companies such as HP (HPQ), which has finally given up on Windows 10 Mobile. One of the many arguments made against Apple as an investment in the past few years was that it was just too old, too big, to be innovative, to grow.
There is some validity to this argument; but so far, Apple seems to be bucking the trend. Corporations are not sentient beings. They don't grow old and die, although it often seems that way. This is really about leadership and the ability of corporate leaders to remain open-minded, creative, and willing to take risks.
We're seeing some risk-taking on Tim Cook's part already paying off. Apple Watch is transitioning to a personal communications device. Many decried Apple Watch as a failure when it came out.
Apple took a $3 billion risk on Beats and transformed the most important part of it into Apple Music. Apple Music now has over 30 million subscribers.
And Apple is plunging headlong into video content creation under the guidance of Zack Van Amburg and Jamie Erlicht, recently of Sony (SNE). Towards that end, Apple has just signed a deal for Steven Spielberg to make new episodes of "Amazing Stories."
Far from being over the hill, Apple is in a golden middle age, still young enough to recall the dreams of youth, and rich enough to make them a reality.
Apple is part of the Rethink Technology Portfolio and is a recommended buy.
Apple reported teaming with LG, snubbing Samsung, for next-gen OLED displays
The Korean Herald is reporting that Apple has teamed up with LG Display for future foldable OLED screens for mobile devices. OLED screens, when fabricated on plastic substrates, are inherently bendable or foldable. In fact, Apple's iPhone X folds the OLED screen in order to achieve its edge-to-edge effect.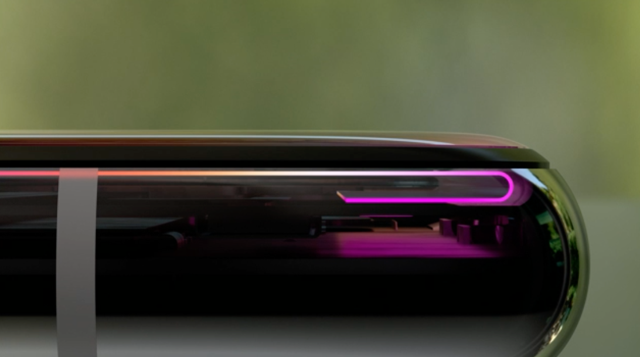 Source: Apple
Today's OLED screens won't take repeated bending, and so they should be thought of more as conformable rather than bendable. Making OLED screens that can be repeatedly bent or rolled up has been an ongoing area of research for a number of years. Samsung has also indicated that it will in the near future (possibly 2018) begin making foldable OLED displays.
However, Apple is turning to LG (OTC:LGEAF) and the Herald reports that Apple is even considering investing in a future plant in China to build flexible displays. It's thought that the bendable displays could be available as early as 2019.
The Herald has also reported that LG Display may be receiving investment from Apple in order to provide Apple with a second source of OLED displays. Samsung is the sole source for iPhone X.
That Apple would turn away from Samsung is in my view perfectly understandable. Apple really can't be confident that any information it shares with Samsung will not be used against it in the fiercely competitive smartphone market.
Disclosure: I am/we are long AAPL.
I wrote this article myself, and it expresses my own opinions. I am not receiving compensation for it (other than from Seeking Alpha). I have no business relationship with any company whose stock is mentioned in this article.
Editor's Note: This article discusses one or more securities that do not trade on a major U.S. exchange. Please be aware of the risks associated with these stocks.