Jerome Powell is the new favorite?
According to PredictIt.org, Jerome Powell is now considered the clear favorite to become the next Fed chair. The prediction market gives him a 52% chance.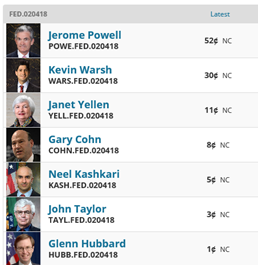 Source: PredictIt.org
To be fair, such predictions should be taken with a grain of salt now, as most engines failed to predict the Brexit and the U.S. presidential election outcome. That being said, it is still a good indicator of consensus expectations.
In a recent article, we argued that Kevin Warsh was increasingly seen as the next Fed Chair. Mr. Warsh has been supportive of more aggressive fiscal measures, including tax cuts and regulatory reform. He has also been critical of Fed's current policy. The caveat here is that Kevin Warsh is regarded as the most hawkish among candidates on the shortlist to potentially replace Janet Yellen. As a result, his nomination would most likely lead to higher interests rates and a stronger dollar. Although President Trump criticized Janet Yellen during his campaign, he later reversed his position saying that 'he does like a low-interest rate policy'.
President Donald Trump indicated for the first time since taking office that he's open to renominating Federal Reserve Chair Janet Yellen for another term that would begin in February.

"I like her, I respect her," Mr. Trump said in an interview Wednesday with the Wall Street Journal. "It's very early."

Trump also said, "I do like a low-interest rate policy, I must be honest with you," the paper reported
That may suggest to us that while Kevin Warsh still has a very good chance to become the next Fed chair, his stance is more hawkish than President Trump wants. We believe that is the main reason why prediction engines name Jerome Powell the clear favorite.
Who is Jerome Powell?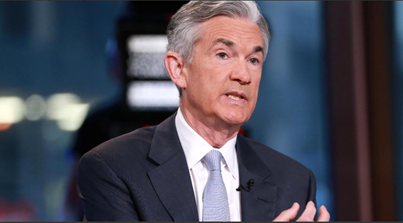 Jerome Powell has been a Fed governor for more than five years. Like Kevin Warsh, Mr. Powell has a law degree. From 1997 through 2005, he was a partner at the Carlyle Group (CG), one of the largest private equity funds in the world.
Many economists suggest that Jerome Powell is a compromise candidate. He would likely be as dovish as Janet Yellen, given his track record and views. In fact, there are some reports that Powell is a close ally of Ms. Yellen. However, at the same time, in contrast to the current Fed chair, Mr. Powell is a strong supporter of financial deregulation. As a reminder, Janet Yellen defended the current regulation regime, including the Dodd-Frank Act, at the Jackson Hole conference. Some market pundits even argue that her speech served as a message to President Trump, who has been criticizing post-crisis regulations. As a result, since that, her odds of being reappointed have been decreasing rapidly.
In other words, if President Trump wants the Fed to continue its current dovish policy and, at the same time, to push forward deregulation agenda, then Jerome Powell seems like the best candidate.
The biggest beneficiaries of deregulation
Despite the rhetoric, the Dodd-Frank Act is unlikely to be fully repealed, in our view. That being said, we do expect several adjustments to the current regulatory framework. Mr. Powell has been supportive of easing the so-called Volker Rule, a part of the Dodd-Frank Act, preventing commercial banks from certain investment activities. Mega-banks, such as JPMorgan (JPM), Bank of America (BAC), Citigroup (C), Morgan Stanley (MS), and Goldman Sachs (GS) would obviously benefit from the reform.
We also believe that MetLife (MET) and Prudential Financial (PRU) would most likely lose their SIFI designations under a Powell-led Fed. That would be a game-changer for these large-cap life insurers. Importantly, although MetLife and Prudential Financial have had a good run over the past month, both stocks are still reasonably valued and offer attractive shareholder yields. Notably, the FSOC has already removed a SIFI designation from AIG (AIG).
TCF Financial (TCF), a mid-cap regional bank, could also be one of the key beneficiaries of regulatory relief, given that the Durbin amendment, a part of the Dodd-Frank Act that limits the transactions fees banks can charge on their debit cards, would likely be repealed.
Finally, there is a high probability that the $50bn threshold for the SIFI status will be raised. We believe that would a huge positive for mid-cap regional banks, and, in particular, for New York Community Bancorp (NYCB). For starters, NYCB has $48bn in total assets, and its balance sheet growth remains muted as the bank's management is trying to avoid being designated as a SIFI institution. That is one of the main reasons why the bank is trading at a discount to its peers.
Final thoughts
Kevin Warsh's odds of becoming the next Fed chair are still high. He is a strong supporter of more aggressive fiscal measures, higher interest rates, and financial deregulation. Do make sure you read an article, in which Mr. Warsh and his colleagues argue that the Administration's proposed tax cuts and regulatory reform would raise the U.S. economic growth rate to 3%. That being said, judging by President Trump's recent remarks, he now wants a lower-for-longer rate environment and a weaker dollar. We believe this is the reason why Jerome Powell, who supports deregulation but has more dovish views, is now considered the clear favorite to become the next Fed chair.
If you would like to receive our articles as soon as they are published, consider following us by clicking the "Follow" button beside our name at the top of the page. Thank you for reading.
We also invite readers to check out our subscription service. Get in-depth fundamental research, stock recommendations, trading ideas, exclusive access to professional databases, sophisticated valuation models and expert commentary on Wall Street recommendation from a hedge-fund analyst with a proven track record. Go here to learn more; we look forward to having you on board.
Disclosure: I am/we are long JPM, PRU, MET.
I wrote this article myself, and it expresses my own opinions. I am not receiving compensation for it (other than from Seeking Alpha). I have no business relationship with any company whose stock is mentioned in this article.