Welcoming New Members To Join 'Boslego Risk Services' In Marketplace
Summary
Long-only oil sector returned -26% since mid-June 2014.
Andy Hall, Pierre Andurand gave-up on long-oil thesis in 2017.
Boslego Risk Services offers long/short Model portfolio in Marketplace, supported by frequent analytical posts.
Since February 2017, Model portfolio > 50% return.
Membership open for limited number of members.
(Editors' Note: This article is meant as an introduction to Boslego Risk Services, a Marketplace service by Robert Boslego).
Investing in the oil sector is fraught with risks (and provides opportunities) but has been particularly painful for long-only investors. A continuous, long-only position in the sector (XLE) has lost about 26% since mid-June 2014.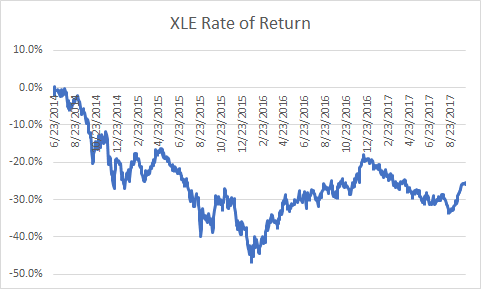 Even the "god" of oil trading, Andy Hall, threw in the towel, closing his main oil fund in August, after sustaining very heavy losses. I had been critical of Mr. Hall's investment thesis in numerous articles I published on SA. Andrew Hecht, another Marketplace contributor, kindly recognized, with the benefit of hindsight, that my analysis was "100% correct."
Another high-profile oil fund, headed by Pierre Andurand, exited from its long oil position in early May, after it lost a reported 17% of its equity this year. I had also been highly critical of Mr. Andurand's thesis ("Why Andurand's Bull Oil Thesis Will Fail"). His 2017 loss offset his gain from 2016 and so the fund is profitless over the two years combined.
When it comes to oil investing, history proves that the "one-trick pony" strategy of being long-only is ineffective for building equity ("Why It's Foolish to Be Bullish (All the Time) in Oil"). Changing long oil stock allocations before or during a market collapse is tantamount to re-arranging the deck chairs on the Titantic.
The mindset of being a "long-term investor" is simply a poor excuse for piling-up losses from which it is difficult to recover. The risk/reward is asymmetric: a 50% gain is required to recover from a 33% loss.
Boslego Risk Services
To guide investors who are interested in profiting from outstanding opportunities in the energy sector, I introduced a new service on Seeking Alpha's Marketplace oriented toward individual investors, Boslego Risk Services. I provide a long/short Model portfolio which is continuously updated, along with on-going analysis of the oil market.
The service has evolved since its commencement in the spring, as I exchanged ideas with members as to what would be most valuable to them. For example, members asked me to post updates to the Model portfolio as soon as I made the trades.
My career had been oriented toward advising senior oil company executives at major oil companies and national oil companies internationally. I also had long-term, real-time advisory roles with large oil trading firms, such as Phibro, Enron and Vitol, as well as hedge funds. (Click here for my profile.)
A few years ago, I decided I would like to assist individual investors to help level the playing field. I have found this to be personally rewarding :). My members on Boslego Risk Services are a wide range of individual investors, from novices to professionals.
I had published 400+ articles on Seeking Alpha in less than two years prior to launching my service. The capabilities within Marketplace are superior to simply publishing an article. For example, I can instantly post a graph (no lag time for SA editorial review) with a single sentence highlighting an important analytical finding. But such a post would not meet the requirements to be published as a regular article on SA. (I have 382 posts since my Marketplace service inception.)
There is also a live chat window in Marketplace, wherein members can exchange ideas and ask questions, and I can instantly respond. I also post links to articles that I find useful together with my take on it, and this helps members filter through the noise in the media.
Performance
Since inception of the Model portfolio in early February, my return exceeds 50%. This compares to a 3% loss for a continuous, long-only oil futures strategy and an 11% gain of a long-only stock market portfolio (i.e., SPY). The strategy is primarily oil, using ETFs, instead of futures contracts, because ETFs are more accessible to most individual investors who do not want to manage margin calls.
And I have added two other strategies that may select non-oil stocks. I call them my "Breakout" and "Breakdown" strategies. I found over the years that extraordinary profit opportunities exist when prices enter a break to the upside, or break to the downside. I have devised a process for identifying such opportunities, which I fully describe to members in a write-up in my service.
February 7- October 11, 2017

Boslego

53.9%

Oil

-3.2%

SPY

11.4%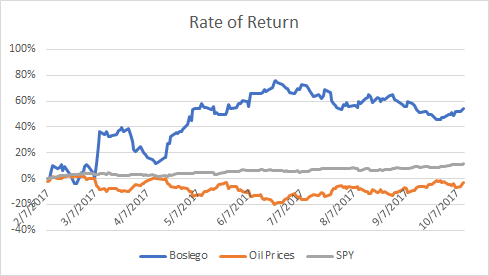 Notes: Initial Model portfolio balance was $100,000. Daily returns include both realized and unrealized gains and losses.
Invitation
I am now accepting new members to Boslego Risk Services and invite you to sign-up. There are monthly and annual pricing options as described here. You may also read reviews posted by members here.
I am committed to providing a high level of service and frequent interaction with members. To do so, I will limit membership if the group size approaches my capacity to deliver that level of service to my members. (I do not yet know what that size limitation will be.)
The oil market provides highly profitable opportunities. Join Boslego Risk Services today and learn how to exploit them!
This article was written by
Energy futures model portfolio and market analysis from an oil expert.
Seeking Alpha Marketplace Premium Service: Boslego Risk Services.
Managing Director, Boslego Risk Services

Harvard College, Economics (Honors), BA
Undergraduate thesis: "OPEC Pricing Strategy."
Harvard Business School Case Study: "Industrialized World and Oil."
Stanford University Graduate School of Business, MBA
I founded
Boslego Risk Services
and became a recognized expert in the area of energy price risk management (hedging) and trading, providing oil and natural gas hedging strategies to major oil companies such as Exxon, Shell, Mobil, Chevron, Texaco and Phillips; to the national oil companies of Norway, Venezuela, Mexico, Canada, France and Italy; to major users of energy products, such as Delta Airlines, United Airlines, Burlington-Northern Railroad, and Canadian Pacific Railway.
I also provided frequent market assessments and recommended trading positions to major trading firms, such as Enron, Phibro, Sempra and Vitol, and to large hedge funds.

As the recognized expert in energy hedging, I was selected by the former president, John Treat, of the New York Mercantile Exchange (NYMEX) to write the chapter on hedging in his book, Energy Futures (1990, 2000).
Analyst's Disclosure: I/we have no positions in any stocks mentioned, and no plans to initiate any positions within the next 72 hours. I wrote this article myself, and it expresses my own opinions. I am not receiving compensation for it (other than from Seeking Alpha). I have no business relationship with any company whose stock is mentioned in this article.
Seeking Alpha's Disclosure: Past performance is no guarantee of future results. No recommendation or advice is being given as to whether any investment is suitable for a particular investor. Any views or opinions expressed above may not reflect those of Seeking Alpha as a whole. Seeking Alpha is not a licensed securities dealer, broker or US investment adviser or investment bank. Our analysts are third party authors that include both professional investors and individual investors who may not be licensed or certified by any institute or regulatory body.