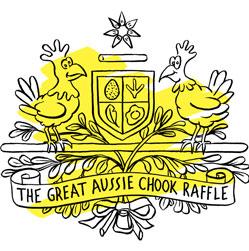 Alleged inability to organize a chook raffle will be re-visited in this week's Resource Sector Digest.
(Vol. 109 - October 9, 2017)
Brought to you by Itinerant and The Investment Doctor.
Before we start please consider our cordial invitation to join Itinerant Musings for exclusive access to actionable research on mining and energy stocks.
In case you missed out on previous editions of this newsletter, simply click here, here or here to catch up.
Setting The Scene
A little over a year ago we shone the light on New Gold's (NGD) developing Rainy River disaster, as costs had been blowing out and schedules had been falling apart at New Gold's next large gold mine in Ontario. Our outlook for New Gold was bleak, and in the article linked above we went as far as questioning management's ability to organize a chook raffle. And while we were at it we also questioned the company's liquidity and foreshadowed the need to raise more capital in order to finance completion of mine construction.
Not everyone agreed at he time, but this story proceeded to play out according to our playbook nevertheless. New Gold went on to replace some key management including the CEO at the end of last year, sell its El Morro stream in February, and raise $173M in a bought deal in March. By that time the share price had dropped 45% from when we originally pointed to the brewing trouble, and every commentator and his dog had finally turned bearish on New Gold.
NGD
data by
YCharts
When New Gold's new management team was appointed it made sure the slate was cleared and no skeleton were left hiding in the closet. Liquidity was restored, expectations were lowered, and a new plan to complete Rainy River was hatched.
Rainy River is not an easy mine to build. Ground conditions are complex, especially in the upper layers of the open pit. And the design of the tailings storage facility had us concerned, especially when awareness heightened after the tailings dam failure at Imperial Metal's (OTCPK:IPMLF) Mount Polley mine. The new management team finally addressed these issues, and openly discussed them in earnings calls right from the beginning of its tenure. This newfound transparency about technical issues probably did not help the share price in the short term, and it might have amplified the down trend in the early months of this year. But it caused the exact opposite reaction with this humble scribe. Little by little we had become comfortable with the new team, and by late February we were ready to issue a buy call for our subscribers.
Last week's news release is the reason we are re-visiting New Gold in this edition of our newsletter. The company just announced the first gold pour at Rainy River and appears to remain on track for commercial production later this year. The mill is ramping up and already processing ore at two-thirds of nameplate capacity, and mining rates have picked up seemingly supporting the increasing throughput. Another news release dated September 28 reported on a small but crucial permit amendment which paves the way to implement an improved tailings dam design.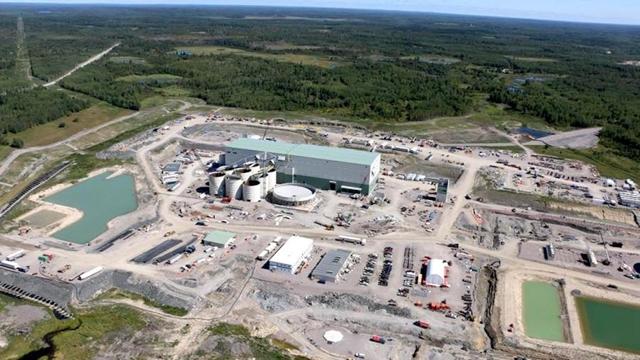 (source: mining.com)
Our investment case for New Gold is still valid: Management seems capable of delivering the job at Rainy River on time and budget according to the revised plan, liquidity is no longer a concern, and most of the sunk costs have been footed by previous shareholders - leaving an almost completed mine to future owners. And make no mistake, Rainy River will be a remarkable asset: when all is done and dusted this mine will produce 300,000-plus ounces per year at all-in sustining costs of just $670/oz, with reserves backing a 14 year mine life.
We are targeting a $6 share price with this investment, based on asset value consideration, and projected cash flow multiples once Rainy River is in full operation. However, this is not a long-term investment for us as New Gold has another large capital project in the pipeline. Decline development for the New Afton C-Zone is currently scheduled to start in early 2018, followed by the development of the associated block cave. Capex spending for this project will likely peak in 2020 or 2021 and we plan to exit our position well before the market becomes overly aware of this project. As such we will likely exit before summer 2018, or sooner if our target is reached.
Actionable Ideas
We believe that an opportunity is growing from Mandalay Resources' (OTCPK:MNDJF) mis-fortunes earlier in the year.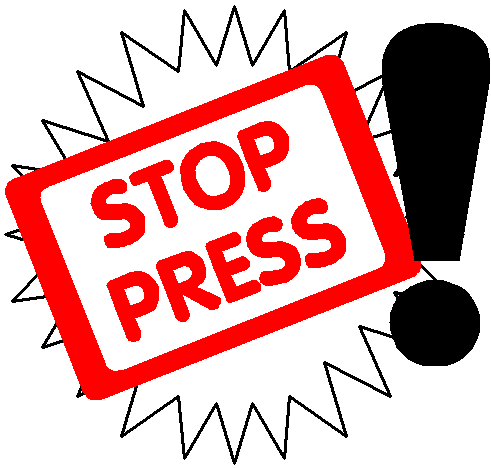 News Release of the Week
News release of the week goes to Oceanagold (OTCPK:OCANF) for achieving commercial production at its Haile mine in South Carolina. Investors should mark October 26 in their calendars, as Oceanagold will release Q3 results on that day along with details on the Haile operations.
Drill Result Summary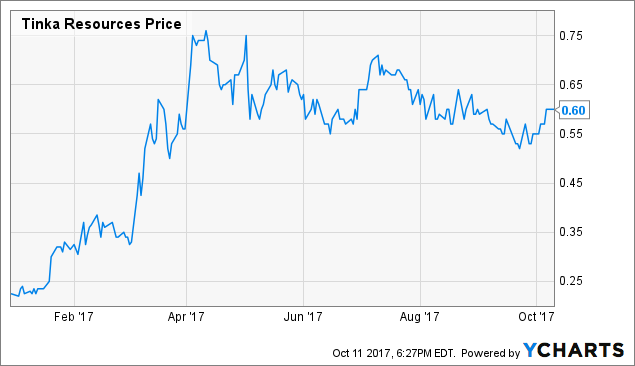 TK
data by
YCharts
Otis Gold (OTCPK:OGLDF) has hit 1.66g/t over 129.4m at the Kilgore project in Idaho, expanding known mineralization in the Aspen formation.
Wheelings and Dealings
McEwen Mining (MUX) and Primero Mining (PPP, OTCPK:PPPMF) have closed the transfer of the Black Fox mine from the latter to the former. This deal expands McEwen's land position in the Timmins camp, and adds an operating mine and a mill with excess capacity to the tally. Wheaton Precious Metals (WPM) will be making sure that Primero swiftly forwards the $27.5M it has received to its lenders as the streamer is currently guaranteeing Primero's debt.
Columbus Gold (OTCQX:CBGDF) is getting ready to spin out its Nevada properties after forming the JV to develop the Montagne d'Or project in French Guiana towards production. The new company will be called Allegiant Gold and the new web site has plenty of information.
Garibaldi Resources (OTC:GGIFF) has closed the first tranche of a C$6M placement. The company is exploring for nickel and copper in the Eskay camp of the Golden Triangle of BC.
Richmont Mines (RIC) has closed the sale of its non-core Quebec assets to Monarques Gold (OTCPK:MRQRF) ahead of selling itself to Alamos Gold (AGI). On that topic we observe a market clearly not rewarding Alamos for the deal.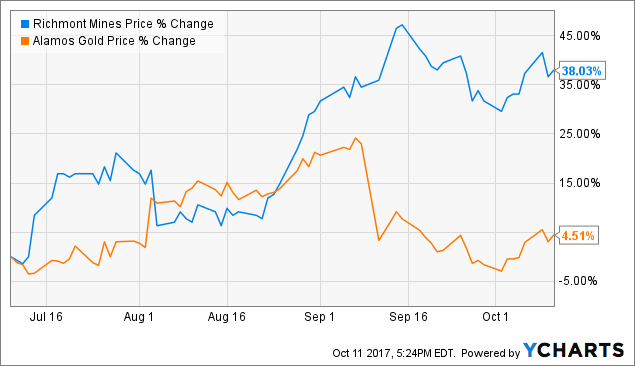 RIC
data by
YCharts
Skeena Resources (OTC:SKREF) landed a C$6M financing and added Zijin Mining (OTCPK:ZIJMF) to its share registry in the process. The junior will use the funds to fund exploration on projects in the Golden Triangle of BC. Skeena also decided to consolidate its shares on a 10 for 1 basis.
Other News
Harte Gold (OTCPK:HRTFF) has completed mining of a total of 100,000 tonnes of ore from the Sugar Zone deposit covered by its current permit. The ore has been stockpiled on surface, while certain underground infrastructure is completed and mill construction is underway. The company expects to receive commercial production permits before the end of Q3 which will enable further mining ahead of mill completion and commercial production by mid-2018.
Coeur Mining (CDE) revised its 2017 production guidance in an after-thought to the Q3 production results release. Apparently "lower expected silver production at the San Bartolomé mine due to persistent drought conditions" were to blame for the revisions.
Guyana Gold (OTCPK:GUYFF) on the other hand seems to have had a good Q3. We commented as follows on the Itinerant Musings chat board when production results were released:

Kennady Diamonds (OTC:KDIAF) released a maiden resource estimate for the Faraday kimberlites on the company's namesake property in the Northwest Territories, Canada. 3.27M tonnes with a grade of 1.54 carat per tonne in the inferred category have been added to the existing Kelvin resource.
Goldcorp (GG) is facing renewed opposition at Penasquito in Mexico where protesters have blocked mine entrances over a dispute on water supplies. So far the company has remained silent on possible impacts on metals production from this mine. On that topic we note that Tahoe Resources (TAHO) has not been able to access its Escobal mine in Guatemala by road for several months now. The comment section of this article has a good discussion on recent developments.
Farewell, and see you all next week for the next issue of this newsletter.
And Before We Go...
Please consider a subscription to Itinerant's Musings, with exclusive access to our small and mid-cap ideas, a lively community, and regular commentary and outlook on metal prices. We'd love to have you on board.
Disclosure: I am/we are long NGD, TSRMF, GUYFF.
I wrote this article myself, and it expresses my own opinions. I am not receiving compensation for it (other than from Seeking Alpha). I have no business relationship with any company whose stock is mentioned in this article.
Editor's Note: This article covers one or more stocks trading at less than $1 per share and/or with less than a $100 million market cap. Please be aware of the risks associated with these stocks.