Welcome to the weekly natural gas storage report edition of Natural Gas Daily!
The EIA reported a +87 Bcf change in storage, bringing the total storage number to 3.595 Tcf. This compares to the +79 Bcf change last year and +87 Bcf change for the five-year average.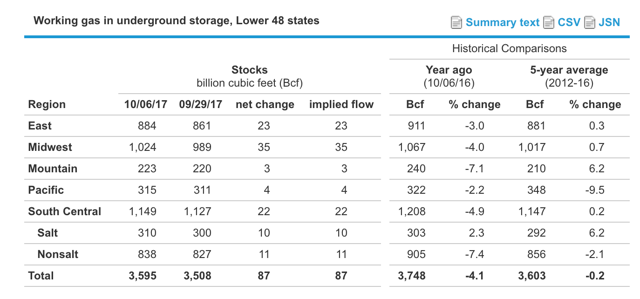 Source: EIA
Going into this storage report, a Reuters survey of 24 traders and analysts pegged the average at +82 Bcf with a range of +68 to +91 Bcf. We expected +88 Bcf and were 6 Bcf higher than the consensus average. We were off by 1 Bcf on this storage report.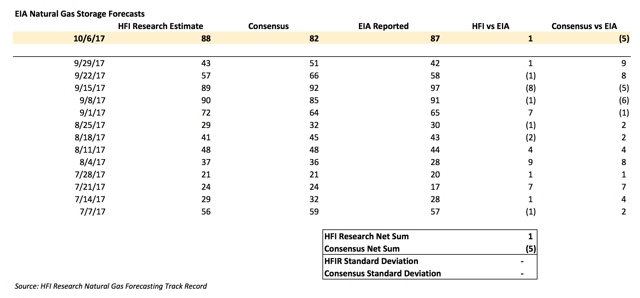 (See our analysis of our natural gas storage forecast track record here.)
We are currently 1 Bcf above EIA's reported storage report of 3.595 Tcf, while the consensus is 5 Bcf off.
Despite the higher than expected EIA natural gas storage report, natural gas prices rallied today pushing higher the entire curve. Nov contracts are currently at ~$3/MMBtu while Dec, Jan, Feb, and Mar are all rallying higher today.
In our last week's weekly natural gas market recap, we said:
Despite prices weakening further on Friday, we remain firm on our stance that winter contracts remain undervalued to where they are supposed to be. Part of the reason for this stance is the fact that despite the recent bearish weather revisions, total storage net difference was only 20 Bcf. In the grand scheme of things, 20 Bcf is really irrelevant when assessing the winter storage outlook. We know that storage is going to either come in at or below the 5-year average by 11/3 week, and the next price catalyst will come from month-end weather forecasts and early November forecasts.

For readers trading the natural gas market, the long side is not a slam-dunk given that weather could persistently stay bearish into November; but the sell-off, in our view, has already priced in warm bearish risk for the end of October. As a result, any change in sentiment (or weather) will skew the next price move to the upside.
Since the sell-off started early last week, we wrote to our subscribers that the latest sell-off in natural gas makes very little sense looking at the fundamental changes in storage. We explained how the net change in EOS was only 20 Bcf, and far from the implied bearish price action. In addition, our trader commentary also showed traders consistently buying long positions all week last week. All that was needed for a catalyst to the upside was a small change in weather forecast, and that's exactly what we saw this week.
For readers that have found our public natural gas articles insightful, we know you will benefit more from the premium natural gas reports we provide daily. These reports give you clarity on what the traders are thinking and how fundamentals are shaping up. If you would like to start receiving these, sign up for HFI Research Natural Gas, our dedicated natural gas publication service.
Disclosure: I/we have no positions in any stocks mentioned, and no plans to initiate any positions within the next 72 hours.
I wrote this article myself, and it expresses my own opinions. I am not receiving compensation for it (other than from Seeking Alpha). I have no business relationship with any company whose stock is mentioned in this article.