US equities (SPY, DIA, QQQ) are down slightly in the early session, following yesterday's all-time highs.

Source: CNBC – 10:27 AM EST
The energy sector (XLE) has been the biggest loser thus far, as reports of unexpectedly high inventories have sent oil prices lower (USO).

As markets await US inflation data, gold has surged, and the Dollar (UUP) has appreciated against many major currencies, though overall the Euro (FXE) has strengthened over the last week.


Following yesterday's release of the most recent Fed minutes, Treasury yields have dipped slightly.
Here's what CME's latest Fed watch probabilities look like:

Source: CME
Potential Fed president Jerome Powell will be speaking about Emerging markets today, and Fed Governor Lael Brainard, "will be participating in a panel on monetary policy at a conference on Rethinking Macroeconomic Policy" (CNBC).
Additionally, Bitcoin just hit 5000, and may are wondering whether this is further evidence of a bubble in cryptocurrency markets.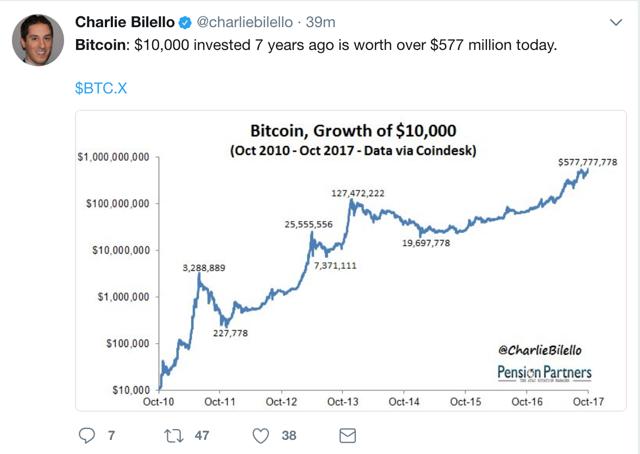 Shout Out
Normally we cover articles and news stories in our Shout Out Section. Today, however, we wish to put a YouTube video on the stage for your consideration.
The piece was done quite some time ago: September 2013. How the Economic Machine Works was narrated and designed by hedge fund titan Ray Dalio.
The video is half an hour long. Taking the form of a cartoon, it is entertaining and informative, accessible to people of all levels.
Mr. Dalio takes the view that we can understand the economy better by examining transactions, because at the very most basic level that's all an economy is.
He segments "the Economic Machine" into three parts:
Productivity Growth – the part of the machine that leads to better standards of living over time: our ability to innovate, produce more efficiently, etc.

The Short-Run Debt Cycle – the portion of the economy that causes the economy to periodically overheat, causing inflation, and also slip into recession. Mr. Dalio claims that credit creation is the main reason for the short term debt cycle.


The Long Run Debt Cycle – gradually over the course of many short term cycles, debt imbalances build. The Economic Machine eventually hits a point of no return, after which point it must deleverage. Methods of rebalancing include spending cuts (austerity), debt write-offs, wealth redistribution, and firing up the printing press. Mr. Dalio posits that the first three methods are deflationary in nature, while the last is inflationary.
By properly balancing out the deflationary methods with the inflationary method of printing money, an economy can undergo a "beautiful deleveraging".
This video is not meant to be an exhaustive treatise on economics, but it does hold insights and makes for great viewing. If you haven't seen it, give it look. We embed the video here for the sake of convenience.
Our question for readers: Do you believe that the global economy has undergone a "beautiful deleveraging"? Please share your thoughts.
Thoughts on Volatility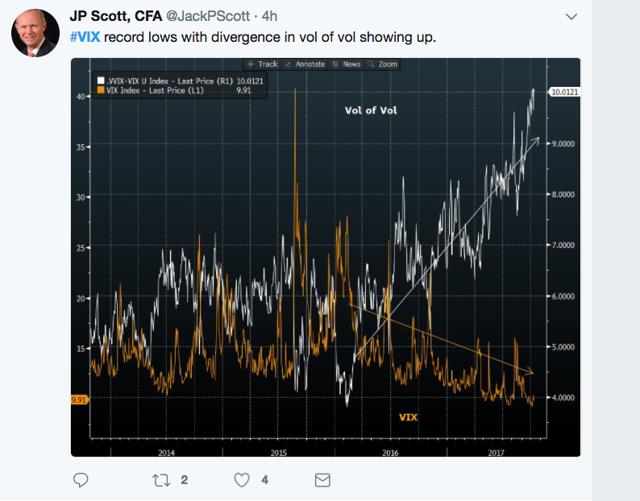 We are seeing the VVIX tick steadily higher while the VIX trolls around either side of the ten-handle. To a large degree this comes down to VX options traders affirming that big percentage moves are more likely to occur off lower bases.
To be clear:
If you add one to ten, the total increases by 10%. If you add one to twenty, the total increases by 5%.
VVIX measures the likely lognormal performance of VIX, and because the base index is so low, log increases are quite high.
But given how very low the index is at this point in time, a "big move" is almost certainly a big move higher. This is different from times such as late April when spot VIX came crashing down in the wake of Macron's victory in the first round of the French elections. We believe this is a fairly reasonable interpretation of the sky-high ratio.

In accordance with the aforementioned observation, spot VIX is a full 8.6% higher this week than last, though it has only moved .79 vol points off last week's all-time closing low. If July is an indicator, the index may be preparing itself for a retest of highs. Recall from June that spot did manage to climb into the 15 region. The lesson is that September's dive may soon give way to a less stable period in the volatility.
Taking long positions in vol is therefore more attractive. We'd shy from getting greedy on products that feed off steady contango. Consider selling rather than buying VX futures spreads, or lightening up on holdings of XIV as it forges into new all-time high territory:

Regular reader igorvass had this to share yesterday: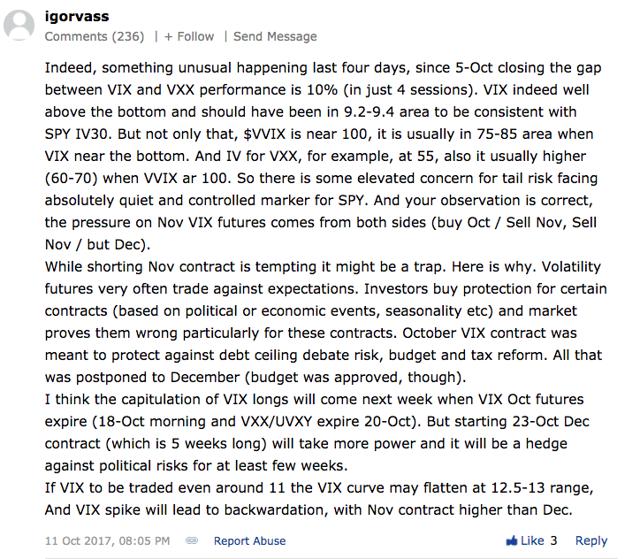 We write these MVBs daily so that traders and market watchers can share substantive comments such as these on a regular basis. Thanks for the contribution igorvass. We agree it's dangerous to get too far out in front of one's skis in terms of capitalizing on vol punishment.

10:34AM EST
Vol doesn't get much more "unch" than that! Organic ATM ES is holding steady.
As we mentioned yesterday, the larger story here is that while spot VIX trades around 10-flat, ATM options on the S&P 500 are trading at or near the lowest vols on record. Of course, VIX is calculated based on a basket of options with various strikes. Given the nature of the volatility smile on the S&P 500, this should not come out of left field.
What is surprising, however, is the gap between the monthly ATM contract of 6.9, vs the spot quote of 9.98. That actually is quite a wide spread. The CBOE Skew measure is currently elevated, but not to a huge degree: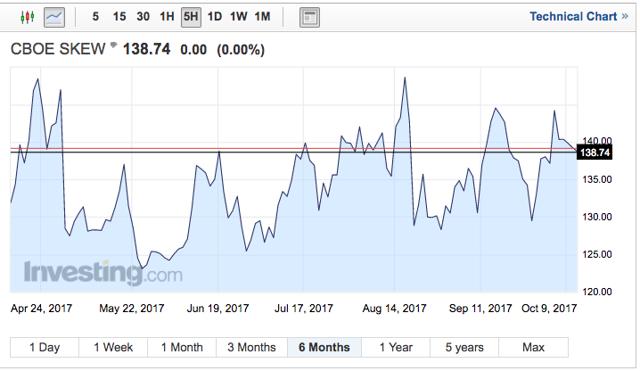 For those who trade both VIX and ES options, we'd say the options currently represent a better way to go long volatility.
Conclusion
If this is your first time reading Market Volatility Bulletin, thanks for giving it a try. If you're a regular, we thank you for your ongoing contributions in the comments section. As always, trade ideas, questions, and general sharing are appreciated.
The first two parts of our mini-article series that discusses the IB policy of late to tighten margin requirements is out on SA; we encourage you to read Part I and Part II. The third part is finished and we'll have it in to the editors shortly. Thank you for your input in generating them.
We also released the first of two parts on the famous " Acceleration Clause" in the XIV prospectus. We'll likely have the last part in for publication by the end of the day.
We're always on the lookout for good ideas to write about in terms of larger topics that impact volatility, equities, or markets in general. Please pass on your ideas for what you'd like to see more on, and we'll try to address and/or incorporate your thoughts into future pieces.
Please consider following us.
Disclosure: I am/we are short SPY.
I wrote this article myself, and it expresses my own opinions. I am not receiving compensation for it (other than from Seeking Alpha). I have no business relationship with any company whose stock is mentioned in this article.
Additional disclosure: We actively trade the futures markets, potentially taking multiple positions on any given day, both long and short. It is our belief that the S&P 500 is meaningfully overvalued. As such, we typically carry a net short position using ES options and futures.