My Ian's Million Fund, IMF, is a quasi-index fund where I have two main goals. One, beat the S&P 500 over time with my own diversified basket of stocks, while avoiding any ongoing management fees. Two, build a model that my non-investment professional friends can copy. If I didn't have other investments and had $1,000/month to invest, what retirement portfolio would I build to ensure I ended up with a strong solid nest egg? The IMF answers that question.
One of these months, the market will finally sell off and give us some deep values. However, there's nothing on the horizon indicating that October will finally bring the correction. So I made my IMF buys for the month early - on the 4th of the month. Despite the S&P 500 moving even farther to the upside, there are some stocks I still find attractive at current prices.
That said, I only purchased 12 stocks this month (I believe that's a record low number) - concentrating my firepower. Also, and I believe this is a first as well - the stocks I bought, in aggregate, are up slightly over the past 12 months though they still trailed the market as a basket quite dramatically.

This isn't a usual IMF month where I'm primarily bargain shopping off the 52-week low list though. Instead, the focus was on adding to winners that are going a lot higher in coming quarters. Here's what I picked up for the month.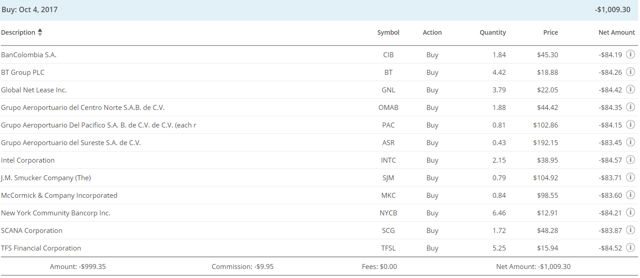 The first big theme for the month was adding to positions in the Mexican airports. These are at far from the cheap prices we were fortunate to pay right after the election. But they have sold off fairly sharply in recent weeks. Grupo Aeroportuario del Pacifico (PAC) is down from 120 to the high 90s. Centro Norte (OMAB) is down from 52 to the low 40s. And Sureste (ASR) has given back nearly all of the 25% pop after acquiring a bunch of new Colombian airports.
Of these, ASR is the least predictable at the moment. Cancun is having issues with crime, San Juan's airport is a big question mark - who knows how bad the hurricane aftermath will be. And we still don't have a clearer picture of how profitable the new Colombian airports are. That said, of the three, ASR is by far the IMF's smallest position, so I'm comfortable adding despite the uncertainty.
Aside from the earthquake - which didn't hammer any of PAC or OMAB's airports directly - nothing much has changed that would justify the significant pullbacks in recent weeks. There's plenty of chatter about Trump doing something to NAFTA, but we've heard that before. I suspect it's just his usual bluster as negotiation tactic unless something concrete happens. PAC and OMAB are already the top two holdings in the IMF, but if prices stay at current levels, I'll keep adding to them. They're top ideas for long-term compounding.
Heading farther south, I added to the Bancolombia (CIB) position offered on a dip due to a downgrade. The stock is still cheap, despite running from the high 20s to mid-40s over the past 18 months. At 10x forward P/E ratio and still under 1.5x book value, this is relatively cheap compared to other LatAm and emerging market banks.
Also, the rally in oil is promising; for better or worse, the market views CIB as an oil-exposed bank, and thus it will catapult higher if oil manages to keep advancing. This stock is going to 75 sooner or later (15x earnings on $5 of EPS that we'll get next upcycle), if not higher. Other LatAm banks are exploding (Peruvian and Argentine banks are up well more than 100% off the 2016 lows), and Colombia will catch the wave at some point. CIB stock also offers a nice dividend while we wait.
Sticking with banks, I added to several US regionals. The first of these is TFS Financial (TFSL), which unfortunately has already popped up from below 15 last month to 16 now. I want a bigger position in this stock, but it might get away from me before there is time to fill out the position. Needless to say, I think it is going a lot higher, and I have no qualms with my cost basis rising a bit.
With New York Community Bank (NYCB), the IMF can still lower its cost basis with additional purchases. That said, NYCB stock also rallied a buck over the last month. The irrational sell-off in shares may be coming to an end. It was surprising that the yield topped 5.5% for awhile, given the bank's impeccable loan quality. In a market starved for yield, I doubt you'll see this one stay down too long, and the IMF now has a chunky position to capture that yield going forward.
Accumulated dividends haven't reached $100 yet, the threshold for reinvestment, so there's no addition to Hormel Foods this month. However, I did add to J.M. Smucker (SJM), which remains beaten down. The packaged foods companies are one of the best valuation opportunities within the US equity market at the moment. Also, I added to McCormick & Co (MKC) - the last earnings report was excellent, the stock should rerate substantially. The market hasn't priced in how successful the RB Foods acquisition was yet. I don't mind increasing my cost basis here either. I wouldn't be shocked if this is the last opportunity the IMF will have to buy MKC stock under $100/share.
I also added to a strong position, Intel Corporation (INTC), since I think it is on the cusp of a potential big break northbound. It has trailed the red-hot semiconductor sector by a massive margin in recent years. However, the stock has woken from its slumber, and is now powered to a fresh 16-year high: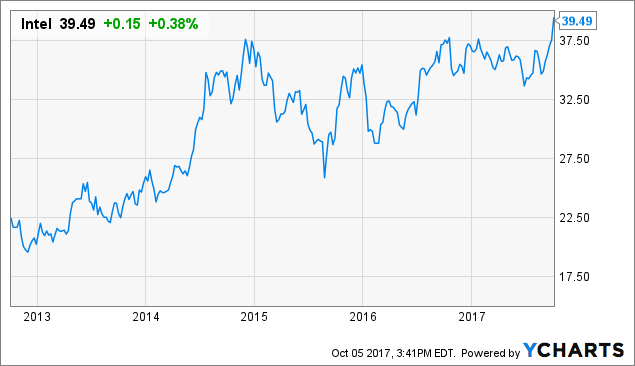 Once this breakout gets going, it could easily spike toward $50. Even at 52-week highs, Intel is still at just 15x trailing, 13x forward earnings and pays an almost 3% dividend. Even if the stock doesn't get hot, the valuation is quite reasonable and filling out this position helps the IMF get much-needed tech sector exposure.
I did add to one classic beaten-up position, BT Group (BT). The company is working through its various issues, and recent results looked somewhat stronger. Despite paying a strong covered dividend and being through the worst of its crisis, shares remain near their lows and down 50% from the highs a couple years ago. That's a big discount for a telecom firm.
Finally, we have two new positions for the month. The first of these is Scana Group (SCG), which has plunged on the repercussions from a canceled nuclear power plant in the wake of massive cost over-runs. However, even in a worst-case scenario, the downside seems limited from here. This is the first domestic utility in the IMF - I've long found the sector overvalued, but I'm not opposed to owning a couple of these names if they can be bought on extreme weakness. SCG stock offers a 5% yield presently - we haven't seen that on many US utilities in a long time.
The other new position is Global Net Lease (GNL), which fits in the small position high yield speculative bucket. I don't expect all these type names (CBL, WPG, UNIT, etc.) to work out, but the winners should more than offset the losers. GNL has some notable drawbacks, however, I think on balance the reward outpaces the risk. The nearly 10% monthly yield is supported (albeit only just so) by cash flow, and the company's niche in European office space offers a diversifying effect on the portfolio's REIT positions.
Disclosure: I am/we are long ALL THE STOCKS IN THE TABLE.
I wrote this article myself, and it expresses my own opinions. I am not receiving compensation for it (other than from Seeking Alpha). I have no business relationship with any company whose stock is mentioned in this article.