Noble Corp. (NE) has just released its fleet status report and this time the company had contracts to report. As I mentioned in my earlier piece, "Noble Corp.: Why It's So Weak," the company clearly lacked upside catalysts vs. its peers and really needed to report something on the contract front. Without further ado, let's discuss the new developments in the fleet status report.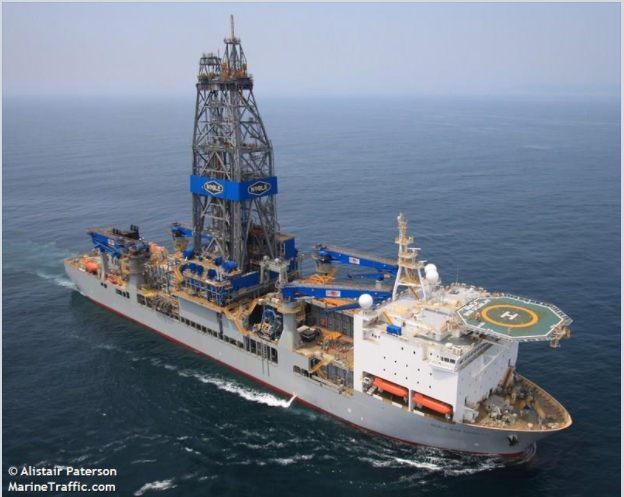 The first news is that Noble Corp. was able to find work for Noble Bob Douglas between the existing contract with Tullow, which ends in early November 2017, and the contract with Exxon Mobil (XOM), which starts in Q1/Q2 2018. The contract is with an undisclosed operator at an undisclosed rate. Noble Bob Douglas will begin work in late November 2017 and finish work in late February 2017. As the operator is undisclosed, I believe that the contract is not with a major company. Given the need to find work for Noble Bob Douglas between contracts with Tullow and Exxon Mobil in order to avoid warm-stacking costs, I expect the dayrate to be substantially below $200,000. While certainly a positive development for the company, the contract likely does not add much if anything to the bottom line.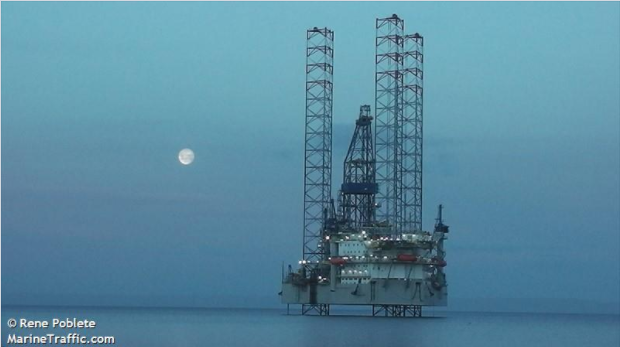 The next contract that Noble Corp. reported is a contract for the jackup Noble Houston Colbert. The rig will continue to work in Qatar, this time with Dolphin. The duration of the contract is from early February 2018 to early February 2019. As usual, the dayrate is undisclosed. The rig of the same design, Noble Tom Prosser, is currently working for PTTEP at a dayrate of $130,000 for a short-term job. Another sister rig, Noble Mick O'Brien, has been working in UAE from July 2016 to August 2017 at a dayrate of $150,000. I believe that the dayrate in this new contract is about the same, so we're looking at a backlog addition of about $55 million.
Also, the report contained news on Noble Sam Hartley. In the previous fleet status report, the rig's contract was scheduled to end in Q4 2017. Now the company has a more concrete estimate: The rig will end work for Total (TOT) in late December 2017. This is a difference of about $6.5 million between the worst-case (the rig works only one month in the fourth quarter) and the actual scenario.
In all, the report contained good news for Noble Corp. However, the most interesting question is whether it will be enough to stop the downside in Noble Corp.'s stock.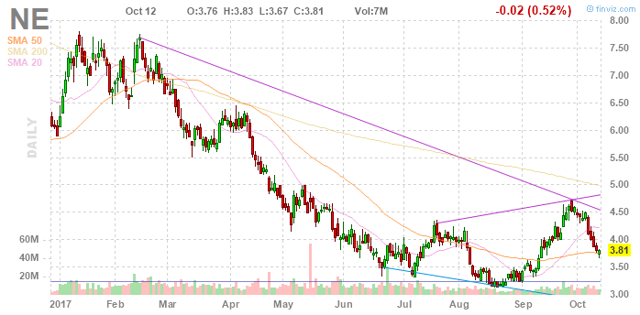 My answer is "perhaps." Noble Corp. is facing several contract endings and will have to find more work for its rigs to avoid the continuous decrease in the backlog. The semi-sub Noble Paul Romano's contract ends in late December 2017. Jackup Noble Hans Deul works until mid-November 2017, while jackup Noble Tom Prosser's contract ends in late October 2017. Another jackup, Noble David Tinsley, will have a contract until the end of this year.
Hopefully for Noble Corp., the current oil price provides enough incentive for oil companies to award contracts in the jackup space. However, Noble Corp. is not alone in this market and the competition is not sleeping at all. Other contracts are by no means guaranteed. In this light, I'd expect a stabilization in Noble Corp. shares on the back of positive news (and assuming no fall in oil prices), but I'd be cautious about the potential for rapid upside. Trading in a range in current conditions looks like the most likely outcome.
Disclosure: I/we have no positions in any stocks mentioned, and no plans to initiate any positions within the next 72 hours.
I wrote this article myself, and it expresses my own opinions. I am not receiving compensation for it (other than from Seeking Alpha). I have no business relationship with any company whose stock is mentioned in this article.
Additional disclosure: I may trade any of the above-mentioned stocks.