Background
This month's article marks the thirty-first installment in my on-going series outlining my efforts to achieve dividend growth success. The portfolio is nicknamed the MnM portfolio, which is a moniker for "Minne(sota) 'n Monthly."
Note: The portfolio continues to hold 38 stocks. I am still working towards a target portfolio size of ~40. I feel that at this level the portfolio holds a sufficient number of stocks such that I can effectively follow them all. I am working to achieving more equal weightings, as this will provide strong diversification with each stock representing approximately 2% - 3% of the portfolio total. I receive 100 free trades each year from my brokerage, so I can trade in small quantities without worry about brokerage trading costs.
That being said, here's what happened in September.
September 2017
I always do a quick highlight on valuation, even though focusing on it is not the main objective of my strategy. The portfolio had a strong month in September, increasing by 1.8%. Year-to-date the portfolio return continues to trail the S&P 500's ~14.25% return, with a gap of about 7.5%. The lag in performance is not surprising, given the number of consumer staples stocks and retailers in the portfolio, all of which have struggled this year. Despite this, I remain focused on growing dividend income which I will discuss in greater detail in the following sections.
I have captured the activity for September and for the year-to-date in the standard rollforward summary below.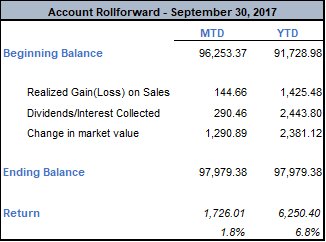 The portfolio collected $290.46 in dividends and interest during the month, all of which was recurring on positions held with the exception of $.05 of interest, $19.50 from Wells Fargo (WFC) and $13.31 from Chatham Lodging (CLDT), both of which have been sold. The portfolio was comprised of the following securities as of September 30, 2017: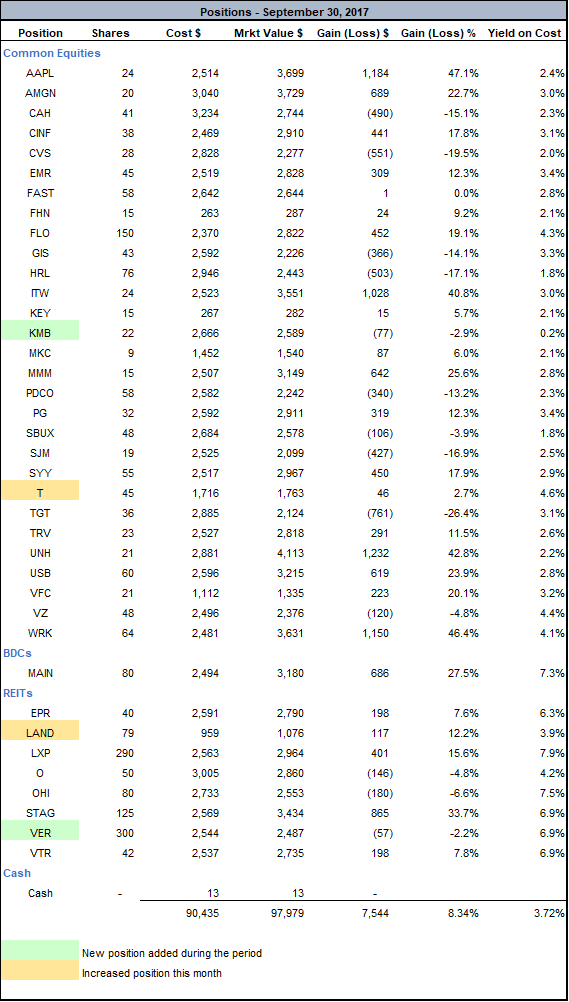 The following sections go into greater detail of the events that have occurred since the end of August.
Sales
I closed out Q3 by swapping two stocks for others that I feel have better prospects and fundamentals, with similar yields. I did this as part of an effort to improve the portfolio's quality and exit two positions that I see as being challenged.

First, I've been a little skeptical of the run-up in price that Coca-Cola's (KO) stock has exhibited. It now trades at a P/E of 24, which seems excessive. I also haven't been too excited about the high dividend payout ratio either. Many have published on this on SeekingAlpha, and I felt it was time to make a change.
In contrast, I have been watching Kimberly-Clark's (KMB) stock for some time. It has a lower P/E ratio (just over 19) and lower dividend payout ratio, while exhibiting a similar dividend growth history and yield. I also like its products as being a good differentiator in the portfolio.
Kimberly's stock price pulled back to a point where I was able to effectively sell my Coca-Cola stock and replace it with Kimberly Clark. I realized a gain on the sale, and only sacrificed $.12 in quarterly dividends in the swap. Very likely I will make up the lost dividends in Kimberly's next dividend increase.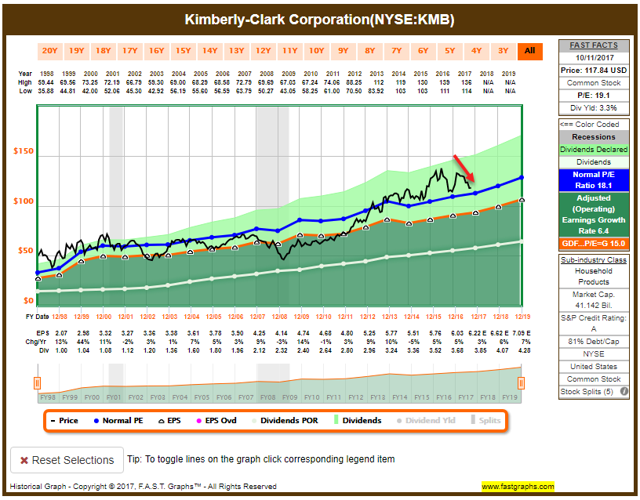 I also did a similar exchange by selling my Chatham Lodging stock and replacing it with Vereit (VER). Both have similarly high yields, but as I wrote (HERE), I have gotten concerned with Chatham's prospects and its ability to raise its dividend. Alternatively, I have been bullish on VER for some time, most recently when I wrote about it (HERE). Vereit isn't out of the jungle yet, and does face some hurdles, but I feel it is much better equipped to resume growth and drive the dividend up. I do still hold Chatham stock, just outside of the MnM Portfolio. I added $1.32 in quarterly dividends, more than offsetting the slight decrase on the Coca-Cola swap.
After making these moves, I feel that I have the portfolio where I want it (for now), so I do not envision any more sales in the near future.
Additions
This month's dividends were directed towards building the new portfolio positions of AT&T (T) and Gladstone Land (LAND). I generally purchased the shares as the funds were available, using five of my free trades.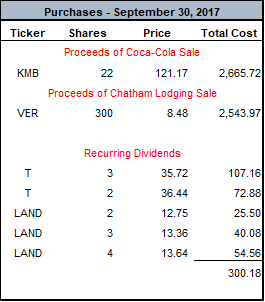 Dividends Collected
As noted above, I collected $290.46 in dividends during the month. For comparative purposes I included all of the dividends collected in measuring income progress, including the stocks sold. I generally timed things out such that dividend stream was not disrupted by the sale and replacement of the stocks this month. I have updated and included the forward-looking dividend summary as follows: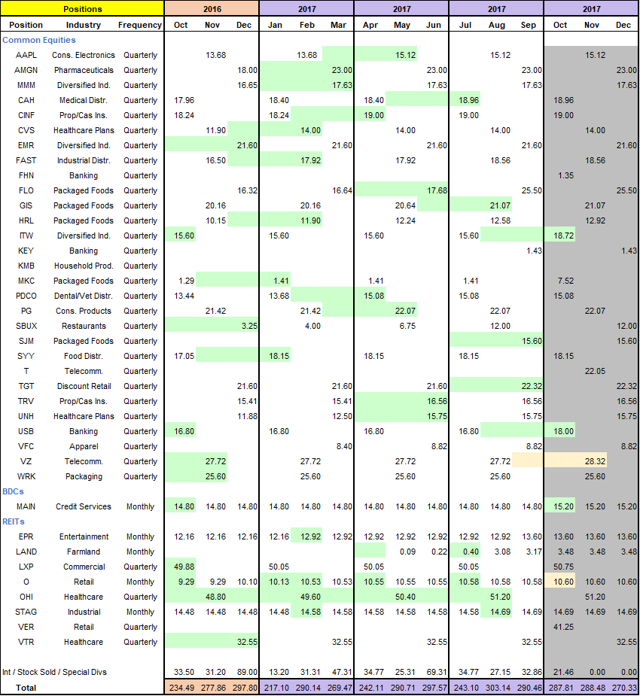 Note: I have highlighted current month dividend raises in a shade of yellow to distinguish from previously reported increases.
As I highlighted in the article's title, I am actively tracking the income growth in the portfolio, comparing Q4 2016 to Q4 2017's projected income. I'm happy to report that, when I remove the special dividend received from Main Street Capital in December 2016, income has now increased by 10.3%! There are still some increases to come and dividends to collect, so I envision that I will end up being in the 11% - 12% range by year-end.

Going forward, I hope that each successive quarter is able to demonstrate 10+% annual income growth. This is something I will continue to monitor and work towards as we move into 2018.
Dividend Increases
I do not know if you see the same in your portfolios, but over the past two years it's become clear that Q3 is the slowest in terms of dividend increases. In line with August's count, September also saw only two increases. Verizon (VZ) sent along a 2.2% increase while Realty Income (O) sent along the usual mid-year, quarterly .2% bump.

The MnM 401K
The 401K keeps growing, adding about $1,400 this month from contributions and market appreciation. I'm looking forward to seeing another dividend come across next month.
Closing Thoughts
It's nice to hit my target for income growth with some time to spare. I will be curious to see how difficult it is to maintain the pace going forward, quarter after quarter, but that is where I will set the bar at going forward.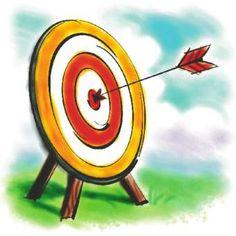 I know it's a stated goal of mine to limit turnover, but I feel that these latest moves will benefit the portfolio over the long-term. I will also cede the fact that Coca-Cola drove me nuts by paying two dividends in the fourth quarter. This made quarterly comparisons difficult. Also, adding Vereit helped to balance out the monthly income stream, as the first month of each quarter has now caught up to the other months a bit in terms of total dividend dollars.
In terms of where I intend to add during the upcoming quarter, most of the stocks in the portfolio aren't as cheap as I would like right now, but I intend to continue building on the AT&T and Gladstone Land positions, and may add a little to the new bank holdings. The bank stocks have run a little bit since being added to the portfolio, but I still see opportunity in the space.
I have been waiting for some time now for a pullback in VF Corp (VFC). The stock has rallied since I initiated the position earlier this year, and I will be watching to see if there is any weakness following their quarterly results. The same goes for McCormick (MKC). The already announced solid earnings, but if it pulls back below $95 then I will consider adding to this position as well.
The weather is turning, the leaves are falling, and soon it will be time to focus our attention on 2018. I'm optimistic that I will see a strong fourth quarter leading into the start of the new year.
Disclosure: I am/we are long THE STOCKS LISTED IN THE PORTFOLIO, CLDT.
I wrote this article myself, and it expresses my own opinions. I am not receiving compensation for it (other than from Seeking Alpha). I have no business relationship with any company whose stock is mentioned in this article.