If you are looking for a quality income-producing stock that's raising its dividend payout at a fast clip and that has top-shelf dividend coverage, you have to look no further than to STORE Capital Corporation (STOR). STORE Capital has excellent portfolio and dividend coverage stats, and I continue to see the storage REIT as an excellent bet on long-term dividend growth.
Besides exhibiting strong fundamentals that help make the case for STORE Capital, Berkshire Hathaway (NYSE:BRK.A) (NYSE:BRK.B) - Warren Buffett's investment vehicle - bought a stake in the REIT in the second quarter. Berkshire scooped up a 9.8% stake in the company after investing $377 million. The investment made Berkshire Hathaway the third largest investor in the real estate investment trust at the time and immediately added to STORE Capital's credibility as a quality income vehicle.
STORE Capital - Snapshot
STORE Capital is an internally managed net-lease real estate investment trust with 1,770 properties in 48 states at the end of the June quarter. The REIT has a near-perfect occupancy rate of 99.5 percent and a high percentage of investment grade-rated contracts (75 percent) in its contract portfolio. Here is a snapshot of STORE Capital's major portfolio stats: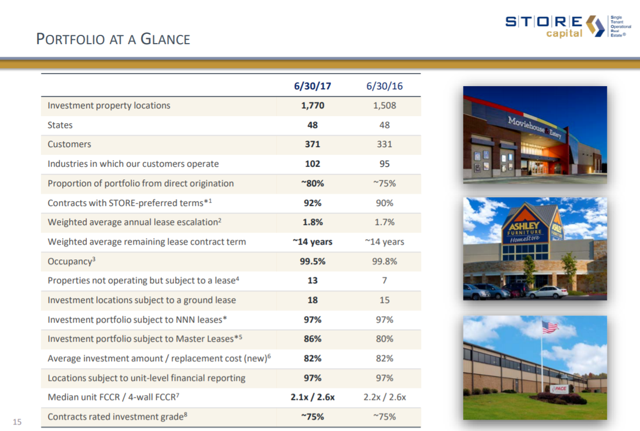 Source: STORE Capital
Acquisitions And Organic Cash Flow Growth
STORE Capital mainly relies on acquisitions to grow its real estate portfolio and funds from operations, which is typical for real estate investment trusts. STORE Capital has spent billions in dollars on acquisitions in the last three years.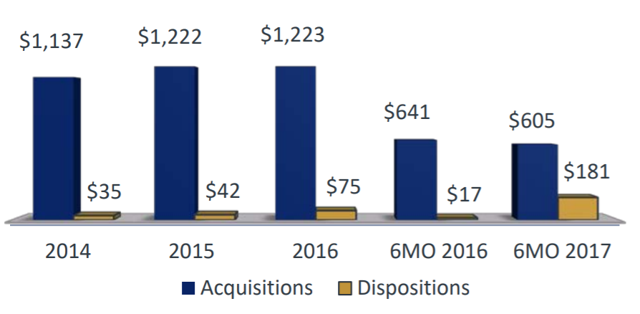 Source: STORE Capital
While acquisitions are a major path for STORE Capital to grow its property count, it is also important to note that the real estate investment trust grows organic cash flow through the presence of rent escalators. Rent escalators are automatic contractual rent bumps that ensure STORE Capital is paid more money for its existing leases over time.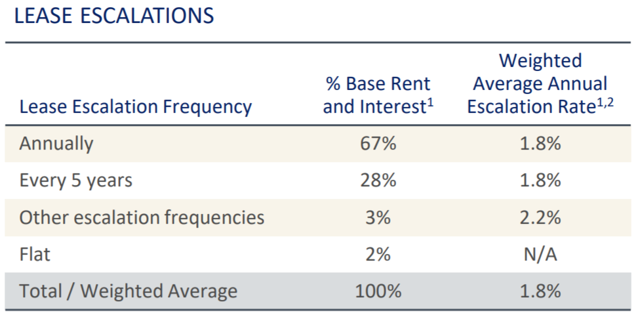 Source: STORE Capital
Lease escalations play an important role for REITs to grow cash flow, and, by extension, their dividends. In the case of STORE Capital, management targets at least 5 percent organic growth each year based on its contractual annual lease escalations and reinvested cash flows.

Source: STORE Capital
Top-Notch Dividend Coverage
A REIT with a 99.5 percent portfolio occupancy rate likely also has very good dividend coverage stats, at least this would be my first guess. And indeed, STORE Capital has produced significant excess dividend coverage quarter after quarter.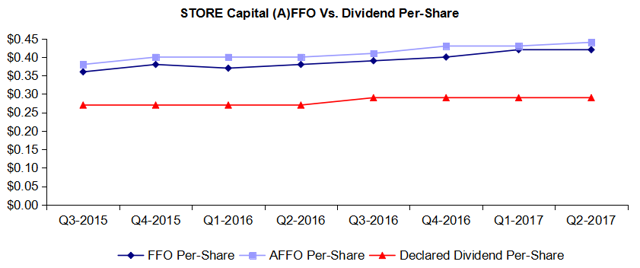 Source: Achilles Research
STORE Capital's average AFFO payout ratio in the last eight quarters was only 68 percent, leaving room for significant dividend growth. As a matter of fact, STORE Capital raised its quarterly dividend payout by a whopping 6.9 percent in September from $0.29/share to $0.31/share. The steep dividend raise is an immediate reflection of STORE Capital's excellent dividend coverage stats and low AFFO payout ratio.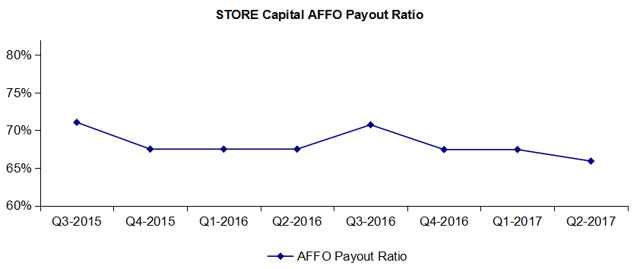 Source: Achilles Research
How Does STORE Capital Compare Against Other REITs In The Sector?
STORE Capital has solid portfolio and dividend coverage stats, which we already discussed. But the REIT also doesn't need to shy away from comparisons with its direct competitors in the REIT sector.
For instance, STORE Capital has the longest lease terms and most diversified tenant base (read: lowest cash flow risks).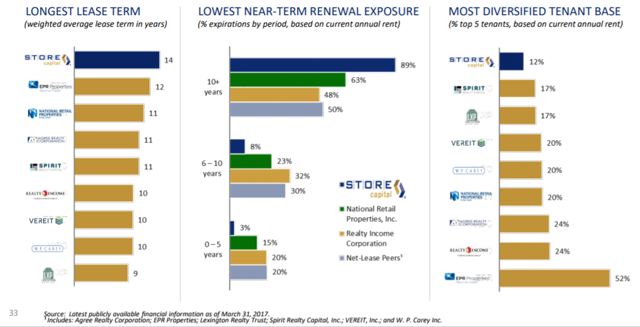 In terms of financial comparisons, STORE Capital again compares favorably to its peers in the retail REIT sector.
STORE Capital has the lowest AFFO payout ratio in the peer group (high 60s percent range) and the strongest contracts (high presence of lease escalators).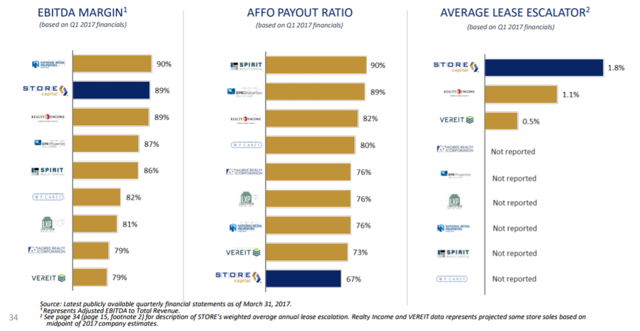 Source: STORE Capital
How Much Do You Have To Pay For STORE Capital's Dividend Stream?
STORE Capital's shares instantly became more expensive after Berkshire Hathaway invested in the real estate investment trust in the second quarter, and the REIT has not yet surrendered any of those gains. Today, income investors wanting to access STORE Capital's dividend stream have to pay 14.9x 2017e AFFO.
Your Takeaway
STORE Capital is a strong and well-managed real estate investment trust. The REIT raised its dividend by almost 7 percent last month which is a reflection of its top-notch dividend coverage stats. STORE Capital has a low AFFO payout ratio which tilts the odds in favor of continued dividend growth, potentially at above-average rates. STORE Capital also compares favorably to other net-lease REITs. The presence of rent escalators, Buffet's sizable investment and a reasonable valuation based on AFFO add to the appeal of STORE Capital as an income vehicle of choice. Chances are that the "yield on cost" will continue to rise in the future. Buy for income and capital appreciation.
If you like to read more of my articles, and like to be kept up to date with the companies I cover, I kindly ask you that you scroll to the top of this page and click 'follow'. I am largely investing in dividend paying stocks, but also venture out occasionally and cover special situations that offer appealing reward-to-risk ratios and have potential for significant capital appreciation. Above all, my immediate investment goal is to achieve financial independence.
Disclosure: I am/we are long STOR.
I wrote this article myself, and it expresses my own opinions. I am not receiving compensation for it (other than from Seeking Alpha). I have no business relationship with any company whose stock is mentioned in this article.