How do you compare companies? Examine their operating margins? Free cash flow? Revenue growth? Inventory management?
Each measure has its pluses and minuses. One company may sacrifice free cash for growth. Another may have low margins but turns its inventory quickly.
I propose a new approach to see how 6 retailers that are teen favorites stack up against each other. We'll sort through Buckle (NYSE:BKE), Aeropostale (NYSE:ARO), American Eagle (NYSE:AEO), Zumiez (NASDAQ:ZUMZ), Abercrombie and Fitch (NYSE:ANF), and Gap (NYSE:GPS) using this method.
The technique: You simply stack the metrics to analyze the stocks.
We'll use four different measures:
1. Profitability: Operating Margin
2. Free cash flow: Free Cash Flow/Sales
3. Growth: 3-Year Average Revenue Growth
4. Efficiency: Inventory Turnover
Let the game begin: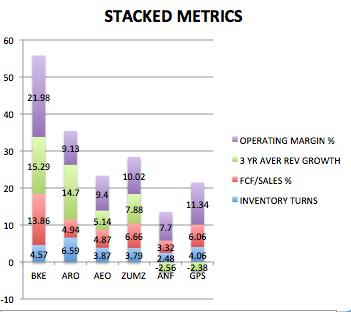 The Buckle trounces its peers. This retail apparel company leads the group with mind-boggling operating margins and free cash generation.
Still, this doesn't tell us whether the stock is a bargain. Let's run another "stacking" exercise to test whether it represents good value. We'll use a "stacked" value method. Simply, we'll add PE, Price/Sales, Price/Book, and Price/Cash Flow to derive an overall value figure.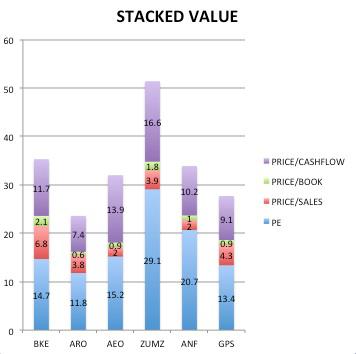 Of the group, Zumiez is most highly valued. Aeropostale is least valued.
Now, we'll take the ultimate test to determine which represents the best buy. We'll divide stacked metrics by stacked value. The higher the ratio, the better the value.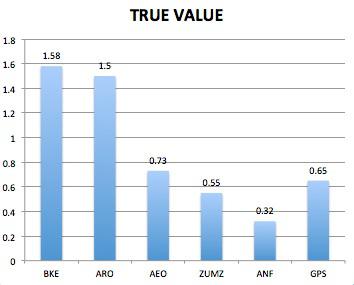 Buckle wins the contest by a nose. According to this approach, Buckle is the most undervalued apparel retailer of the group. Abercrombie is the most overvalued.
Disclosure: I am long BKE.
Additional disclosure: The opinions in this document are for informational and educational purposes only and should not be construed as a recommendation to buy or sell the stocks mentioned. Past performance of the companies discussed may not continue and the companies may not achieve the earnings growth as predicted. The information in this document is believed to be accurate, but under no circumstances should a person act upon the information contained within. We do not recommend that anyone act upon any investment information without first consulting an investment advisor as to the suitability of such investments for his specific situation.