InterDigital Inc. (IDCC) is a public intellectual property company (PIPCO) that develops communication technologies including wireless communication standards for the Internet of Things (IoT), 5G wireless networks, and sensor technologies such as those used in self-driving cars.
Backbone technology providers supplying the tech giants poised to serve the coming wave of IoT, self-driving cars, robotics, and virtual reality are in a strong position to capitalize on this secular trend. IDCC, a critical supplier, is often neglected by the public eye. After an earnings miss of -2.8% in Q4 2016, the price has dropped 27% due to a market overreaction. Trading at a low P/E but showing capacity for sales growth, I believe IDCC provides considerable value. The pricing of the stock seems to neglect the promising pipeline. A conservative multi-stage growth model shows a robust 26%+ upside potential for IDCC. IDCC shows potential for promising growth but is priced at a significant discount. This presents an excellent buying opportunity for the long-term investor.
Business Structure
IDCC develops, licenses, and sells patented technology in the wireless communication space. The strength of this business model can be ascribed to the following: Deep intellectual insight of the research and development team, a head start in the space with high influence over regulations and standards, and high operating margins that mitigate risks in litigation and provide cash flow for delayed technology incubation periods.
Given such strength, the probability of a new entrant taking IDCC's market share is very unlikely. Further, the advanced and proprietary technology IDCC provides has no substitutes. However, consumer power is on the higher end of the model given that IDCC's revenue is heavily reliant on its top 3-4 customers. These consumers consist of highly established industry leaders like Samsung (OTC:SSNLF) and Apple (NASDAQ:AAPL). Although the patent licensing service that IDCC provides is highly proprietary, these select customers have some leverage. However, the leverage is minimized by long-term patent licensing contracts and product reliance on IDCC's patents.
Market Opportunity
The patent portfolio held by IDCC can be monetized for substantial growth as it continues to be a leader in serving the secular trend of IoT and wireless technology such as 5G. The figure below highlights the market opportunity for IoT.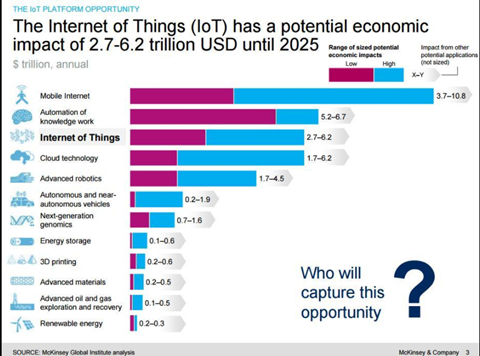 The Kurhsheed brothers, fellow Seeking Alpha contributors, believe the current patent portfolio is undervalued in terms of book value. My focus is not on the book value of the patents, but rather the secular trend of IoT the patents are serving. Most of IDCC's revenue is based on patent licensing royalties which make up 98% of its revenue base. These royalties are paid by cellphone and other wireless handsets manufactured by companies like Apple, Samsung, Huawei, HTC, Microsoft (NASDAQ:MSFT), Sony (NYSE:SNE) and more. The revenue is mostly based on a per unit basis. Therefore, higher sales in wireless devices lead to higher revenue for IDCC. The handset market itself is projected to double according to IHS, the leading market researcher in the space. The increase in revenue is mainly due to growth in handset sales from developing countries such as China, Eastern Europe, and Southeast Asia. This growth in revenue is being overlooked in the current IDCC forecast model. Revenue from handsets is only shown to grow 11% by 2020. Handset shipment growth is noted in the below figure.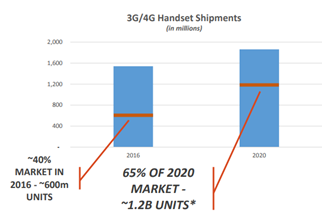 More importantly, I believe IDCC is in a strategic position with its IoT patent base to generate substantial revenue growth from in IoT and 5G networks. IDCC has key leadership positions in Standard Organizations along with companies like Ericsson (ERIC), Intel, and Huawei. IDCC looks out of place in the leadership positions, as it is surrounded by behemoths in the industry. This alone speaks volumes of the strength in IDCC's human capital. The market for IoT is expected to reach $3.7B in 2020, a CAGR of 32%. The number of IoT devices are expected to grow from 15.4B to 30.7B by 2020, nearly doubling what it is today. As noted by McKinsey, the market for mobile technology, IoT, autonomous vehicles, and advanced robotics are forecasted to grow at a tremendous rate over the next decade. These are all spaces in which IDCC is a top five innovator. LexInnova notes that IDCC is one of the top 10 global companies in terms of IoT patents. In fact, they are ahead of IBM (IBM) and Microsoft in this field. IDCC is considered the fourth in "high-strength IoT patents" putting them ahead of Intel and Ericsson. Further, the IoT movement will require collaboration among the various patent holders, whom each hold a piece of the IoT pie. IDCC will be able to provide significant value to future IoT ventures. Management guidance estimates the IoT business to begin booking revenue by 2020. In the model below, I provide conservative estimates to project revenue in the handset and IoT segments.

Valuation
The valuation method used to analyze the company is a discounted cash flow (DCF) model using free cash flow. The cash flows were projected for the next 10 years.
All assumptions utilized are highly conservative including expenses consisting of research and development and sales administration expenses staying relatively high.
Cost of goods sold are projected at rates higher than the historical average. IDCC_DCF.xlsm
WACC was calculated utilizing the CAPM model for equity. Beta was first unlevered, then re-levered and adjusted up by 5% to account for risks particular to IDCC (

p

atent efficacy/litigation). Cost of debt was calculated using short-term and long-term note rates provided by Bloomberg.
Both constant growth and zero growth models were used to determine the current value of the firm in highly conservative outcomes.
A highly conservative valuation indicates that IDCC Is trading at a discount. Even if the firm shows no growth, the upside is 7%. Modeling growth into the forecast shows an upside potential of 26%.
Importantly, a sensitivity analysis highlights the significant upside even with WACC and terminal rates modeled at their extremes. The WACC would have to be greater than 14% or 2017's free cash flow would have to be down by more than 9% for the no-growth model to show 0% upside.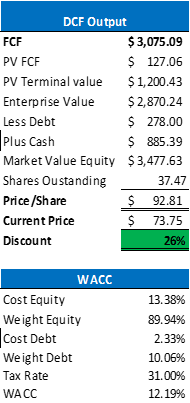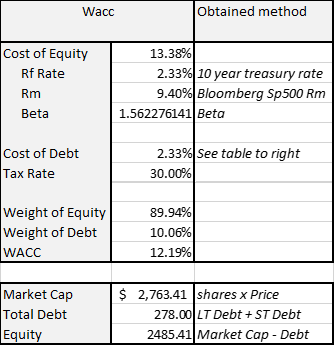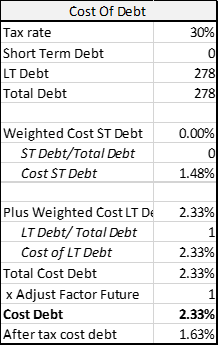 Other considerations
Acquisition: IDCC has significant human capital. The patent base it boasts is indicative of the strength of the IDCC research and development team. Human capital of this nature is very difficult to reproduce. The deep knowledge within the particular space helps IDCC's research and development team continue to be leaders in developing the backbone technology for 5G and IoT infrastructure. This human capital along with the portfolio of patents is an attractive offer for many of IDCC's customers as well as some competitors. IDCC put itself up for sale in 2011, but did not find any buyers. Since then, the company has taken strides in 5G and IoT which are hot ticket items for companies looking to build their IoT patent base through acquisitions. A few names that were thrown out as possible buyers include, Intel, IBM, and Alphabet (NASDAQ:GOOG) (NASDAQ:GOOGL). The acquisition probability for IDCC at a premium is high, and can further add value to shareholders.
In-organic growth: IDCC's management is focused on acquiring companies that add value to the core strategy of providing an interoperable architecture for 5G and IoT. Hillcrest Labs, recently acquired by IDCC, delivers software and sensor for consumers electronics such as augmented reality, virtual reality, and IoT. This acquisition is indicative of the willingness of IDCC's management to look outside for value. IDCC's strength in the IoT and 5G space will enable them to pinpoint strategic partners and targets more effectively. The IoT movement will require collaboration among the many patent holders allowing IDCC to offer a lot of value toto its partners.
Risks
Patent Litigation: IDCC, by the nature of its business, has significant exposure to litigation. Although its IoT patent base is noted as "high strength," meaning is has less exposure to patent litigation, there are still considerable draw-downs. Such litigation in the past has resulted in resolutions ending in further licensing agreements.
Technology Risk: IDCC's current and future revenue base is highly concentrated on 5G and IoT patent licensing. Although highly unlikely, a broad disruption in technology that would cause 5G and IoT to become irrelevant can be a serious threat to IDCC's future revenue.
Conclusion
Overall, IDCC's risk and reward structure is well suited for anyone willing to hold a position for the long term. Priced below intrinsic value and in a strong position to capitalize on IoT, the largest potential new market, IDCC is set up well to reward shareholders in the coming years.
The material provided by Titan Capital Management (TCM) is only the opinion of the firm and firm's employees and should not be regarded as investment advice or as a recommendation regarding any course of action. The opinions included are only as of the date appearing in the material and are subject to change without notice. All investments entail risk. There is no guarantee our investment strategy or funds will produce desirable returns under any and all market conditions. TCM shall not have any liability for any damages, losses, etc. relating to this material. By accepting this material, you acknowledge and accept the foregoing.
Disclosure: I/we have no positions in any stocks mentioned, but may initiate a long position in IDCC over the next 72 hours.
I wrote this article myself, and it expresses my own opinions. I am not receiving compensation for it (other than from Seeking Alpha). I have no business relationship with any company whose stock is mentioned in this article.