The Golden Triangle in British Columbia hosts some of the richest gold ore bodies in the world. The most prominent miner in the area right now is Pretivm Resources (PVG) that started mining in 2017 in its 100% owned Valley of the Kings project (for more specifics about Pretivm, here is my buy recommendation made back in May 2017, up 35% since).
In this two-article series, we will cover a total of 24 junior explorers that are looking for gold in the Golden Triangle. This article will not provide the reader with specific trading recommendations, but rather a useful tool for all who are interested in what is happening in the British Columbia Golden Triangle.
The first part of the article, "My watchlist of the gold mining players in the red-hot BC golden triangle 1/2", covers 10 companies from Aben Resources (OTCPK:ABNAF) to GT Gold (OTC:GTGDF). This covers the other 14.
All figures in US dollars if not indicated otherwise.
IDM Mining (OTCQB:IDMMF), $40.8m. IDM Mining is bringing forward a high-grade advanced underground project called Red Mountain. It has a positive PEA. It is economic with an IRR of 35% after-tax but with a short mine life. The cash costs are projected to be low at around $492/oz Au net of byproducts (silver), using low-cost bulk mining. The average resource grade stands at 8.75 g/t Au with the average width being 16 metres. The CAPEX is relatively low at $76m.
It is a large property of 42,000 acres and IDM's management is confident that they can expand production and the mine life with further exploration.
Key data about IDM Mining (September 2017 Corporate Presentation).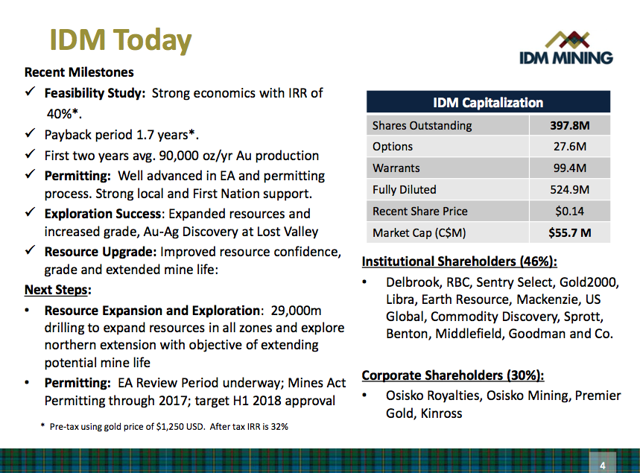 Another exciting aspect of the company is that Osisko Royalties (OR), Osisko Mining (OTCPK:OBNNF), Kinross Gold (KGC), and Premier Gold (OTCPK:PIRGF) hold around 30% of the stock together.
Jaxon Mining (OTC:JXMNF), $13.3m. This small cap has two main projects, both early stage. Hazelton is Jaxon's flagship project. It spans 110,000 acres and it is geologically similar to Goldcorp's (GG) Equity Silver Mine nearby and has a similar mineralisation to Barrick Gold's Eskay Creek Mine. Soil anomalies and surface samples were found to contain to up to 3,397 g/t Ag, 12.7 g/t Au, and 22.29% Zn. The property has a legacy of $3 million worth of historical data is being compiled and will be used starting 2018. Jaxon Mining is now concentrating their efforts on interpreting an induced polarization geophysical survey that was recently completed.
The Foremore project is the second project that the company owns, which was acquired in spring 2017 (see press release). In past historical explorations, numerous outcroppings were observed. One of the most notable was a 1-metre chip sample by Cominco, reported to grade 93.7 g/t Au and a grab sample reported to grade 81.7 g/t Au. In 2004, drill hole FM04-04 returned 3.1 metres averaged 14.6 g/t Au, 1114 g/t Ag, 0.2% Cu, 1.2% Pb and 6.6% Zn in the BRT showing (Exploration and Mining in BC 2004). These historical workings were never followed up.
Millrock Resources (OTCQX:MLRKD), $13.7m. This company is a project generator focused on North America and Mexico. They have four projects in the Golden Triangle, five in Alaska, one in Arizona and twelve in Mexico. Most of them have active exploration.
Millrock recently sold its interest in its Stellar project, for an equity stake in Coventry Resources (Canada listed). Millrock presently owns 10.6% of the issued and outstanding Coventry shares and the companies are jointly exploring this property. A program consisting of approximately 25 holes, totalling 3,000m, is planned with two drills mobilised on site.
On two other properties, the Willoughby and Oweegee Dome projects, the company has a JV with Sojourn Exploration (Canada listed). The Oweegee Dome project is a prospective for porphyry copper-gold deposits and volcanogenic zinc-lead deposits, and the planned work is funded by Sojourn and executed by Millrock. Sojourn has the option to earn a 100% interest in the Willoughby and Oweegee Dome projects by making payments to Millrock in the form of Sojourn shares (Millrock presently owns 12.6% of the issued and outstanding shares of Sojourn) and by funding exploration in accordance with a set minimum schedule. Millrock is also entitled to a 2% Net Smelter Returns royalty on the projects.
Curiously, Millrock did a 10 to 1 reverse split in 2014 and the stock is currently down 97% from its split-adjusted 2010 high.
Mountain Boy Minerals (OTC:MBYMF), $8.7m. Mountain Boy already made a small appearance in my first article about the Golden Triangle as Great Bear Resources (OTCPK:GTBDF) optioned their Surprise Creek project to Mountain Boy Minerals on a 50/50 basis. Under the terms of the agreement, Great Bear will receive $1.3m in cash payments and 10m shares of Mountain Boy Minerals over three years, starting June 2017.
To date, only two holes were drilled at the Surprise Creek project, both in late 2016 in the Ataman Zone. One of these intersected 4.6m of 4.31% Zn, 44.75 g/t Ag, 0.33% Cu and interestingly, 67% barite (BaSo4). This hole drilled around 47% BaSo4 over almost 19m, over which the zinc grade average was 1.21% along with 0.31% Cu, 0.12 g/t Au and 28 g/t Ag.
Barite is mainly (i.e. 90% of US usage) used as a weighting agent in the drilling fluids that are used in the oil and gas exploration industry and the barite market is expected to witness a strong growth in the coming years. India and China hold a dominant position in the barite supply and prices have increased significantly in the last years.
The company also owns a part of the advanced-stage Silver Coin gold-silver project, which is 80% owned by Jayden Resources (OTC:PNMLF) with Mountain Boy having a 20% carried interest. As you can see in the table below, Silver Coin has a 1.6m oz Au resource estimate from 2011.
Resource Estimate for the Silver Coin project (Corporate Website).

At the beginning of this year, Ascot Resources (ASOLF) announced a $20m exploration and development program at its old Premier Mine, located 3.5km to the south of the Silver Coin property. The old Premier Mine is a past producer of around 2m oz Au and 45m oz Ag, with a similar epithermal to mesothermal gold-silver setting as Silver Coin.
The company also owns a 35% stake in the gold-copper Red Cliff Project, with 65% being owned by the operator, Decade Resources (OTC:DECXF). There is cross-ownership and cross-management between the two companies as Ed Kruchkowski is the President of both Decade and Mountain Boy. This project is in a great location next to the highway and a power line. More about this JV and Mountain Boy can be found in this June 2017 Rockstone's Blog.
The company also owns a couple of other early exploration gold-silver projects in the Golden Triangle (more here).
Metallis Resources (OTCQB:MTLFF), $19.4m. Metallis Resources owns only one project, the large (25,000 acres) Kirkham property. Kirkham has seen very little drilling activity and has significant potential. They have a tiny market cap of 23.5m shares outstanding, so it might offer quite the leverage if they manage to find something interesting.
Drilling commenced in August 2017 after a 2016 geophysical survey. The company identified two targets (out of 5 anomalies) on the property: Cliff Target - a porphyry target similar to KSM and Snowfield - and the King Target, a shear-vein target, which is similar to the Snip project.
Kirkham Property is located approximately 20 km southwest of Barrick's past-producing Eskay Creek Mine (September 2017 Corporate presentation).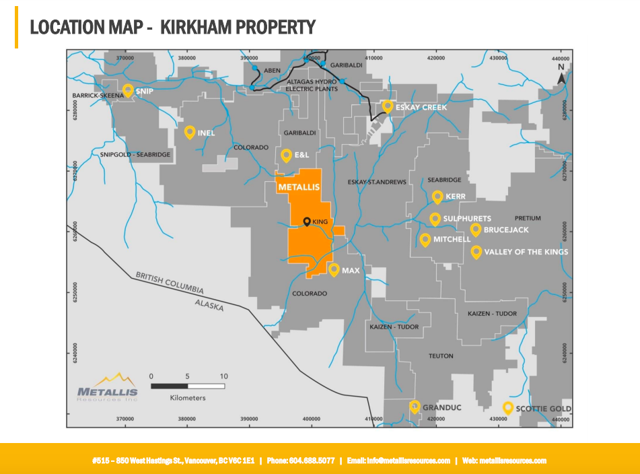 As of September 2017, the first two drill holes have been completed at the Cliff gold-rich copper porphyry target, reaching a depth of 418m while a third drill hole has started from a lower elevation farther to the South. Both holes intersected mineralised and altered monzonite throughout the holes and this supports the theory (derived from previous historical drillings) that mineralization improves with depth as the alteration becomes more potassic. Assays are pending and should be released in October 2017.
Mining investor Eric Sprott recently invested $2.2m (Canadian) and now owns 2,300,000 common shares of the company and 1,000,000 share purchase warrants representing approximately 8.1% of the issued and outstanding common shares of the Company on a non-diluted basis (11.3% on a partially diluted basis). The share price exploded higher in the last three months, with the share price growing from $0.15 in July to $1.30 now.
Pretivm Resources (PVG), $1,680m. This is one of the companies that are leading the renaissance of the Golden Triangle. In May 2017, I wrote the article "Pretivm Is Nearing First Gold Pour At The Giant Brucejack Project" as I believe this to be a company that is on the verge of becoming a cash machine (at the time it was around $9 per share, now $12.50).
Pretivm found its first gold at the Brucejack mine in June 2017. The mineral resource estimate of the project named the Valley of the Kings (including the West Zone) is at 8.7m oz Au in the proven and probable category plus around 32m oz Silver in the same category.
The mine is doing well and the life of mine (18 years) production is expected to be more than 400,000 oz Au per year. This assessment moreover does not include exploration success, which is likely.
Brucejack and the West Zone deposits will be mined first, but there is a huge amount of inferred gold around the property. The CAPEX was around $800 million with projected cash costs around $400 per oz. The low costs come from both the high grade (10 to 14 g/t) and the silver offsets. They already have two new discovery holes near the current production deposits (9 meters at 21 gpt and 2 meters at 2100 gpt), plus several other high-grade discovery holes with narrow veins. In addition to all of the exploration potential around their current production deposits, they have Snowfield with more than 40m oz Au equivalent. It's a big project with low-grade gold at around 0.7g/t Au and silver-copper-molybdenum-rhenium offsets.

CEO Robert Quartermain is one of the best in the business; he helpt built SSR (SSRI) (more below) as well as being the founder of Pretivm and the architect of its success.
Romios Gold (OTCPK:RMIOF), $8.5m. Romios has 2 interesting properties in the Golden Triangle and a portfolio of early-stage properties in Nevada, Quebec and Ontario. The Newmont Lake project in British Columbia has an existing NI 43-101 inferred resource for the North-West Zone of 1.406m tonnes, containing 0.2m oz Au, 6.79m lbs Cu and 0.3m oz Ag. The Newmont Lake project is located within 15 km of AltaGas' McLymont river hydropower project.
Newmont Lake project highlights (April 2017 Corporate Presentation).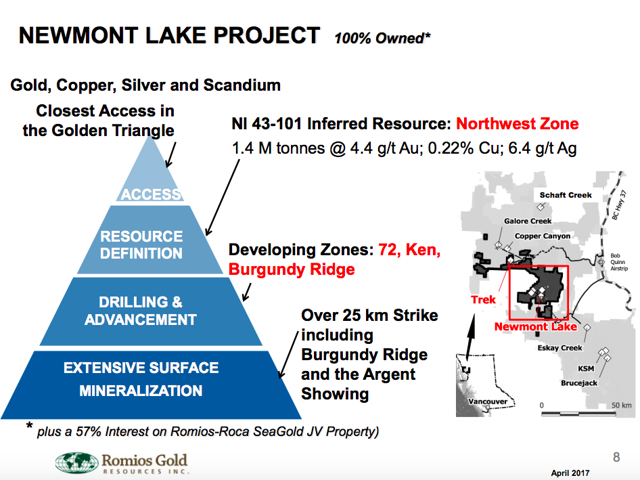 The company is currently developing an NI 43-101 resource at the North Zone of its other BC project, the Trek project. It approximately has a 5km strike-length of mineralization along deep basement structures and is located near NovaGold's (NG) and Teck Resources' (TECK) Galore Creek project and proposed mill site.
The rest of the portfolio consists mainly of the high-grade Scossa Gold Project in Nevada and the past-producing La Corne Molybdenum mine in Quebec, which also has some rare earth potential.
Seabridge Gold (SA), $ 691.3m. Seabridge Gold owns the world's largest undeveloped gold project, the KSM project. It is adjacent to Eskay Creek's eastern border. Further east lies the 7 million ounce high-grade gold Brucejack Deposit of Pretivm. The project has a PFS from 2016 and had its BC Environmental Assessment approved on July 30, 2014, while the Canadian Federal approval was dated from December 2014.
The project has a long life of 53 years and is a low-grade gold-copper-silver-molybdenum, with an expected gold production of 540,000 oz Au per year. The contained metal is 38.8m oz of gold, 10.2B pounds of copper and 183m oz of silver. In short, it is truly gigantic.
Key company data (October 2017 Corporate Presentation).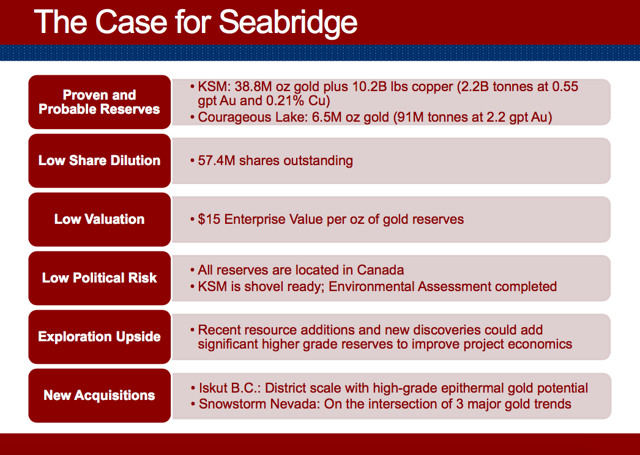 The main issue with the KSM project is the low-grade and high CAPEX that makes that the project has a low IRR of only 9% (after tax) at today metal prices. This project needs a gold price of more than $1600 for a long time to be viable.
The company is continuing to explore the property and has made some interesting advancements in regards to its Deep Kerr project. With grades higher than the rest of the project, this could be the starting point in case the company decides to proceed with a phased mine construction. The company is also having exploration success at Iron Cap, a norther extension of the KSM project.
In 2016, the company bought the Iskut Project, which has a 2.2m oz Au NI 43-101 measured and indicated gold resource at the Bronson Slope prospect. It is located 30km east of KSM, meaning that there could be synergies between the two projects.
Iskut is located 30km west of the KSM project in the golden triangle (October 2017 Corporate Presentation).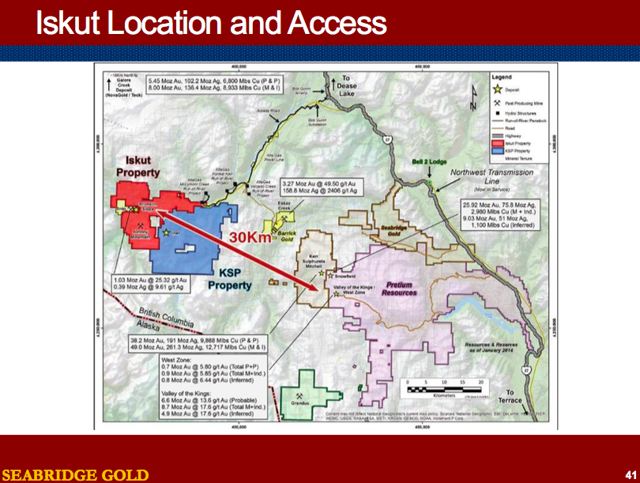 In 2017, Seabridge also bought the Snowstorm gold project in Nevada from Paulson & Co. (Paulson is a billionaire hedge fund manager and a gold mining investor activist). Snowstorm sits on the intersection of three major Nevada gold belts; Getchell, Carlin and the Northern Nevada Rift Zone
Lastly, Seabridge also owns the Courageous Lake project in the North-Western Territories in Canada. This project is within 100 km of the Diavik and Ekati diamond mines. It is an open pit project with an average grade of 2.2g/t Au. At 6.5M oz, it is Canada's 2nd largest undeveloped gold reserve, with KSM being the largest. The company is currently trying to improve the economics of this project by exploring for more high-grade material and undertaking trade-off studies about connecting the project to the locally generated hydropower facilities and constructing year-round road access.
Skeena Resources (OTC:SKREF), $37.3m. Skeena Resources is a project generator with three major projects. Firstly, the Spectrum-GJ project has a PEA made in 2017 and counts 1m oz Au (1 g/t), plus 75m lbs of copper, open pit resource with a 25 years mine life.
Secondly, Skeena recently obtained the past producing Snip mine from Barrick (ABX) that produced 1.1m oz at 27.5 g/t from 1991 to 1999.
Company highlights (September 2017 Corporate Presentation).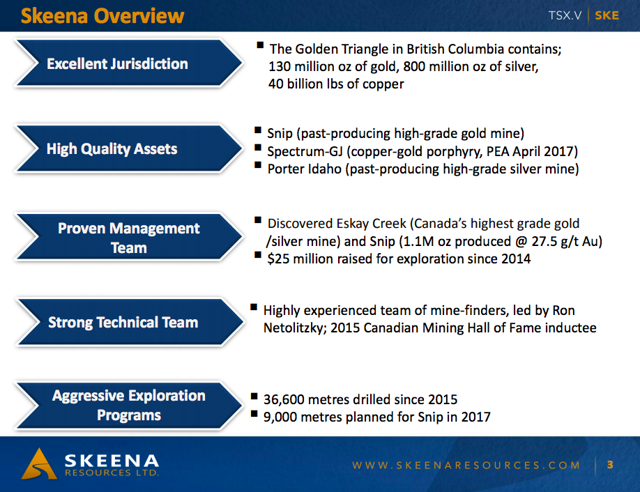 The key for this company is exploration at Snip, where they plan to drill 15,000m in 2017. They want to spend $8.5m in 2017, which is a lot of money for small cap and will require more dilution. Their share price is 4 cents, so you could also expect a reverse share split. Skeena also owns a silver project called Porter Idaho. It is high-grade, at 868 g/t with a 12m oz Ag historical resource with some lead and zinc in the ore as well.
Spearmint Resources (OTCPK:SPMTF), $3.1m. This company is a project generator with multiple early-stage projects in British Columbia and Quebec such as the Golden Triangle Gold Prospects, comprising of four separate claim blocks totalling 4,095 acres and bordering GT Gold Corp, the 'Gold Mountain Prospects' (1,245 acres) bordering Barkerville Gold Mines (OTCPK:BGMZF), and the 3,052 acre Neba Prospect bordering Aben Resources Ltd (OTCQB:ABNAF).
Spearmint recently doubled the acreage of their 'EL North and EL North 2'. This is a nickel-copper prospect in the Eskay Creek Camp and it borders Garibaldi Resources Corp (OTC:GGIFF).
Also in the Golden Triangle, Spearmint owns the Chibougamau Vanadium Prospects on 9,735 acres that borders the vanadium deposit of BlackRock Metal's (private), the Ilmenite vanadium project and the Lac Dore project owned by Vanadiumcorp Resource Inc. (OTCPK:APAFF).
Spearmint's portfolio of lithium projects mainly consists of the Clayton Valley Lithium Prospects, which spread over 800 acres and borders Pure Energy Minerals (OTCQB:PEMIF) in Nevada. In Quebec, the company owns another three other early-stage lithium projects.
The company is quite active in acquiring properties and on October 6, 2017, it announced the acquisition of 100% of the WHY WEST magnesium prospect that directly borders the West High Yield Resources (OTC:WHYRF) properties near Rossland, BC.
SSR Mining (SSRM), $1,190m. SSR Mining Inc, formerly Silver Standard Resources Inc, is engaged in the precious metals resource business with properties all located in the Americas. The Company is focused on silver production from the Pirquitas-Chinchillas mine in Jujuy, Argentina and gold production from the Marigold mine in Nevada, the United States. The Company also owns the Seabee high-grade, underground gold mine in Saskatchewan, Canada.
In the Golden Triangle, SSR Mining owns the SIB project. Here they are targeting a precious metals enriched VMS deposit
SIB project geology (October 2017 Corporate Presentation).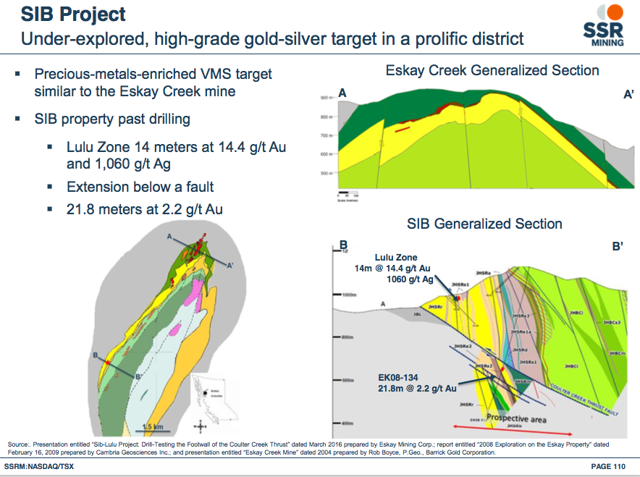 Silver Grail Resources (OTC:SVGAF), $1.9m. Silver Grail is a project generator. They have been around for a long time, but have not made any progress until now. They have two gold properties that have high-grade gold on them and both the Fiji and Clone projects in Canada are somewhat promising. The Fiji property is located next to a recently discovered 900,000 oz (2.3 gpt) deposit. The Clone project is a JV with Makena Resources (OTC:CANSF)(Silver Grail owns 25%), and Makena is drilling it.

They have a 50-50 joint relationship with Teuton Resources in nearly all of their properties and Teuton and Silver Grail option their properties to third companies together. This limits the upside for Silver Grail. They are currently out of cash and are not doing much exploring.
Tudor Gold (OTC:TDRRF) (OTC:TDRLF), $35m. Tudor Gold has 90,000 acres in the golden triangle in British Columbia. Currently, their focus is their 80% owned Treaty Creek project. The most interesting drill hole was 240m at 0.8 g/t. Their properties surround the Seabridge Gold KSM and Pretium Brucejack projects. Walter Storm is the CEO, owns 50% of the company and has a good track record. They are exploring 3 other properties in the Golden Triangle (Electrum, Orion, and Doc).
Teuton Resources (TEUTF) (TEUTD), $5m. Teuton Resources is a project generator in Canada. They have been around for a long time (1982) and have 25 projects (about 6 of which are JVs). However, they do not have any advanced-stage projects. Investors seem to like it however and bid up their FD market cap from $2 million (5 cents a share) to $11 million (26 cents a share) in 2016. It's now back to $6.6m, which seems like a steal. They have 20% of the Treaty Creek project, which is being explored by Tudor Gold.
17 years chart (Candian listing, in Canadian Dollars).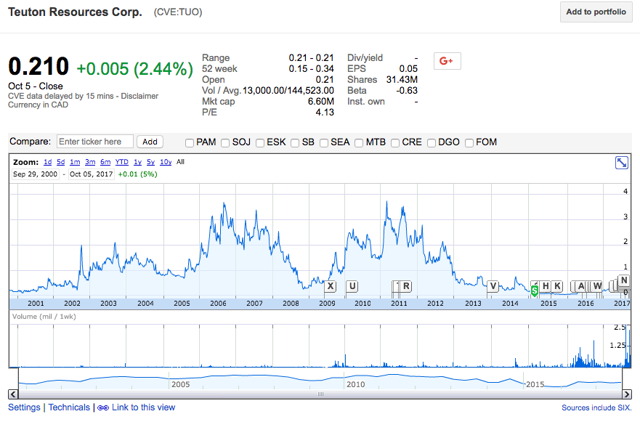 There is a lot of upside to this stock. This is mostly because they have a lot of properties with significant upside potential. For instance, their High property is on strike from the Bridge Zone on Pretium's Snowfield/Brucejack property. Long term, that zone will likely be mined and expanded onto the High property. Moreover, they have 240,000 acres in the Eskay Creek / Golden Triangle area of British Columbia. This is a very high-grade gold area and creates the potential for all of their properties.

It is a high-risk speculation stock and they don't own any advanced-stage project heading towards production. If they ever get any money, however, they have a lot of properties to explore in very good locations to find gold.
Disclosure: I am/we are long PVG.
I wrote this article myself, and it expresses my own opinions. I am not receiving compensation for it (other than from Seeking Alpha). I have no business relationship with any company whose stock is mentioned in this article.
Editor's Note: This article covers one or more stocks trading at less than $1 per share and/or with less than a $100 million market cap. Please be aware of the risks associated with these stocks.