Investors are continuing to pile into equities as alternate investments such as investment grade bonds offer little upside potential (2.45% annual yield with little room for price appreciation).
Moreover, covered call strategies also provide minimum upside (low prevailing volatility reduced call premiums) with almost no reduction in risk since the position does not have downside protection other than the call premium received.
So how can you deploy your cash holding without chasing the rally in the stock market? In this article, I will reveal a simple strategy to make money with limited downside risk.
Industrial Sector
Stocks in the industrial sector ETF (XLI) are very diverse. They include manufacturers as well of distributors of capital goods (i.e. aerospace & defense, electrical equipment and machinery).
Service providers such as railroads, airlines, shipping and trucking are also in the sector. In short, the industrial sector represents virtually every part of the U.S. economy and it may be a good gauge to measure the health of the economy.
It's not a surprise to see XLI closely tracking the S&P 500 SPDR (SPY) performance in the past 10 years (Chart 1). Whenever one vehicle separated from the other they eventually managed to close the gap; in fact, they crossed each other 27 times during the period above.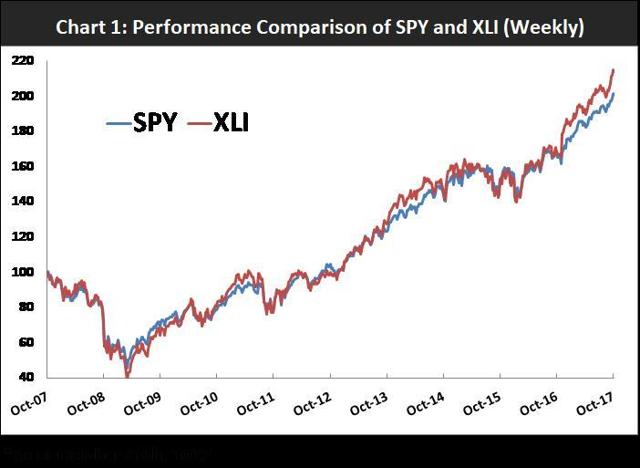 Rare opportunity for arbitrage
After President Trump was elected in November, XLI pulled away from SPY, mainly due to the promises of infrastructure spending and tax cuts.
As of this writing, the performance gap has not closed yet and it currently stands at -6%; meaning SPY is underperforming XLI by 6%.
Chart 2 displays the cumulate performance difference between SPY and XLI. Notice that -6% is an area that seems to be a support as SPY/XLI relative strength bounced in 2011 (Point A) and 2014 (Point B); the relative outperformances were 8% and 7% respectively.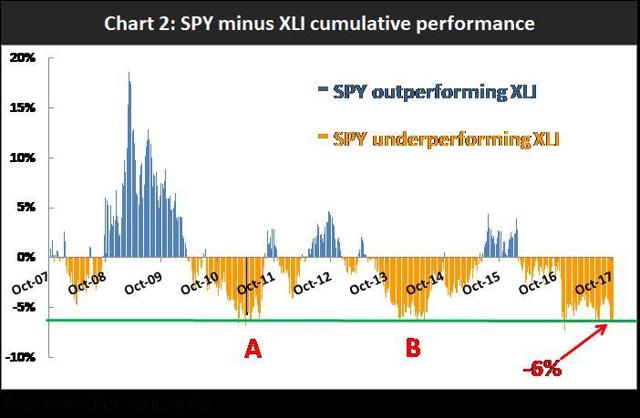 Conclusion
As investors anticipate President Trump's pro-growth policies to boost economic activities, the industrial sector has outperformed the overall stock market (SPY).
SPY/XLI relative strength seems to be stretched at the moment and I believe we may be due for XLI to underperform SPY during the months to come.
As a result, I recommend shorting XLI and buying SPY in equal dollar amounts to implement a market neutral strategy, which may be a prudent way to invest the cash on the sideline. My upside target is 7% for the paired position and the stop-loss level is -2%.