Summary
Four new breakout stocks for Week 42 with better than 10% short-term upside potential.
The 15 week streak of having a 10% stock gain in the first 5 days of trading ended last week.  Overall at 28 weeks out of 31 weeks (90%).
Top Gainers To Date: Week 41: STKL +2.15% MITL +1.74% // Week 40: ALDR +2.45% ENLK -0.78% // Week 39: AGRX +25.19% ERII +13.43% // Week 38: DRNA +42.71% NL+28.48%.
Positive Breakout Portfolio now up 41.43% over 31 weeks YTD.
Week 42 Selections are as follows:
Positive Acceleration Momentum Stocks
This week I have selected eight breakout stocks from the following sectors: four healthcare, one industrial goods, and three technology. I've included some background on stocks with interesting current news that may further explain the technical selection criteria signals. Charts for each stock are at the end of the article.
The new selections of positive momentum stocks for this week include:
Four additional long positions are available to subscribers.
Four Negative acceleration momentum stocks available to subscribers.
My exclusive Breakout Tracker shows subscribers where momentum is increasing/decreasing by sector and is ideal for sector ETF traders.
Intro
Welcome to the Momentum Breakout Selection list for Week 42. This article provides four positive Breakout Stocks selected from the complete weekly forecast of the 12 breakout and breakdown stocks for subscribers. If you are interested, here is a link to the 2017 YTD performance results. A brief summary of the selection methodology for these momentum stocks can be found in my primer article on quick pick momentum accelerators. Last week's forecast article is linked here.
Performance Summary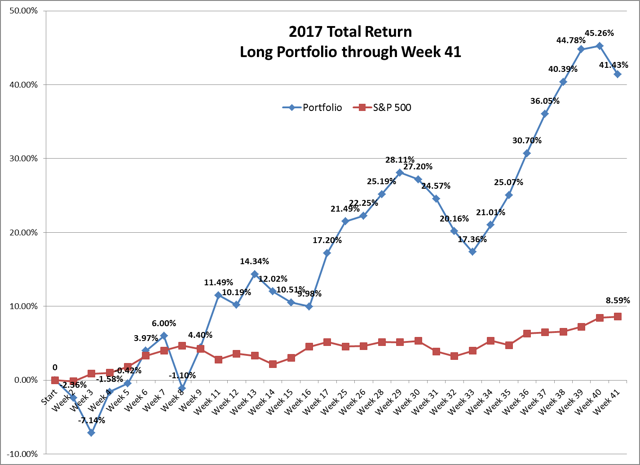 Week 41 Positive Breakout Portfolio returned -3.83%. Last week's eight selections ended the 10%+ streak of 15 straight weeks (now 28 weeks out of 31 weeks) of 10%+ gains within 5 days. This week I have selected more breakout stocks that may restart a new positive streak.
Total cumulative long portfolio returns by week of the past five weeks (t-5) are listed below through the end of Week 41:
| | |
| --- | --- |
| Breakout Forecast | Total Long Portfolio Returns to Date |
| Week 41 (t-1) | -3.83% (STKL) +2.15%, (MITL) +1.74%, (SPHS) +0% |
| Week 40 (t-2) | -11.88% (ALDR) +2.45%, (ENLK) -0.78%, (GTN) -2.55% |
| Week 39 (t-3) | +2.42% (AGRX) +25.19%, (ERII) +13.43%, (BLDR) +0.46% |
| Week 38 (t-4) | +10.42% (DRNA) +42.71%, (NL) +28.48%, (IDRA) +26.54% |
| Week 37 (t-5) | +7.21% (CVRR) +28.98%, (ACTG) +12.00%, (AGEN) +11.54% |
The typical momentum duration horizon from this analysis appears to be one to three weeks, but as the rolling 5-week table above illustrates, these stocks can carry positive momentum for many weeks and some may return to the selection list in the current week.
All past selections of individual returns are available on my list of articles by Breakout Forecast Week. This includes daily and weekly returns for all stocks selected since the beginning of 2017. These stock selections are intended to provide the highest probability of greater than 10% gains within the first week (five trading days) by focusing on accelerating momentum characteristics detailed in my primer article linked above.
End of week results for Week 41:

End of Week 41 Benchmark Indexes:
Charts of Week 42 Selections are as follows:
Positive Acceleration Momentum Stocks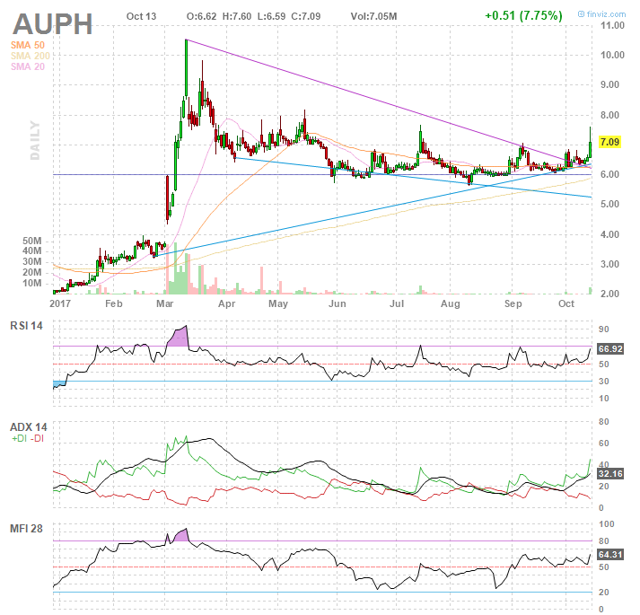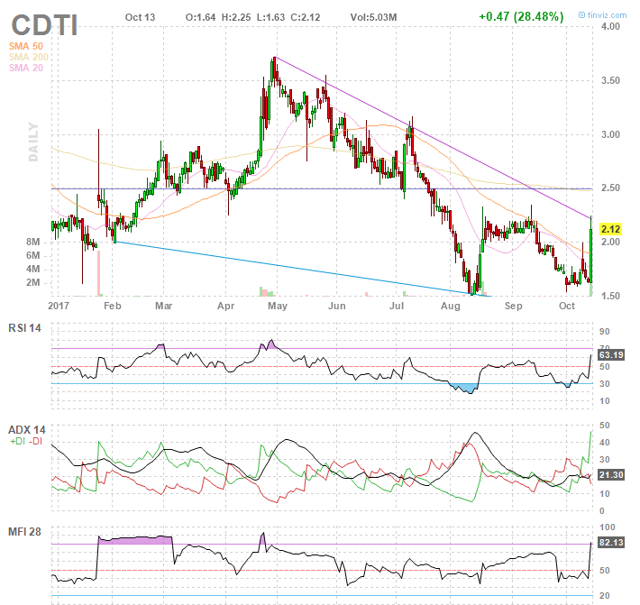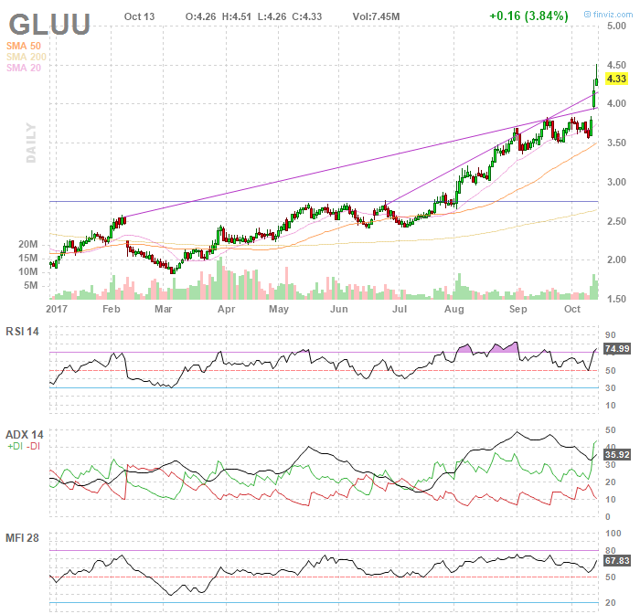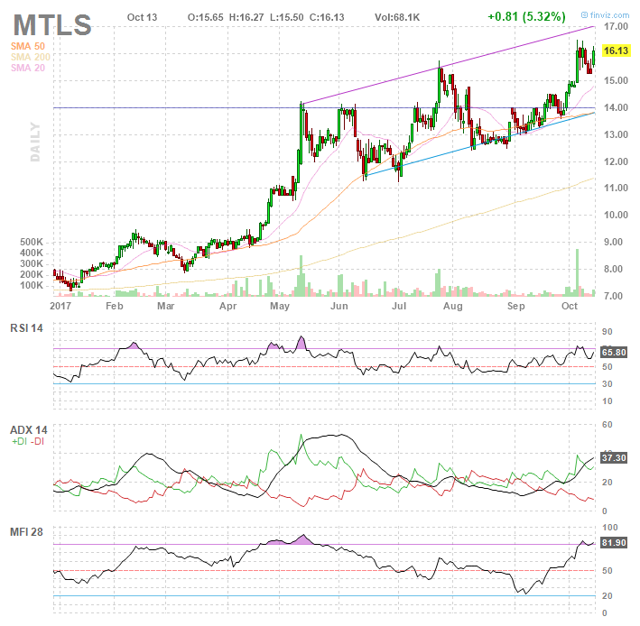 As always, I hope you capture the most beneficial returns of this small sample of the weekly breakout selections and have a profitable week of trading! Thank you for reading my articles. If you want free future updates just click the "Follow" button at the top of the page.

If you enjoy receiving my updates each week, please also consider receiving the complete eight long selections and four short selections every week with a subscription today! Subscribers also receive the full updates with more detail well in advance of this article prior to the market open every week.
Thank you!

JD
Disclosure: I am/we are long CDTI. I wrote this article myself, and it expresses my own opinions. I am not receiving compensation for it (other than from Seeking Alpha). I have no business relationship with any company whose stock is mentioned in this article.
Editor's Note: This article covers one or more microcap stocks. Please be aware of the risks associated with these stocks.