Welcome to another installment of The Knife Catcher's Top Performing Knives: Q3 '17, where I open the kitchen drawer and see which knives were the sharpest this quarter. Macroeconomic trends as well as micro socio-political trends are usually the typical bellwethers of the markets quarter to quarter. It's hard to gauge long-term growth looking at one quarter without context, but hey, companies are valued day to day, quarter to quarter on their performance (it's what determines the stock price fluctuation, no?).
Just imagine a person having to go through a performance review every day and a general quarterly review to see if he/she gets the promotion or gets fired. Pretty stressful, and hard to take a step back and see if the employee is growing holistically and their outperformance days or underperformance days are due to extenuating circumstances out of their control or if they were indeed growing or shrinking in performance capabilities. Crazy, right?
In general, Q3 saw gains across the indices comparable to the strong Q1 finish earlier this year (Dow 4.94%, S&P 3.9%, Nasdaq 5.79); no question tech bounced back from whatever soap bubble occurred in Q2. The shakiness around North Korea, healthcare, hurricanes, and even the Equifax (NYSE:EFX) kerfuffle was short-lived, and everyone seemed to buy the dip. I think there may be some bigger ups and downs in Q4 once the companies calculate the damage and realities at play, so time will only tell if Q3 was the calm before the storm (as President Trump likes to say).
Q3

Q2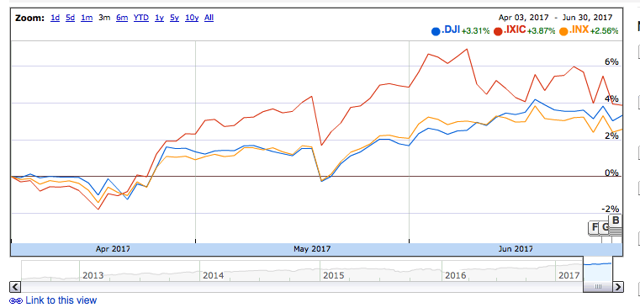 Q1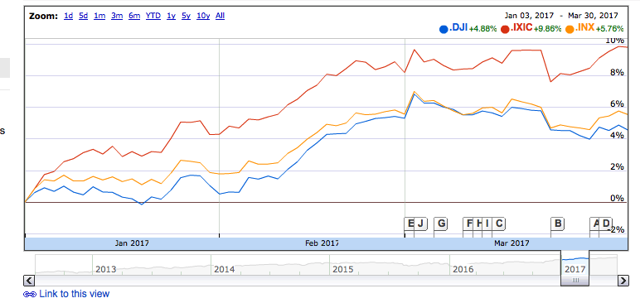 Without further ado, here are the top 5 knives of the third quarter.
#5 City Office REIT (NYSE:CIO)
Cost Basis: $12.06
Percentage Gain: 14%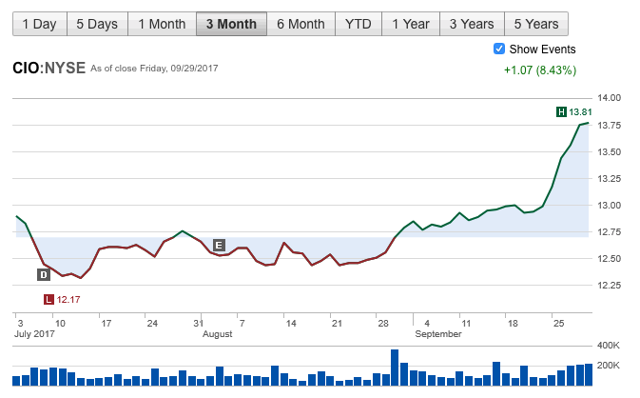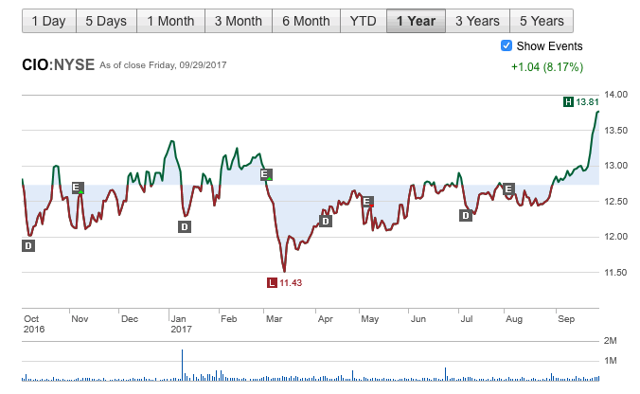 City Office REIT was another casualty of the retail war that plagued most real estate trusts much of the beginning of 2017. The fear of retail glut was also assumed for office space, and empty office parks, some of which are now becoming residential areas, did not help. The main drop in CIO was due to the company missing earnings by a lot for Q4 '16 and 2016 full results, and the knife dropped pretty fast. Since the drop in March, the stock has been slowly treading upwards and paying an over 7% yield for those along for the ride.
Just a little over 3 years old, CIO has already acquired 19 buildings in high income metropolitan areas, including Seattle, Portland, Boise, Phoenix, Salt Lake City, Denver, Dallas, San Antonio, Austin, Houston, Tampa, and Orlando. This stock was a no-brainer for me, and as someone who watched it closely for a few years, I was able to jump in at the right time.
#4 Gilead Sciences (NASDAQ:GILD)
Cost Basis: $67.12
Percentage Gain: 15%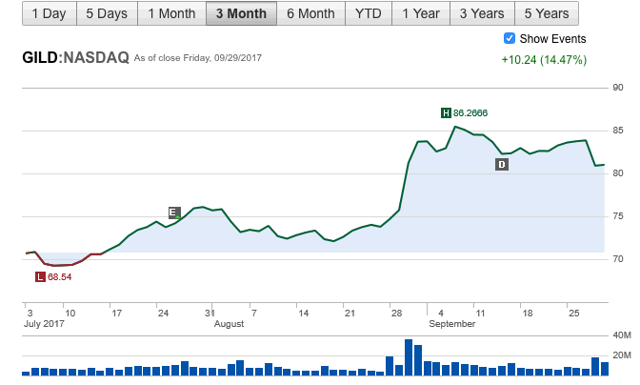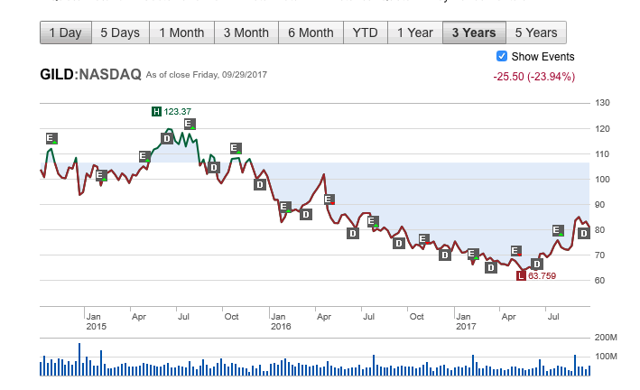 I love investing in companies that will pave the way for future innovations and bettering society and people. But don't get me wrong, if a toilet seat company is undervalued and has solid fundamentals and fingers crossed a sustainable dividend, I'll be happy to park my money and my fanny there too!
With that being said, Gilead Sciences is a company I have followed for few years now, especially as it crossed the $100 mark and its continued sharp decline. The major catalyst of this decline was the inactivity of the executive staff in CapEx and M&A. They were biding their time, which deep value investors applauded but Wall Street did not. The lack of movement, coupled with the general rise and fall of the pharmaceutical sector from the end of 2015 to still stumbling today, saw the stock drop more than 50% from its height in 2015.
I had played Gilead through Buy/Put options during its decline to negligible gains and plenty of hair pulling. It was actually the catalyst for me taking a break from options and getting into an equity accumulation phase this past year, with the plan to start selling covered calls and naked puts next year, on all the new knives I've collected. Anecdote aside, I've been much happier catching this knife with an equity position and holding onto a solid company. And sure enough, a few months after I bought in under $70, Gilead announced it would acquire Kite Pharma for $11 billion. Kite Pharma is one of the leading players in the emerging field of CAR-T (chimeric antigen receptor T-cell therapy), which use the body's own immune cells to identify and neutralize malignant cells. If the drugs become approved, analysts estimate revenue in billions.
#3 Spirit Realty Capital (NYSE:SRC)
Cost Basis: $7.42
Percentage Gain: 15.5%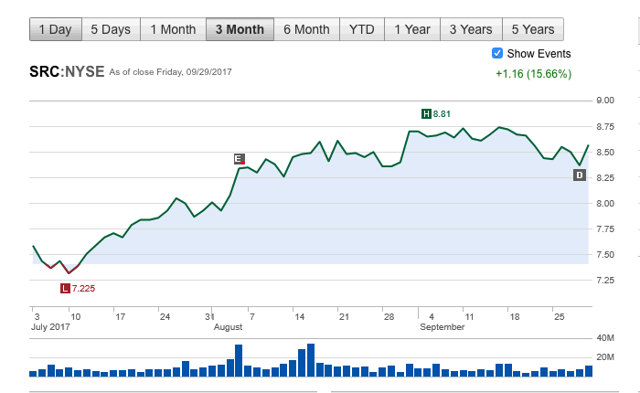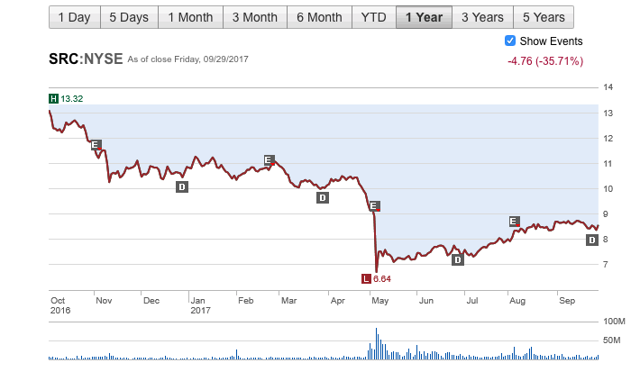 Spirit Realty Capital, another company plagued by the recent Retailaggedon fears and Amazon (NASDAQ:AMZN) ruling the world, has also seen impressive gains this past quarter. The bad news bears first came on the field during the first-quarter financials, where it was clear that there was present danger with Spirit's tenants, many of whom had issues with credit loss. The numbers came in much poorly than expected, and Spirit dropped as much as 25% in one day.
Yet, just a month later, it was revealed that Starboard Value had Spirit as one of its top new buys, and BAML upgraded the stock to Buy. No one is kidding themselves that retail and mall REITs are out of the woods completely, but as most falling knives, the fundamental value of the stock typically falls in the middle of the sell-off and the perceived overvaluation it had before.
#2 V.F. Corporation (NYSE:VFC)
Cost Basis: $52.92
Percentage Gain: 17%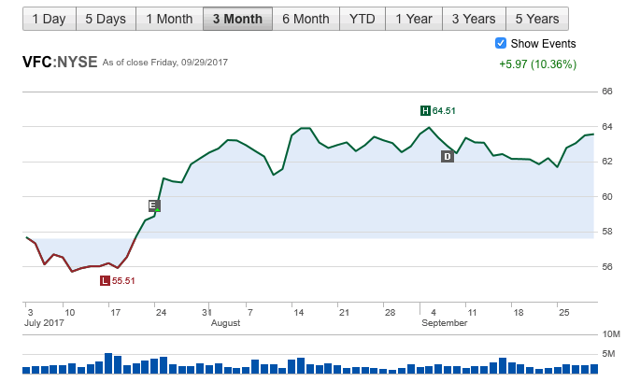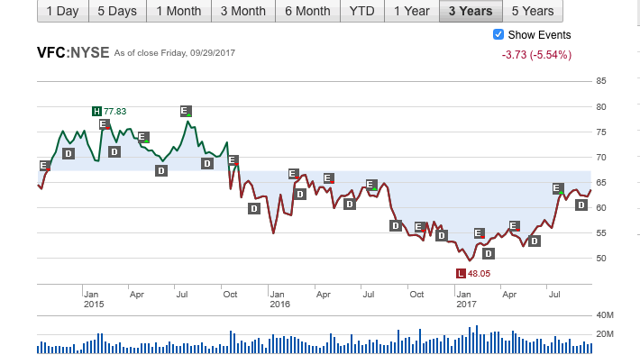 When a Dividend Aristocrat falls from grace, I'm usually more than happy to add it to my collection. V.F. Corporation is a juggernaut in the manufacturing space, owning 19 national brands. The company has been around for 115 years, and is most known for its iconic clothing companies Vans, The North Face, Timberland, Wrangler and Lee. VFC currently sells its products in over 170 countries and employs upwards of 60,000 employees. Since its height in 2015, the stock has almost dropped 40%, primarily due to lackluster retail performances and growing concern over the mall/retail space or Retailaggedon.
The reality is, this company and its iconic brands will be sold wherever people will want to buy them. They are retail- and platform-agnostic. This one also falls under the cool factor of stock ownership akin to Gilead. While owning stocks you like or use their products is an added bonus, it shouldn't be the reason to buy them, but if they are in the discount bin... who wouldn't want an iPhone X if it suddenly was 50% off?!
#1 Archrock Inc. (NYSE:AROC)
Cost Basis: $10.20
Archrock Inc. is a pure-play contract compression services business also specializing in aftermarket services. While Archrock is less than 3 years old, its history goes back almost 60 years. It was created when Exterran (NYSE:EXTN) spun off its global product line and non-U.S. compression rental and compression full services businesses from its U.S. contract compression services operations.
Energy has suffered considerably the past few years, and when there's suffering, I try to be the humanitarian and pick up stocks of the downtrodden. Archrock had a pretty remarkable comeback from the low single digits in 2016 to over $16 in the same year, but like the energy sector as a whole, faltered back 50% almost as fast. With sound fundamentals compared to the sector as a whole, Archrock still has plenty of room to grow. S&P Global has a Buy rating and Charles Schwab currently has it as Outperform. With a solid dividend to boot, it made this knife an easy choice to catch, and I'm glad I did.
Let me make one quick admission: energy stocks that are not tied to renewables are pure speculative plays long term. I'll put it this way: I'm more than happy to invest in energy or oil/gas companies when they are undervalued, but the buy and hold variety to me has to be in renewable energy, and IMHO, there is a shelf life on oil/gas. However, just like Twinkies, the shelf life for oil/gas could last for decades (and plenty of money to make along the way).
If you enjoyed this article, please scroll up and click on the "Follow" button next to my name to not miss my future articles.
May your falling knives never cut too deep,
Remy Kouffman AKA The Knife Catcher
Disclosure: I am/we are long ALL STOCKS MENTIONED BESIDES EQUIFAX.
I wrote this article myself, and it expresses my own opinions. I am not receiving compensation for it (other than from Seeking Alpha). I have no business relationship with any company whose stock is mentioned in this article.