Apogee Enterprises Inc. (APOG) is a boring company. It doesn't do boring in the ground, but it makes glass – mostly. If you have seen the new One WTC in New York – these guys put the glass on it. But this small fact is just to impress a bit. Anyways the company operates in four main segments: Glass, Framing, Services, and Optical. Apart from creating the skin of the building – glass, it also does metal framing, which serves as a skeleton for holding the glass. These two comprise the main chunk of revenues. Services are mainly related to installation of its products. It also does renovation and picture frames – these are quite insignificant although with the highest margin.
Main reasons, I think, this company is a good choice for parking some money: a good value, stable, and considerable growth (which doesn't go often with good value), improving margins, good guidance, and industry trends.
The company is truly a good value for the money.

Source: SEC reports
It's confusing that company is right now in FY 2018 since the April of this year. However, the numbers look quite smooth. After reviewing its reports, the company is doing small acquisitions <$100 mil. from time to time, which is helping the growth. Baseline margins are improving and are expected to improve further, which is the most significant improvement – I believe a lot has to do with automation and more technically challenging projects.
Based on the company's recent guidance, the revenue growth will be between 24% and 26% in FY 2018, which would amount to $1,393 mil., and with projected operating margin of 10.25%, the income before tax would be $143 mil. Average historical tax rate applied was 30%, and we have $100 mil. net income, or $3.46 EPS. That will be reduced by increased debt the company loaded during acquisition of EFCO, completed this quarter for $192 mil. The debt increased between Q1 and Q2 from roughly $71 mil. to $257 mil. Assuming 6% interest rate and no repayments of notional, the yearly cost would be cca $15 mil., or $0.53 EPS. However, 30% of it will be saved by decreasing income tax basis – hence, EPS $0.37. So, I will use $3.46 – $0.37 EPS = $3.09 EPS projection for FY 2018 further on, implying current year PE of 16. For your information, current S&P 500 (SPY) PE ratio is 25.44.
Acquisition of EFCO brought in unusual bump in definite lived intangibles by roughly $45 mil., which are amortizing over the time. The amortization reduced the reported net income by roughly $2.5 mil., which will be recurring each year. The reality (cash flow) check shows that the decrease in net income – current quarter $17.4 mil. vs. last year quarter $22.4 mil. - is not that dramatic, and the company maintains producing good operating cash flow.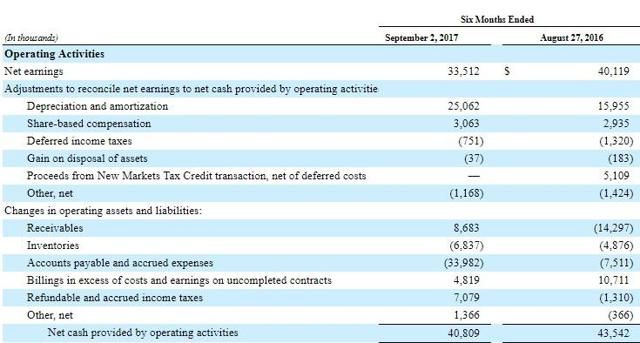 Source: latest 10-Q
The acquisition will significantly increase revenue. The largest benefit was increase in the current backlog the APOG has for the upcoming FY 2019 – EFCO itself increased the backlog of framing system by $216 mil., in overall, it increased since Q1 from $240 mil. to $495.9 mil. Based on the backlog and 10% net income margin of framing systems (can be found slightly down), the EFCO was acquired for roughly 9 PE – that's not that bad.
Backlog increased also in services – from $30 mil. to $323.0 mil. This shows the strength of revenue growth the company will anticipate in FY 2018 and 2019.
The company's guidance for revenue growth in 2019 is an increase in double digits, coupled with 100bps increase in operating margin. Based on FY 2018 numbers I came up with earlier and assuming 10% revenue growth and 11.25% net income margin, the FY 2019 EPS net the debt would be $3.8 EPS.
The basic graphical interpretation below shows P/E where earnings are for the full year of the given year.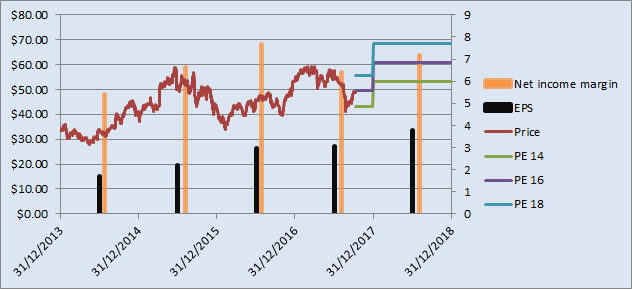 EPS (in $) and net income margin (in %) are presented on the right scale.
If APOG maintains at least 16 P/E, then there is roughly 22% upside potential, having said that the 16 P/E is cheap in the current market.
The sector of the company is highly fragmented, and it doesn't have any direct publicly traded competition. There are only private or divisions of other large companies that compete with APOG. That's why the company intends to acquire its competitors. From the company statement, the US demand for architectural glass in non-residential building is roughly $1 billion market. It estimates framing market to be $3 billion and services are $10-15 billion market.

Source: 10-K/Q fillings
Based on the segments, APOG owns roughly 40% of glass market, and EFCO acquisition boosted market share of framing market from roughly 13 to 22% - and this segment has the highest margins. Not counting LSO segment. I believe that the higher the market share the better is the pricing power, and fragmented markets are generally good for relatively cheap acquisitions.
The skyscrapers are booming in the US – below is number of planned high-rises over the next few years. While around 70 is only announced/in plans and without specified year of completion, this shows good footing for the APOG in the upcoming years, which specializes in the very high-end skin and structure building.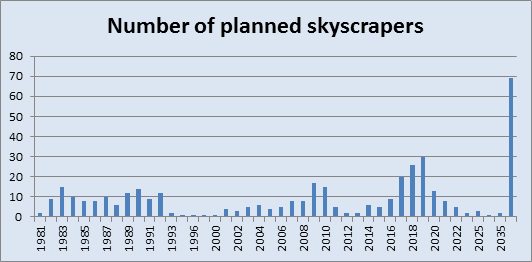 Source: skyscrapercenter.com contains only buildings >179m (588 ft.)
The recent stock decrease can be mainly attributed to decreased guidance for current FY 2018. The company essentially slashed EPS forecast by roughly $0.3 from previous range of $3.05 to $3.25 to range of $3.31 to $3.51. My estimate of $3.09 is quite conservative compared to company guidance. Anyways, the expectation represents less than 10% decrease of EPS. Markets, as they like to do, dumped the price by $6 which is 15%. Just two months ago, APOG was trading at $60 but is slowly gaining momentum.
It's partially reasonable to justify the low PE and price by saying it's a cyclically driven company, which it is. However, even during the midst of the last crisis, the company didn't perform that bad and had only one loss year – 2011. By contrast, 2008 and 2009 were one of the peak years. This is in contrary to standard industries exposed to the cycle so much – auto or building companies.


Source: 10-K
Overall, I think there is attractive upside in this company, and the price gives a good value and solid growth at this level. The PE of 16 and forward PE of 14 don't justify the over 20% EPS and >10% revenue growth expected next FY year. The accumulated backlog of revenue, along with high-end building boom in the upcoming years of 2018-19, is most likely to persist regardless of market downturn and keep stream of cash flow for Apogee. The company looks cheap relative to the S&P 500.
Disclosure: I/we have no positions in any stocks mentioned, and no plans to initiate any positions within the next 72 hours.
I wrote this article myself, and it expresses my own opinions. I am not receiving compensation for it (other than from Seeking Alpha). I have no business relationship with any company whose stock is mentioned in this article.