Since May, I have been warning investors away from Wheeler REIT (NASDAQ:WHLR) as it became clear that the properties they had gone out on a limb to purchase were not performing as advertised. As predicted, WHLR slashed their dividend shortly thereafter and the share price followed.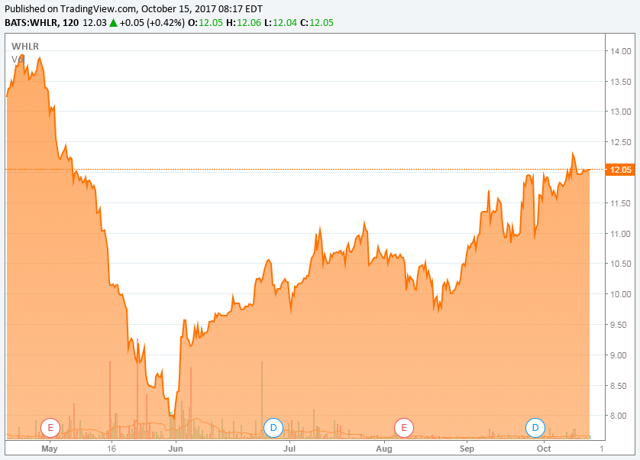 Since June, the common shares have had a decent rally, which I believe is driven by yield chasers believing that the current double digit yield is sustainable.
I have previously argued that this new dividend is not sustainable as WHLR struggles with declining rents and anchor closings.
Surprise!
I once worked for a small company that did home improvements. As the market declined, there were small signs that the business was not doing well. The owner stopped getting his car detailed weekly, the landlord called the office frequently looking for the owner, employee bonuses became a thing of the past and the company Christmas party was far less lavish than previous years. One day, the paychecks bounced, and some people were surprised. I had already negotiated a contract at another job.
One of the hardest investment lessons for me to learn has been that not everyone pays close attention to their investments. The market often reacts violently to news that has been known for a long time. I frequently have to remind myself not to be surprised at the things that surprise the market.
Last week was one of those signs came around for WHLR, and the market barely blinked. In a fourth amendment to the Keybank credit agreement, the deadline to reduce the outstanding amount to $50 million was extended two months.
The credit limit was initially increased to $75 million in April of 2016 and those funds were used in the fourth quarter for acquisitions. By the end of Q2, 2017, WHLR carried a balance of $68 million and per the agreement WHLR was supposed to have the balance back below $50 million in October.
The amendment essentially prevents a default and gives WHLR a 60-day extension. Preventing a default is clearly good news for shareholders; however, this should be viewed as a warning sign.
WHLR only needed to pay off $18 million. The remaining $50 million matures in May of 2018. If WHLR is having difficulties paying the $18 million on time, what happens when the much larger amount matures?
There is no doubt in my mind that Keybank will work with WHLR to extend the maturity. It is in their best interest that WHLR continues as a going concern for as long as possible. However, banks are not charities, and upon refinancing, Keybank will likely demand a higher risk premium.
Continuing Property Issues
One of the reasons that WHLR has failed to promptly pay off the Keybank loan is their continuing struggle with several anchor properties.There are three anchor spaces that went vacant during Q3, amounting to over 140,000 square feet. The recent press release assures us that one of those spaces, the old BiLo at Shoppes at Myrtle Park, is expected to be leased in December. There was no word on the Cypress Shopping Center or Brook Run Shopping Center.
The leases on the Bi-Lo locations expire in Spring of 2018, so those will need to be back-filled to prevent a material loss of rent. WHLR has not indicated what kind of deadline exists before co-tenancy provisions kick in at these locations.
What This Means For Common Shareholders
This should be a warning sign for common shareholders. WHLR is having cash flow issues and it is likely that Q3 earnings are not going to be pretty.
These little cracks all seem to point towards the conclusion that Q3 earnings will look worse than Q2 did. The common dividend likely will not be covered by cash flow, leasing expenses will be up and interest expenses are headed up. Investors would be wise to take heed of these warning signs, so that they are not among those who will be "surprised" by a bad earnings report next month.
Editor's Note: This article covers one or more microcap stocks. Please be aware of the risks associated with these stocks.