I Bonds: Here's My Late-2017 Buying Guide
Includes:
TIP
by: Tipswatch
Summary
I Bond investors have entered 2017's limbo period: Buy now, or wait until November?
If you view I Bonds as a short-term investment, buying now seems to be the wisest decision.
Investors longing for a higher fixed rate than zero will want to wait until November 1 to see the Treasury's fixed-rate reset.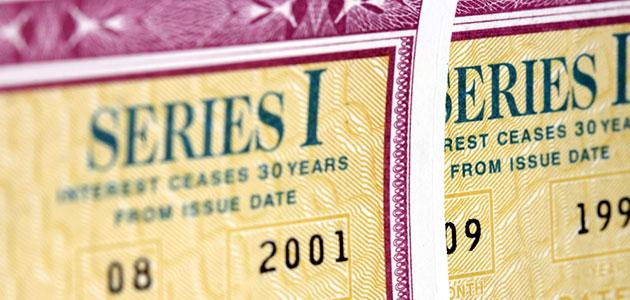 I Bond investors are a crafty lot: They scheme and plot to get every possible one-tenth of a percentage point out of their investments, and that's why they are very dear to me. I do the same.
I Bonds (technically called Series I Savings Bonds) are government savings bonds issued by the U.S. Treasury that offer inflation protection. They are 100% safe and 100% boring, but that doesn't stop a lot of very wealthy people from fretting over a $10,000 electronic purchase at TreasuryDirect - the maximum allowed for one person in one year (Paper I Bonds can also be obtained - up to $5,000 per year - in lieu of a federal income tax refund).
An I Bond is a security that earns interest based on a composite rate that combines a fixed rate and a variable inflation rate.
The fixed rate will never change. So if you bought an I Bond in 2014 with a fixed rate of 0.2%, it will continue to have a 0.2% fixed rate for the life of the bond. Purchases through October 31, 2017, will have a fixed rate of 0.0%. The Treasury will reset this rate on November 1 for purchases after that date. It could rise or stay the same.
The inflation-adjusted rate changes each six months to reflect the running rate of inflation. That rate is currently set at 1.96% annualized. It will adjust again on November 1 for all I Bonds, no matter when they were purchased (The effective start date of the new interest rate can vary depending on the month you bought the I Bond, a Treasury oddity).
I Bonds are attractive for many reasons, but here are key points:
I Bonds are the most conservative and most safe of all investments. Your principal is 99.9999999% safe and it will never decline, ever. If inflation falls to below zero, the inflation-adjusted rate will fall to zero, but not below zero.
I Bonds allow you fantastic flexibility. You can redeem them after one year, costing you three months of interest. Or redeem them after five years and pay no penalty, or just hold them for 30 years and cash out.
I Bonds protect you against unexpected inflation. If inflation in the next 30 years suddenly soars to 7%, 10%, 15%, your principal will increase by that amount because of the inflation-adjusted interest rate.
I Bonds allow you to defer federal income taxes until you redeem them, so you pay zero in taxes until they are sold. This is a big advantage over TIPS, which carry current-year income taxes for both the coupon rate and the inflation adjustment to principal (Both TIPS and I Bonds are free of state income taxes, an advantage over bank CDs).
I Bonds are very simple to track as an investment. Just download the Savings Bond Wizard, update your information, and check it a couple times a year.
We've entered the I Bond "limbo" period
When the Bureau of Labor Statistics issued its September inflation report, we entered a two-week period when we know both the current variable rate (1.96% annualized) and the future variable rate (2.48% annualized). What we don't know is the future fixed rate, which will be announced November 1.
Investors who haven't bought their 2017 allocation of I Bonds ($10,000 per person per year) have two weeks to ponder this question: Buy before October 31, or after. Here is how the numbers work out:
Buying before October 31. An investor will receive a fixed rate of 0.0% and six months of the current variable rate (1.96%) and six months of the next variable rate (2.48%). That works out to 2.22% for the investment's first year, set in stone.
Buying after November 1. The fixed rate isn't known, but it can't go lower than 0.0% and could possibly rise to 0.1%, or higher, in theory. Although a 0.1% fixed rate only adds $10 a year to a $10,000 investment, it's a big deal to I Bond investors, who scrap for every advantage. Buying after November 1 means you will get the 2.48% annualized rate for six months, and then the next (May 1) variable rate for six months. The worst you could do is 1.24% for the first year, if the May 1 variable rate is 0.0% combined with a fixed rate of 0.0%.
Is this a short-term investment?
Investors rarely consider I Bonds as a short-term investment, but they can be used as a one-year cash account. Technically, you can get a full year's interest in 11 months by buying near the last day of the month - say October 31, 2017 - and selling near the first day of the month a year later - October 1, 2018.
Conclusion: An investor looking to use I Bonds as a short-term investment should buy before October 31. That would lock in the 1.96% rate for six months, then the 2.48% rate for six months. Take away a three-month interest penalty and you still get 1.6% for an 11-month investment. This is about 10 basis points higher than best-in-nation 12-month bank CDs, with no state income taxes.
Are you dying for a higher fixed rate?
It's possible that the I Bond fixed rate will rise off the 0.0% floor on November 1. The Treasury provides no guidance on how it sets this rate. At this point, I don't think it's likely to rise, but I will be writing an article handicapping that possibility in a few days. If it does rise, it will almost certainly go to 0.1% and no higher.
Conclusion: Most I Bond investors are likely to wait until November to make their 2017 purchase, since there's a possibility the fixed rate could rise. Remember, fixed rates are forever, and variable rates change every six months. And even if the fixed rate doesn't rise, by waiting an investor will get a higher initial variable rate: 2.48% annualized versus 1.96%.
How could waiting backfire?
By waiting, the worst you can do is a fixed rate of 0.0% and six months of 2.48%. But if deflation strikes, the next variable rate could drop below the current one, which means your first-year earnings would end up being lower - as much as $98 on a $10,000 investment in the worst-case scenario. However, the investor who buys before October 31 still faces that 0.0% variable rate down the line.
Conclusion: The risks of waiting aren't life-changing. In fact, no single I Bond purchase is ever going to be life-changing. The strategy is to amass a large amount of inflation-protected cash, as part of an overall investment portfolio. The key to that strategy is: Buy I Bonds every year, up to the limit. Getting an extra 0.1% isn't going to change your life.
However ... I am going to wait until November to complete my I Bond purchase for 2017 (I bought half my allocation back in April, which I explained in this article: "I Bond Dilemma: Buy Now, Buy Later, Or Split The Decision?"). Waiting until November gets me a slim shot at a higher fixed rate, with the added bonus of a higher initial variable rate.
Disclosure: I/we have no positions in any stocks mentioned, and no plans to initiate any positions within the next 72 hours. I wrote this article myself, and it expresses my own opinions. I am not receiving compensation for it (other than from Seeking Alpha). I have no business relationship with any company whose stock is mentioned in this article.