In mid June, I wrote this article, A Little More Sanity In CEFs, when equity CEFs started to show a bit more reasonable valuations in response to a more hawkish Federal Reserve and a more volatile market. But even as the markets have just continued their relentless ramp up, CEF valuations, by and large, are making more sense. It has still been the greatest year for equity CEF valuation improvements that I have ever seen though the insanity has largely shifted to the broader markets now, which seem to advance every day no matter what the news is.
Historically, however, it's been CEFs that often make little sense and so to try and explain what is often unexplainable in the equity CEF universe, I like to sort my analysis of all the funds I follow (roughly 90) to try and make sense of what is going on. NOTE: I include 3 MLP funds and 3 REIT funds to represent the MLP and REIT sectors, otherwise the number of funds followed would jump to about 120.
In this analysis, I'm going to color code two columns in the interest of limiting the number of tables to three. The three tables are sorted first by the NAV & Mkt Difference column, which essentially is the change in valuation of the fund so far this year. Funds that have seen their total return market prices outperform their total return NAV performance by 5% or more are shown in red. These are contained in the first two tables while the third table includes funds that have more neutral outperformance of less than 5% (shown in black) or negative outperformances (shown in green).
The theory is that, all else being equal, funds that have seen their market prices outperform their NAVs the most may be getting ahead of themselves, hence why they are shown in red if over 5%. Of course, if a fund is showing superior NAV performance this year, taking into account all distributions, then it makes sense that their valuations would have improved also.
This is shown in the NAV Tot Ret column, which I have also kept color coded so that we can compare NAV performances as well. Here, any fund that is showing stronger NAV performance than the S&P 500 (SPY), up 15.6% through October 13 of this year, also including all dividends, is shown in green whereas all funds which are trailing SPY's 15.6% are shown in red.
Other factors such as discount levels and market yields can also play into the reasons why CEFs have improved their valuations so much but let's go to the tables and take a look at some individual names. The three tables of 30 funds each shown below start with the funds that have seen the greatest market price delta difference over their NAVs so far this year (NAV & Mkt Difference column) and proceed downward.
Top 30 Equity CEFs Valuation Improvements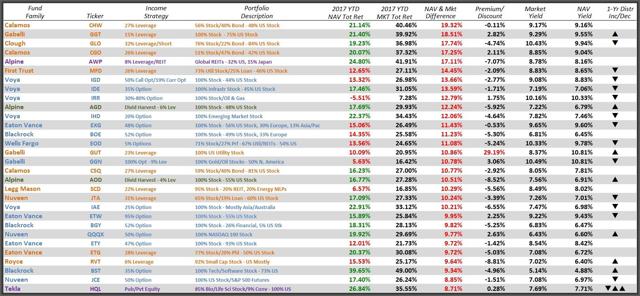 Middle 30 Equity CEFs Valuation Improvements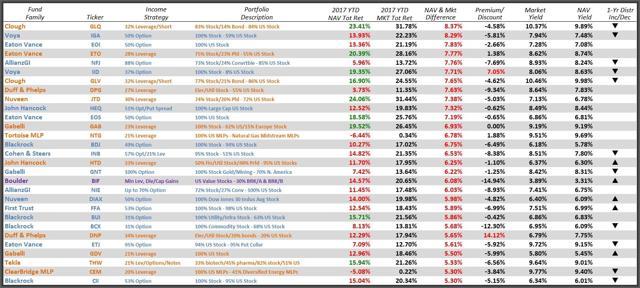 Bottom 30 Equity CEFs Valuation Improvements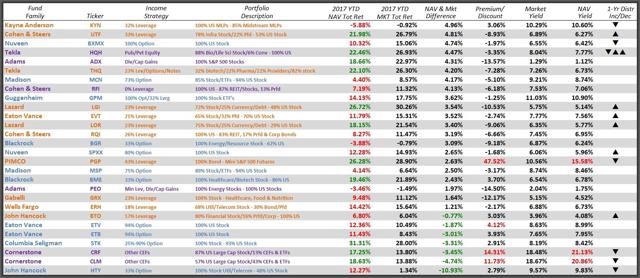 Let's start with the Bottom 30. Though I show seven funds as green in the NAV & Mkt Difference column at the bottom of the Bottom 30 table, most of these funds started the year at very overpriced levels so even though a few have actually outperformed the S&P 500 at NAV, they still have seen their market prices lag. This makes a lot of sense since all of them continue to trade at premium valuations.
The John Hancock Tax-Advantaged Global fund (HTY), $9.20 market price, $8.95 NAV, 2.8% premium, 9.6% current market yield, is at the bottom of the list and is a fund I have been negative on for years, particularly since you could have owned another John Hancock fund, the JH Tax-Advantaged Dividend Income fund (HTD), $25.98 market price, $26.27 NAV, -1.1% discount, 6.4% current market yield, one of the best performing equity CEFs of all time.
Then there is the PIMCO Global StocksPlus & Income fund (PGP), $16.67 market price, $11.30 NAV, 47.5% premium, 10.6% current market yield, a fund I have been negative on for years as well though it is shown up the list a bit in the table immediately above. PGP continues to see its premium recede, going from a 71% premium valuation at the end of April to a 60.7% premium valuation in mid July (see A Little More Sanity In CEFs) to a 47.5% premium today.
This is all good news for CEF investors because it means that these funds are making a lot more sense. Perhaps it's due to more institutional interest in these funds or perhaps it's because investors have learned that funds that offer uber high market yields but yet can't support them are just fool's gold and will only see their NAVs and market prices erode over time.
Now For The Bad News
Let's go to the Top 30 table now. Generally speaking, many of these funds that have seen incredible NAV performances this year, like the Calamos Global Dynamic Income fund (CHW), $9.16 market price, $9.17 NAV, -0.1% discount, 9.2% current market yield, deserve their vastly improved valuation. The question is, can it last?
I can't help but think that these good times have just about reached their peak and that's a big reason why I prefer ETFs over CEFs currently. Certainly, as long as the broader markets can continue this relentless climb, equity CEFs can probably maintain these valuations. But for many equity CEFs, a boom/bust cycle in valuation has been their history and I don't see that changing.
What funds would I be wary of? If the markets suddenly turn defensive, you have to be careful with some of the more heavily leveraged equity CEFs that are trading at par to premium valuations. The Calamos funds like CHW fall into this category as does the Calamos Strategic Total Return Fund (CSQ) and the Calamos Global Total Return Fund CGO). A couple of the Eaton Vance leveraged CEFs like the Eaton Vance Tax-Advantaged Global Dividend Opportunities Fund (ETO) and the Eaton Vance Tax-Advantaged Dividend Income Fund (EVT) I would also be careful of.
Then there are still some equity CEFs that make little sense. I mean, how does the Voya Natural Resource Equity Fund (IRR), $6.38 market price, $6.27 NAV, 1.7% premium, 10.2% current market yield, trade at a premium valuation despite having one of the worst NAV performances this year? That makes no sense and that 10.2% yield is fool's gold as the fund will have to cut the distribution again if this continues.
Conclusion
I'm purposely not making many equity CEF recommendations as I don't feel particularly confident in many of them at this time. I could continue to recommend the Gabelli Healthcare & Wellness RX Trust (GRX), $10.10 market price, $11.50 NAV, -12.2% discount, 5.2% current market yield, but the fund has not worked out as I had expected and I have become disillusioned with Gabelli as a CEF manager anyway.
I mean, how do you maintain a 10% NAV distribution policy for some of the Gabelli funds like the Gabelli Equity Trust (GAB) and the Gabelli Multimedia fund (GGT) when historically, GRX has crushed them in NAV performance over the years?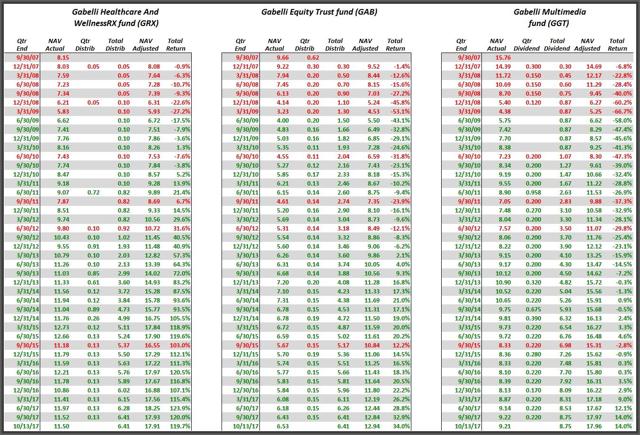 So here we see GRX's NAV is up 120% since roughly its inception compared to GAB's 34% and GGT's 14% taking into account all distributions. It begs the question, if GRX has grown its NAV by 40% since inception while GAB and GGT have seen their NAVs erode by up to 40% over the same period, shouldn't GRX have deserved an enhanced yield NAV distribution policy by now too?
Or since other Gabelli CEFs like the Gabelli Dividend & Income Trust (GDV), the GAMCO Global Gold, Natural Resources & Income Trust (GGN) and the GAMCO Natural Resources Gold & Income Trust (GNT) can offer monthly distributions, what is holding Gabelli back from offering a monthly distribution for GRX too? Ugh, never mind. I'm buying ETFs now anyway.
Disclosure: I am/we are long GRX. I wrote this article myself, and it expresses my own opinions. I am not receiving compensation for it (other than from Seeking Alpha). I have no business relationship with any company whose stock is mentioned in this article.